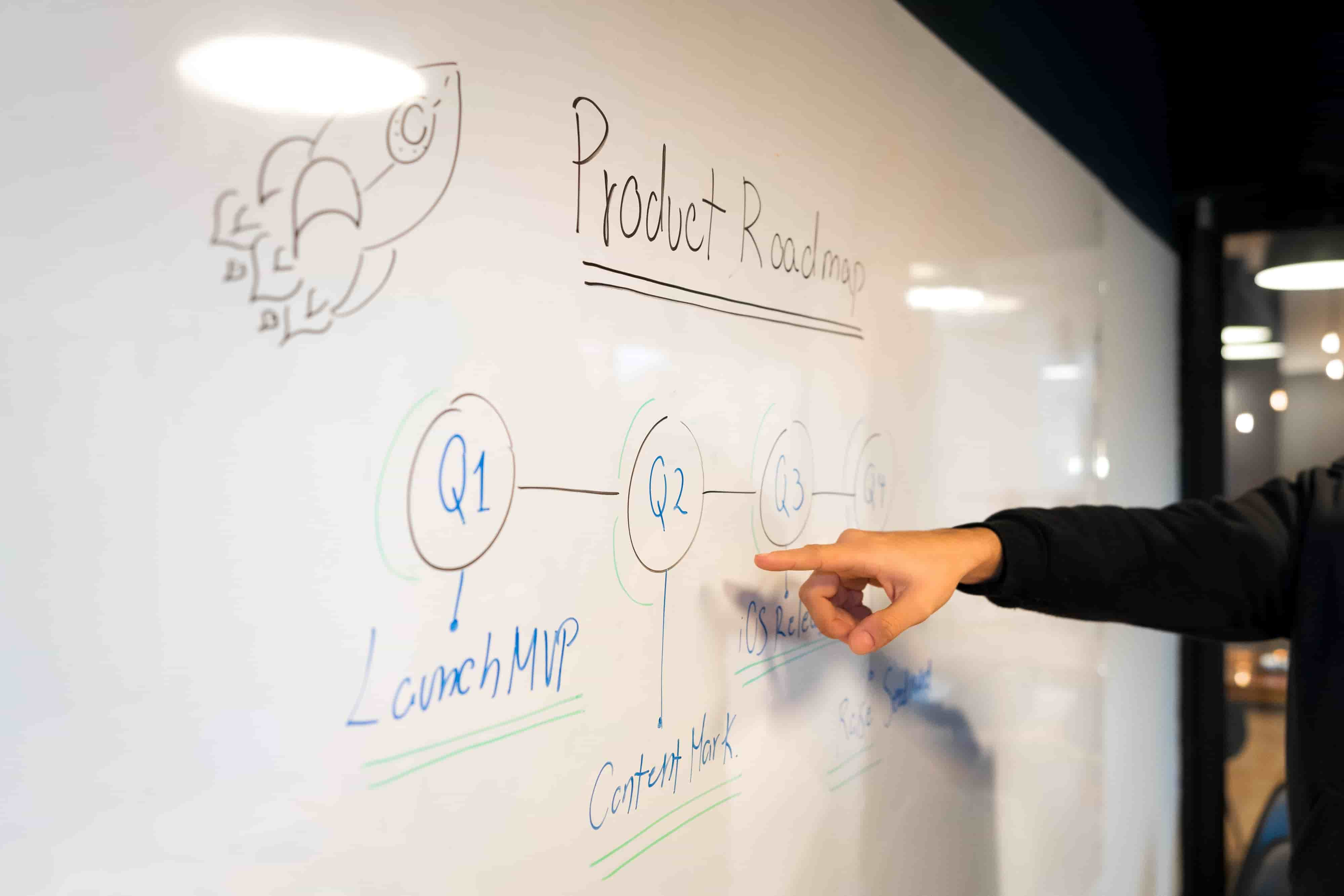 10 Examples of Amazing Public Product Roadmaps For SaaS Companies
Public product roadmaps are essential for any company that wants to be transparent with its customers. They allow companies to share their plans for upcoming releases and enable them to engage in valuable conversations with their customers, increasing transparency and trust.
Users are more informed than ever; companies must have a public product roadmap that allows them to be open and honest about what they plan to release in the near future. A SaaS product roadmap has loads of benefits and should be essential for all SaaS companies.
Top companies such as Intel, Buffer, Microsoft, Front, etc., have made their roadmap public and have received much love from customers and peers for the decision. We have gathered ten amazing public product roadmap examples to guide you in building your own public roadmap.
What is a Public Product Roadmap?
A public product roadmap is a source of truth shared with everyone. The roadmap outlines a product's direction, vision, priorities, and progress over time.
A public product roadmap is a document that outlines the plan for a company's products and services. It includes information about the company's goals, its strategy to reach them, and timelines for when the company expects to release new products or make changes to existing ones.
The company's plan of action aligns the company with its short-term and long-term goals for a particular product or project. It shows customers what your new features and ideas are.
Public Product Roadmap for a company generally includes:
What are the plans for a product?
What are our goals for this quarter?
Who will be responsible for these goals?
How will we measure success?
Looking for a public product roadmap tool? Check out Rapidr.io. Sign up now.
Why should you have a Public Product Roadmap?
A public product roadmap is a form of communication that provides information about the future of a product. SaaS product roadmaps are important for teams and stakeholders to make critical decisions.
A public product roadmap can be used in many ways, such as:
Showing what's been done and what will be done in the future
Creating transparency
Providing an opportunity for feedback
Helping stakeholders make decisions
What should a Public Product Roadmap look like?
Product managers must create an achievable roadmap that balances development priorities against business goals. Regardless of whether you use Trello, a public roadmap tool like Rapidr, or a custom solution for your public roadmap, every product roadmap that is available for the public should consist of the following:
Simple Design: Straightforward design but visually appealing and easy to read and understand for all stakeholders. Providing too much or too little information can make it intimidating to read.
User Experience: Create a roadmap that your customers can easily understand and navigate. Information is essential, but that doesn't mean it can't be aesthetically pleasing.
Basic Information: Public roadmaps should provide a high-level but generalized view of feedback and prioritized features to get customers interested in the product's future development.
Communication: Public product roadmap should support communication between all your stakeholders. It should help your customers voice their feedback and enable your product team to centralize all feedback and features in one place and easily listen to and prioritize the customer feedback to build better products.
10 Amazing Public Product Roadmap Examples
1. Buffer
Buffer created their public product roadmap to give all stakeholders a clear view of what they are working on, what is in progress, and what they're thinking about working on! A true peek behind the scenes.
There are four lanes here: Exploring, In Progress, Done and Leaving It, For Now, categorizing each roadmap item for more clarity.
2. Front
Front's Public Roadmap is a freely accessible page where users can find what has been shipped recently, what they are currently working on, and some ideas of what they will be doing next. More importantly, their users can voice their opinions and vote for the features they most urgently want to see implemented - as mentioned by Front's CEO.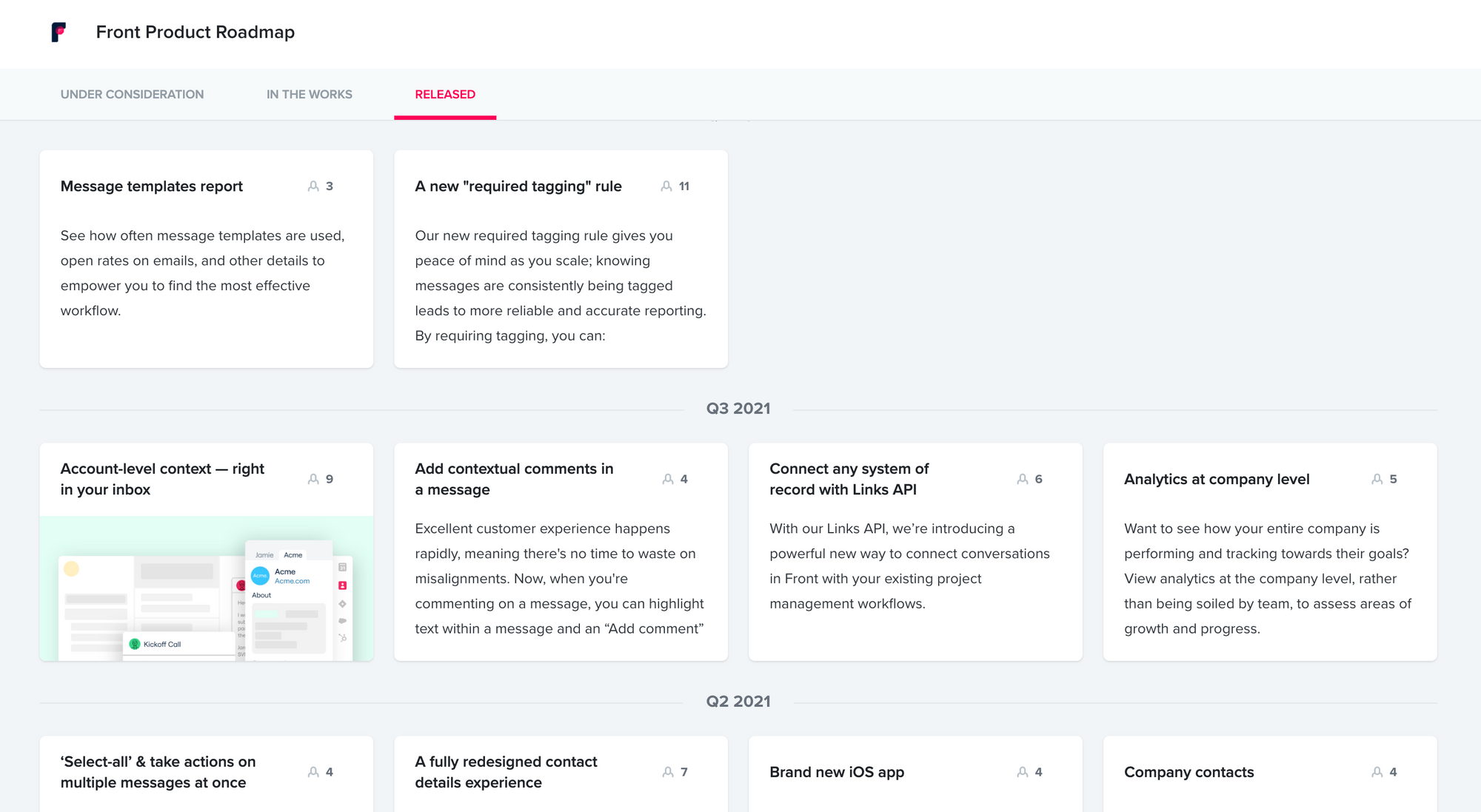 3. Github
Github's public product roadmap lets you learn about what features they're working on, what stage they're in, and when they expect to bring them to users.
The roadmap repository is for communicating GitHub's roadmap. Existing issues are currently read-only, and we are locking conversations as we get started.
The roadmap is arranged on a project board to give how far out each item is on the horizon. Every product or feature is added to a particular project board column according to the quarter expected to ship next.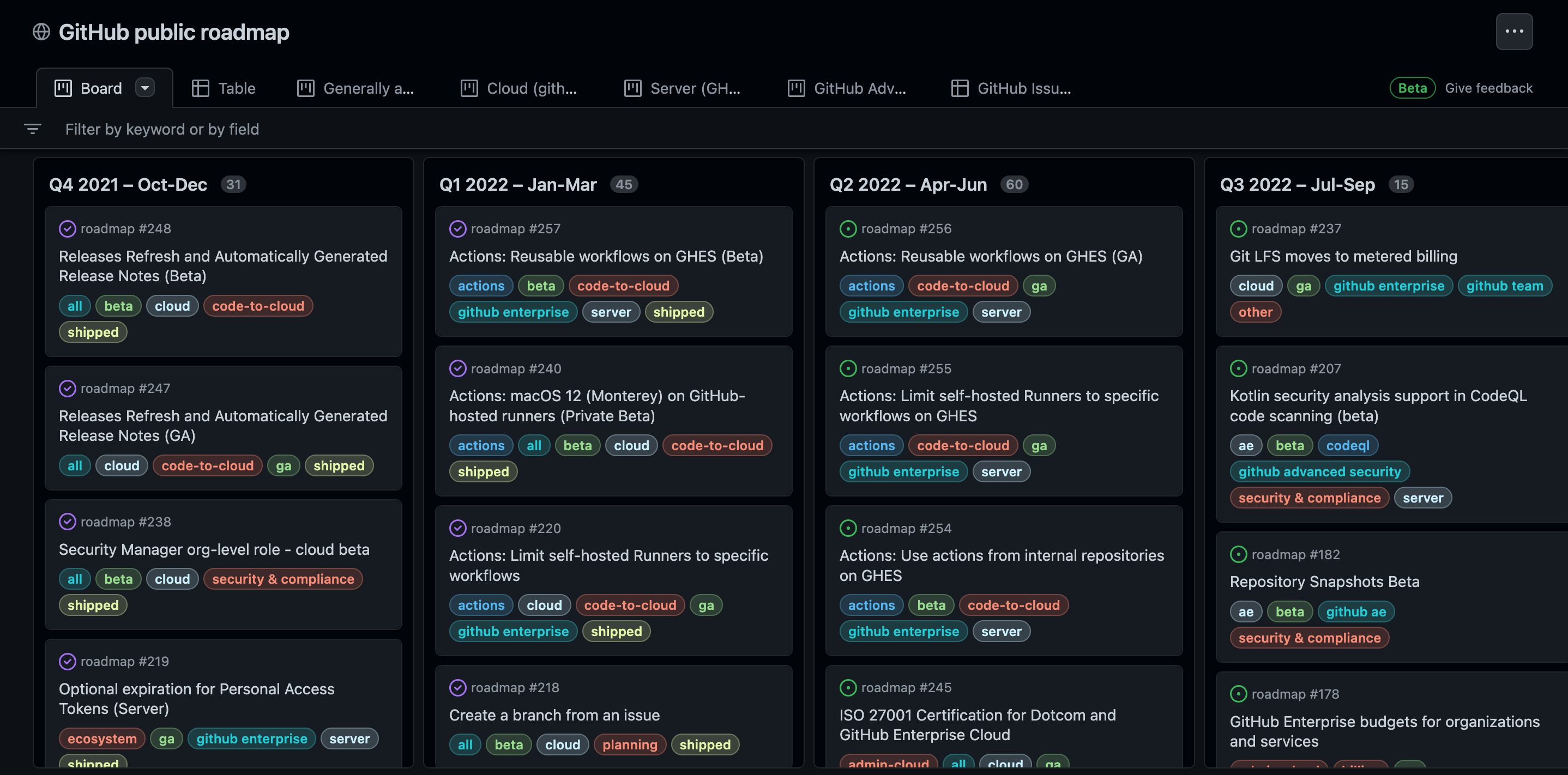 4. Lasso
Lasso uses Rapidr to create its public product roadmap, supporting transparent product development on its custom domain.
They streamline their feedback process with a visual public roadmap and update all stakeholders on their product decisions and prioritized features via product roadmap and changelog.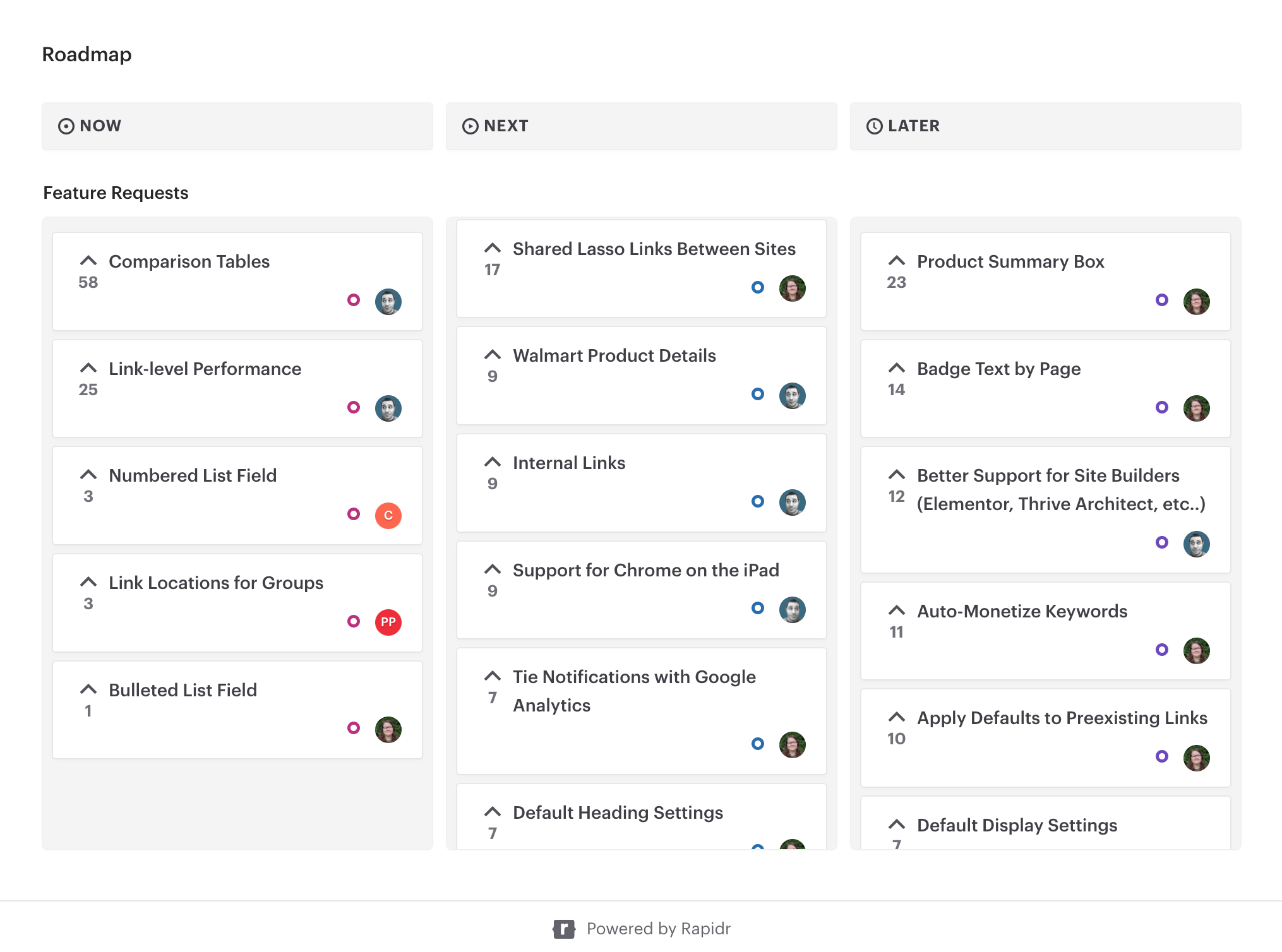 Looking for a public product roadmap tool? Check out Rapidr.io. Sign up now.
5. Slack
Slack mentions that this is a platform product roadmap. They think transparency begets a healthy ecosystem, which is precisely what they are trying to grow with a public roadmap.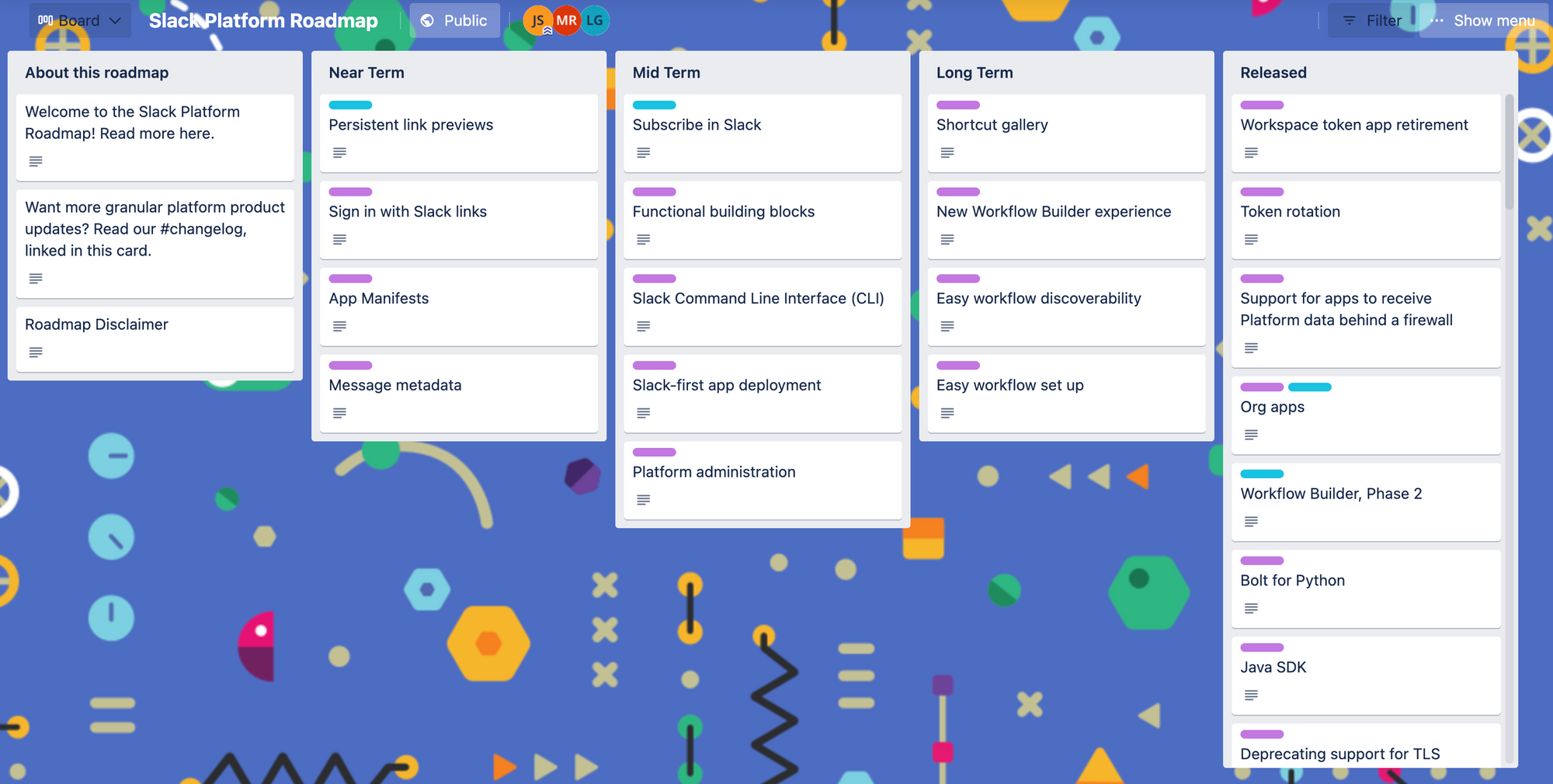 6. Loom
Loom is a video messaging tool that helps you get your message across through instantly shareable videos. Loom love to hear its user's voice; thus, they created a Public Roadmap here to help customers see what we're building next. You can also upvote features to bring them to their priority list and add feedback.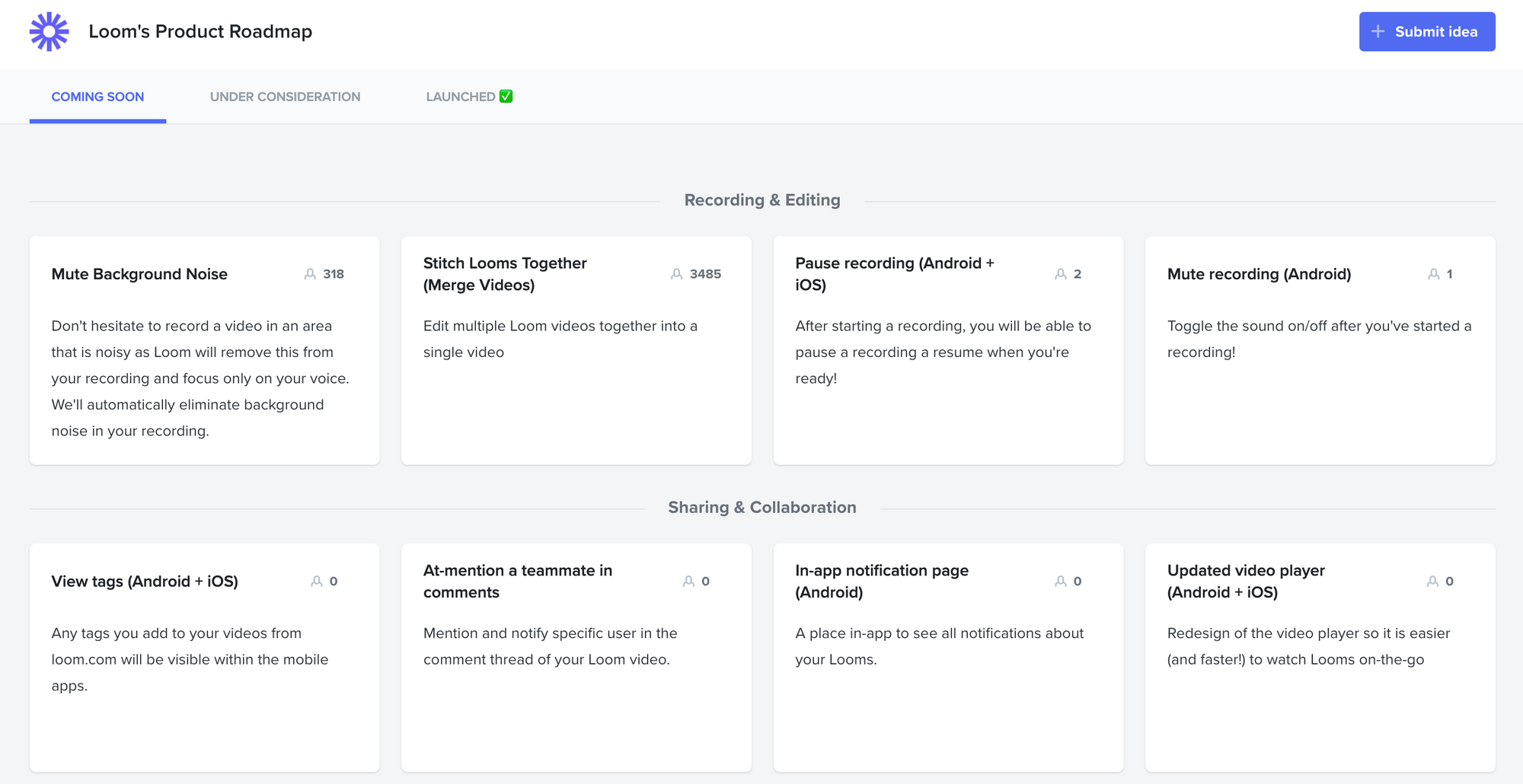 7. Neurosity
Neurosity uses Rapidr to create a public product roadmap to keep its users updated when a feedback request moves through the product development process. Rapidr helps them to:
Communicate their product strategy visually. Get everyone on the same page. Work on highest-priority feature requests.
Achieve customer loyalty and support by presenting an easy-to-use product roadmap with the product vision.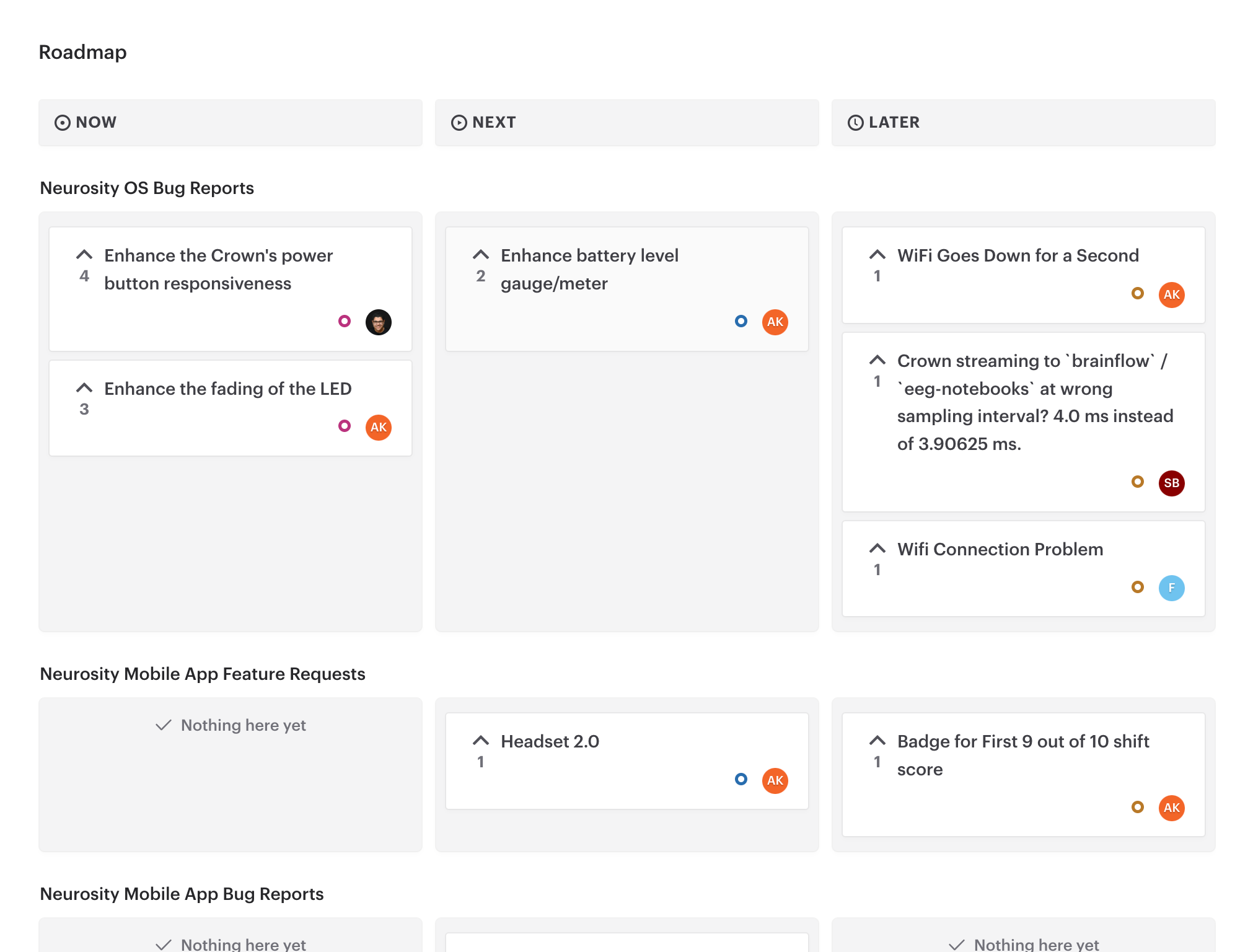 Looking for a public product roadmap tool? Check out Rapidr.io. Sign up now.
8. ClickUp
Clickup maintains its public product roadmap in a public document along with its release notes. They include what they are working on, what's coming next, features in beta, and what has already been shipped on their public roadmap.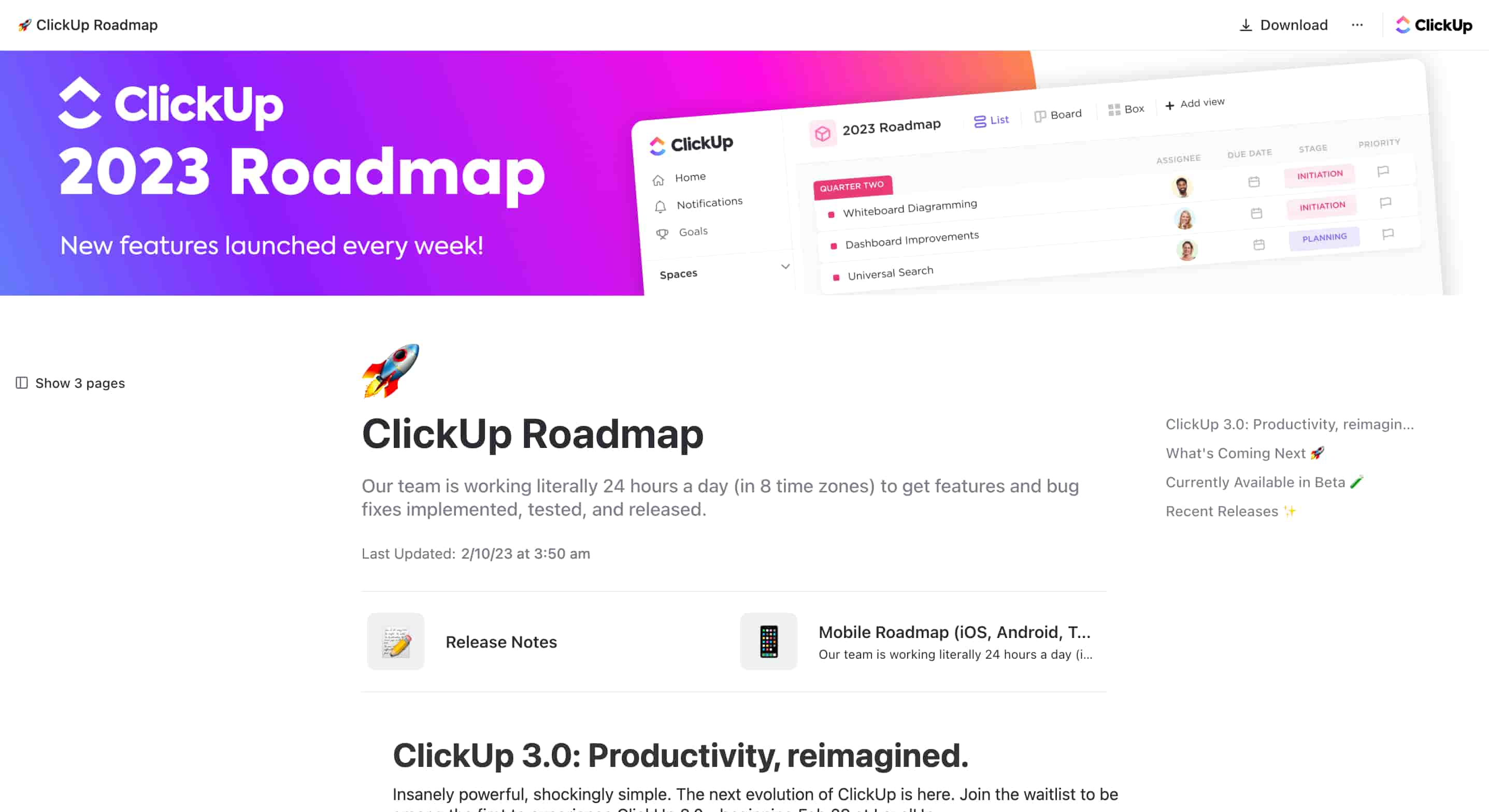 9. Monzo
Monzo publicly shares the product roadmap to increase transparency for our loyal customer base.  A public product roadmap helps support a feedback loop that creates evangelism and authenticity others don't match. They believe that a company does better if we share with our community and gather feedback as we build.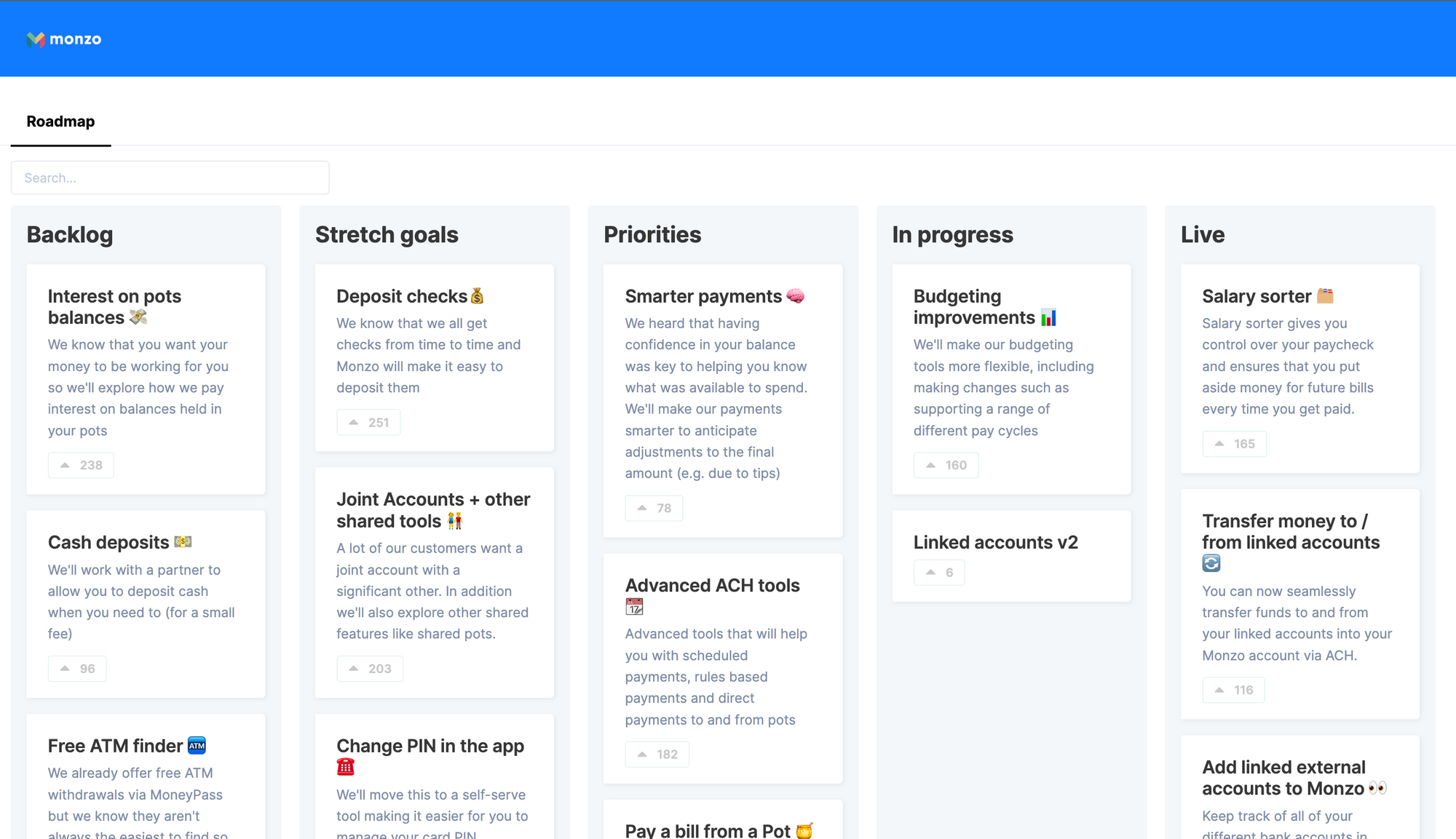 10. Attendify
Attendify exists to make events more engaging, measurable, and meaningful for everyone by unlocking event data's immense, untapped potential. Their public product roadmap is guided by a single focus on unlocking the value of event engagement.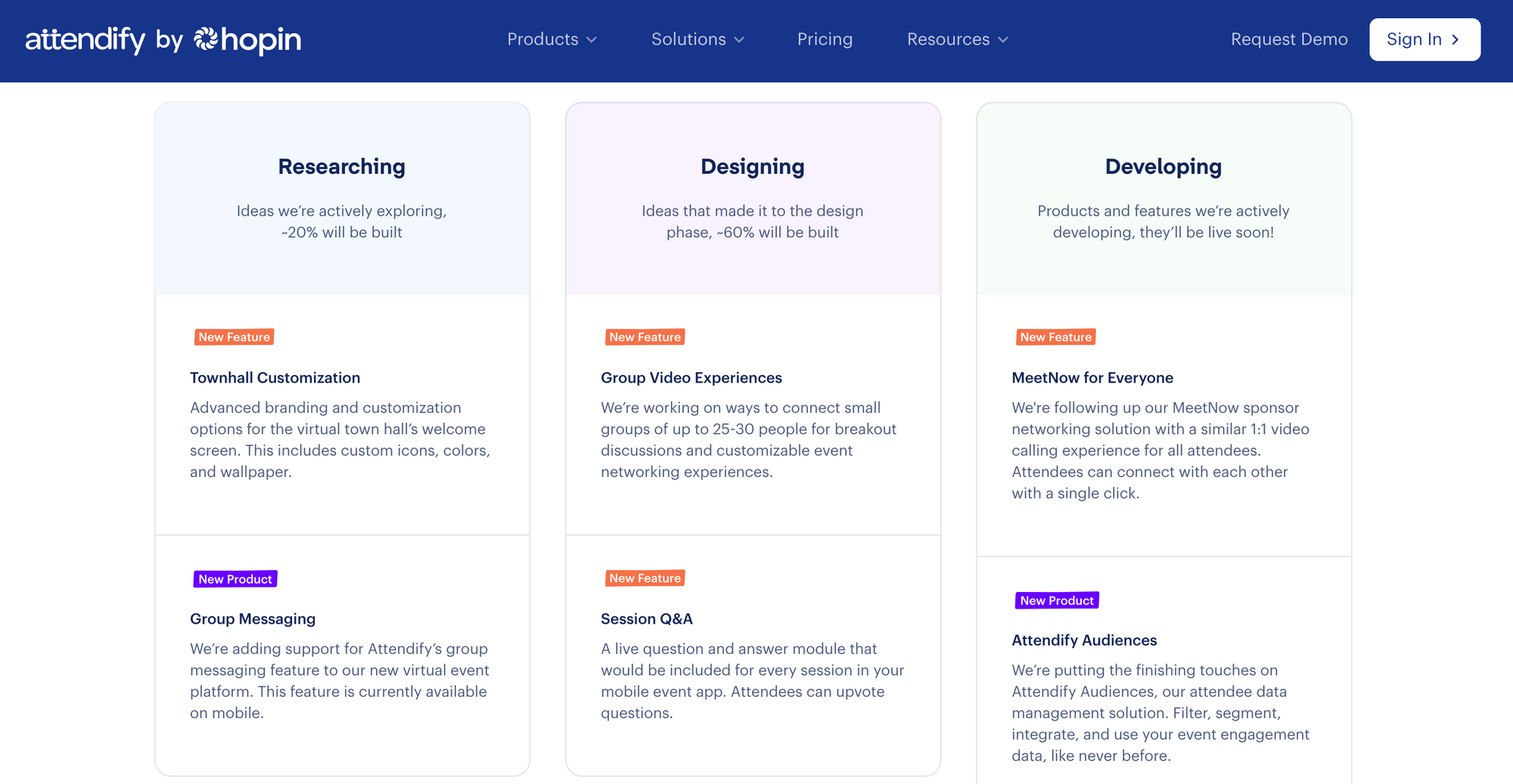 How to build a public roadmap?
Building a public product roadmap is an effective way to communicate the strategic direction of your product to your audience. Here's a step-by-step guide to help you:
1. Define your Vision and Strategy
Start with your product's vision and strategy. Choose tools that offer a specific place to define your roadmap, like a custom domain, so users can always see how the details of the roadmap align with the bigger picture.
2. Choose a Public Roadmap Tool
The first step is to select a public roadmap tool. There are numerous software options available, like Rapidr, Notion, or Trello. Choose one that best fits your needs, considering factors like price, features, integration capabilities, and ease of use.
Rapidr helps SaaS companies gauge the interest of their customers and teammates with a public product roadmap. Rapidr helps build and share what your team is working on with a simple public product roadmap supported by a customer feedback management solution and release notes tool to close the feedback loop.
Sign up now or check out our pricing plans to learn whether Rapidr is right for you.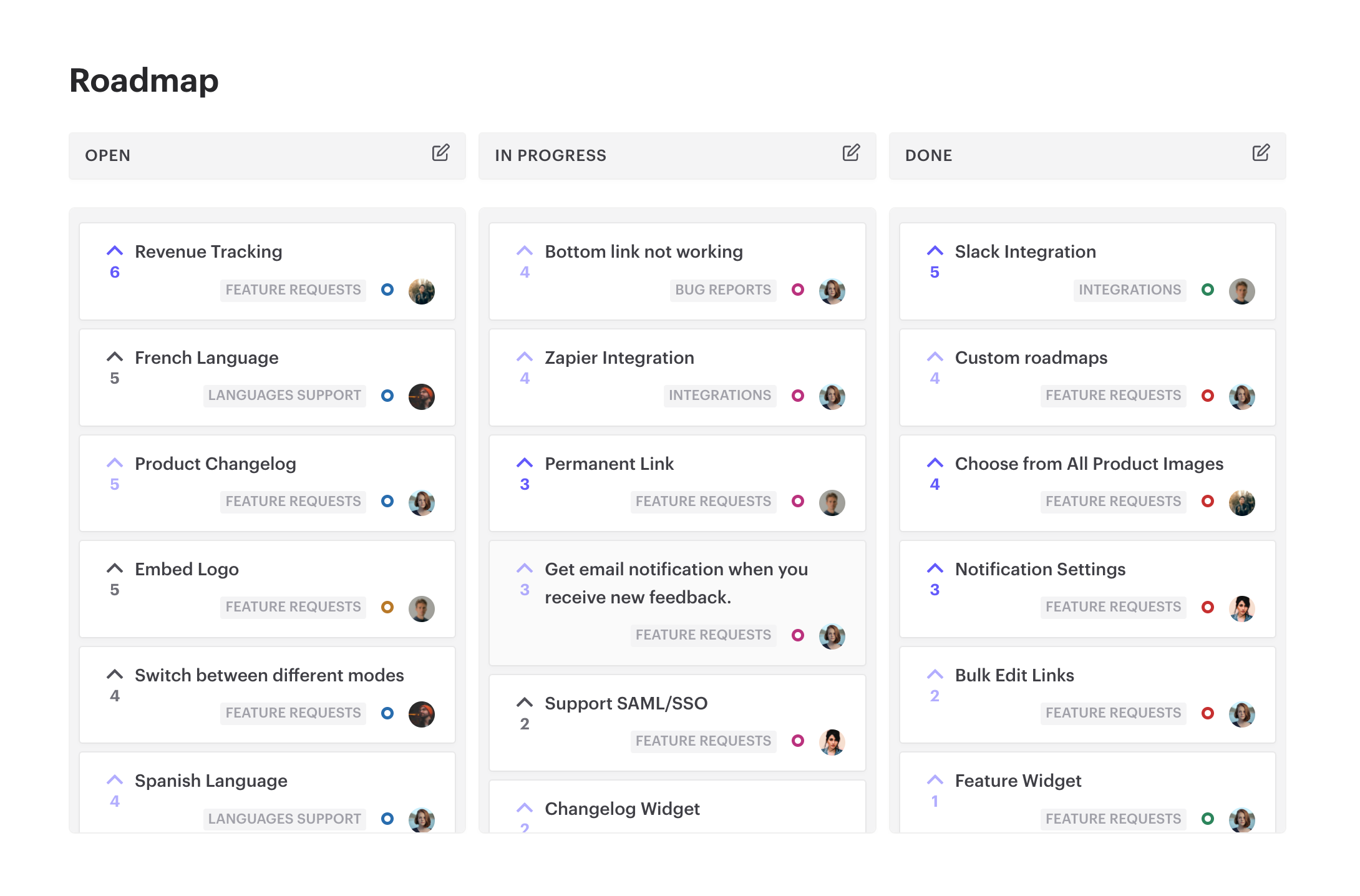 3. Create User Feedback Boards
At Rapidr, you can create different feedback boards such as ideas, bug reports, feature requests, etc. It also allows SaaS teams to submit new feedback, upvote existing feedback, comment, and discuss user feedback.
You also get a fully-fledged admin feedback portal, a single, centralized place to collect different types of feedback such as emails, spreadsheets, slack, intercom channels, and website survey responses publicly or privately on dedicated feedback boards.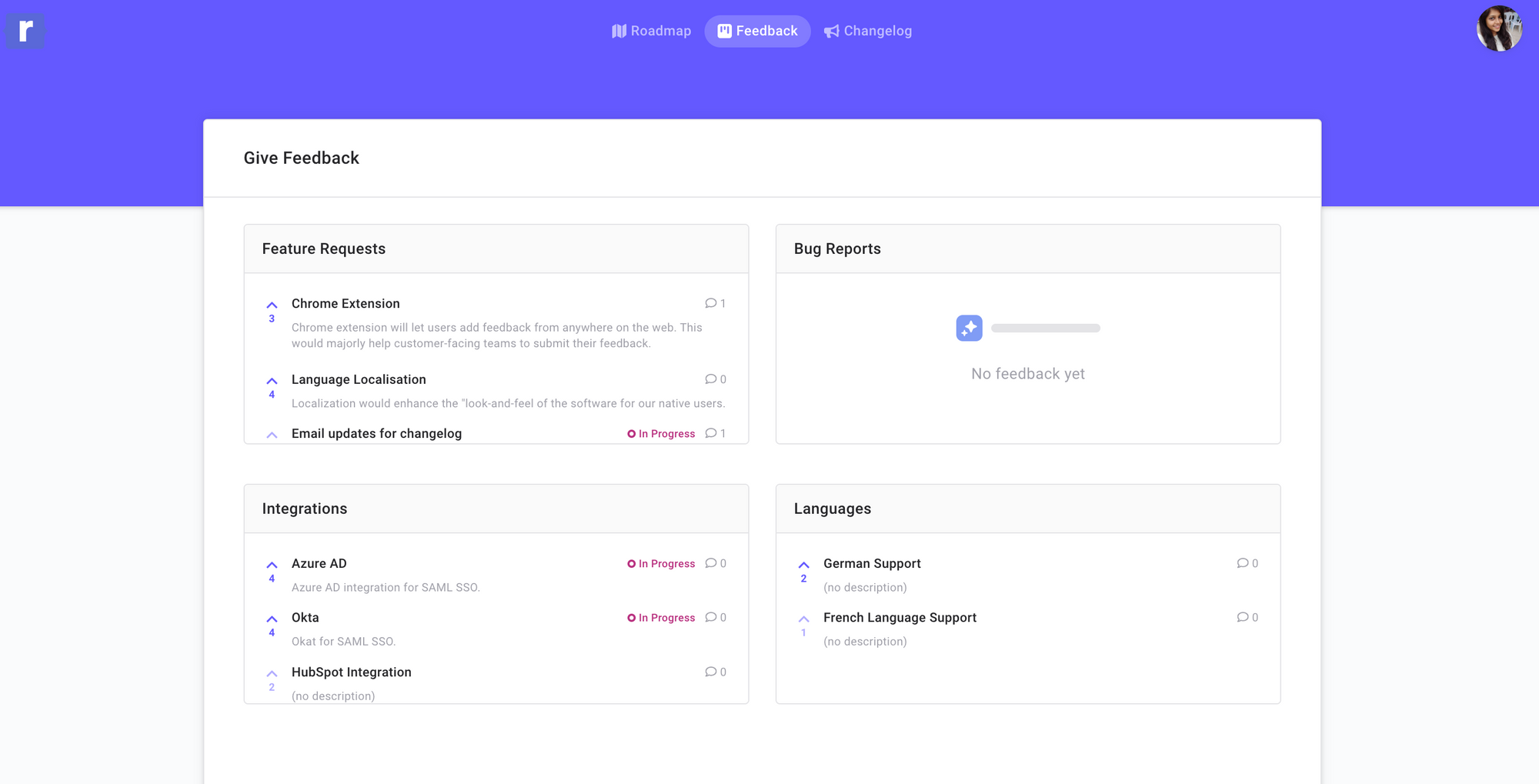 Rapidr also offers a feedback widget and customized product roadmap to link your feedback board to your product to gather user feedback from your customers and showcase product development progress. You can customize your roadmap to match your brand language.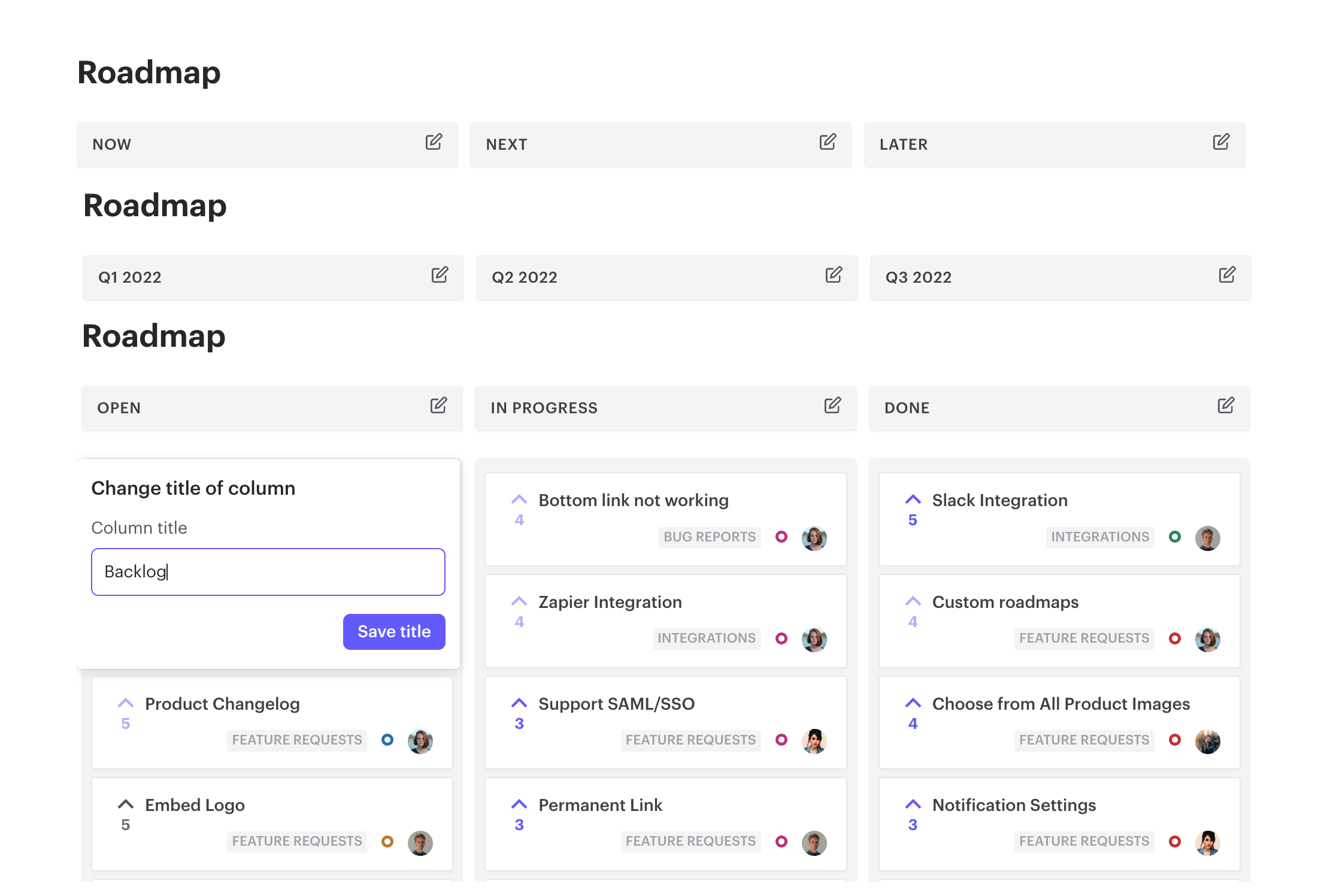 You can also set up SAML SSO,  add a name and description, and customize the roadmap portal to match your brand. You can also integrate it with Jira and Intercom to include development and customer support, and success teams in the roadmapping process.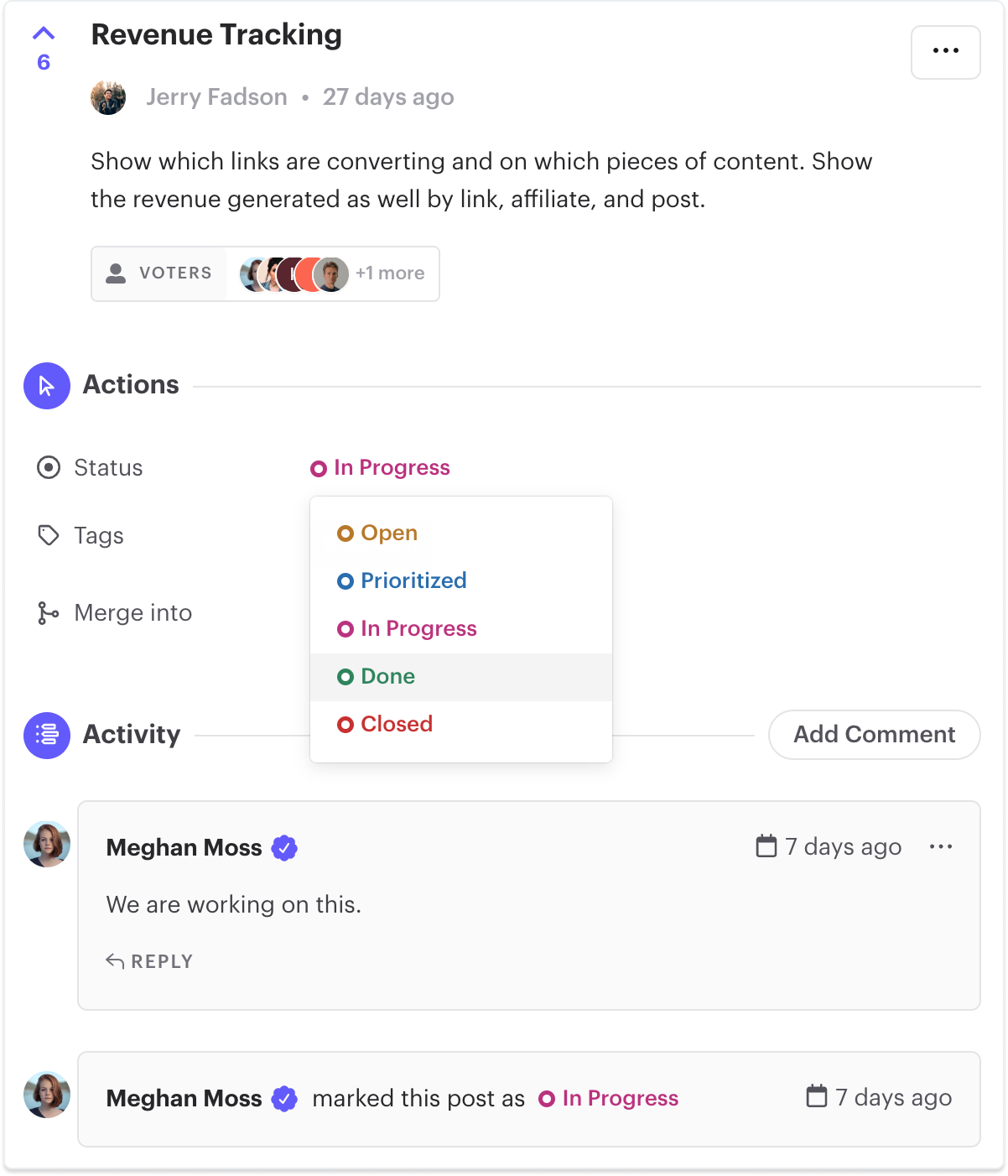 4. Prioritize & Update Statuses of Roadmap Items
Analyze and update the statuses of the feedback items based on their priority in the boards or directly in the roadmap itself. You can also use tags to indicate priority levels. Rapidr provides features like user segments, feature voting, vote on behalf, comments, and customer profiles to identify top ideas for improving your product.
Engage your customers with a simple product roadmap, share upcoming features, collect valuable feedback, and keep stakeholders in the loop. You can use the existing status or create custom statuses for your customized roadmap in Rapidr. As soon as you update or change the status of any roadmap item, Rapidr sends an update email to all the stakeholders concerned with it.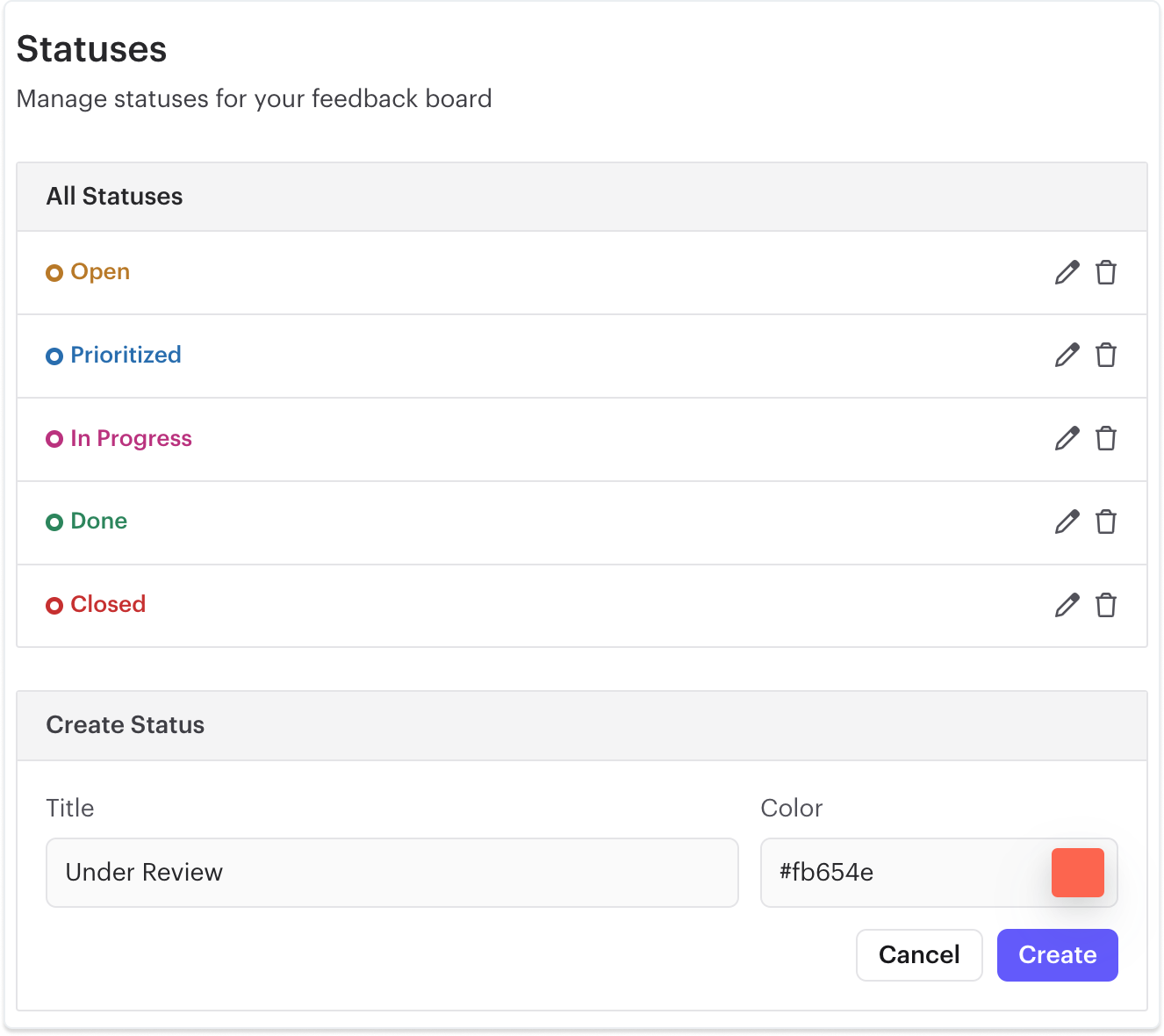 5. Invite & Interact with User Feedback
Rapidr also enables users to comment or vote on the roadmap items and enables customer-facing teams to vote on behalf of users. This can be a valuable source of feedback. You can also discuss user feedback with your teammates with the help of confidential comments without letting the users know in Rapidr. You can use this when refining and updating your roadmap.

Invite particular users or only teammates to provide internal feedback about a feature or product privately with access controls and create your product roadmap accordingly in Rapidr. Identify users with SAML SSO enabled and prioritize roadmap items based on the priority of users in Rapidr.
5. Publish Product Roadmap and Share
Once your roadmap is complete, you can publish it. Rapidr allows you to generate a shareable link or host the roadmap on your custom domain.
After implementing changes, reach out to the users who provided feedback, thank them, and let them know about the improvements and updates made based on their feedback. This will show your commitment to improving their user experience and encourage more feedback in the future.
Share a link to your feedback portal and product roadmap with your users to provide more transparency and accountability by communicating what your team is working on and why. See how Lasso, hosts its product roadmap on Rapidr.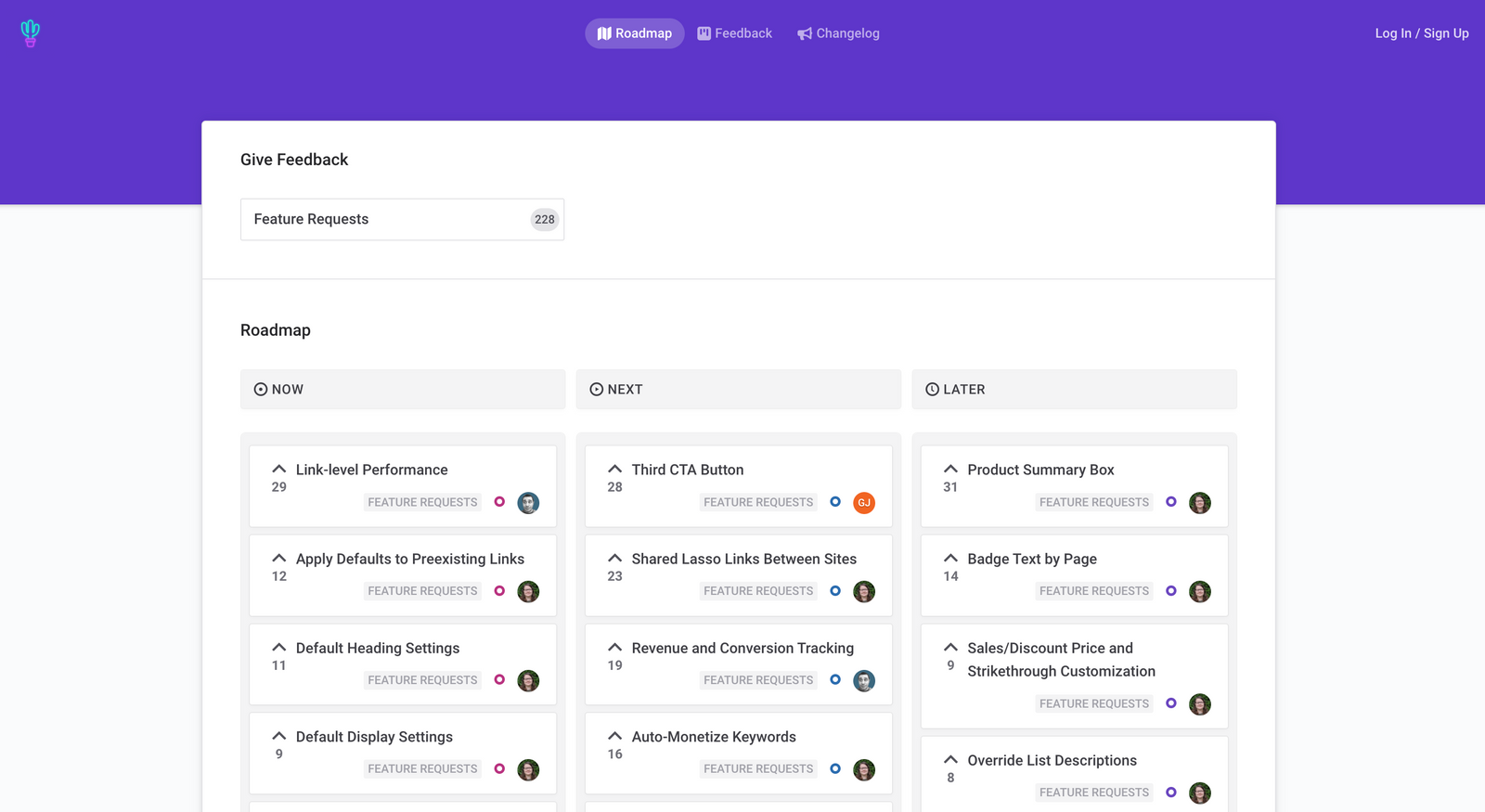 6. Showcase Progress & Announce Updates
A product roadmap is a living document. Make sure to regularly update it to reflect the progress, feedback received, or any changes in the strategy. The main goal of a public product roadmap is to maintain transparency and promote better communication with your users. It should not be a promise but a strategic plan that can evolve over time.

Also, Rapidr offers a product changelog solution to announce new releases and updates to users with a changelog widget, tags, and a standalone product updates page.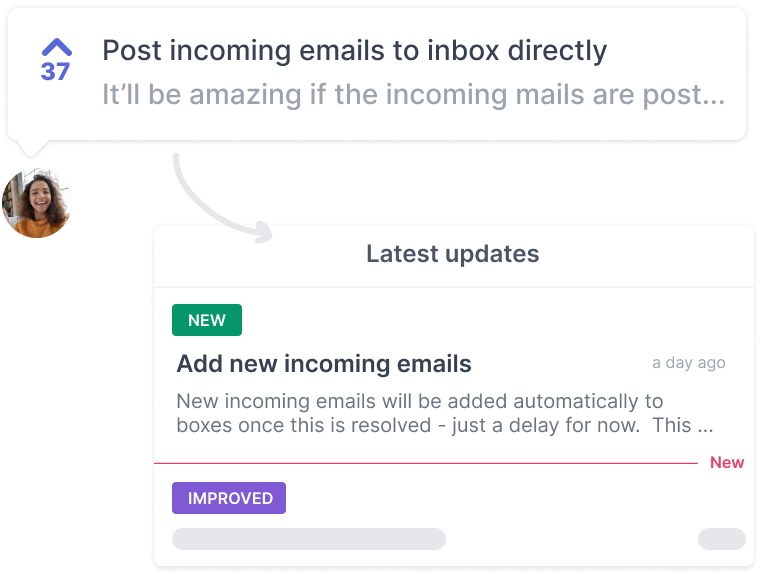 Unlike other tools, Rapidr is not just a product roadmap tool; it goes beyond that. From capturing ideas & feedback to strategizing, sharing public plans via roadmap, and announcing product releases, you can complete the entire feedback cycle in one place.
Is a public roadmap right for your company?
The short answer: Yes.
A public roadmap benefits you, your company, your teammates, and your users. You will build confidence, transparency, relationships, and loyalty by publicly sharing your progress. These will help you grow and keep you functioning.
It is also an excellent way to keep on top of your competitors. You can even use a public roadmap tool to assist you in the process. Having your own roadmap should be essential.
Rapidr helps SaaS companies be more customer-centric by consolidating feedback across different apps, prioritizing requests with a public product roadmap, and closing the feedback loop with release notes. Create a public roadmap, and give Rapidr a try.