Modern and Affordable UserVoice Alternative
Rapidr is an easy-to-use and affordable customer feedback management tool that helps product managers complete the user feedback lifecycle, compared to UserVoice, which is expensive, complex, and bloated with features.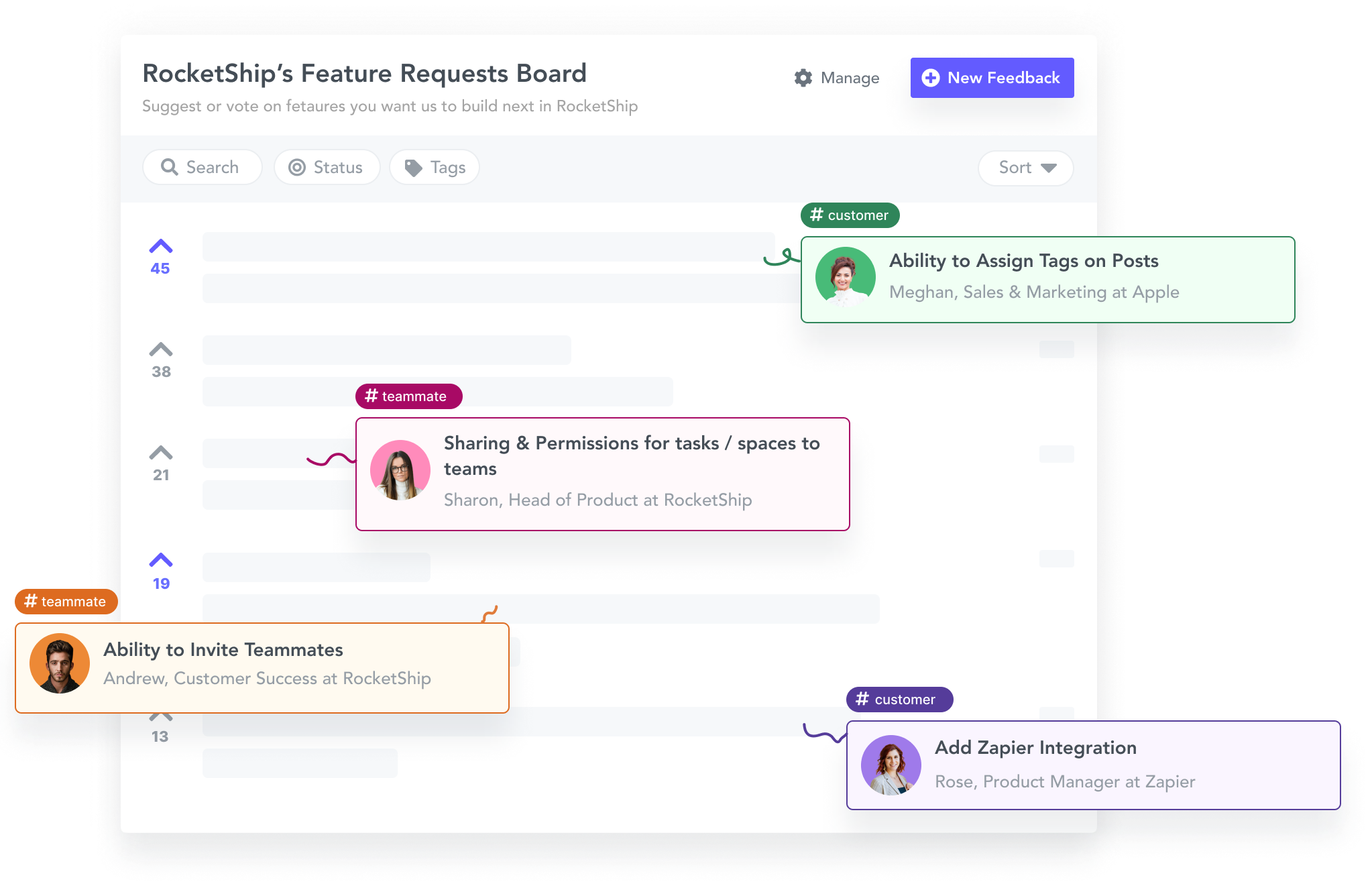 TRUSTED BY NEXT GENERATION PRODUCT TEAMS


What's the difference between Rapidr and UserVoice?
1
Bloated with features
You'll get overwhelmed with the sheer amount of features wrapped in the bloated user interface that feels like an afterthought.
Powerful features
Powerful features and sane defaults help you get up to speed quickly and don't get in your way.
2
Dated interface & complicated experience
UserVoice was built in 2008, and its user interface shows. Every simple task is made complicated by half-thought and glued together interface. It's hard to navigate and has a steep learning curve.
Modern and clean UI/Interface
Rapidr is a modern feedback management software that is easy to use, customizable (brandable), and blends easily into your existing product development workflow.
3
Talk to Sales
You would have to talk to a salesperson even to sign up and give it a try.
Self-serve
We don't like gatekeeping, so we welcome you to try all of our features in a 14-day free trial. No obligations and no credit card required. In case if you'd like to talk to a salesperson, we're always standing by.
4
Basic Support
To SMBs, UserVoice only provides basic support. Their primary customer base is large enterprise companies.
Delightful support
With Rapidr, you get fantastic support no matter the plan you're on.
5
Length Onboarding Process and Setup
Time-consuming and complicated onboarding that requires a salesperson to help you, even to try it out.
Easy onboarding process and setup
Easy to get started. No credit card is required, and completely free to try for the first 14 days. We will be there for you no matter what, whenever you need.
6
Use cases
Mainly used for idea management
Use cases
Rapidr's use-cases include, but not limited to, idea management, internal feedback management, feature request tracking, bug reports, planning product roadmaps, and announcing product releases.
PRICING
Rapidr is an affordable alternative to UserVoice
UserVoice is an expensive product with pricing options starting at $500, nowhere near affordable. They don't have a public pricing page, which means you'd have to talk to a salesperson to get a price quote and try the product. Multiple calls with a salesperson are required to calculate the final price you need to pay. Apart from that, you'll need to pay extra for add-ons such as custom domain, and they don't offer any discounts to SMBs.
VERSUS
Rapidr is an affordable & cost-effective solution, with transparent and inexpensive pricing plans starting from just $19/mo. Calculate the final price right then and there with our price calculator. You don't have to book a sales call to get a product demo. You're welcome to try out Rapidr and all our features with a 14-day free trial.
SETTING UP
Setting up Rapidr is easier and faster compared to UserVoice
UserVoice requires you to talk to a salesperson even to try it, and getting started is a time-consuming hassle. UserVoice's lengthy onboarding, complex features and tedious setup process lower the ease of use. No self-serve makes it a complicated solution.
VERSUS
Rapidr is a self-serve tool with a 14-day free trial and smooth onboarding process explicitly built to help you get up and running quickly. Coupled with our excellent support and detailed documentation of all features on our help center, it's a breath of fresh air to get started.
FEATURES
Everything you need to take better product decisions
Why Rapidr is the best UserVoice alternative? Manage the entire feedback lifecycle –– Product Ideation, Feature Prioritization, Public Roadmap, Product Strategy, Releases –– in one place. Better visibility and management of feedback for your use.
Customer Portal
Create unlimited boards to collect ideas and feature requests in our ideas portal, such as suggested feature requests, bug reports, etc.
Custom Domain
Setup Rapidr to run on your domain effortlessly. We will provide and manage SSL for you too.
Customize Portal
Customize your customer portal to keep your design consistent with your brand personality.
Collaborate
Invite unlimited teammates to contribute, manage and prioritize feedback and product ideas.
Votes & Comments
Vote on ideas and engage with users using comments. Prioritize effectively by quickly identifying popular feedback.
Single Sign-On
Seamlessly authenticate & identify your customers and know precisely who contributes to your feedback board.
OUR TEAM
Supporting you as you grow your product
Get started with feedback collection in minutes
With our self-serve option and intuitive onboarding, you can get started easily. Rapidr comes with sensible defaults that get you up and running in a matter of minutes instead of days.
Dedicated and delightful supported
Support that is responsive and helpful every step of the way. And with our detailed documentation on the help center, you get answers even more quickly.
Free 14-day trial and affordable pricing
Start with our free 14-day trial to explore all of Rapidr's features with no restrictions. Then, once you're ready to commit, our affordable plans will greet you.
Switching to Rapidr from UserVoice?
Are you fed up with a tool that bounds your action every step of the way? Make the switch. We got you. Just contact us, and we'll migrate your data and make the switch to Rapidr even more pleasant!
Free 14-day trial. No credit card required.
FREQUENTLY ASKED QUESTIONS
Still, deciding? We have answers to your questions!
We hope these resolve the doubts you have while comparing if you're still on the fence.
Q.

What is a customer feedback or a user feedback tool?

Q.

Who should signup for Rapidr?

Q.

Is Rapidr a feature voting tool?

Q.

Does Rapidr have free plans?

Q.

Is Rapidr less expensive than UserVoice?

Q.

What kind of support should I expect from Rapidr?