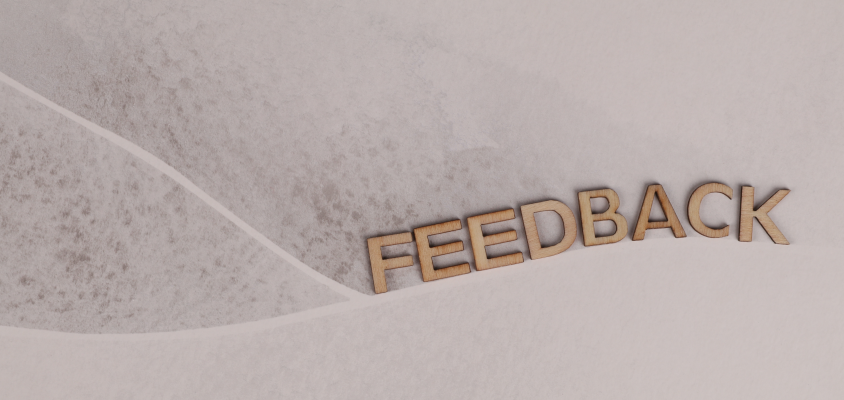 17 Best Customer Feedback Tools & Software (2022)
Customer feedback tools help businesses of all sizes collect, analyze, and sort customer feedback through various channels your customers interact with your online business. The product or service you provide your customers will need to be constantly improved in order to stay relevant in this market. For that, you need the best customer feedback tools to help you gather customer feedback and make sense of it.
But first, let's take a quick look at the factors that make collecting customer feedback an integral part of running a successful business these days.
What is a customer feedback tool?
A customer feedback tool is software designed to help businesses collect, analyze, and organize customer feedback across various channels. Later, you can use the collected data to drive informed decisions based on the feedback.
A customer feedback tool helps businesses understand what their customers really think about the product or service they offer. With these feedback tools, one can gain an insight into what customers think about the company's services and use that information to make positive changes in order to improve customer satisfaction.
These tools are especially effective for all businesses because it helps build more personal relationships with them than ordinary social media channels. Customers feel like they're being heard when they give their opinion on a product or service, which creates loyalty and goodwill towards the company.
Choosing the right customer feedback tool for your company can be a daunting task. That's why we've listed down the best customer feedback software tools for SaaS companies and product teams. Each with its top features, use cases, and pricing. Let's take a look at some of our favorite customer feedback tools.
Top Customer Feedback Software & Tools in 2022
Rapidr
Trello
Typeform
Aha Ideas
Productboard
UseResponse
UserReport
Podium
Canny
AskNicely
Qualaroo
Feedbackify
Usersnap
Hotjar
Saber feedback
UserVoice
Survicate
1. Rapidr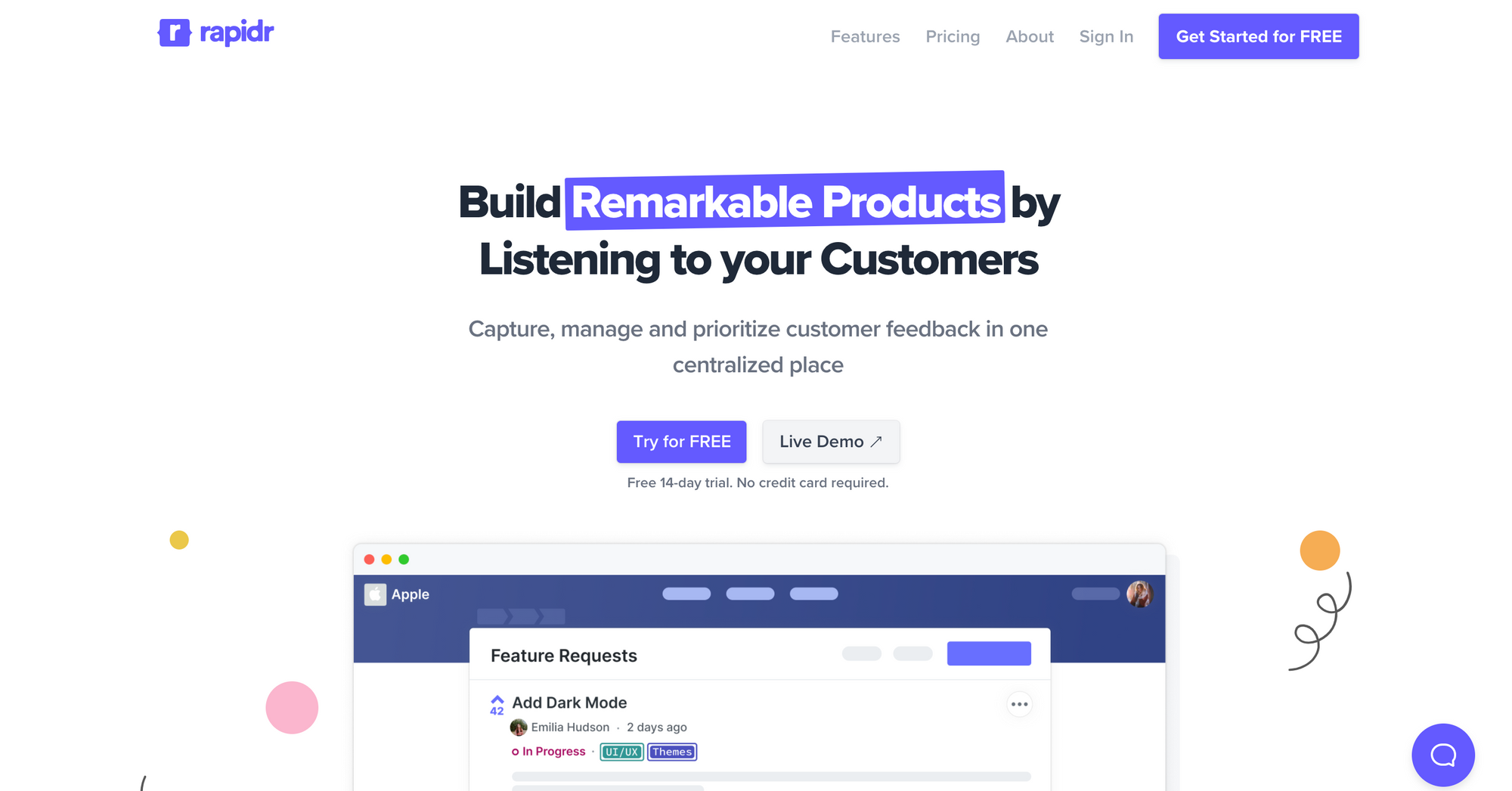 Rapidr is a customer feedback management software and feature tracking tool that helps manage the entire feedback lifecycle, from capturing feature requests to prioritizing features, informing product roadmap, and sharing product updates with changelog.
Rapidr allows you to capture and track all user feedback and organize and analyze them under one roof in a centralized location. Then, inform your roadmap with the most critical feedback, and notify users of what's new with release notes.
Pricing: Starts at $19/month.
Use case: Best for feature requests tracking, idea management, feature voting, roadmapping, and product changelog.
Pros of Rapidr
Rapidr is an end-to-end user feedback management solution, which means you don't have to glue together multiple apps yourself. With it, you get, a customer feedback management tool, feature request collection software, road mapping software, and release notes software.
Rapidr is one of the most affordable and cost-effective solutions that offer excellent value for money stacked against the other enterprise options on this list. Rapidr's pricing is based on the value you're deriving from the software instead of per-seat pricing.
Rapidr's hosted feedback portal is lightweight, easy to use, and customizable, fitting in perfectly with your existing workflows and brand design.
Rapidr is built to support varying workflows and to match different product development terminology across companies. It's built to be customizable from day one.
Rapidr can be fully white-labeled on high-end plans. White-labeling removes the "Powered by Rapidr" link from your feedback portal and emails, which means no visible branding from Rapidr.
Cons of Rapidr
At the time of writing, Rapidr has a few integrations, and many are on the way. They track integrations on their public feedback board.
Rapidr is relatively new in the market, and many features are still being built. But with features rivaling other options at a much lower price and in the hands of trusted people, it's an excellent option for anyone looking for a lean, simple, and clean feature voting tool.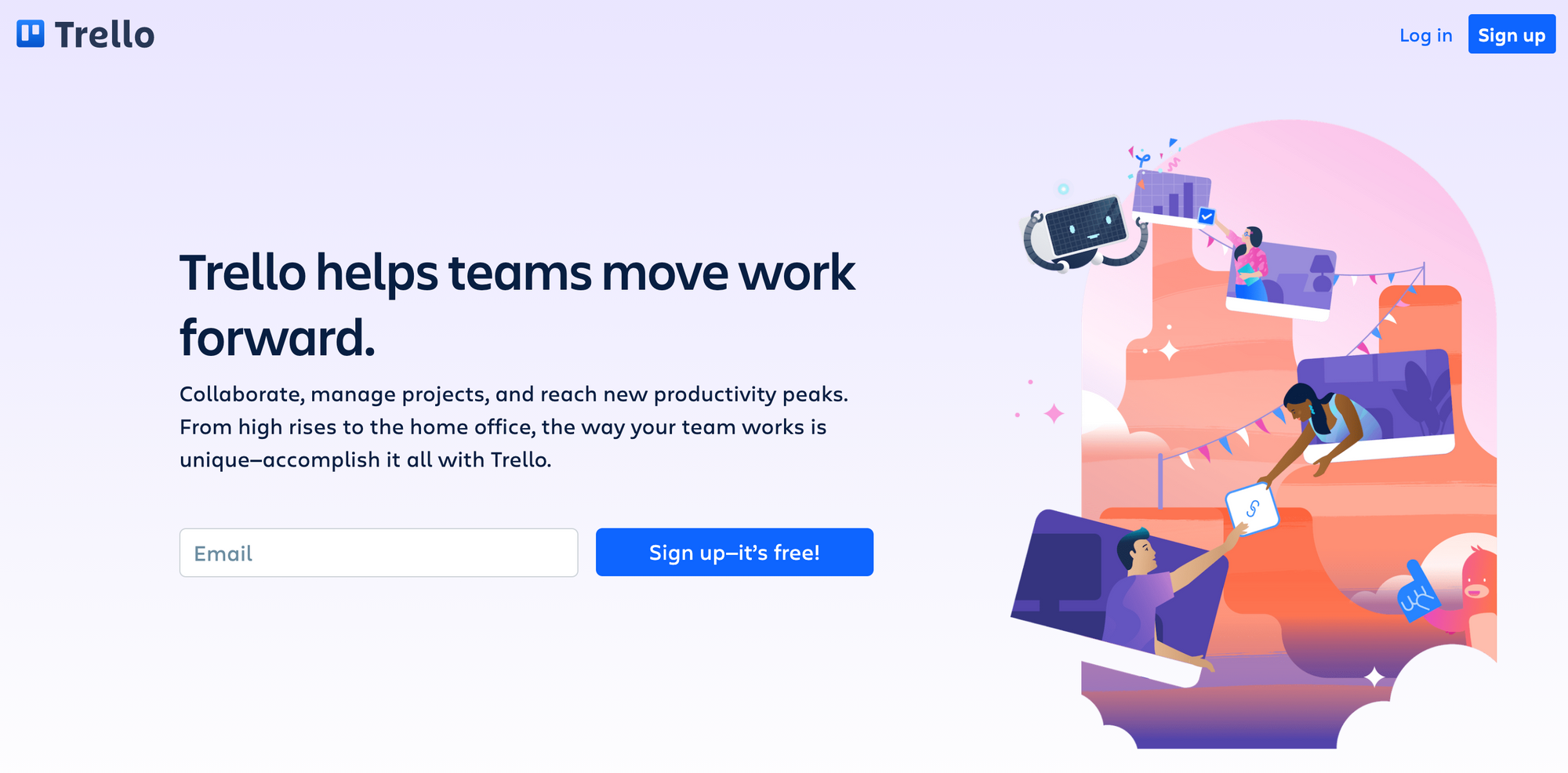 Trello is a collaboration and project management tool that provides a kanban style roadmap to arrange and manage project tasks. Your team could also create a public board where customers can log in, submit their own feedback as comments on existing cards and vote for their favorite features.
It is a simple task management tool that provides a drag-and-drop feature to tasks and projects with the help of boards, lists, and cards, which many teams use as a feature voting tool.
Pricing: Starts at $5/month per user
Use case: Best for project management, roadmapping, and to-do list.
Pros of Trello
Trello allows you to create closed boards with a limited group of members within the company and public boards that anyone can view, including your customers.
Basic functionality in Trello is available for free, which includes unlimited boards, cards, and users, but as for adding more team members, it charges per seat and extra charges for power-up features.
It has a perfectly built responsive design, and works fine on computers, mobile, or tablets, without any issue.
Cons of Trello
Trello is basically built for project management purposes, including a Kanban Board to keep track of todos and other tasks. However, when you try to manage customer feedback on a larger scale, you'll be held back by its generic user interface and lack of extensibility.
Trello is free to start with, but once you start using advanced features or power-ups, the per-seat pricing won't scale with your team, and it quickly becomes costly.
It is suitable for smaller projects. However, feedback tracking becomes complex with limited functionality as the user base, and the team grows.
Closing the user feedback loop becomes a tad harder in Trello as you can't quickly contact customers for more feedback, and there are no notifications for any update on feature status.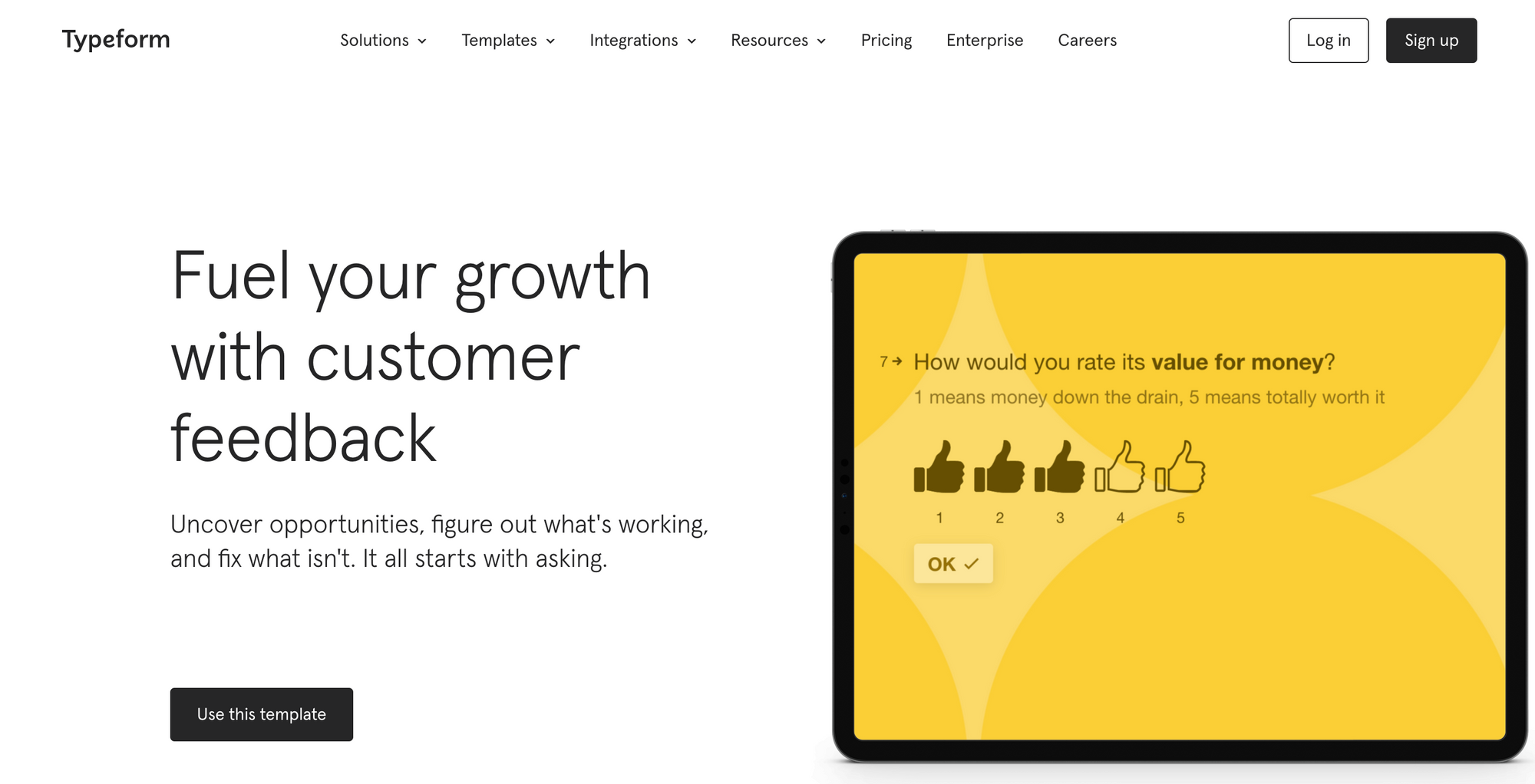 TypeForm is a survey software solution for handling customer feedback management processes that allow the creation of intuitive forms, surveys, and questionnaires. Typeform supports the survey design process with a wide range of templates offered and the surveys can be built for different business-centric purposes, such as lead generation as well.
Pricing: Starts at $35/month.
Use Case: Best for user & online surveys
Pros of Typeform
Typeform is really handy when it comes to embedding additional elements such as videos and images, and the interactive, one question at a time format of survey experience has many fans.
Typeform offers unlimited questions and answers, many themes, and a user-friendly interface, survey analytics, and integrates with a wide variety of business tools.
Typeform includes pre-built templates and an interactive editor, built-in photo & video libraries.
Cons of Typeform
Typeform UI is great but limiting as users' review shows that building long and complex forms can be a headache for them because the interface starts lagging way too much.
It's customer's mention that Typeform may not be the most robust solution in terms of functionality as it only has a couple of options for how your forms will look and has a few integrations for what your forms can do... and that is largely by design.
It's fairly expensive for a survey tool. The pricing structure needs work. Even though entry-level is free, $35 a month can be a bit tasking for some businesses that are just starting out.
Severe lack of customer service as reported by customers.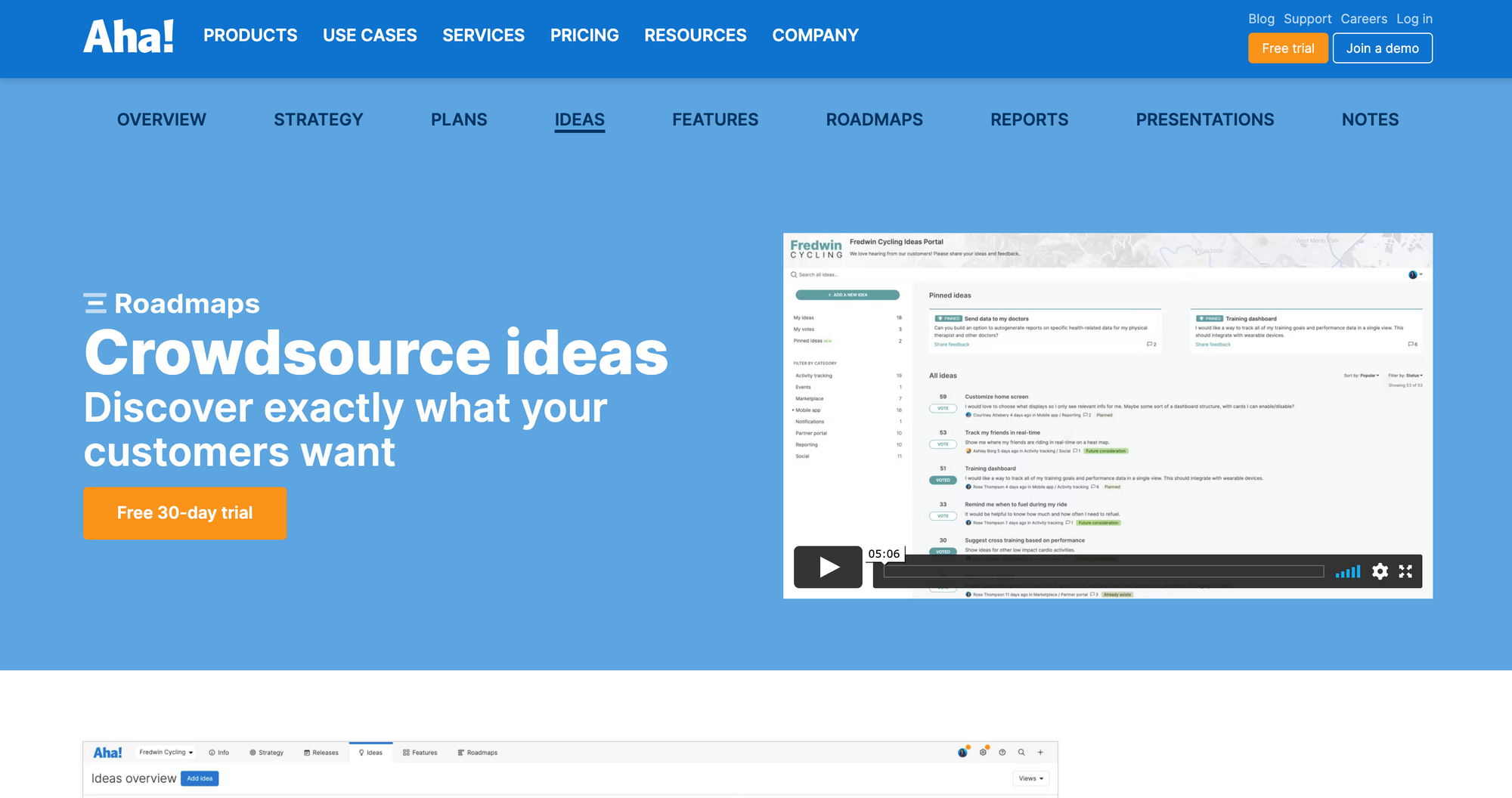 Aha is basically a roadmapping software, with Aha Ideas designed for idea management. It allows to set strategy and KPIs, crowdsource and manage ideas and features with a kanban board and Gantt charts. In addition, it helps to crowdsource, engage with the community, capture feedback directly from customers and promote the features with the most votes directly to the roadmap.
Pricing: Starts at $39/month for 3 users.
Use Case: Best for project management, roadmapping, and idea management.
Pros of Aha Idea
Aha provides all product management facilities in one tool: requirement gathering, epic and user story breakdown, roadmap, backlog management, etc.
Aha can be a sophisticated tool that's very flexible and configurable, so it requires a little while to get fluent with everything it may do and be aware of the best workflow patterns.
Aha roadmaps work way better as a roadmapping tool than Aha ideas used for idea management. It is great for creating Kanban boards and Gantt charts.
Cons of Aha Idea
Aha is a roadmap tool first, a customer feedback management tool second. As a result, everything feels complex, and configuring it feels like a chore.
The UI/UX is not very intuitive or up-to-date. Sometimes the color theme and related stuff do not align with an organization that sadly stands out.
As quoted by one of their customer, "The poorly designed UI, is not intuitive and has users bouncing from page to page, screen to enter information (how many clicks does it take?), users become easily frustrated and resort back to using tools they feel more comfortable using."
They have per-seat pricing, so you'd need to pay for each teammate you bring to the platform. They offer scaled plans to larger businesses and provide multiple product managers access.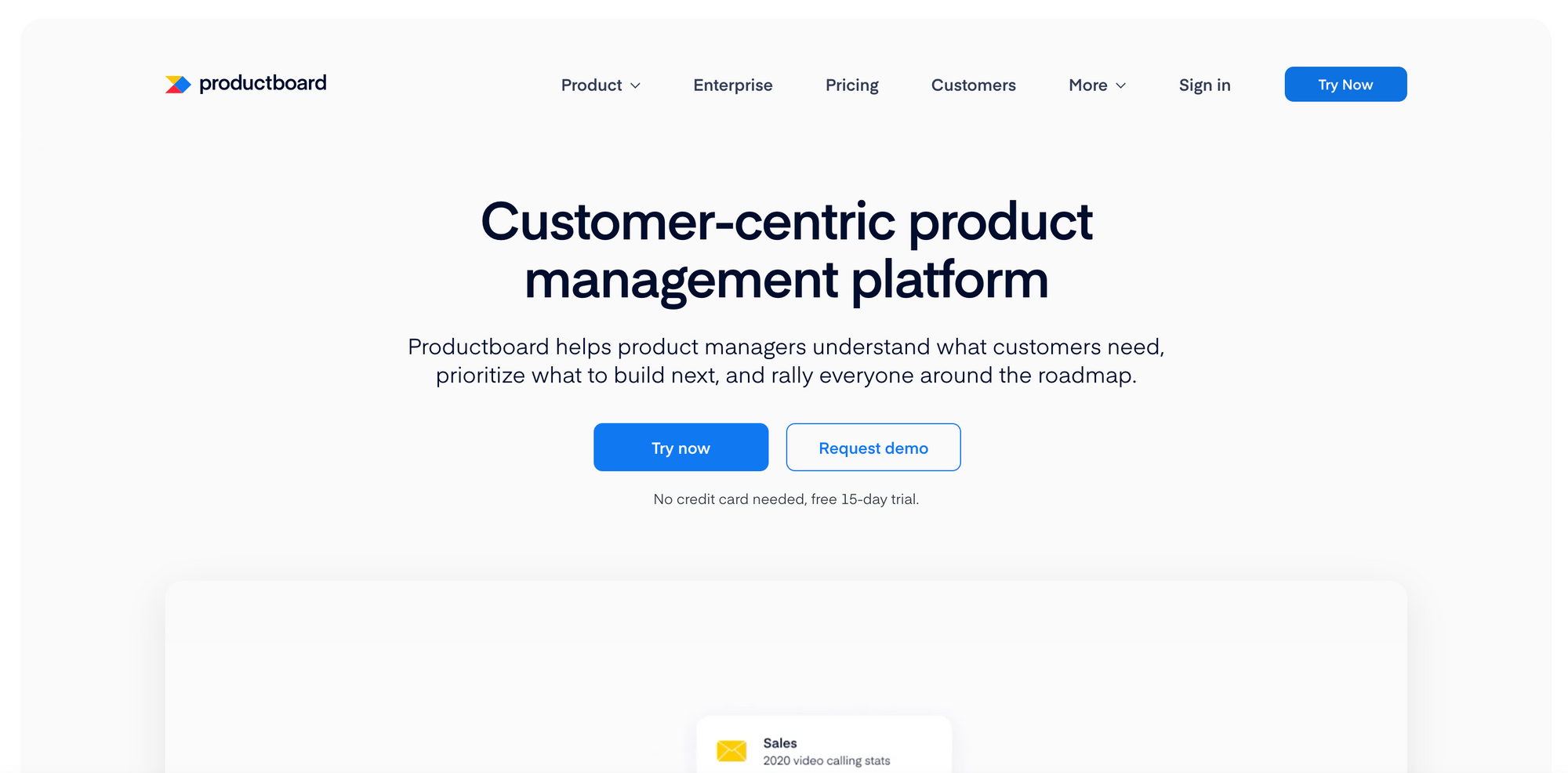 Productboard is a project management tool that helps product managers understand what customers need, prioritize what to build next, and rally everyone around the roadmap. It consolidates feedback from customers into a prioritized roadmap that's based on data.
Pricing: Starts at $39/month per teammate
Use Case: Best for project management, and roadmapping.
Pros of Productboard
Productboard is a project management tool that combines a user feedback voting board and inbox with prioritization methods and roadmaps.
Key features include collecting product feedback from email, prioritizing features with a set of frameworks, various product roadmap templates, etc.
Many integrations such as Slack, Zapier, and Salesforce are supported to manage projects and customer feedback.
Cons of Productboard
Productboard feels like an overly complex project management tool, much less of a feature tracking tool. No doubt, it's great consisting of all the customizations, but configuring the right setting for managing user feedback feels like a chore.
A complex interface with a complicated user experience, one where you would get lost configuring. It feels overly engineered, making it cumbersome.
As a user stated, "The primary method of capturing customer input (insights) does not link to the process of evaluating potential features in the features section, requiring this tracking to be performed manually. This limits the ability to tie development directly to user input".
It is expensive. At the time of writing, prices start from $20 a month for one admin, five contributors with limited admin rights and restricted features compared to other feedback management tools.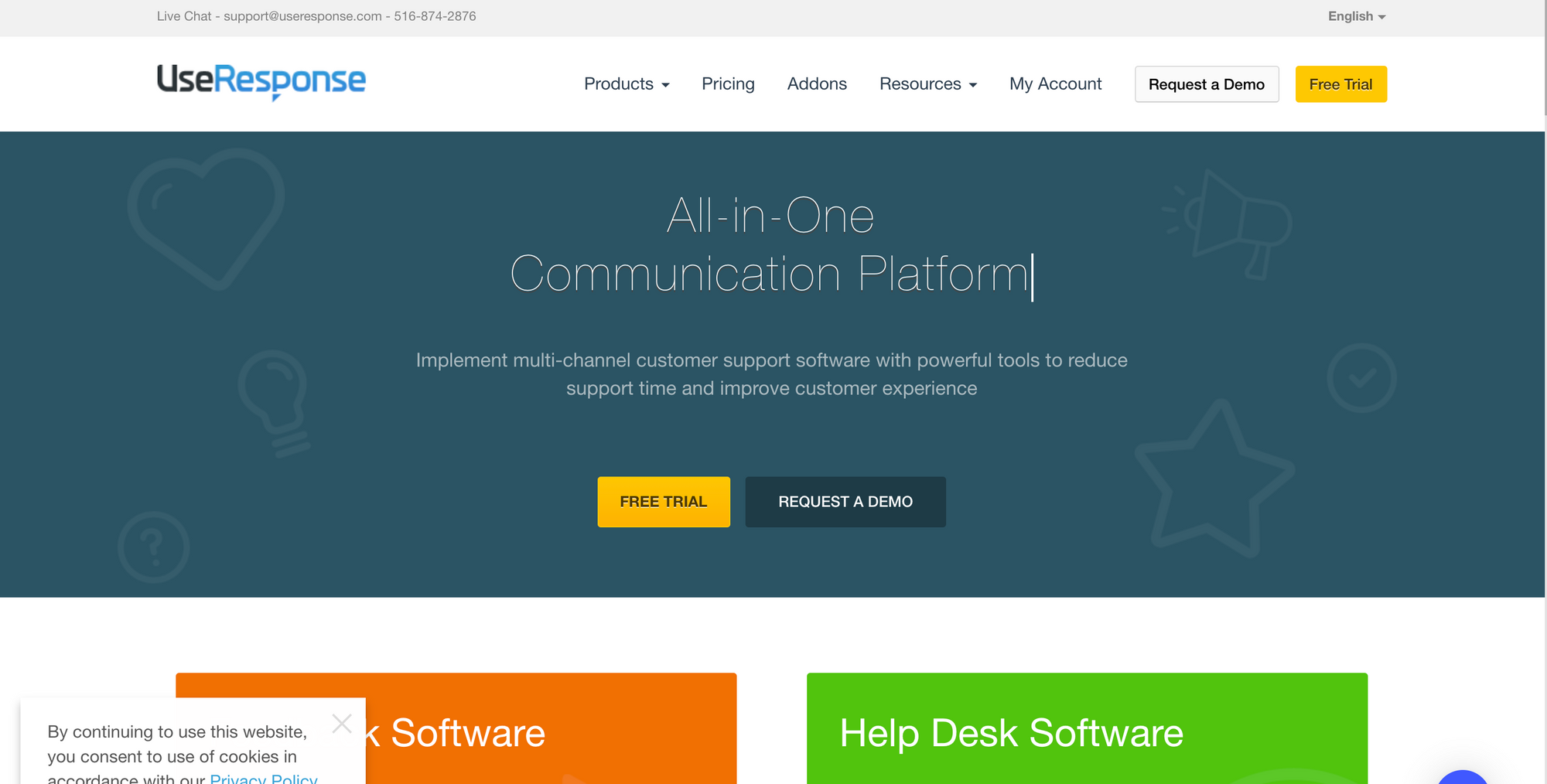 UseResponse is an integrated customer support application that combines the functions of a support ticketing center, feedback communities, live chat, and knowledge database in a single package.
Pricing: Starts at $124/month
Use Case: Best for customer support, idea management, and roadmapping.
Pros of UseResponse
UseResponse is a cloud-based support solution that provides users with customer service tools and feedback solutions.
UseResponse helps companies improve customer support with the help of smart automation, chatbots, public communities, and embeddable knowledge base functionality.
Their users say, "This company is customer-centric and tries to meet customer needs. Their customer support is always available and has a response time that is second to none."
Cons of UseResponse
UseResponse can be a bit complex and challenging to navigate as there are so many functionalities and no proper walk-through for them.
The UI feels old and cluttered, leading to a frustrating user experience. Difficult to customize and set up the tool.
Reviewers say that it's challenging to organize all the feedback in one place and customize the feedback dashboard in UseResponse.
It is a pricey software with pricing starting at $124/month for 2 agents that offer all Enterprise features.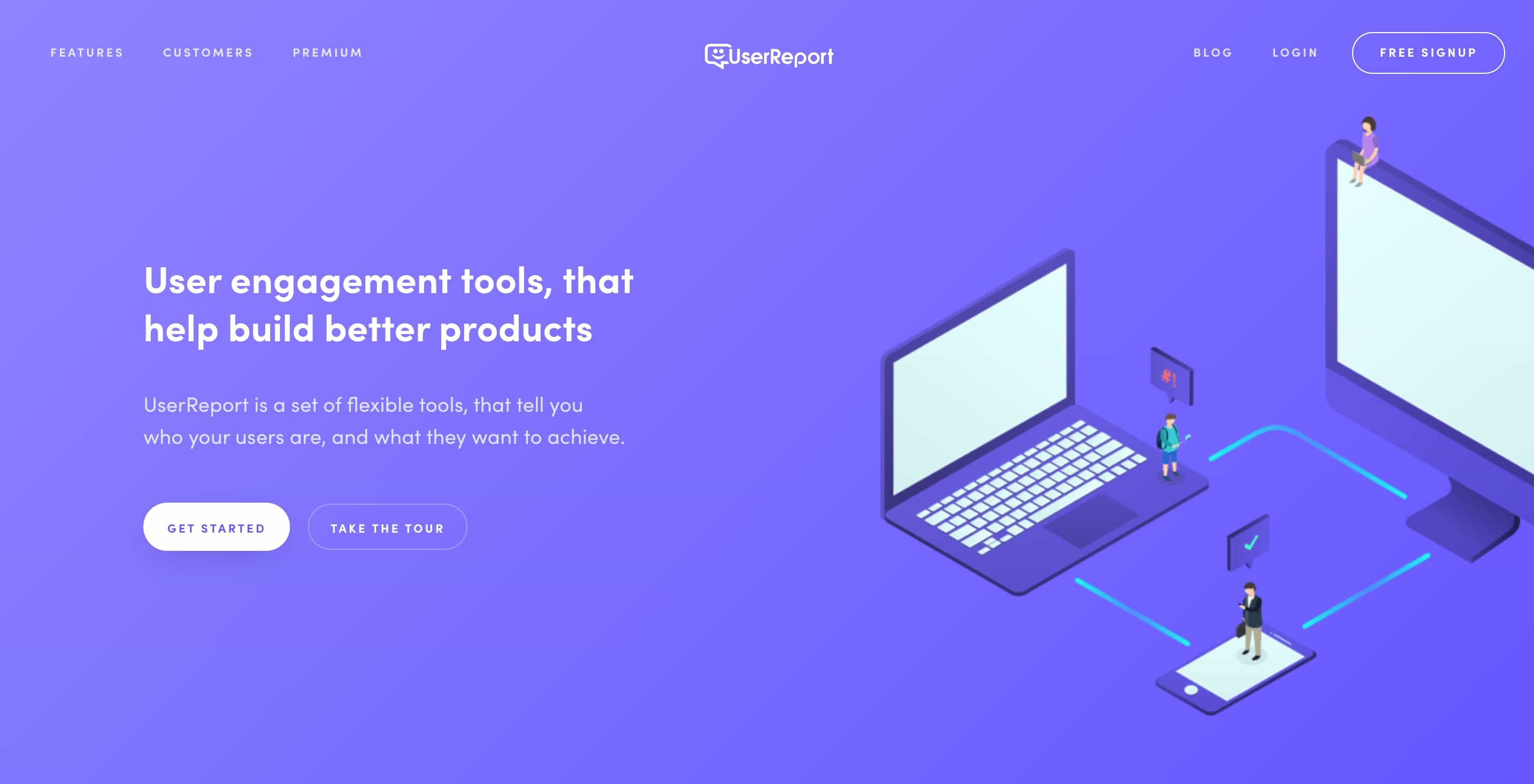 UserReport helps you to identify your users and track their satisfaction while they are visiting your website. UserReport is an online survey and feedback management system that offers a platform to collect user data and feedback.
Pricing: Contact to get a quote.
Use Case: Best for online surveys and understanding customer behavior and engagement.
Pros of UserReport
Userreport provides a survey widget that tracks user satisfaction, net promoter scores (NPS), and demographics of the audience all in one tool.
It also provides a feedback widget to collect feature requests, feedback, and insights along with voting functionality to help prioritize feature requests.
It tracks and records data about your website's visitors' demographic information to better understand your customer.
Cons of UserReport
Userreport is more of an online survey management platform that is more suitable for data collection and less for managing and analyzing user feedback, as surveys do not provide complete data.
Receiving and sending customer feedback surveys feels like a chore and survey fatigue reduces response rates, as surveys are long and full of questionary, as compared to a dedicated customer feedback platform, where users provide feedback on their own choice & time.
Selecting incorrect templates and poorly designed feedback surveys may result in more confusion and incorrect conclusions.
8. Podium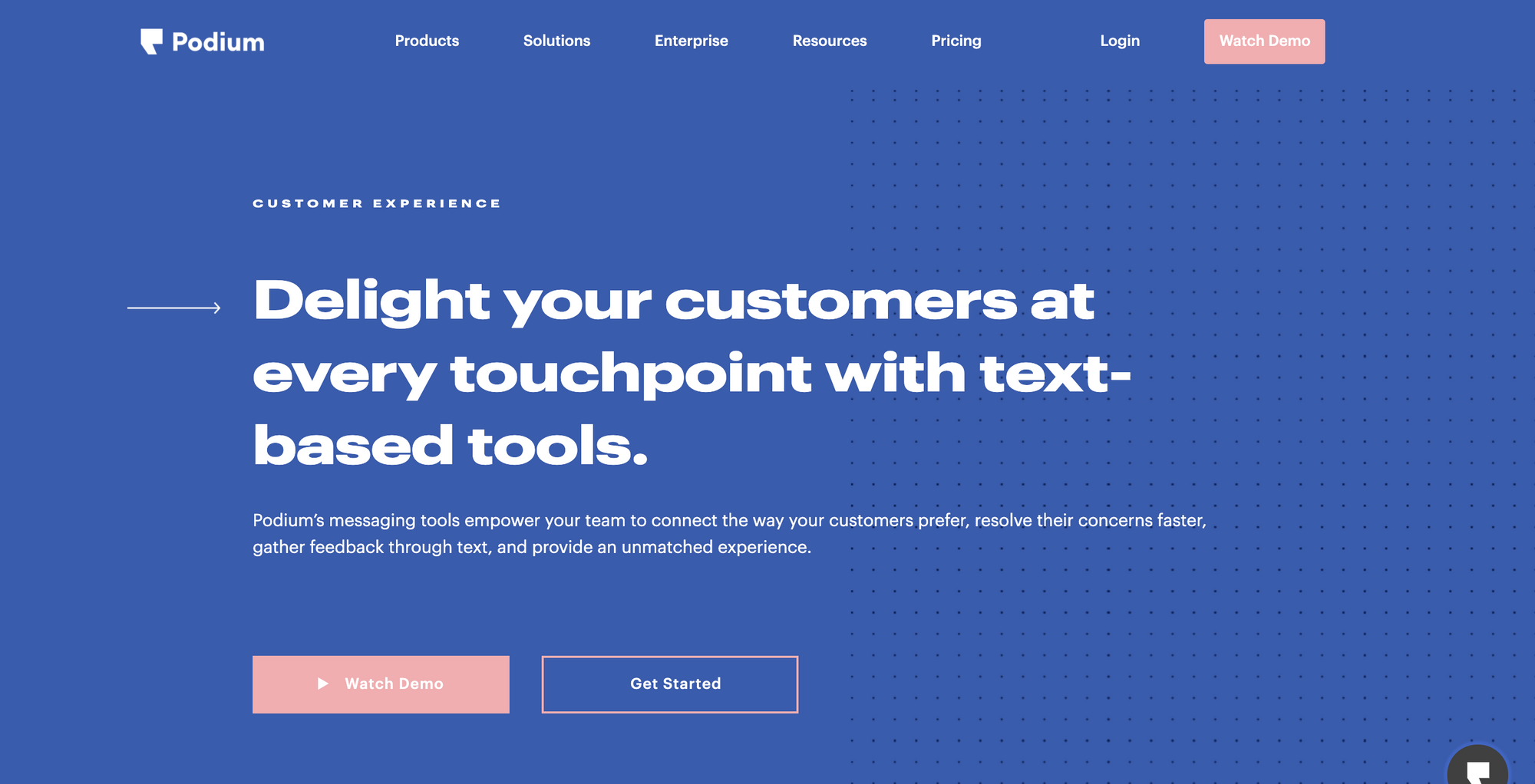 Podium is a reputation management and messaging platform that allows collecting reviews on the sites, text-enabling your website with webchat, collecting payment via text, gathering private feedback after an experience to managing all your customer messages from one central dashboard with inbox.
Pricing: Contact for a custom quote. Starts at $500 a month
Use Case: Best for reputation & customer experience management
Pros of Podium
Podium helps you message your customers, get reviews and feedback, collect payment and communicate easily with your team.
The UI is easy to use and simple to learn. Anyone can grasp the software quickly and get up and running fast. Customers mentioned great ease of use.
Podium allows you to keep in touch with your clients at all times. It is quoted to be easy to use, and helpful in communicating with clients.
Cons of Podium
Being a chat and messaging tool, it is more focused on enhancing customers' experience and clarifying their doubts whenever they are stuck somewhere, but not so great when collecting and managing their feature requests or any product-related insights.
Closing the user feedback loop feels messy in Podium as there are no timely notifications for any updates, and their notification system seems clunky.
Customers mentioned having received poor support and difficulty in payment issues.  

Canny is a user feedback management solution that helps companies collect, prioritize, and track customer feedback. Identify which customers want which features to help your team make robust product decisions.
Pricing: Starts at $400/month. Free plan.
Use Case: Best for feature request management, and roadmapping.
Pros of Canny
Canny is a feedback forum software that helps you capture customer feedback, prioritize it, and make better product decisions. Since it's a forum, your customers can see other people's suggestions and help each other before the team can get involved.
They allow users to submit feedback, vote on them and comment on particular feedback. It's a great idea for any company trying to implement a suggestion box or open forum for ideas from all areas of the organization.
Making product roadmaps public in Canny allows companies to engage and interact with their users transparently, which helps build customer loyalty.
Cons of Canny
In many places, the user interface feels cluttered, making the experience complicated and clumsy.
Canny is stringent in many cases like they don't allow custom workflow statuses. They force you to use their fixed pre-set default statuses in the feedback portal and roadmap even if it makes no sense.
Pricing is focused mainly on more high-end companies, still way less than UserVoice. The available expensive plans make it costly for small and medium businesses and thus unusable.
Canny often doesn't listen to their customers' requests on their public portal, leaving feature requests hanging for a few years without a proper response.
Canny does not support the white-labeling of its services. You can't remove "powered by Canny" even in their high-end plans.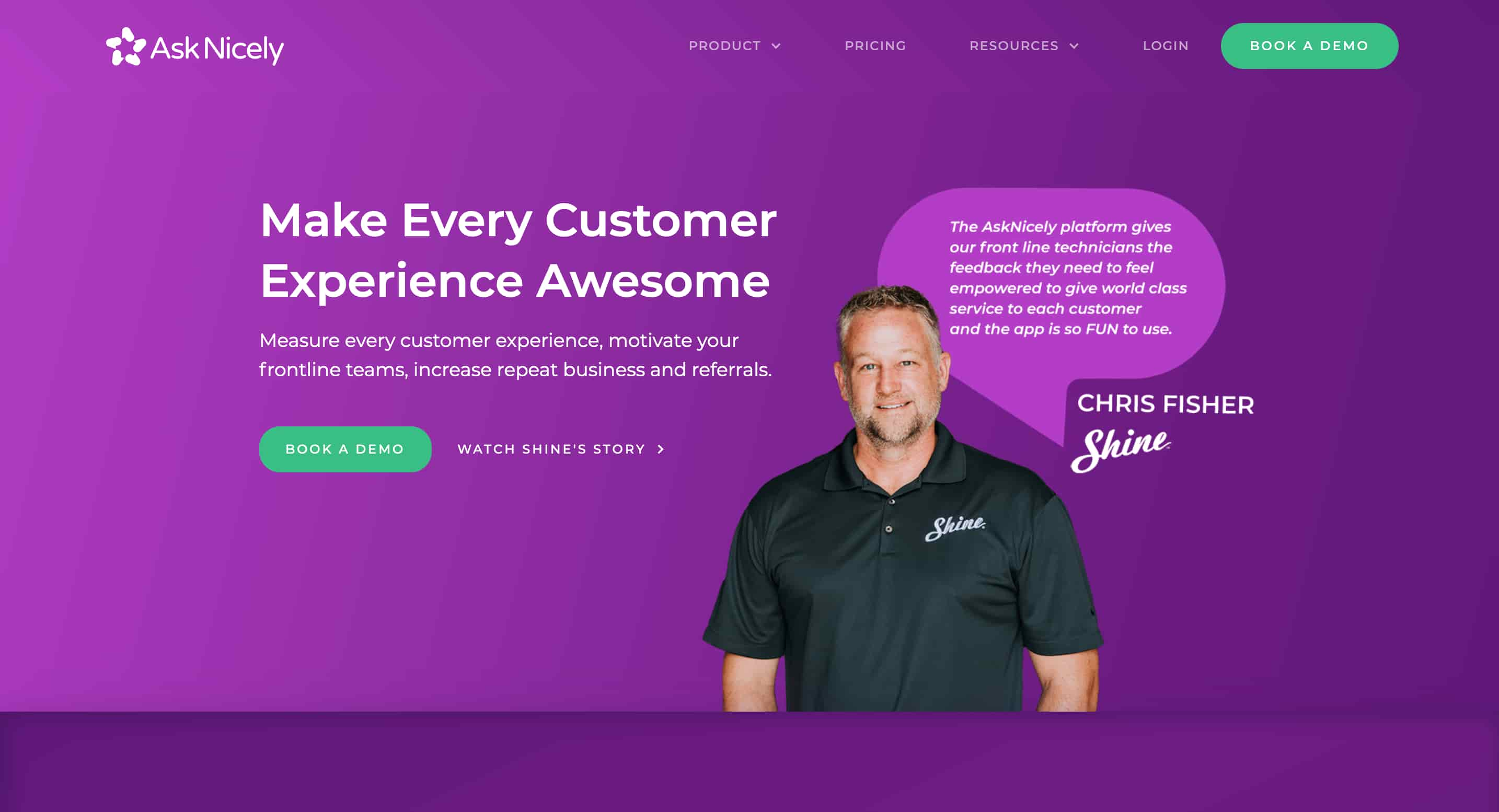 AskNicely is a Rated Experience Management Platform that makes it easy to collect customer feedback, measure NPS, respond to customers and motivate teams to make every customer experience awesome.
Pricing: Contact to get a quote.
Use Case: Best for NPS surveys online.
Pros of AskNicely
AskNicely is an elegant NPS survey tool, that helps identify areas of improvement from your customers, compatible with lots of useful integrations.
AskNicely is easy to set up and configure and is claimed to have stellar customer service as well.
It's easy to use an all-in-one customer experience reporting system. Enables companies to easily have conversations with their customers.
Cons of AskNicely
The user interface and navigation through it seem to be a little confusing to customers as well as the filters are fairly limited with no ability to create custom filters.
Very few customizations are provided to change with the design of the outreach, specifically in branding, background images, and layout/spacing as well as even fewer customization options for automating the emails.
Being a survey tool, it doesn't provide advanced functionality to analyze and manage customer feedback as well as does not provide a feedback forum or updates about new features to customers.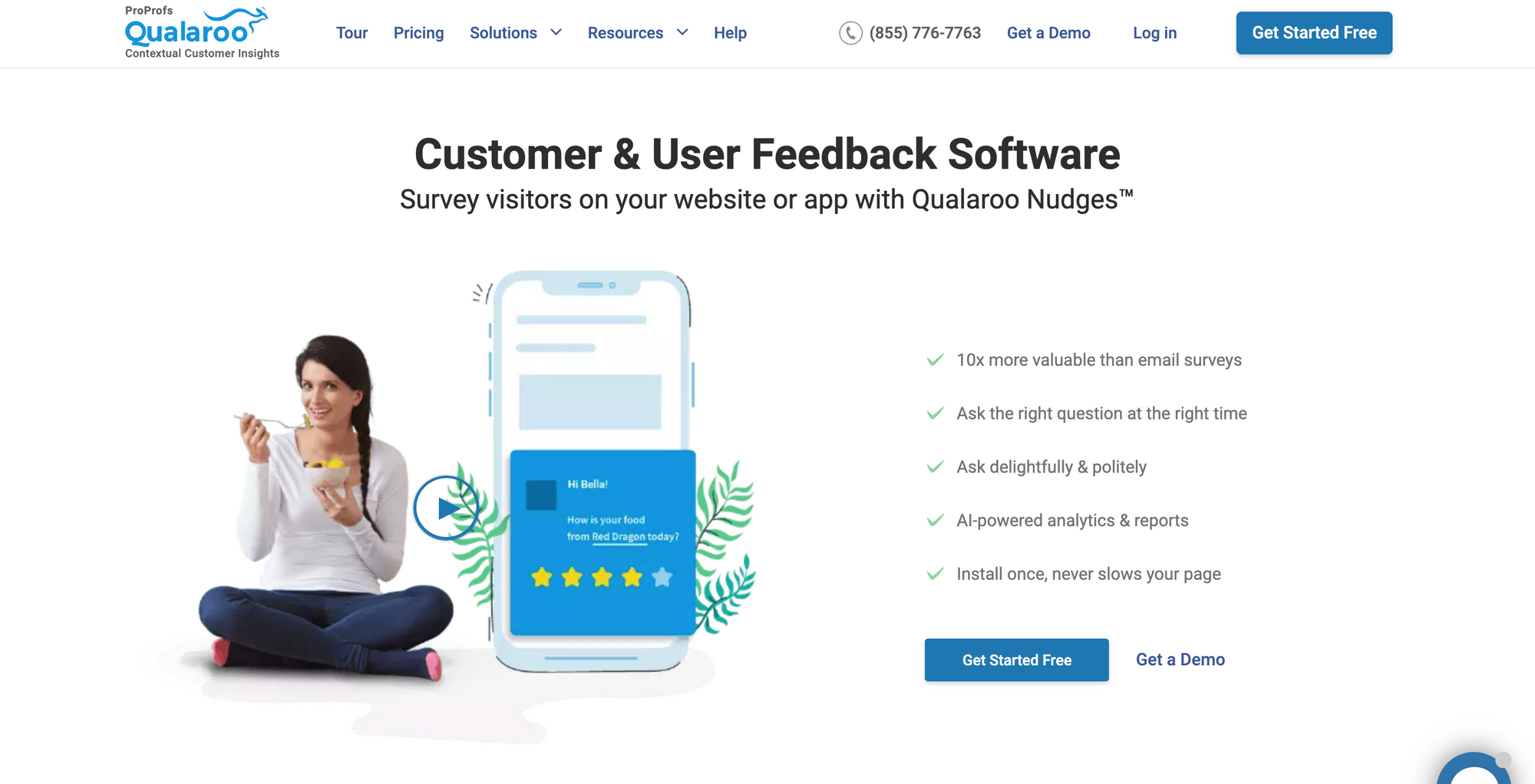 Qualaroo is a survey feedback platform that helps to gain qualitative insights through website surveys. Its key features include sentiment analysis, cookie targeting, data streaming, custom properties, and responses.
Pricing: starts at $100 per month.
Use Case: Best for website and UX feedback and surveys.
Pros of Qualaroo
The platform provides a proprietary insight capture tool, called Nudges, that helps you ask the right questions at the right time so that you don't have to create in-app, link, or web surveys from scratch each time you'd like to collect feedback from your customers.
Qualaroo helps users engage with customers based on the actions they've taken on the website and segment customers on the basis of geographies.
It also provides the ability to personalize surveys by adding skip logic and templates to create surveys and add open-ended questions to gather free-form feedback.
Cons of Qualaroo
If you are looking for an advanced survey tool, this is your best bet, but a customer feedback management tool requires the collection, prioritization, and management of feedback all under one roof to close the feedback loop, and Qualroo doesn't have the necessary features to do that.
By incorporating the popup surveys for feedback, your customers might face difficulties in the navigation and checkout process and frustrate them enough to abandon the website before completing the purchase.
The pre-built templates could use some improvements as the questions provided by the software are quite generic.
It is expensive. Customers quote the price of the tool to be on the higher side.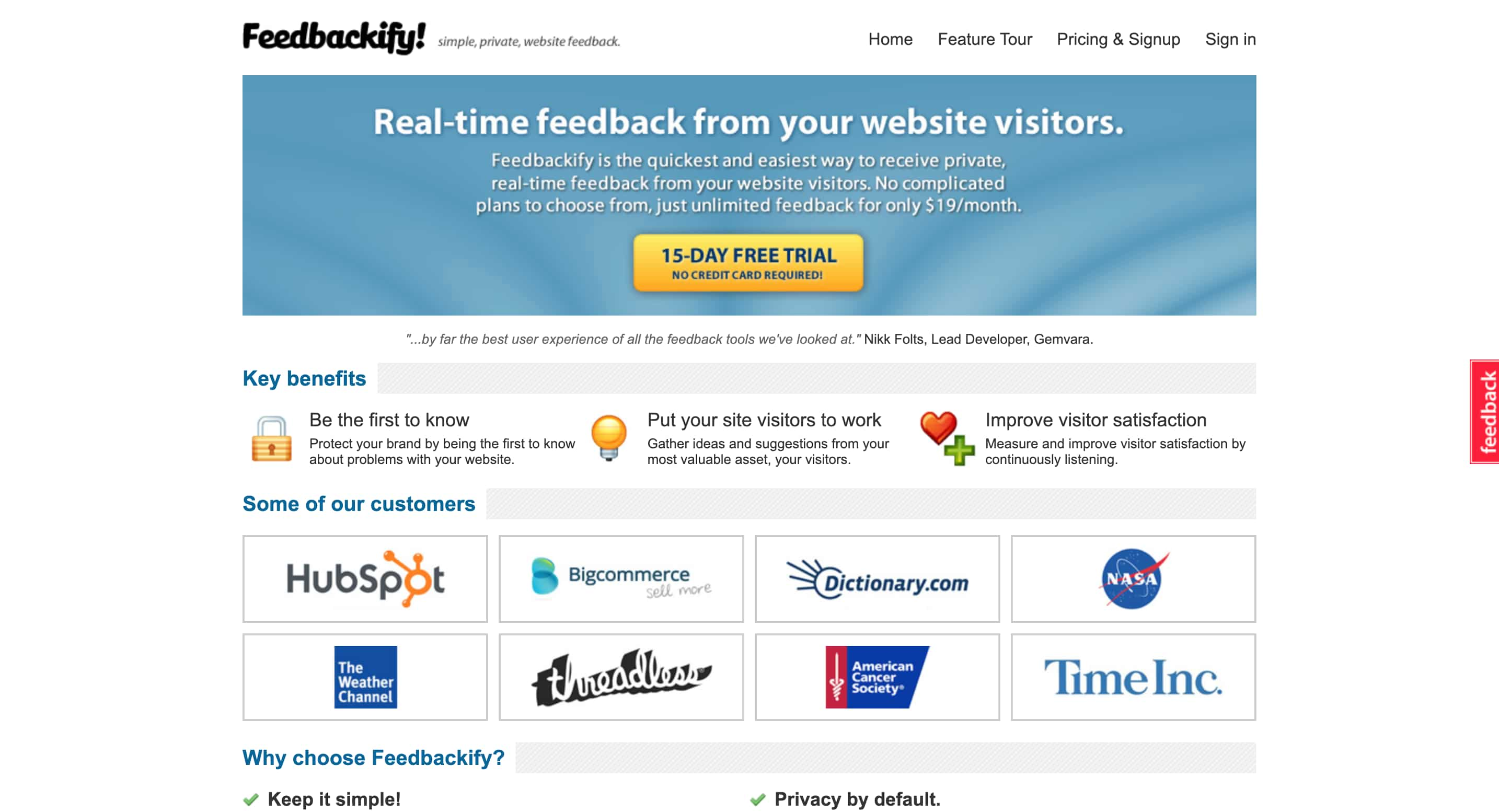 Feedbackify is a platform that allows users to design custom feedback forms using a built-in drag-and-drop editor and collect instant feedback from anonymous site visitors, to increase response rates and protect consumer privacy.
Pricing: Starting at$19 per month
Use Case: Best for real-time website feedback.
Pros of Feedbackify
Form-based customer feedback solution, to collect real-time feedback from your website visitors.
It provides a drag-and-drop form editor and supports real-time reporting
Cons of Feedbackify
Old and complex UI provides a complicated user experience as recorded by customers.
Poorly designed feedback forms with lots of questions might even get on the nerve of those customers who want to give positive feedback.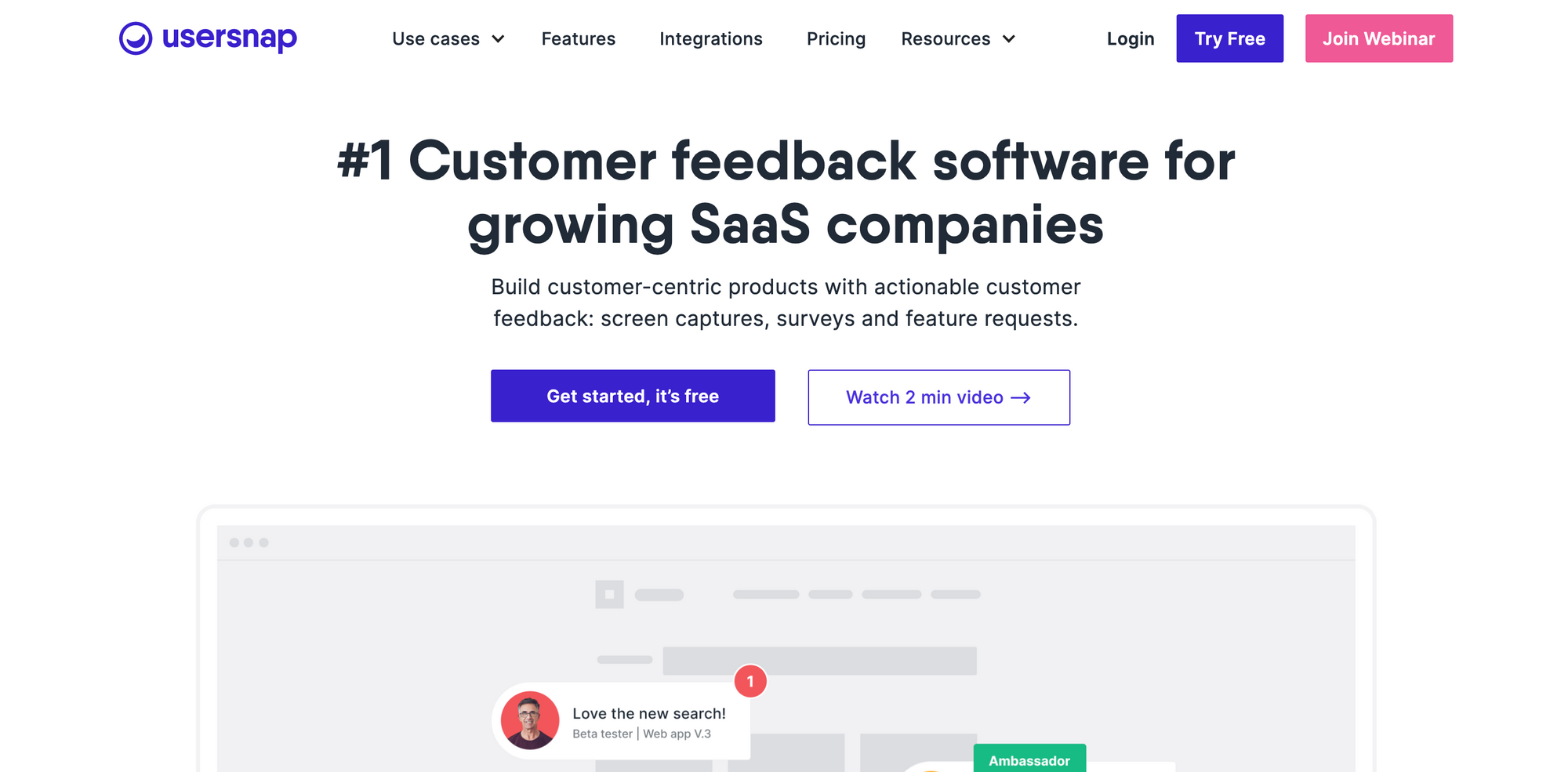 Usersnap is feedback and bug tracking tool that allows screenshots of the current browser content to communicate effectively about issues and share feedback between developers, customers, and everyone involved. Usersnap is a visual feedback platform that helps measure user experience.
Pricing: Starts at $69/month
Use Case: Best for customer feedback and surveys.
Pros of Usersnap
Usersnap is easy to set up and start collecting bugs and feature requests in no time. As its users mentioned, it is super easy to submit the feedback - text, screenshot (with annotation capabilities), and video.
It provides powerful on-screen annotation functionality, ease of labeling and delegating tasks to users, recording for debugging, and browser details in submission while creating feedback.
It integrates seamlessly with all of the primary project management tools and works well with teams.
Cons of Usersnap
Usersnap is more of a bug tracking and issue management tool than a feature request tracking software that makes collaboration faster between developers and users using in-browser screenshots for bug reporting.
It mandates installing a google chrome extension to capture screenshots to submit feedback and does not provide feedback boards to manage feature requests. No product changelog as well.
Using the filters to organize tickets isn't very intuitive, and essential feedback functionalities are missing, such as customizable fields, feature voting, search functionality, etc.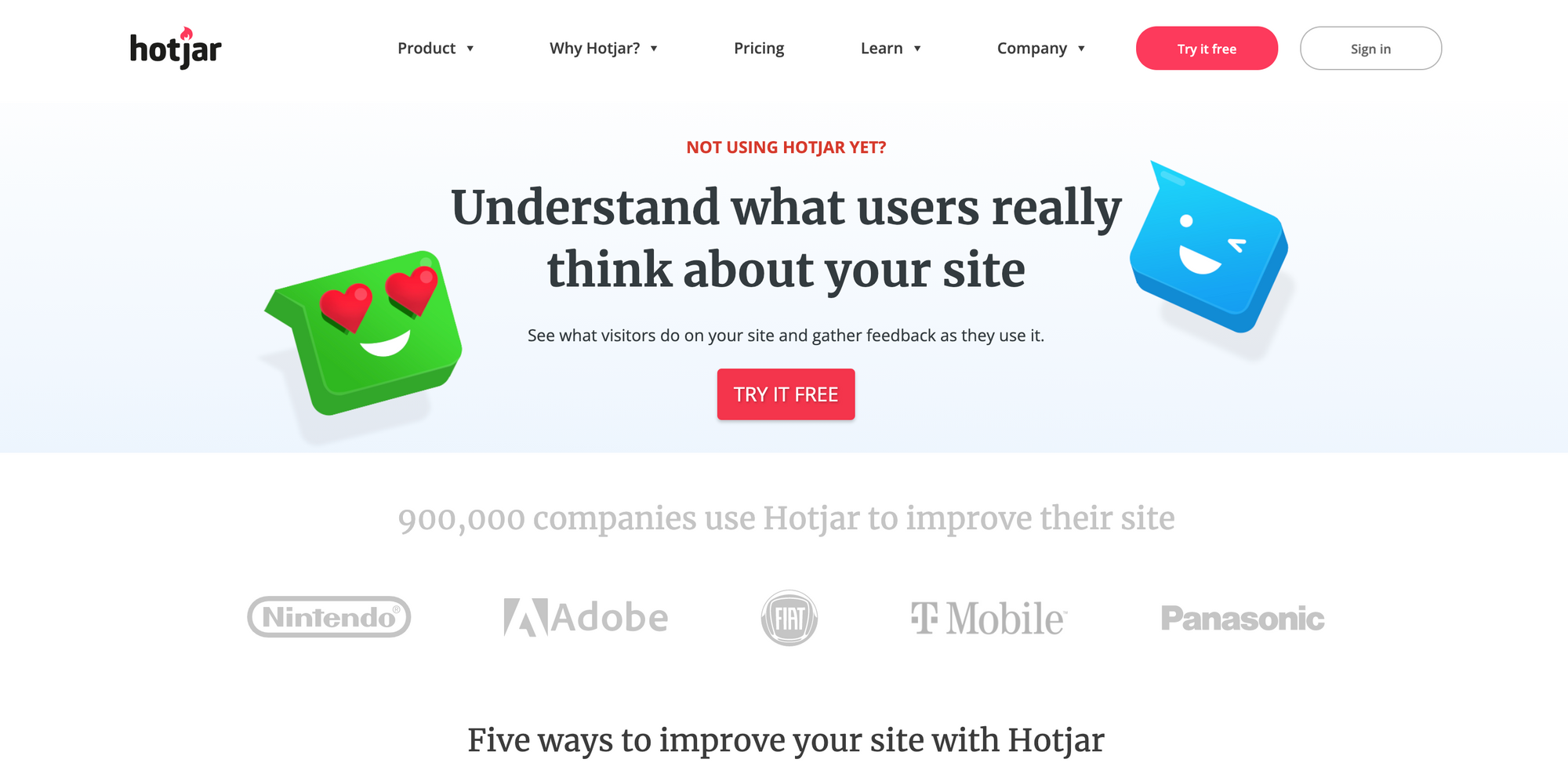 Hotjar is a game-changing analytics tool for page view and user session recordings. It offers analysis and feedback, including Heatmaps, Conversion Funnels, Form Analytics, and Visitor Recording. With these analysis tools, companies can monitor and measure user behavior. In addition, Hotjar provides visual representations of website visitors and their usage behavior.
Pricing: Starts at $39/month
Use case: Best for user behavior visualizations and tracking.
Pros of Hotjar
Hotjar has a user-friendly user interface. It's lightweight and straightforward to use, doesn't go overboard with complicated functionality but is plenty robust to provide critical insights.
Hotjar helps you track customer journeys on your website to improve your customers' onsite experiences and engagements on your website. Hotjar gives its data as visual representations called heatmaps.
They add a tab or widget on your website, where users can click to leave comments. This gives people a way out if they run into problems and provide feedback.
Hotjar's key selling point is packing analysis and feedback together in one platform. Understanding your users enables you to ask for their feedback instead of doing guesswork directly.
Cons of Hotjar
Hotjar is majorly an analytics tool with heatmaps and all, but feedback feels like an afterthought. It is more focused on analytics and user behavior rather than being a full feedback solution.
Some of the features feel half-baked and often don't work that well; as Hotjar combines multiple tools in one, the quality of the user experience decreases drastically.
Hotjar does not have a voting mechanism or a feedback portal.
Sometimes Hotjar feels buggy, and surveys and feedback collection can be a bit clunky. Not as robust in integration to website analytics for additional slicing of the data.
Hotjar lacks the functionality to group similar feedback together and ways to categorize the feedback received to make sense of it. They do not provide an exclusive feedback-focused dashboard, just polls, and surveys to collect feedback.
15. Saber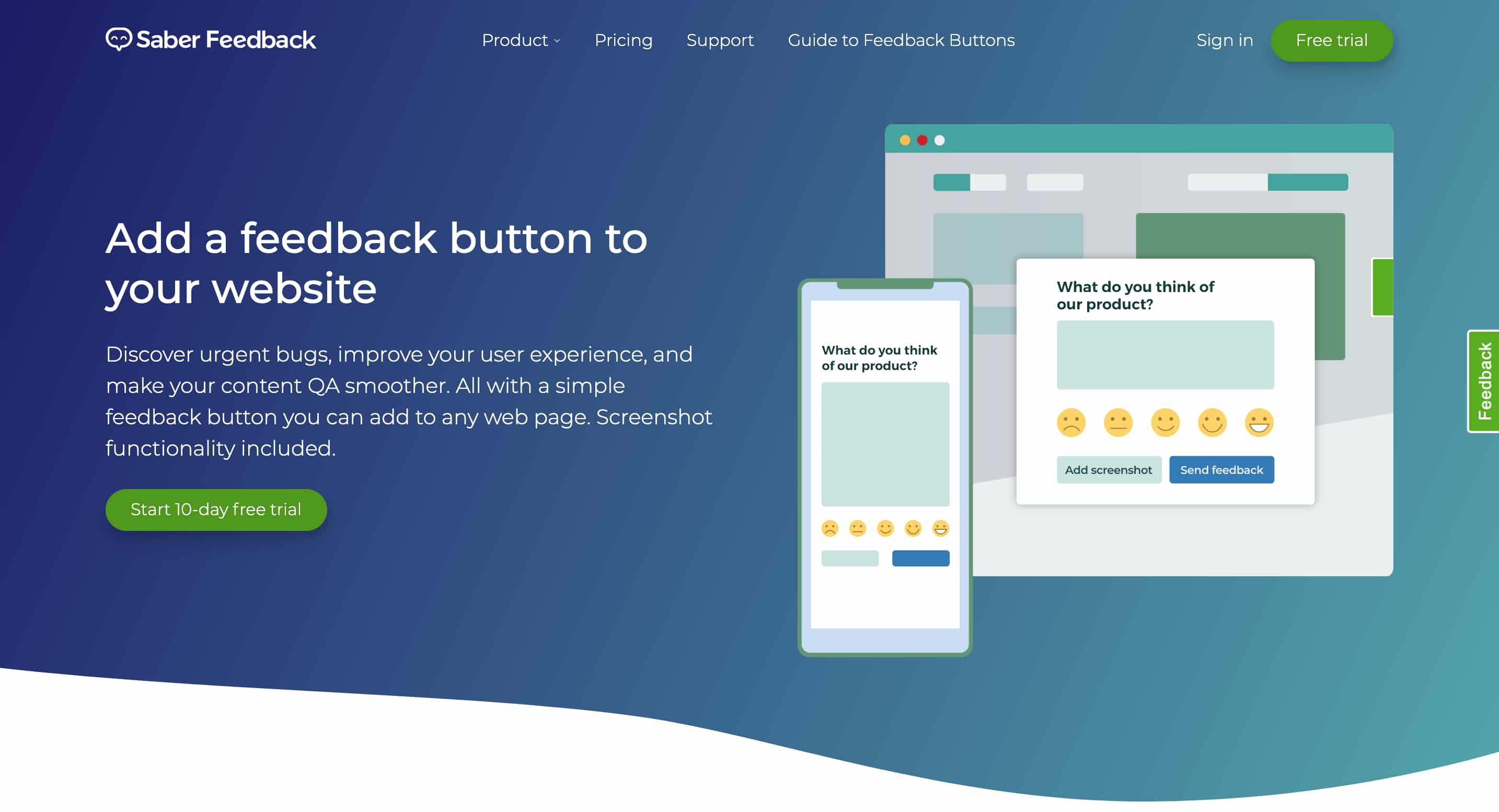 Saber is a visual feedback tool that allows users to "draw" on your website to point out specific problem areas, which you'll then receive in the form of a screenshot you can use as a reference point for performing the fix.
Pricing: Starting at $29 per month
Use case: Best for bug tracking, website, and UX feedback.
Pros of Saber
Visual feedback tools work directly on your website to simplify your feedback process. Hear directly from your users without the need for endless email chains.
Saber also supports customizable feedback forms and custom feedback triggers.
Cons of Saber
It's more of a bug tracking and website feedback management tool than a user feedback tool as there are no advanced options to manage and prioritize feedback once captured.  
The UI feels old and cluttered. Difficult to customize and set up the tool as well.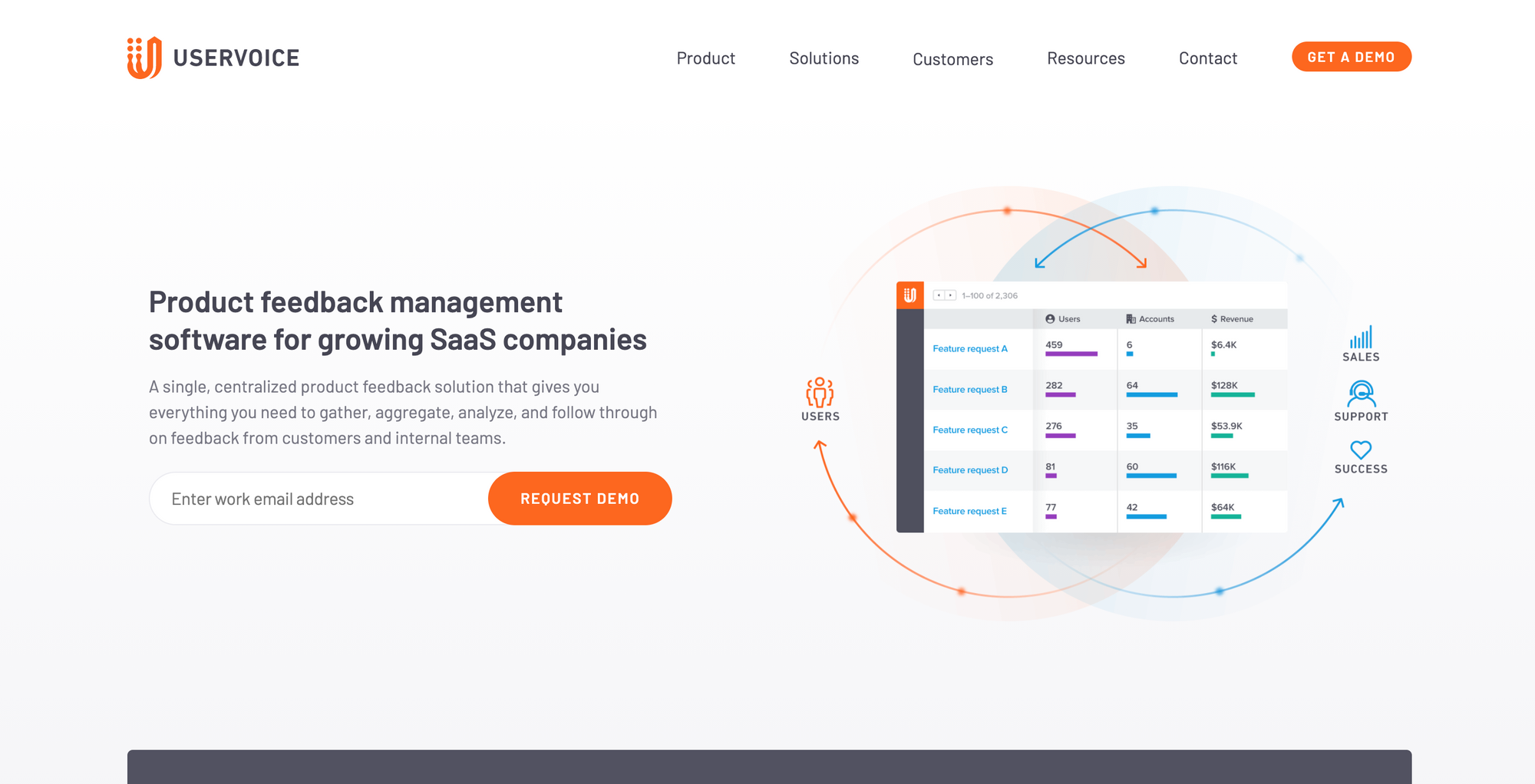 UserVoice was launched in 2008 and has many customers worldwide and caters to enterprise companies that want to gather customer feedback, process support requests, and increase customer satisfaction. UserVoice allows companies to create feature request voting boards for customers to share their ideas, opinions, and votes.
Pricing: Contact for a custom quote.
Use case: Best for product feedback management.
Pros of UserVoice
UserVoice provides feedback software that gathers data from their customer base, analyzes it, and then presents it to them to make informed decisions about what should be improved or changed.
UserVoice creates a feedback loop by providing forum software enabled with roadmap functionality.
UserVoice has streamlined communication with customer-facing and product teams and keeps all product feedback in one location to increase transparency.
They allow product teams to see how many customers requested a particular feature and its importance to their business goals. They allow segmentation and create cohorts for different types of users.
Cons of UserVoice
UserVoice was built in 2008, and the user interface shows. Every simple task is made complicated by a half-thought and glued-together interface. It's hard to navigate and has a steep learning curve.
It is bloated with features; one can easily get overwhelmed with the sheer amount of features wrapped in the bloated user interface that feels like an afterthought.
Other than not being a cheap option, you would have to talk to a salesperson even to sign up and give it a try, it is not self-serve.
Time-consuming and complicated onboarding requires much learning to understand the functionality and complete the setup, even collecting user feedback.
17. Survicate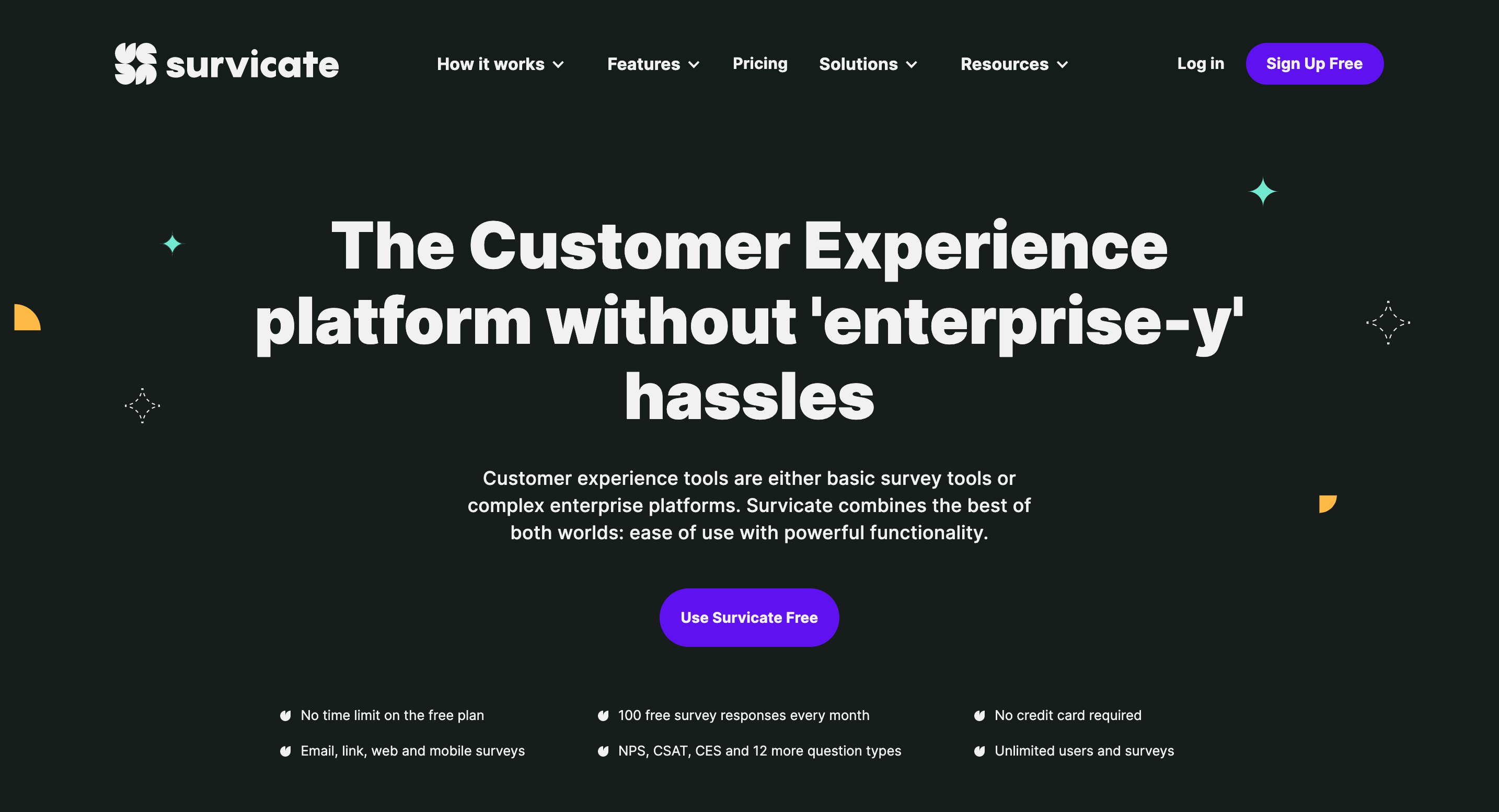 Survicate is a survey and NPS software that helps you capture more customer feedback and deliver a better experience. Send surveys by email, link, or chat. Run targeted surveys on websites to collect customer feedback.
Pricing: Starts at $129 per feature, per month
Use Case: Best for customer experience and NPS surveys.
Pros of Survicate
The UI and interface are easy to use and user-friendly, and the widget design is delightful. You can easily preview surveys before launching with various customization options for survey visualization.
It is an on-site survey tool that supports many integrations, especially Intercom, and allows customers to create surveys easily - whether from scratch or from a template.
Survicate customers mention quick and friendly customer support from their team and timely updates on their questions and feedback.
Cons of Survicate
For an admin, when you have a lot of continuous responses, the responses are hard to navigate on-screen in Survicate, besides the pop-up surveys being irritating to the user, feels like a dated feature.
Being an online survey tool, it doesn't provide advanced functionality to analyze and manage customer feedback as well as does not provide a feedback forum or updates about new features to customers.
Survicate does not offer a free trial to try it out before buying a subscription.
Rapidr: Best Customer Feedback Management Tool
While there are many tools out there to help you capture, organize, and prioritize feedback, you should consider the one that helps you uncover the insights from the feedback without having you jump through hoops.
The ideal software should not only do all the basics but take all the other housekeeping off your plate. It should notify customers about new releases, thus completing the feedback loop, providing actionable insights, and rallying everyone around the roadmap.
Rapidr does all that, and even more.
Rapidr helps SaaS companies be more customer-centric by consolidating feedback scattered across different apps, prioritizing requests, having a discourse with customers, and closing the feedback loop.