9 Best Qualaroo Alternatives & Competitors
Qualaroo is a software company that uses surveys to gather feedback from customers. Companies use it to gather feedback from their clients and customers. It enables them to understand the customer's needs and expectations and provide better service. It also provides insights on improving your business or website.
Having said that, it might not be the best choice for most companies. Along with an old interface, Qualaroo is also a pricey tool, so many businesses shy away from it.
If you are looking for an affordable and user-friendly Qualaroo alternative, look no further because we've compiled a list of comparable, if not better, tools than Qualaroo. We recommend these 12 excellent customer feedback tools and their pros and cons.
Top 9 Qualaroo Alternatives & Competitors in 2023
Rapidr
Mopinion
Qualtrics
UserVoice
GetFeedback
Zonka Feedback
Survicate
Informizely
UserTesting
But first, let's take a look at Qualaroo's features and capabilities so we have a common yardstick to compare.
What is Qualaroo?
Qualaroo is a survey feedback platform that helps to gain qualitative insights through website surveys. Its key features include sentiment analysis, cookie targeting, data streaming, custom properties, and responses.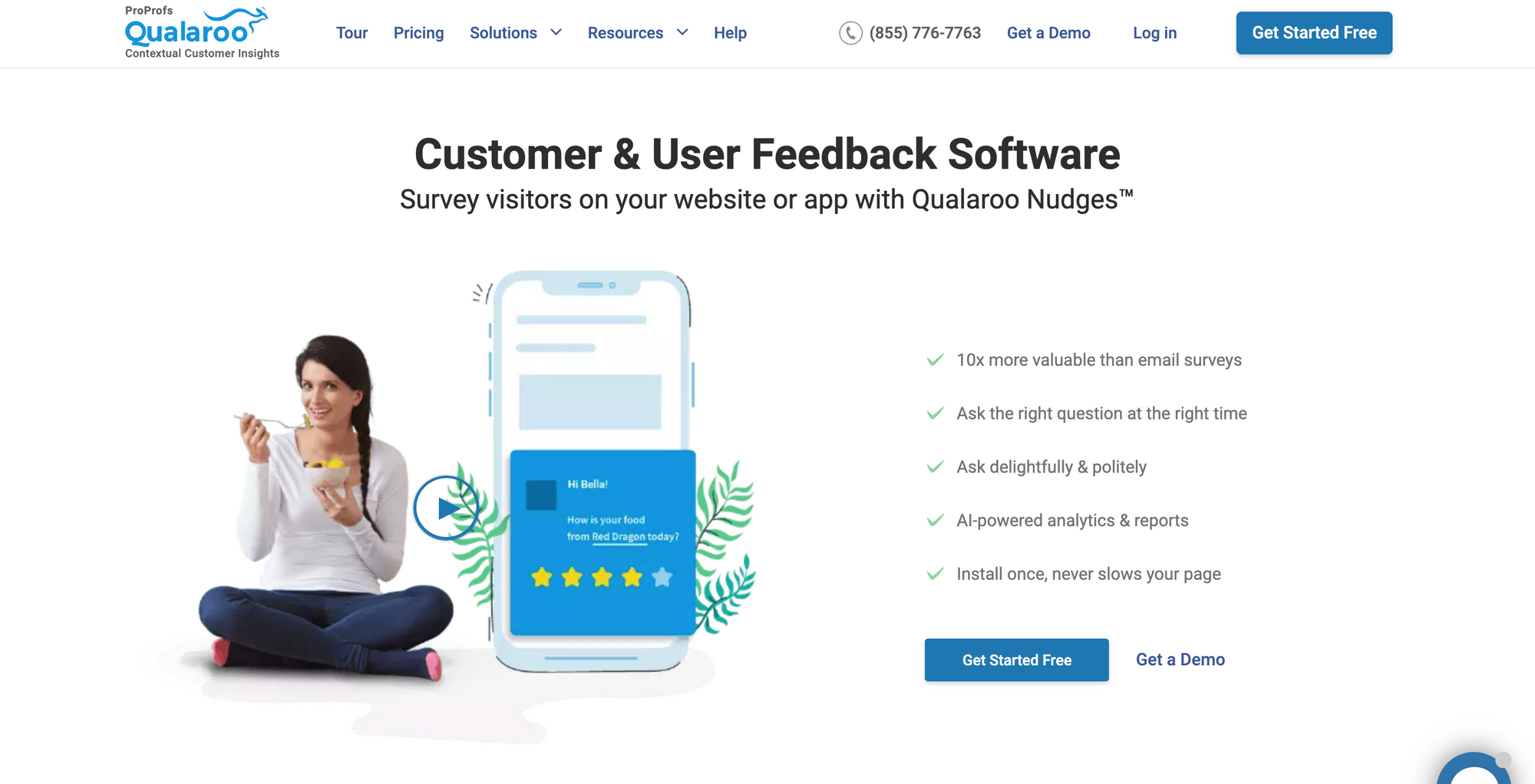 What is Qualaroo Used For?
Best for website and UX feedback and surveys
How much does Qualaroo cost?
It starts at $100 per month.
Features of Qualaroo
The platform provides a proprietary insight capture tool that helps you ask the right questions at the right time,
Qualaroo helps users engage with customers based on their actions on the website and segment customers based on geographies.
It also allows personalization by adding skip logic and templates to create surveys and open-ended questions to gather free-form feedback.
If you are looking for an advanced survey tool, this is your best bet, but a customer feedback management tool requires the collection, prioritization, and management of feedback all under one roof to close the feedback loop, and Qualroo doesn't have the necessary features to do that.
It is expensive. Customers quote the price of the tool to be on the higher side.
Top 9 Qualaroo Alternatives & Competitors in 2023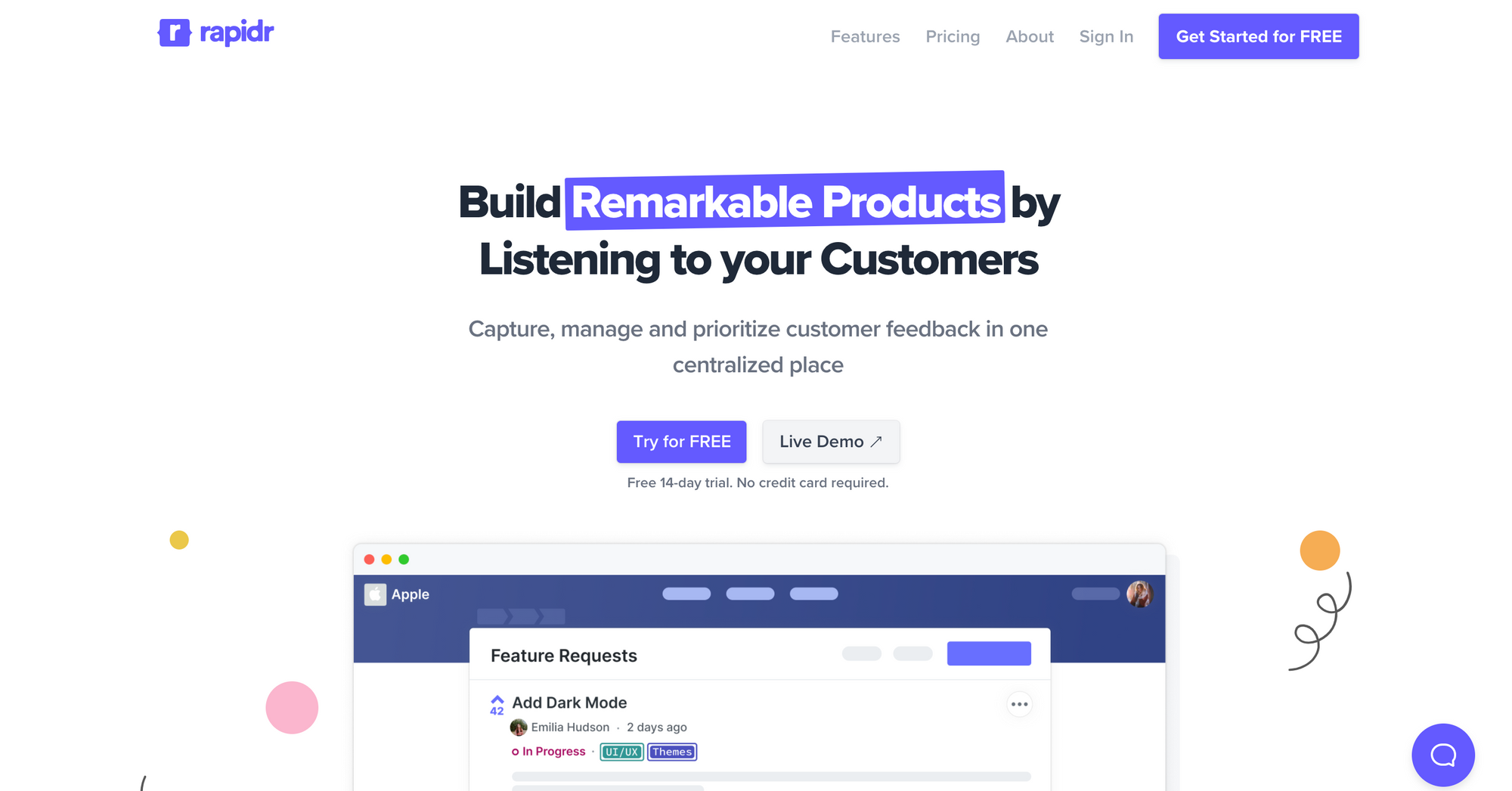 Rapidr is a customer feedback management software and feature tracking tool that helps manage the entire feedback lifecycle, from capturing feature requests to prioritizing features, informing product roadmap, and sharing product updates with changelog.
Rapidr allows you to capture and track all user feedback and organize and analyze them under one roof in a centralized location. Then, inform your roadmap with the most critical feedback, and notify users of what's new with release notes.
Pricing: Starts at $49/month.
Use case: Best for feature request tracking, idea management, feature voting, roadmapping, and product changelog.
Pros of Rapidr
Rapidr is an end-to-end user feedback management solution, so you don't have to glue multiple apps together. With it, you get a customer feedback management tool, feature request collection software, road mapping software, and release notes software.
Rapidr is one of the most affordable and cost-effective solutions that offer excellent value for money stacked against the other enterprise options on this list. Rapidr's pricing is based on the value you derive from the software instead of per-seat pricing.
Rapidr's hosted feedback portal is lightweight, easy to use, and customizable, fitting perfectly with your existing workflows and brand design.
Rapidr is built to support varying workflows and to match different product development terminology across companies. It's built to be customizable from day one.
Rapidr can be fully white-labeled on high-end plans. White-labeling removes the "Powered by Rapidr" link from your feedback portal and emails, which means no visible branding from Rapidr.
Cons of Rapidr
Rapidr has a few integrations at the time of writing, and many are on the way. They track integrations on their public feedback board.
Rapidr is relatively new in the market, and many features are still being built. But with features rivaling other options at a much lower price and in the hands of trusted people, it's an excellent option for anyone looking for a lean, simple, and clean customer feedback tool.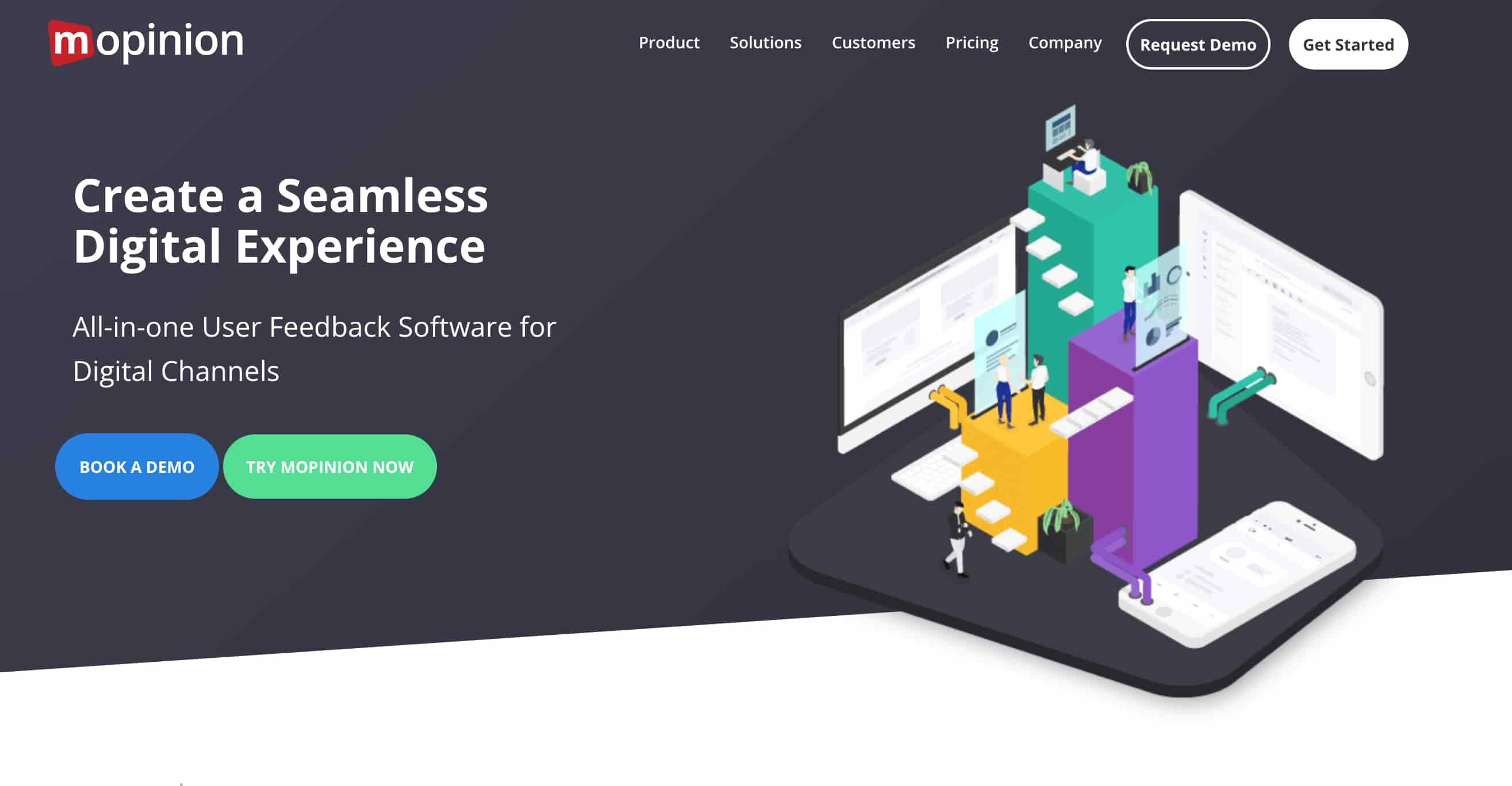 Mopinion empowers its users to create customizable online feedback forms, including various CX metrics such as NPS, CES, and CSAT, and trigger them based on rules such as mouse movement, exit intent, and much more.
It also includes visualization in customizable dashboards and text analysis, and labels. Users can use proactive alerts and role-based views to act upon feedback.
Pricing: Starting at $229/month.
Use Case: User feedback forms, NPS, and CSAT forms.
Pros of Mopinion
It allows you to create, design, and configure feedback forms and embed them directly into the site.
It also offers reporting, analytics, and sentiment analysis to gauge customer sentiment.
Mopinion also helps you collect and organize different types of customer feedback across multiple channels. Logic to control who sees the forms.
It also supports customer segmentation to target selected customer demographics.
Cons of Mopinion
Being expensive, it is not suitable for startups and small businesses.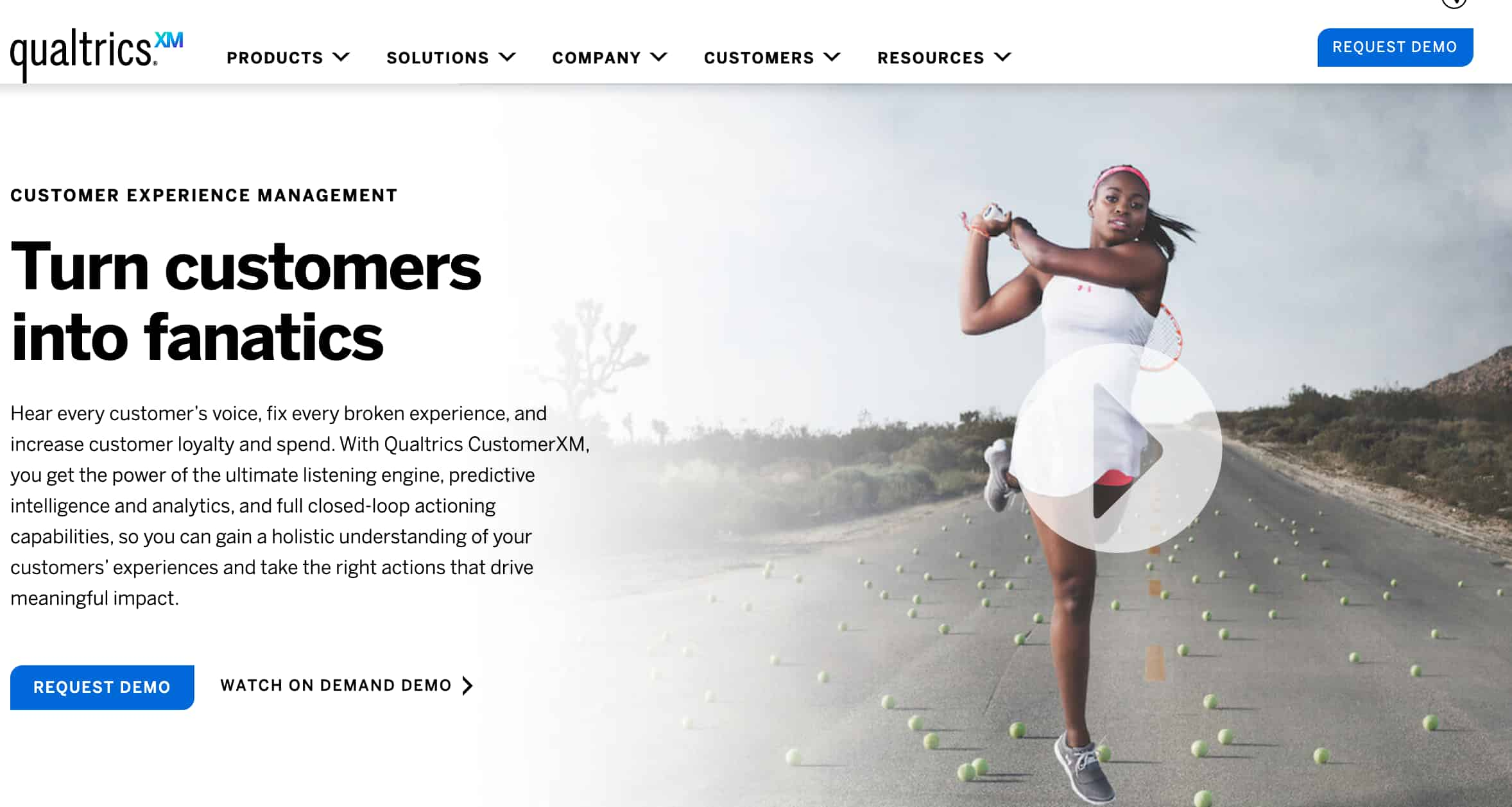 Qualtrics is an online survey and questionnaire tool offering nearly many question types and templates. Qualtrics helps understand customers at every meaningful moment and take actions that deliver breakthrough experiences with feedback surveys.
Qualtrics Pricing: Custom Pricing
Use case: Online surveys.
Pros of Qualtrics
Creating a survey is quick and easy, and the interface is user-friendly and very easy to navigate.
It supports pre-built survey templates with several question types to design surveys.
Supports predictive analysis, reporting, and crosstab functionality.
It is helpful for a Customer satisfaction survey, Event feedback, Pricing research, and Brand awareness.
Cons of Qualtrics
Adding customization or more complex logic could also be challenging if you don't know any scripting languages.
Comparatively difficult to integrate APIs and other tools with Qualtrics.
Customer support is a little bit late to rescue.
Customers dislike that the software's price is increasing daily and is significantly overpriced.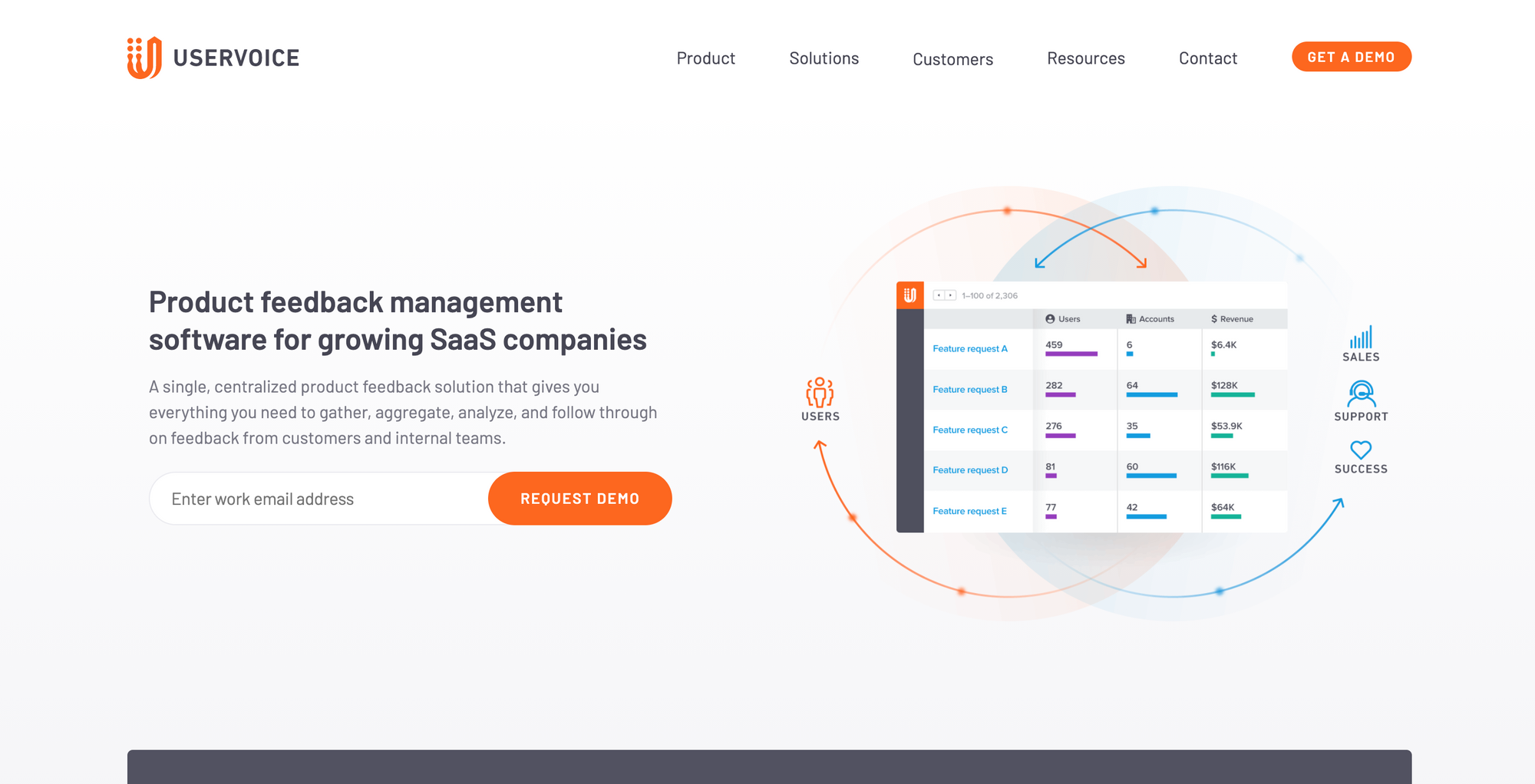 UserVoice caters to enterprise companies that want to gather customer feedback, process support requests, and increase customer satisfaction. UserVoice allows companies to create feature request voting boards for customers to share their ideas, opinions, and votes.
Pricing: Contact for a custom quote.
Use case: Best for product feedback management.
Pros of UserVoice
UserVoice gathers data from its customer base, analyzes it, and then presents it to them to make informed decisions about what should be improved or changed.
UserVoice creates a feedback loop by providing forum software enabled with roadmap functionality.
UserVoice has streamlined communication with customer-facing and product teams and keeps all product feedback in one location to increase transparency.
They allow product teams to see how many customers requested a particular feature and its importance to their business goals. They allow segmentation and create cohorts for different types of users.
Cons of UserVoice
UserVoice has an outdated user interface. It's hard to navigate and has a steep learning curve.
It is bloated with features; one can easily get overwhelmed with the sheer amount of features wrapped in the bloated user interface that feels like an afterthought.
Other than not being a cheap option, you would have to talk to a salesperson to sign up and try; it is not self-serve.
Time-consuming and complicated onboarding requires much learning to understand the functionality, complete the setup, and collect user feedback.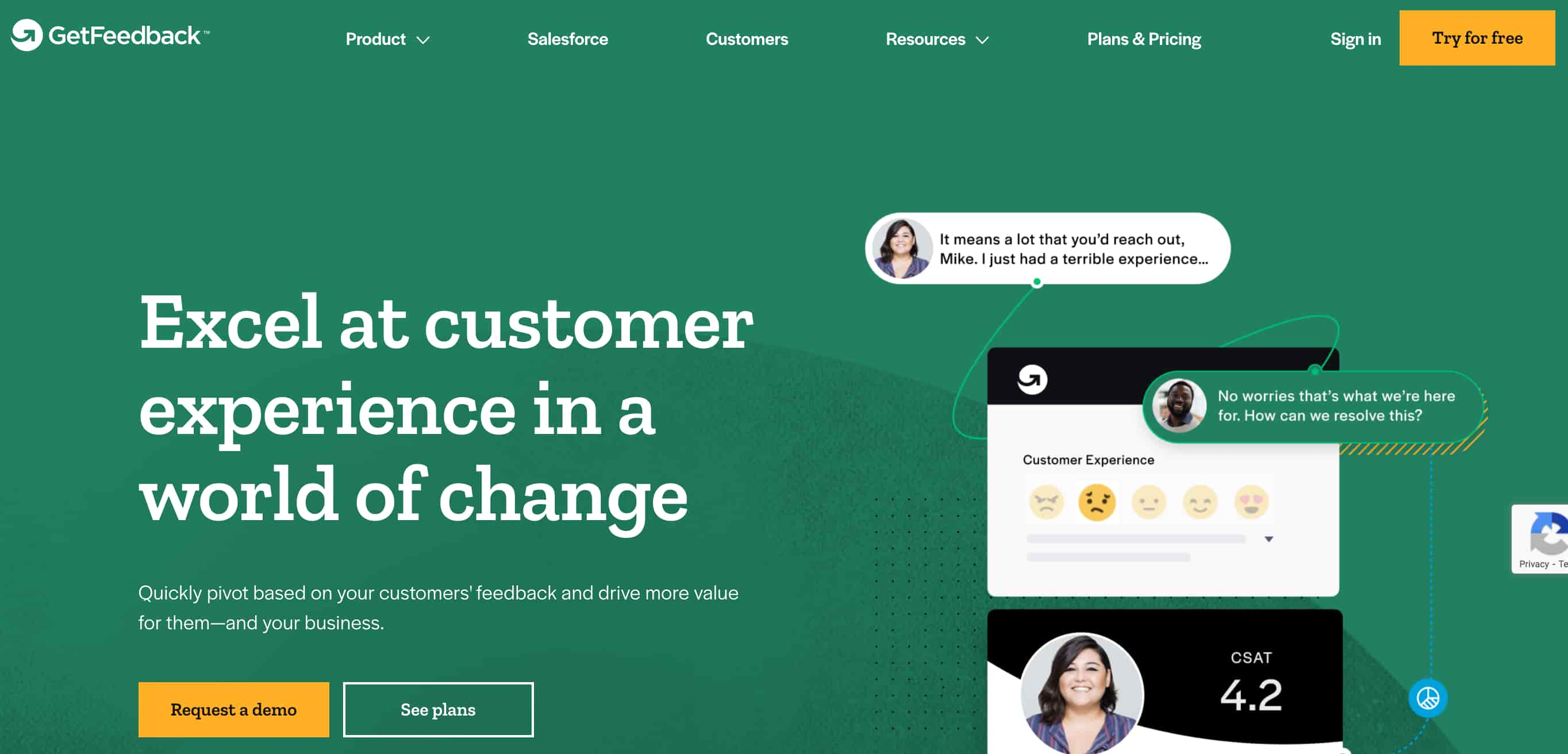 GetFeedback lets you create beautiful, mobile-friendly surveys that improve response rates. It helps measure and improve key customer experience metrics, like Net Promoter Score (NPS) and Customer Satisfaction (CSAT).
Pricing: Starting at $29 per month
Use case: Best for bug tracking, website feedback tracking, and UX feedback.
Pros of GetFeedback
It supports feedback management with customizable surveys and reporting altogether.
It also provides mobile surveys, predictive analysis, and multi-channel communication.
It includes an effective dashboard to display data analysis and 360-degree feedback collected.
Cons of GetFeedback
Pre-defined templates offered need improvement.
It doesn't support different types of user permissions and multi-party collaborations on surveys.
It's a bit higher priced than other options and unsuitable for small businesses and startups.
Zonka Feedback is a multichannel survey & feedback software to transform helps the way you manage employee & customer experience. It allows for measuring the right CX metrics & conducts surveys across multiple channels.
Pricing: Starting at $29 per month
Use case: Best for bug tracking, website, and UX feedback.
Pros of Zonka Feedback
The tool has strong features such as an easy-to-use WYSIWYG Survey Builder, templates, answer piping, and survey logic.
It provides excellent analytics and reports right out of the box.
Supports a lot of templates that are very well prepared for NPS, CSAT, and feedback surveys.
Cons of Zonka Feedback
It doesn't provide integrated translation and work in other languages ​​besides English.
Setup is easy but a little tedious.
Customers mentioned that UX needs a little modernization, and the platform sometimes gets slow.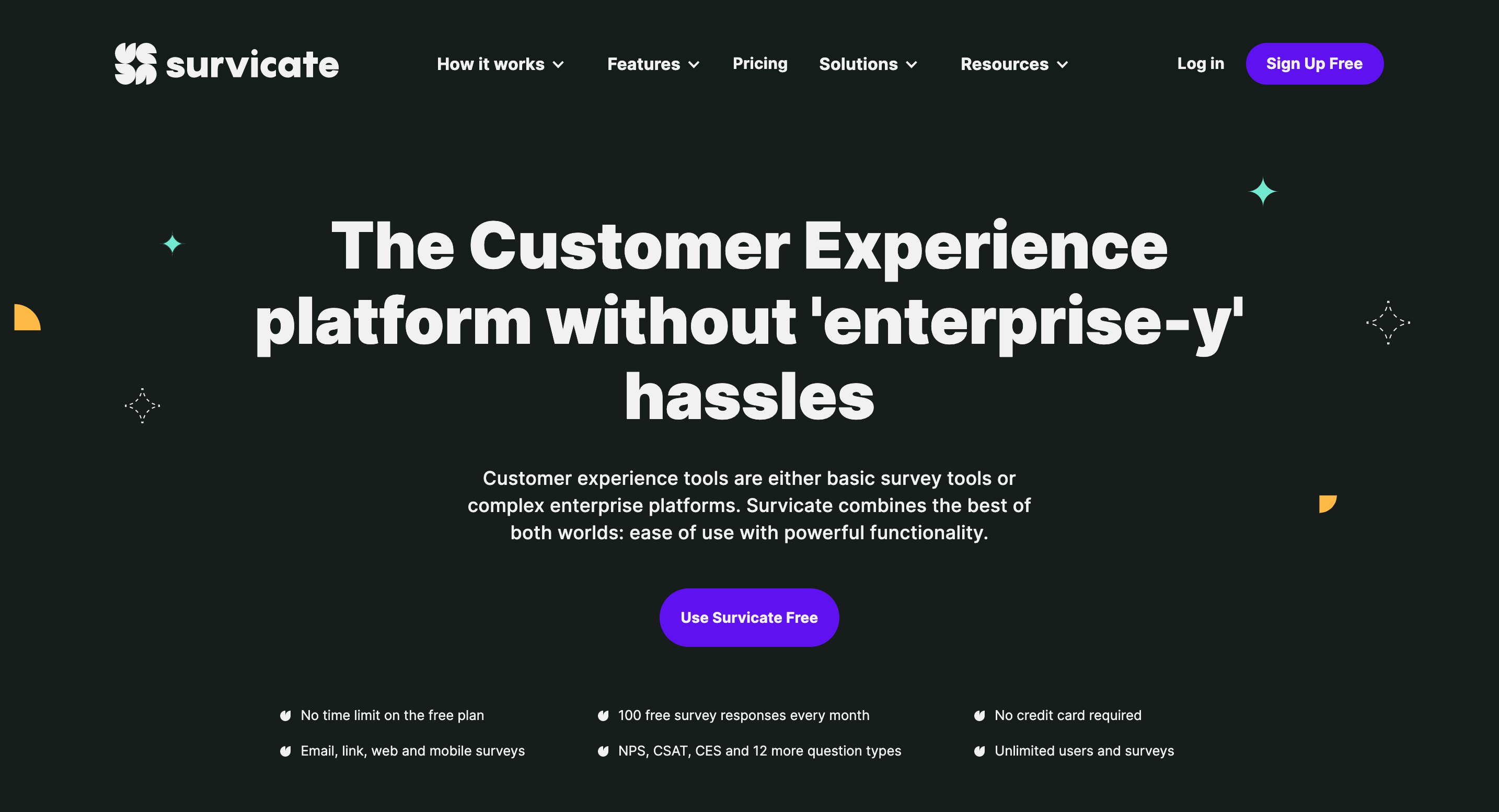 Survicate is a survey and NPS software that helps you capture more customer feedback and deliver a better experience. Send surveys by email, link, or chat. Run targeted surveys on websites to collect customer feedback.
Pricing: Starts at $129 per feature per month
Use Case: Best for customer experience and NPS surveys.
Pros of Survicate
The UI and interface are easy to use and user-friendly, and the widget design is delightful. You can easily preview surveys before launching with various customization options for survey visualization.
It is an on-site survey tool that supports many integrations, especially Intercom like Rapidr, and allows customers to create surveys easily - whether from scratch or from a template.
Survicate customers mention quick and friendly customer support from their team and timely updates on their questions and feedback.
Cons of Survicate
For an admin, when you have a lot of continuous responses, the responses are hard to navigate on-screen in Survicate; besides the pop-up surveys being irritating to the user, it feels like a dated feature.
Being an online survey tool, it doesn't provide advanced functionality to analyze and manage customer feedback or provide a feedback forum or updates about new features to customers.
Survicate does not offer a free trial to try it out before buying a subscription.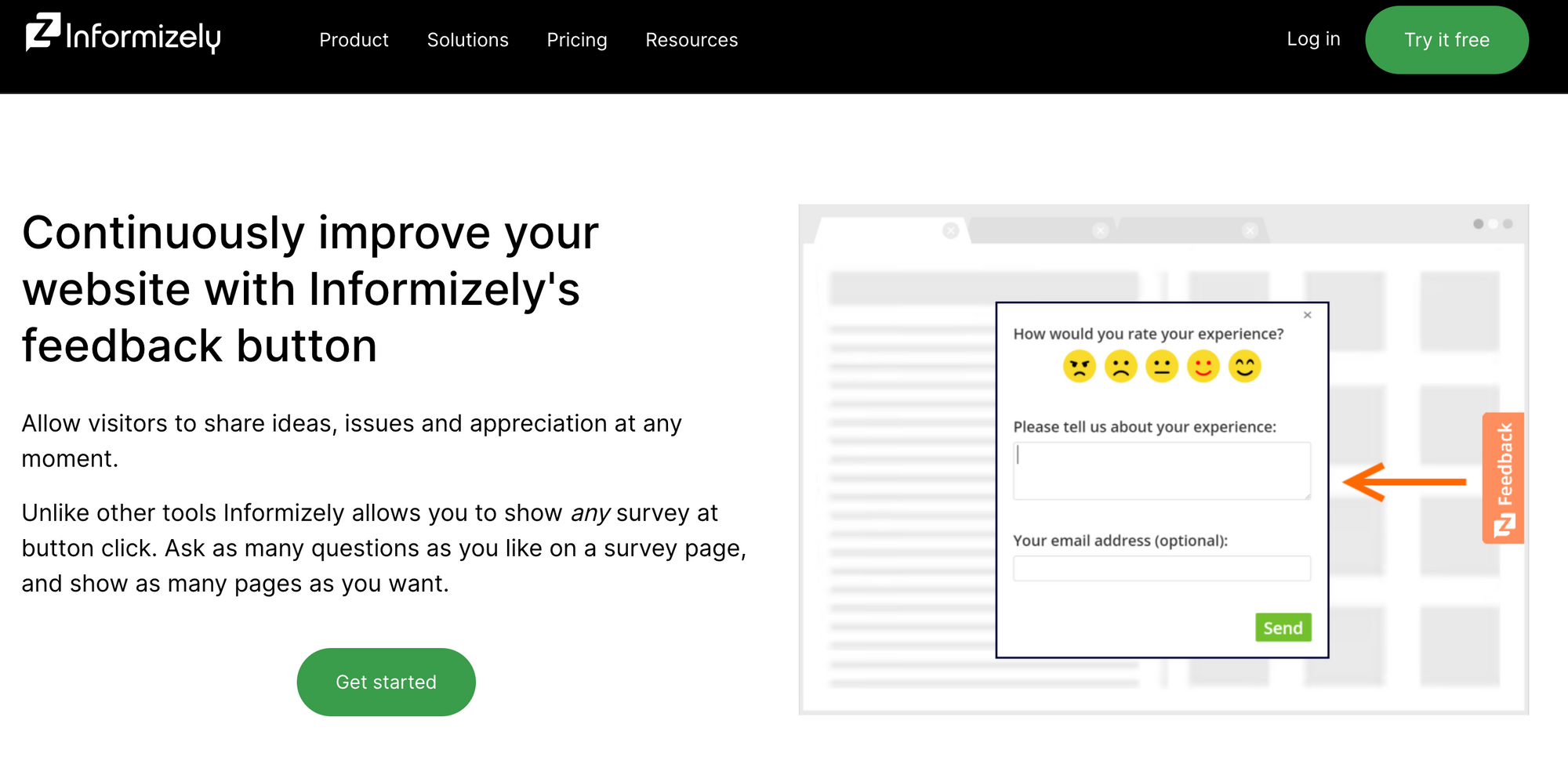 Informizely helps gather actionable insights using targeted popups, websites, emails, and integrated surveys. It provides a competent and affordable solution for running online surveys in the context of a website. It also offers solutions to collect in-app feedback.
Pricing: Custom Pricing.
Use case:  Online and email surveys
Pros of Informizely
Informizely's solution is straightforward to install and provides advanced trigger functionalities.
It is very intuitive and easy to set up surveys.
Cons of Informizely
The surveys don't look great on mobile.
The UI design is a bit old-fashioned and outdated.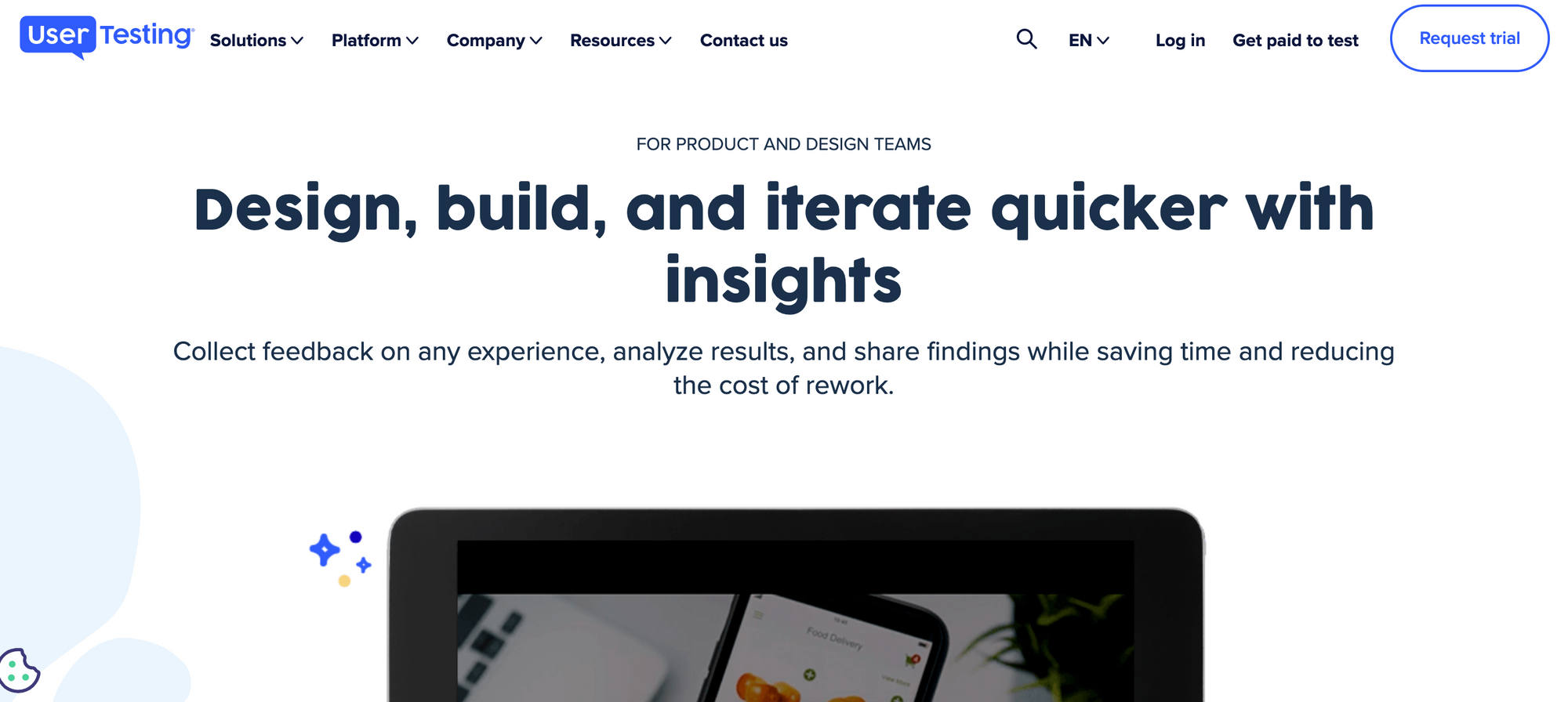 UserTesting enables companies to see, hear and talk to their customers as they engage with products, apps, and messaging. It helps make companies more informed decisions based on different types of customer feedback.
Pricing: Contact for a custom quote.
Use Case: Best for customer experience management
Pros of UserTesting:
The product itself feels very intuitive and has a welcoming UI.
It provides the ability to take targeted surveys to assist in market research and product development.
They have excellent customer support service on deck to help with any issues.
Cons of UserTesting:
As a customer states, "The dashboard playing back the data is a bit clunky, and the data requires a bit of tidying up once exported."
Customers dislike that the platform is quicker, but the back-end team's support is slow.
Verdict: Rapidr is the best Qualaroo alternative
For growing product teams, you must decide on a tool to make your customer feedback management process a piece of the cake. Everything should go hand-in-hand, from the collection to analyzing and prioritizing to releasing software.
Each solution presented here is unique and has a different feature set, which caters to varying use cases. You can't go wrong with it as an affordable alternative to Qualaroo.
We recommend Rapidr as the best Qualaroo alternative, which comes with a modern design and a tight nit feature set that stacks fairly well against Qualaroo, offers a clean user experience, and has cost-effective pricing plans.