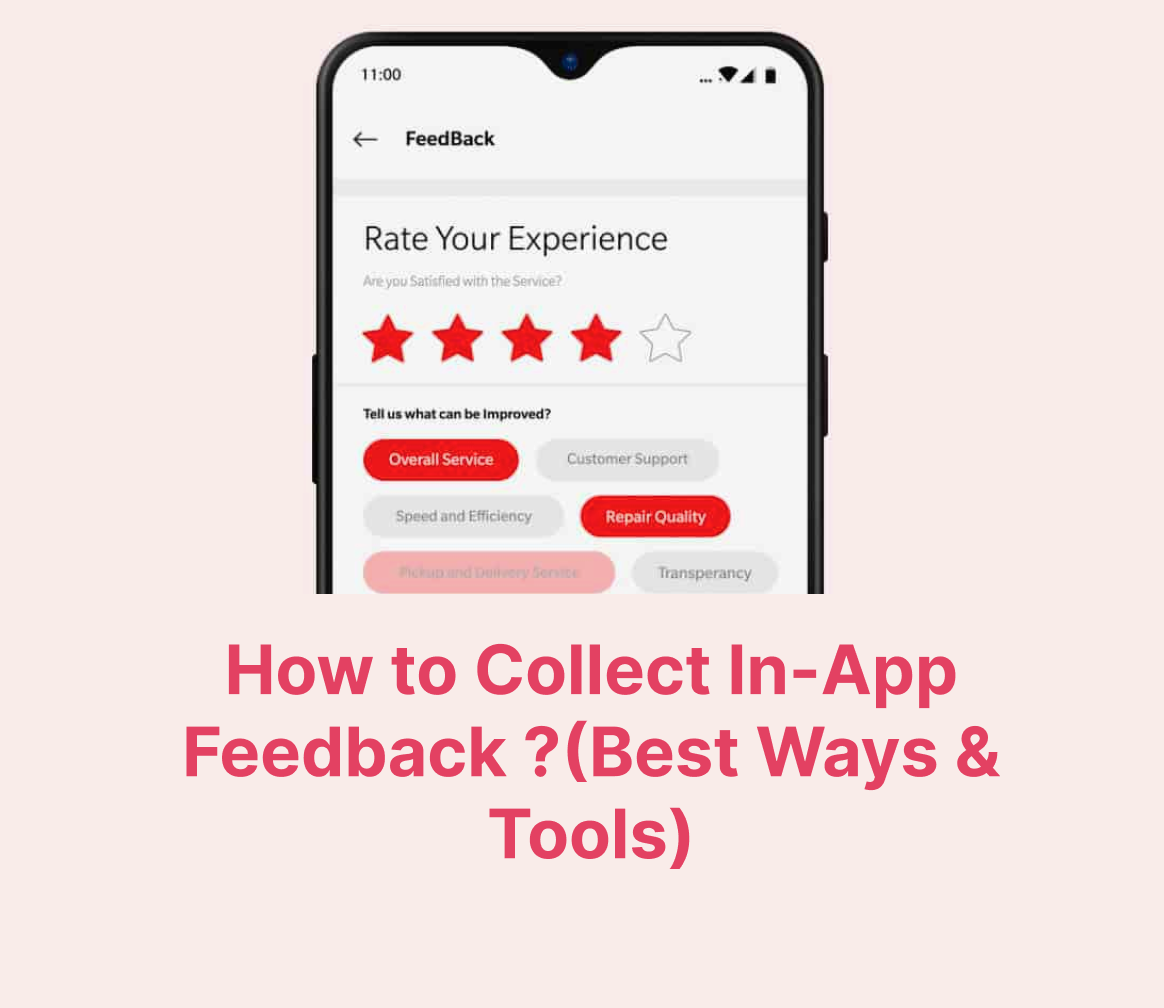 How to Collect In-App Feedback? (Best Ways & Tools)
Collecting feedback is vital to know what the customer thinks and how they feel about the product. Customer feedback provides insights into trends and pain points that can be used for marketing purposes. It also helps in improving the customer experience by enhancing features that customers find necessary.
User feedback can be collected through various channels like email, surveys, feedback tools, in-app feedback, etc. But in-app feedback is considered the best because it provides real-time insight into what the customer is thinking or doing at any point in time.
What is in-app feedback?
In-app feedback is a system that allows users to provide feedback on their experience with the app while they are using it. It can be done by writing a review, rating the app, suggesting a new feature or giving a thumbs up or down.
This helps developers and product managers see what features are popular and which are not. It provides valuable information about how their app is being used and what features need improvement.
In-app feedback can be seen as the next step in customer service. It allows customers to communicate with companies through a more convenient medium than email or phone calls.
In-app feedback can be delivered in different ways. A company can build its own in-app feedback system or use third-party services like Apptentive, Rapidr, Instabug, or UserVoice.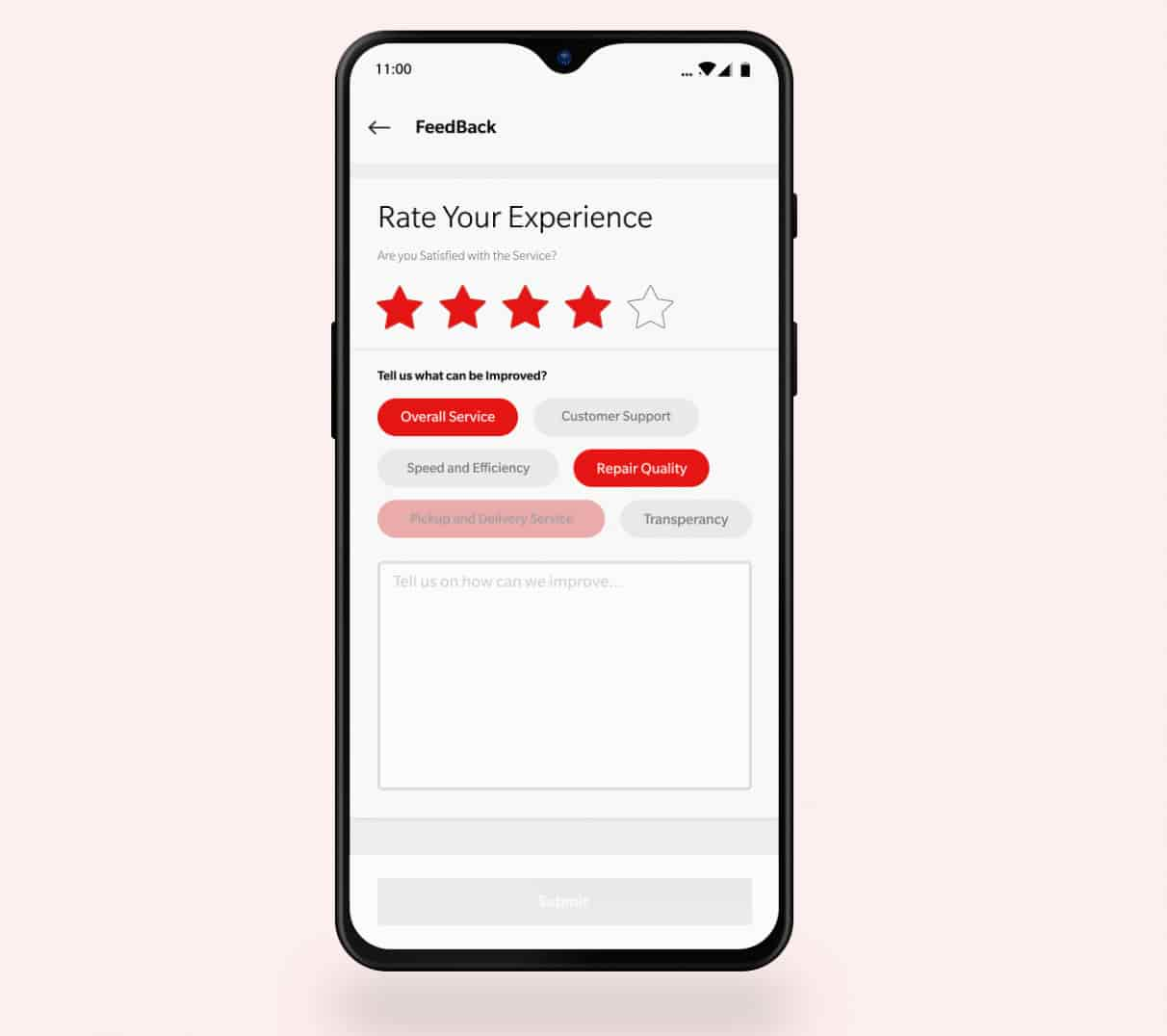 Why collect in-app feedback?
Collecting feedback from customers is vital for any business. It allows you to improve the product, prioritize features and make it more user-friendly. The more feedback you get, the better your app will be for users.
There are many benefits to collecting in-app feedback, such as:
Realtime Feedback: The user can provide feedback regarding their experience with the app. Feedback is more likely, to be honest and accurate when available 24/7 inside the app. They would be able to share ideas and pain points on the spot in real-time rather than leaving the app to do so.
Identify Feature Requests & Bugs: It allows you to get feedback and feature requests from your customers in real-time and fix bugs before they cause problems. It is easier for the developer to identify and rectify any issues.
Understand Users: It's an excellent way for brands to get customer insights about their products or services. Collecting in-app feedback can help you understand what users like and dislike about your app and what features they would like to see in the future.
Improve User Experience: It is also an opportunity to improve user experience. This way, you can increase engagement and customer retention rates, which will lead to more revenue in the long term. It also helps you get a sense of how much time people spend on your app, which enables you to understand their engagement with it.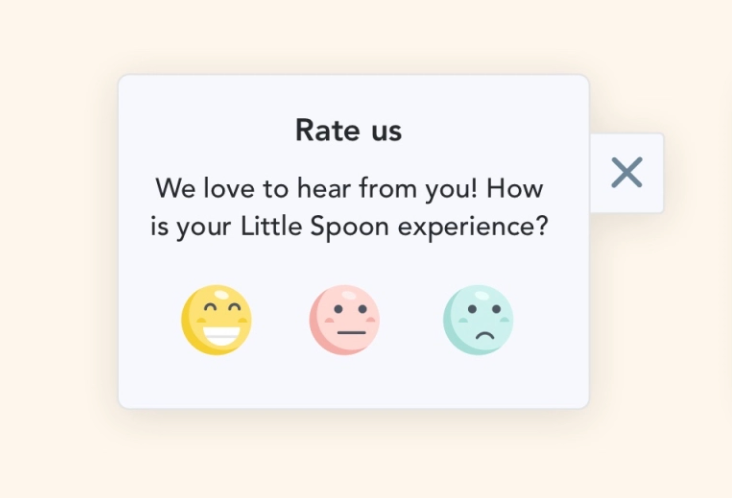 How to collect in-app feedback?
In-app feedback in a system that prompts the user to rate their experience after they have used the app. It can be used as a marketing technique to improve customer satisfaction and retention.
In a world where customer service is the new marketing, companies must keep up with customer needs and expectations. In-app feedback can help companies improve their product by collecting customer feedback and making changes based on their opinions.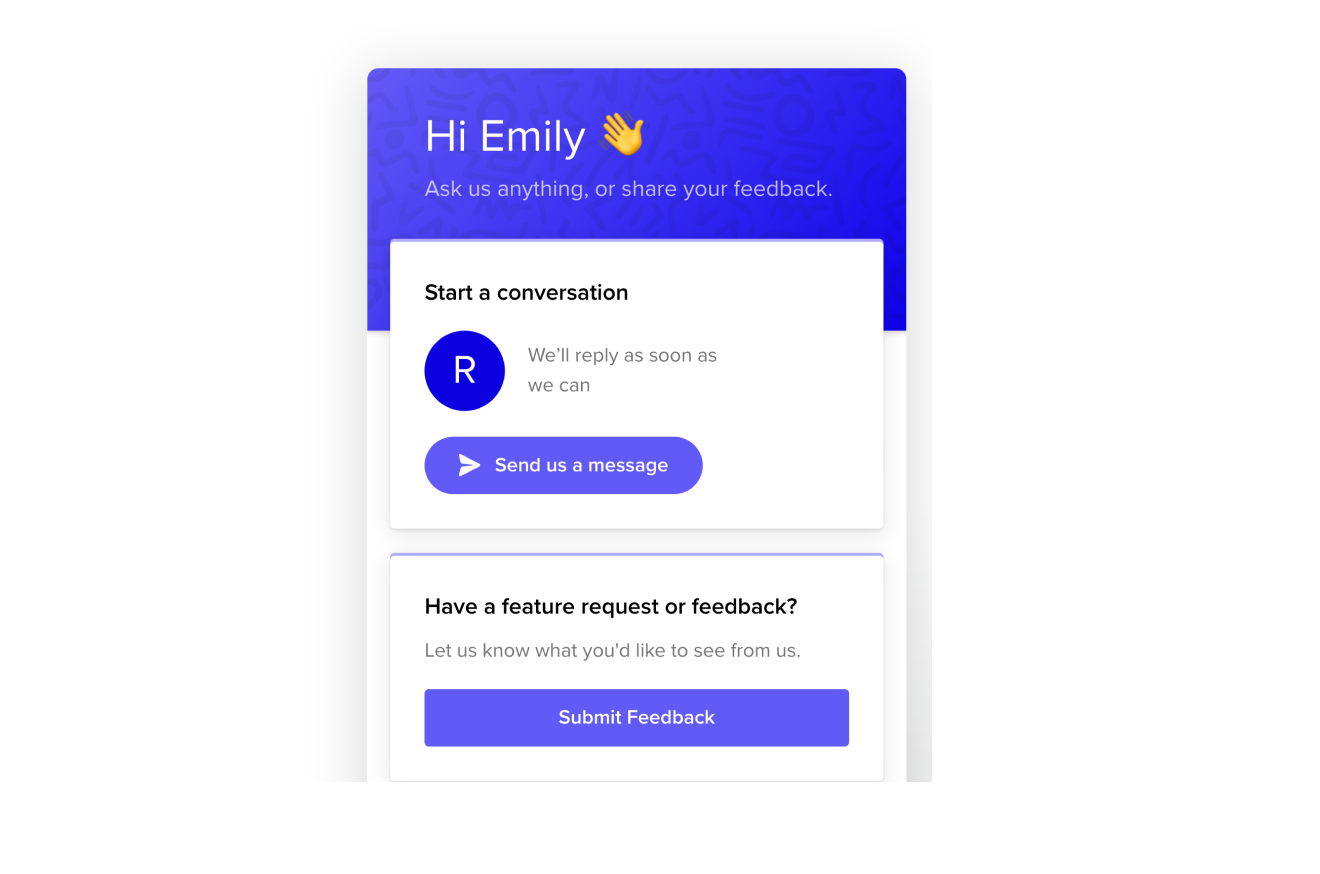 There are many ways to collect in-app feedback. Some of them include:
Customer Feedback Widgets
In-app Surveys
Feedback Buttons
In-app NPS Survey
Ratings and reviews
In-app Feedback Popups
Customer Feedback Widgets
A customer feedback widget is a tool that helps you track and collect customer feedback in real time. It can be placed anywhere within the app and can be customized to suit your need. They provide a simple and convenient way for your customers to give feedback on their experience with your app.
Many companies use in-app feedback widgets on their websites or mobile apps to get customer feedback and improve their products. These widgets allow customers to provide text, images, and video feedback and support open-ended feedback.
Using these widgets has many benefits as they allow companies to gain insight into customer needs and how they interact with the product. In addition, it also allows them to get valuable feedback that can be used for future product updates.
One of the most popular customer feedback widgets is the Rapidr widget. It provides an easy-to-use interface for both the customer and the company and is free for all its users.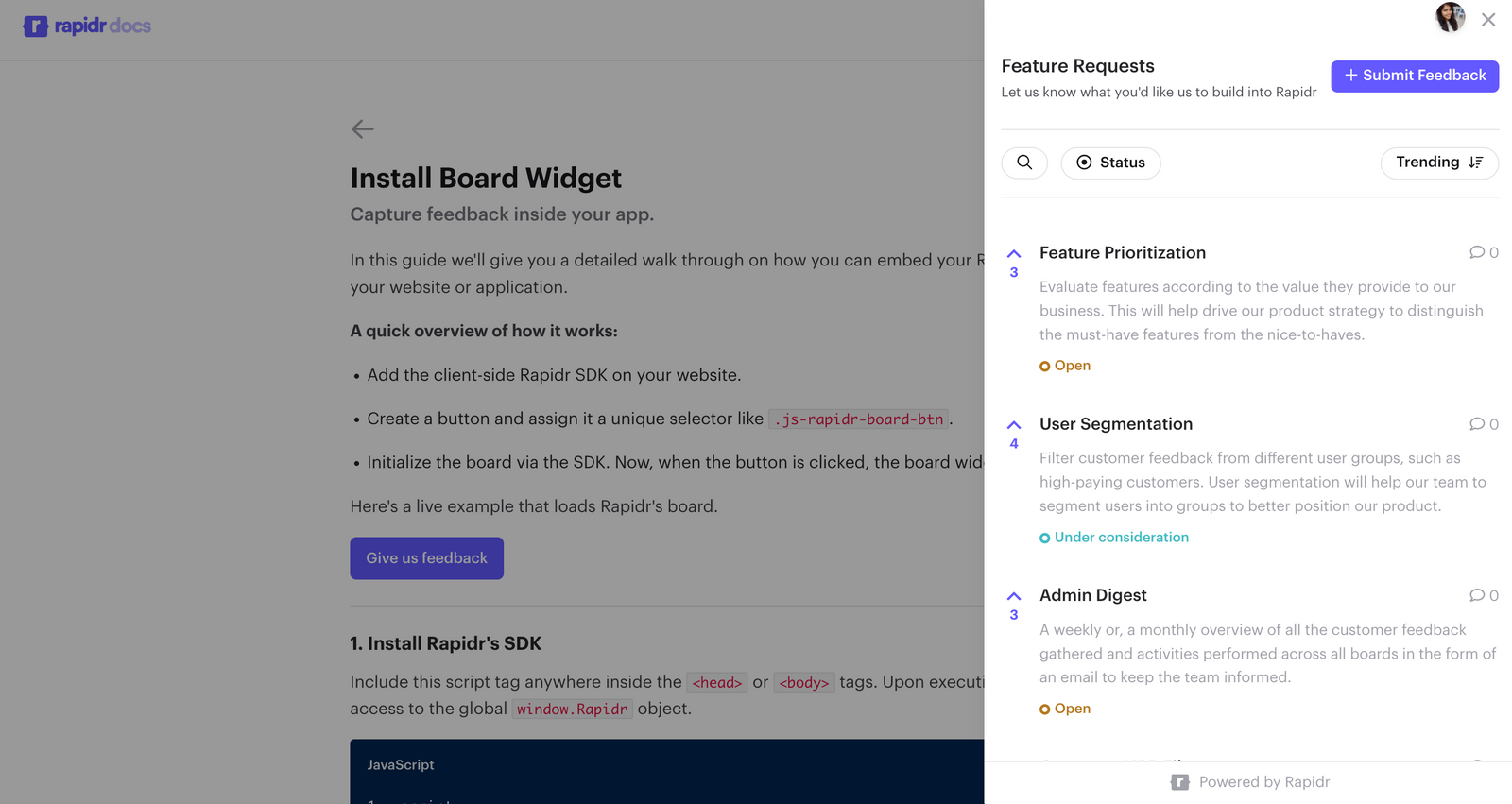 In-app Surveys
In-app surveys can be used to measure customer satisfaction and get feedback on specific features of the app. They can also be used for marketing purposes, such as asking customers to rate their experience with the product or service and ask if they would recommend it to friends.
Customer surveys can be used for various purposes, such as understanding customer experience and needs or gathering feedback on new features. In-app surveys such as NPS, CSAT, and CES surveys are a great way to collect feedback from your customers easily and quickly.
Email surveys have very low response rates; thus, using surveys in-app in context makes submitting feedback convenient for users. Keeping your in-app surveys short and easily accessible would increase response rates and help you, screen users, for customer interviews.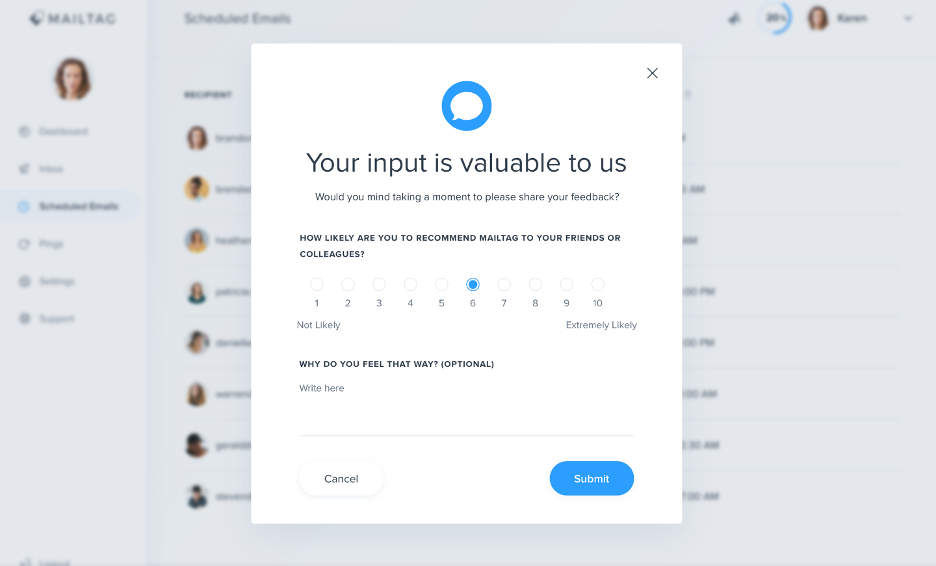 Feedback Buttons
Feedback buttons in apps are becoming increasingly common. They gather users' feedback about the app and its services.
The feedback button is a simple but effective way of getting user input on a product, app, or website. Feedback buttons can be used to find out what people like and dislike about the product, what they would like to see in future versions and how they use it.
Feedback buttons in-app are an integral part of any mobile app. They allow the users to share their feedback about the app with the developers and help them improve it. Feedback buttons can be used in various ways, such as:
To provide a rating system for apps
To rate a specific feature of an application
To provide a way to report bugs or errors
To request new features for an application
To provide support for certain features
As a customer service tool
Some mobile apps also use shake-to-send feedback, such as Google Maps, to allow users to send feedback while in the app to maintain the context.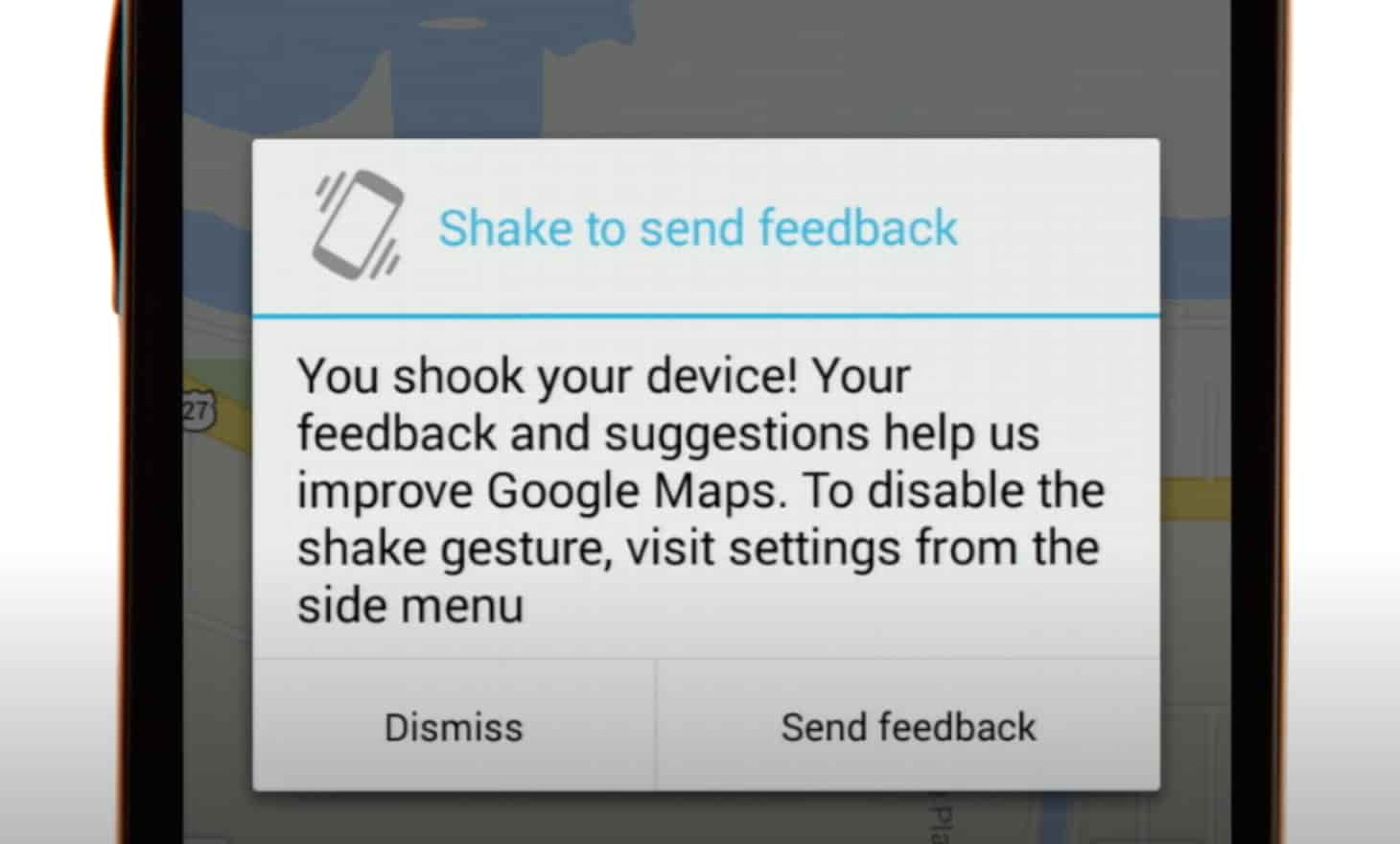 In-app NPS Survey
Net Promoter Score helps understand user satisfaction and user sentiment right when they are in-app. A study found that companies with an in-app NPS survey experience a 5% increase in customer retention, which translates into an annual savings of $1,000 per customer for the company.
In-app NPS surveys are a great way to keep your customers engaged and happy. They provide you with customer feedback and insights on how to improve your app. NPS surveys are used to measure customer satisfaction and loyalty. The survey is usually done during or after the customer has used the product or service.
In-app NPS surveys provide a new way for businesses to get customer feedback. It gives them real-time data that can be analyzed to improve their products and services.
In-app NPS Surveys are a great way to measure customer satisfaction and improve the overall experience. This survey is a great way to get feedback on what people like or dislike about your app and how you can improve it.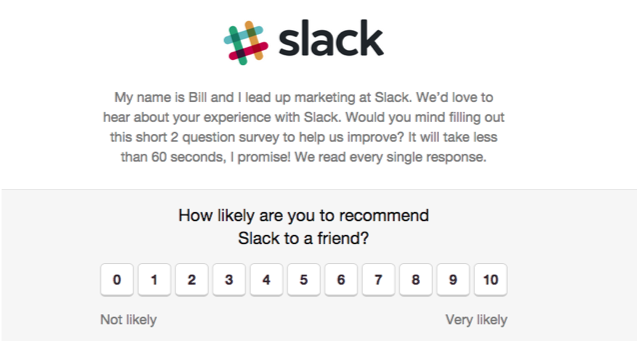 Ratings and Reviews
One of the critical types of in-app feedback is rating and reviews. These are the feedback from users who have downloaded and used the app. They are crucial for understanding how users perceive the app, how it works, what they like about it, and what they don't like.
Ratings and reviews are prompted to trigger, asking customers to give a rating as they use the mobile app. A good rating is a sign that people enjoy using an app and find it helpful. A lousy rating indicates people don't enjoy using an app or find it useful.
It's essential to remember that ratings can be very subjective; this means that one person might love an app while another hates it for the same reason. Reviews and ratings help inform product decisions and support growth and product development.
Some of the best practices to get ratings and reviews include:
Ask your existing customers to rate and review the app in question
Ask new customers after they've used it
Send out an email asking people who have downloaded the app to leave a review if they like it
Post on social media asking people who use the app to leave a review
In-app Feedback Popups
Feedback popups are a great way to collect feedback from customers. They can be used on e-commerce websites, in-app messages, and other places where customers interact with your company.
Feedback popups are an effortless way for businesses to get feedback from their customers. They can be used for many different purposes, such as asking customers about their experience with a product or service, doing user research, or collecting feedback on their website or app, such as asking for reviews or feedback on the product.
The idea behind feedback popups is that they will help you build a better product or service by collecting data from your customers. This data can make improvements and updates to the product or service more beneficial for your customers.
Some people have expressed concerns that these popups might become annoying and intrusive if they are not handled correctly. However, implementing them correctly can help increase customer satisfaction and engagement with your brand.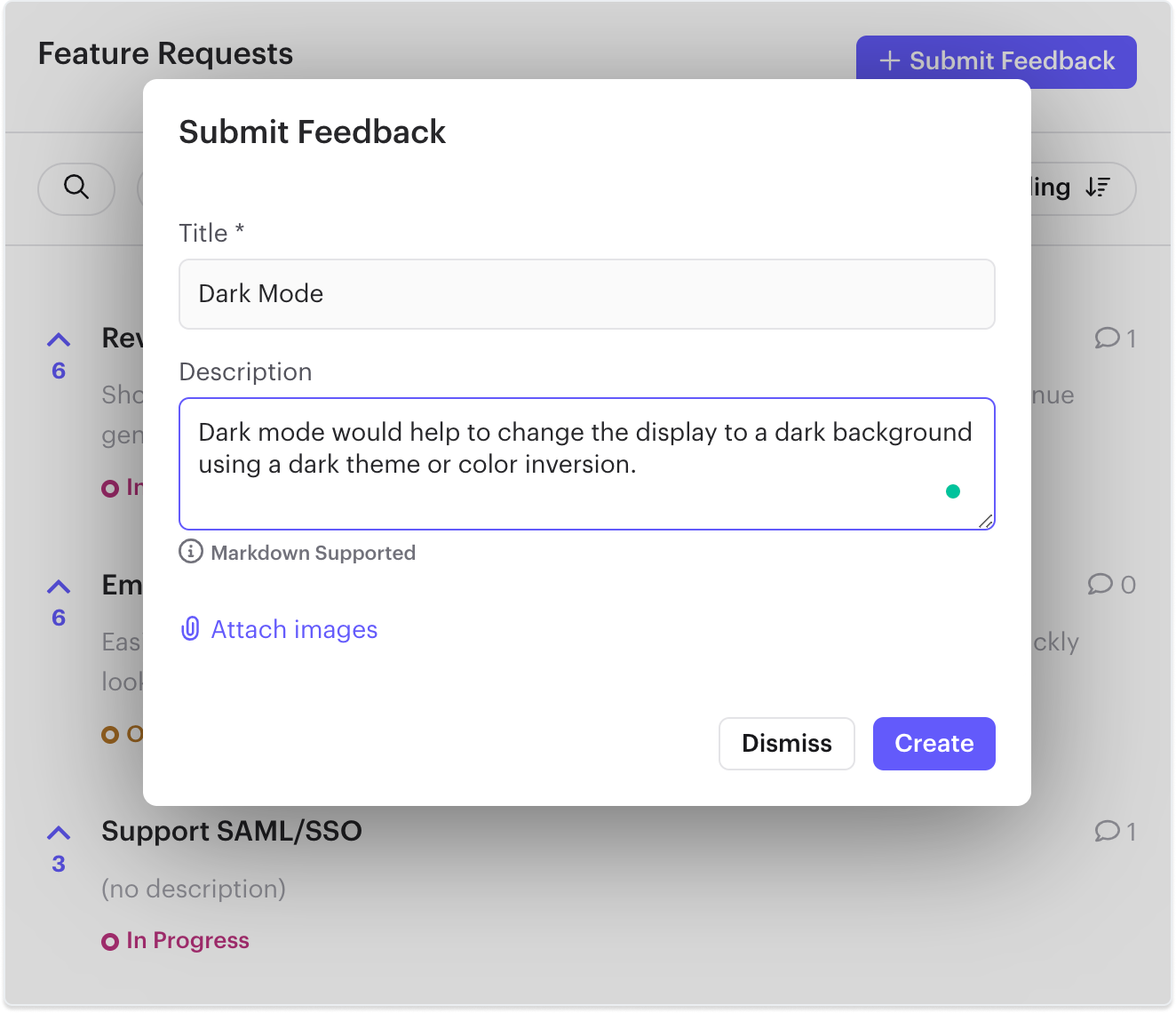 What are the best tools to collect in-app user feedback?
The most common way of collecting feedback is through emails or phone calls, which can be time-consuming and expensive. That's why many companies use in-app feedback tools that allow them to collect data on their mobile apps without contacting every user.
Best 11 Mobile In-App Feedback Tools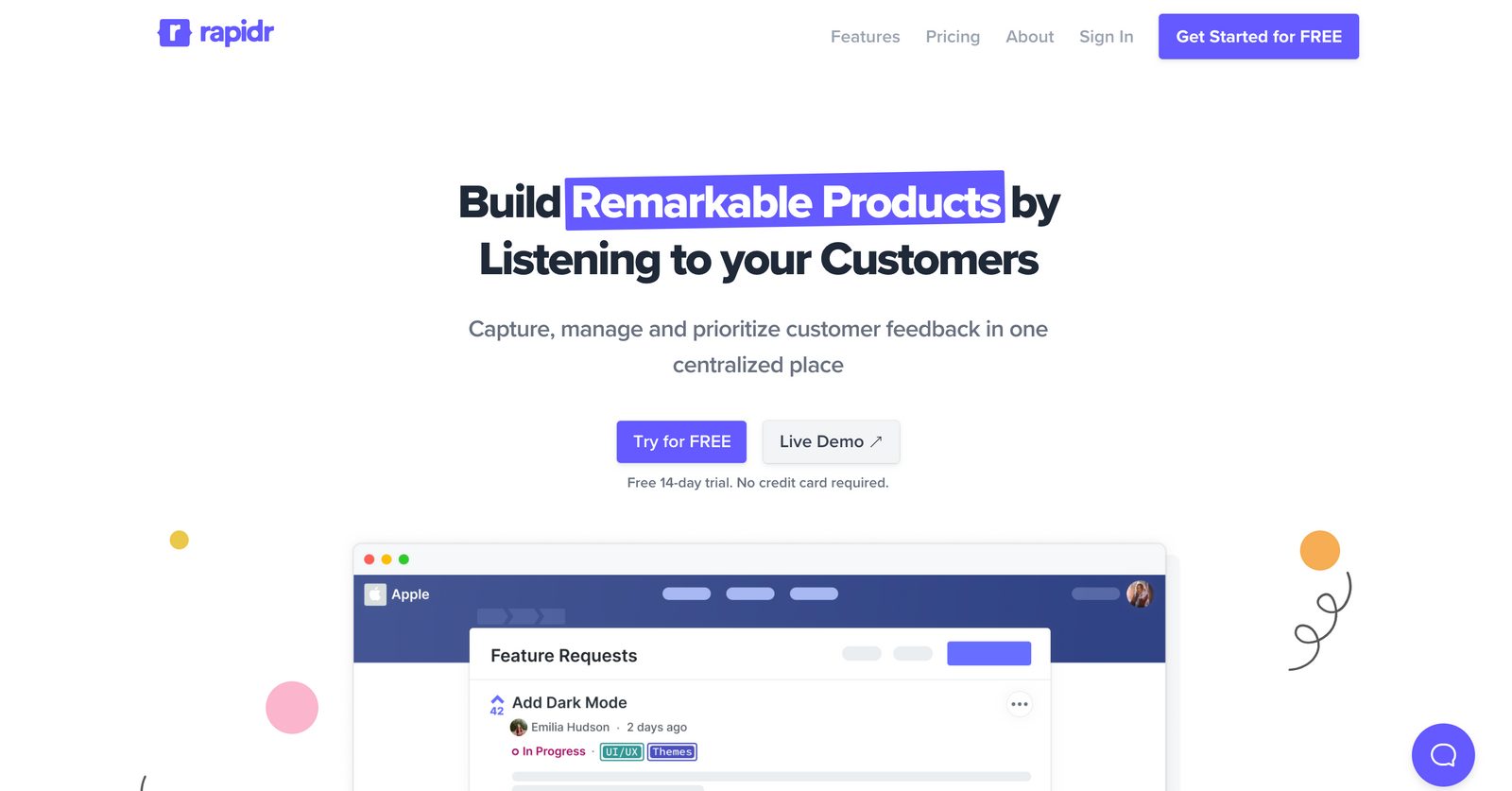 Rapidr is a customer feedback management software and feature tracking tool that helps manage the entire feedback lifecycle, from capturing feature requests to prioritizing features, informing product roadmap, and sharing product updates with changelog.
Rapidr allows you to capture and track all user feedback and organize and analyze them under one roof in a centralized location. Then, inform your roadmap with the most critical feedback, and notify users of what's new with release notes.
Pricing: Starts at $19/month.
Use case: Best for in-app feedback, feedback widget, feature request tracking, idea management, feature voting, roadmapping, and product changelog.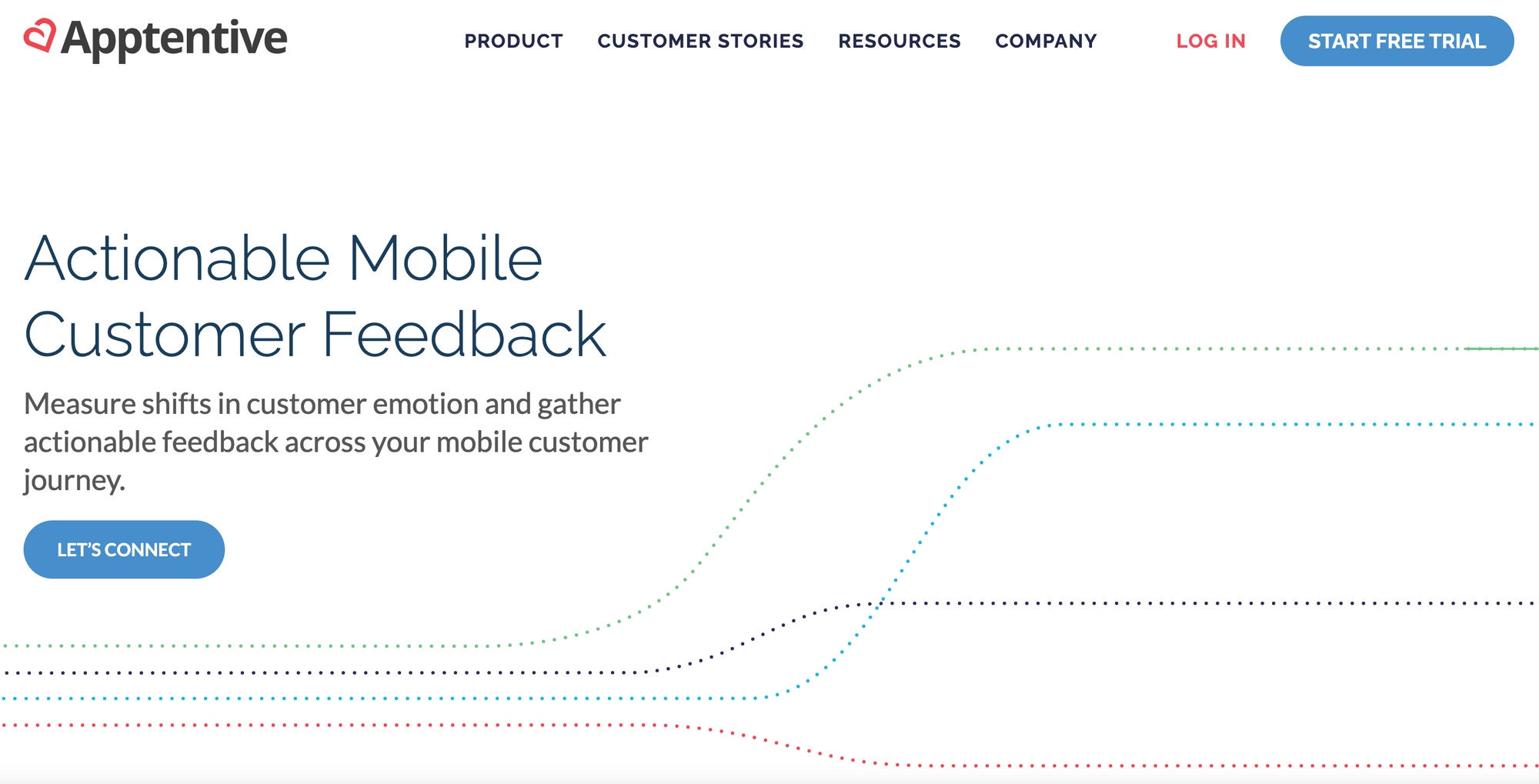 Apptentive allows companies to measure shifts in customer emotion and gather actionable feedback across their mobile customer journey. Apptentive supports in-app surveys to collect customer feedback, send in-app rating prompts, and add in-app notes to broadcast updates and information to app users. It helps collect targeted user feedback to improve the app's quality.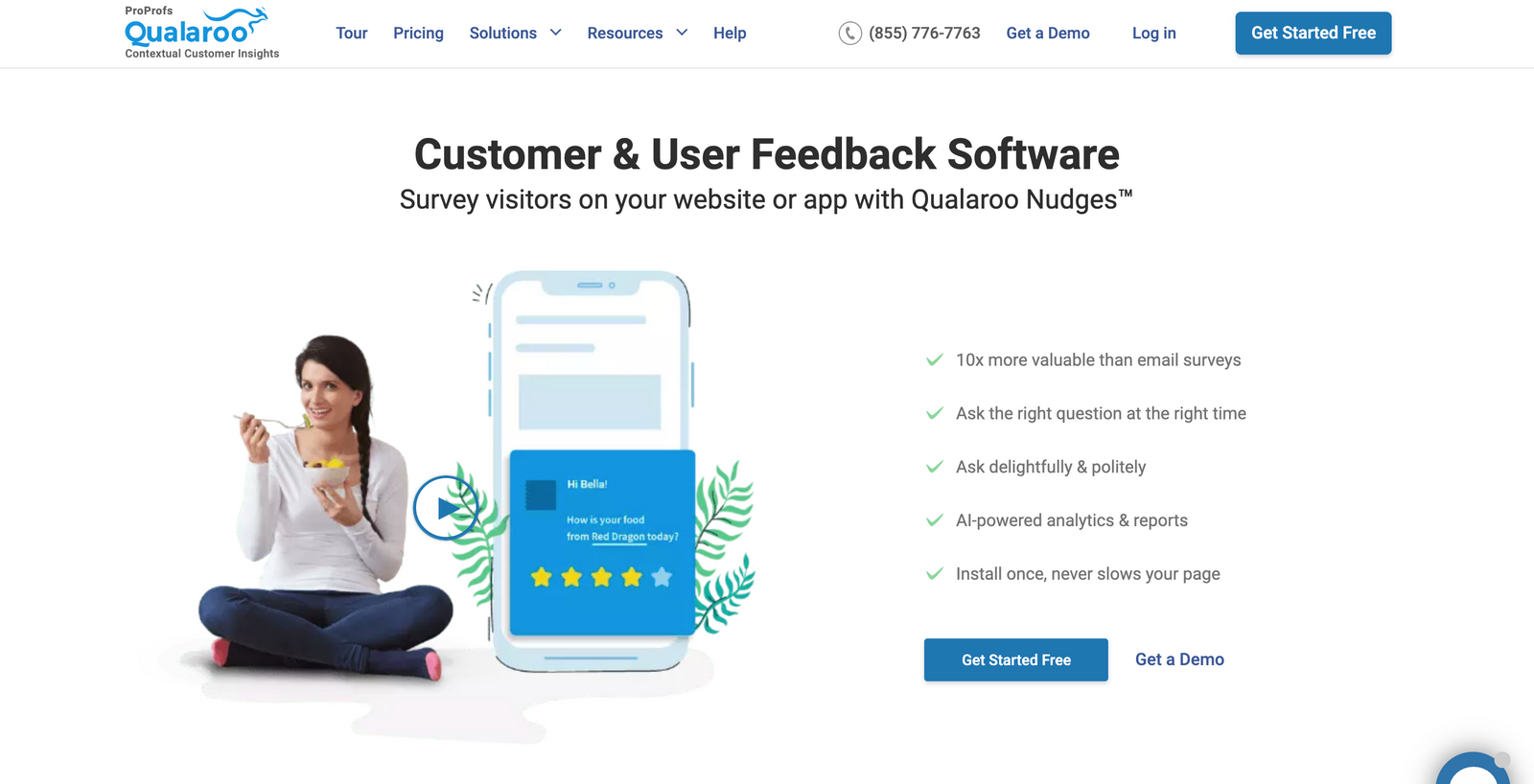 Qualaroo is a Voc survey feedback platform that helps gain qualitative insights through easily accessible website surveys in mobile apps. Its key features include sentiment analysis, cookie targeting, data streaming, custom properties, and responses. It also provides a library of questions to form the basis for your survey questions for in-app feedback.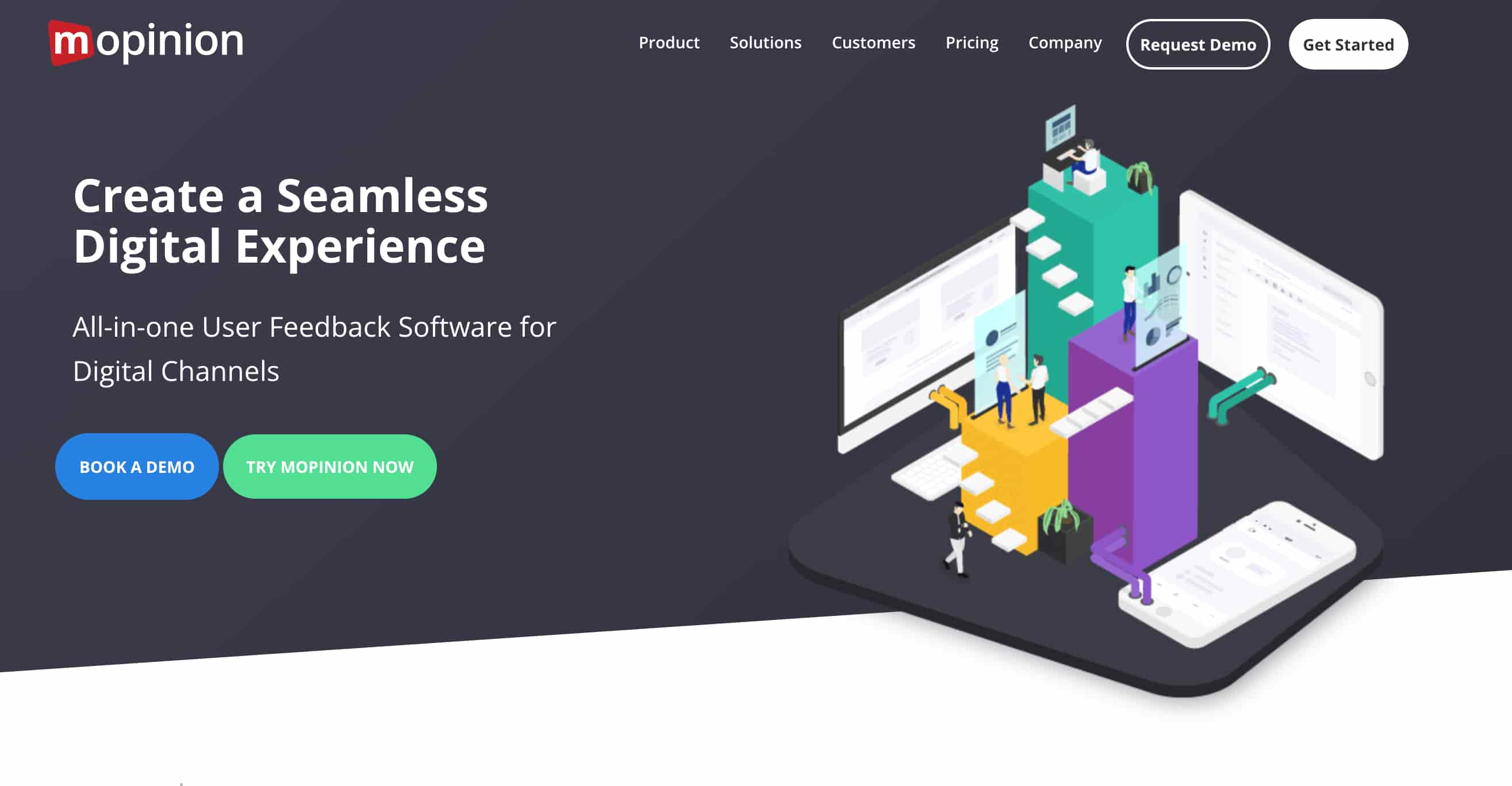 Mopinion empowers its users to create customizable online in-app feedback forms, including various CX metrics such as NPS, CES, and CSAT, and trigger them based on rules such as mouse movement, exit intent, and much more.
It helps collect in-app feedback using their flexible and easy-to-install SDKs for iOS and Android. It also includes visualization in customizable dashboards and text analysis, and labels. Users can use proactive alerts and role-based views to act on feedback.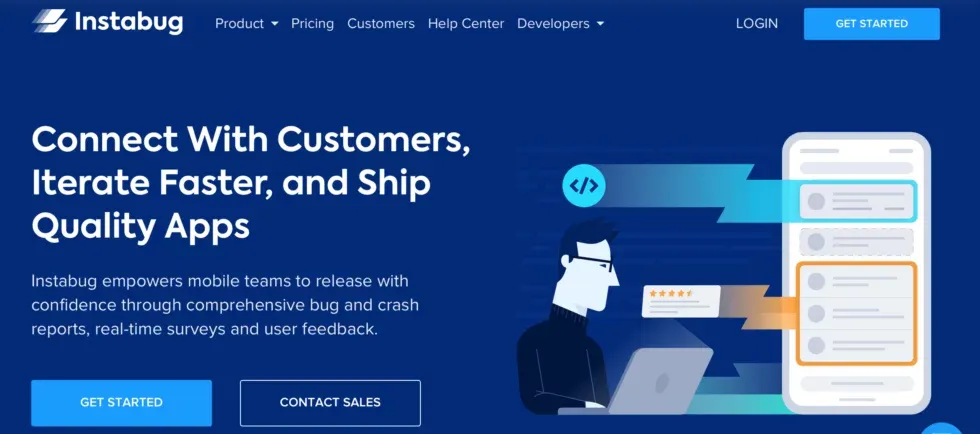 Instabug is an in-app mobile feedback tool that also works as a bug detection tool. It helps users and beta testers report bugs in your app. Instabug also provides mobile SDK to analyze and fix app performance and in-app feedback, including bugs and/or stability issues.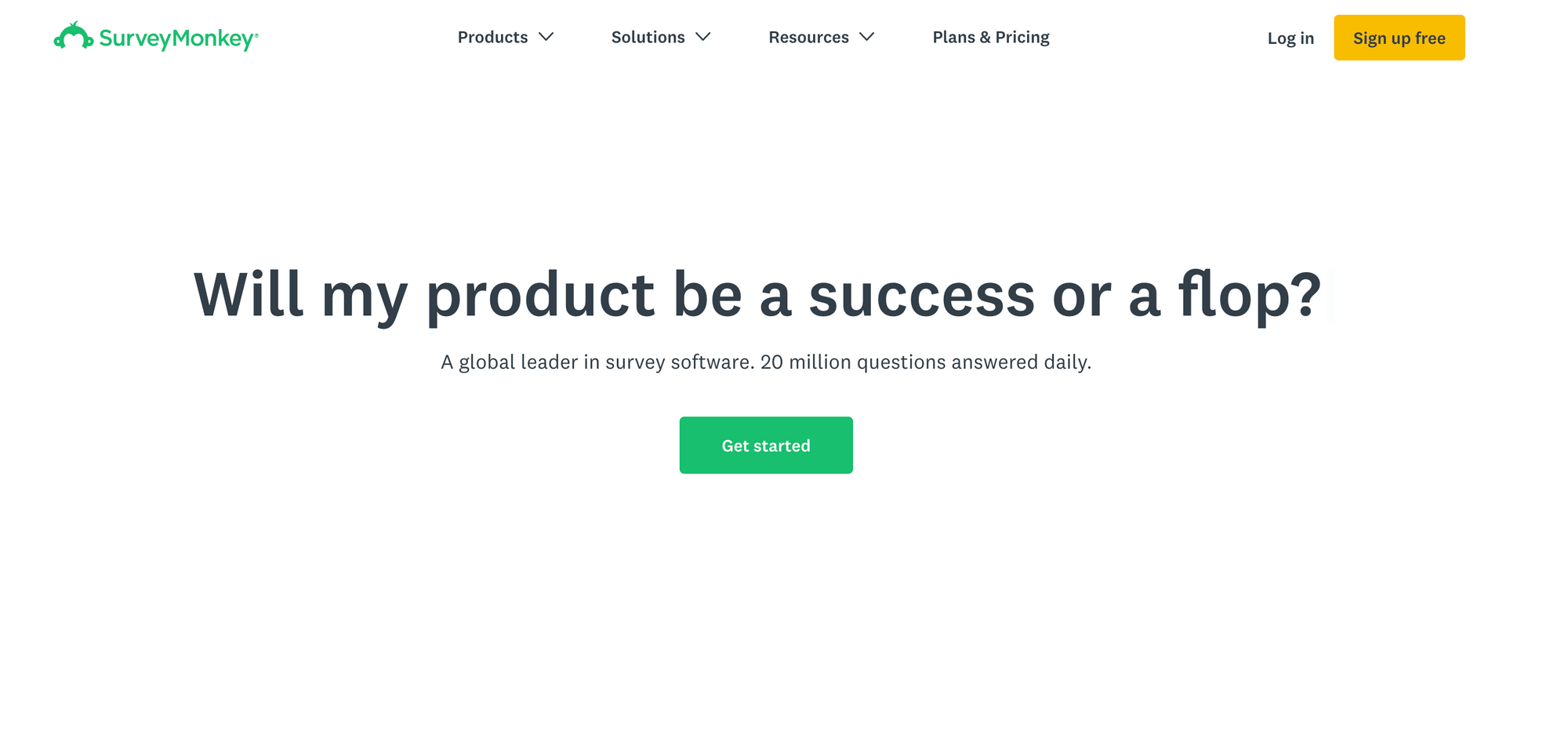 SurveyMonkey is an all-in-one survey tool that helps run customer satisfaction surveys(CSAT) and NPS to get in-app product feedback. It also supports employee engagement surveys to understand employee satisfaction within the company.
It allows companies to send surveys and check on results from a dashboard with specific filtered points showing only desired parts of your survey. It helps identify customer loyalty patterns and capture live in-app feedback.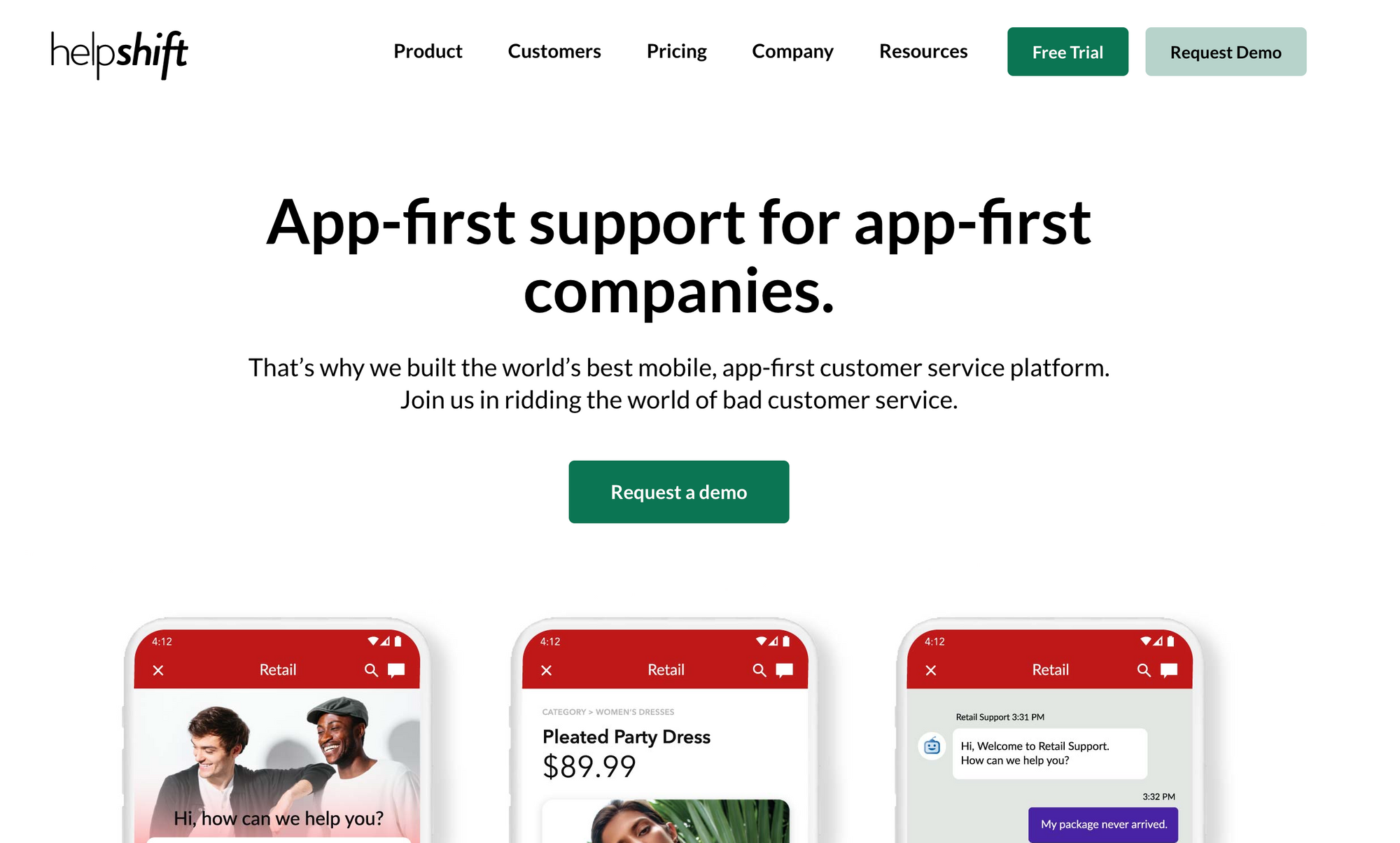 Helpshift provides live chat tools and AI-based conversational chatbots for mobile app feedback. It helps users to submit in-app feedback without leaving the  app and offers a live chat widget to gather in-app feedback and  provide support inside your app.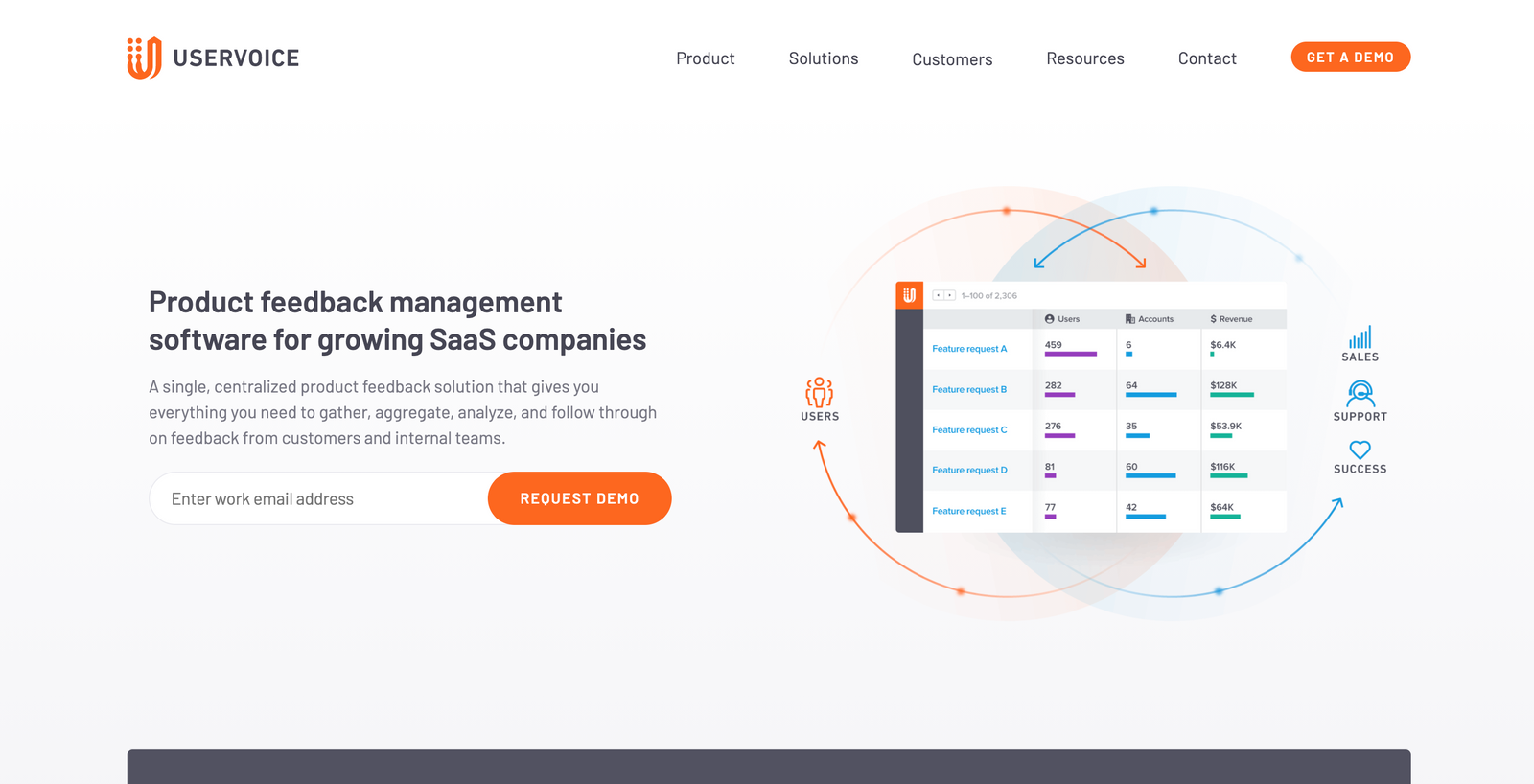 UserVoice helps gather customer feedback, process support requests, and increase customer satisfaction. UserVoice allows companies to create feature request voting boards for customers to share their ideas, opinions, and votes. Users can share this feedback from within the mobile app with its in-app feedback widget and the API that helps capture feedback without interrupting users.
HelpStack has an open-source code that you can integrate with your mobile apps. It is a customer support tool that lets users submit in-app feedback and query raise tickets to report issues and provide feedback.

Delighted supports short-form or long-form surveys in-app to target specific users and collect feedback inside mobile apps. It also provides an in-built reporting dashboard and real-time NPS surveys to track net promoter scores in-app.
11. ProProfs Survey Maker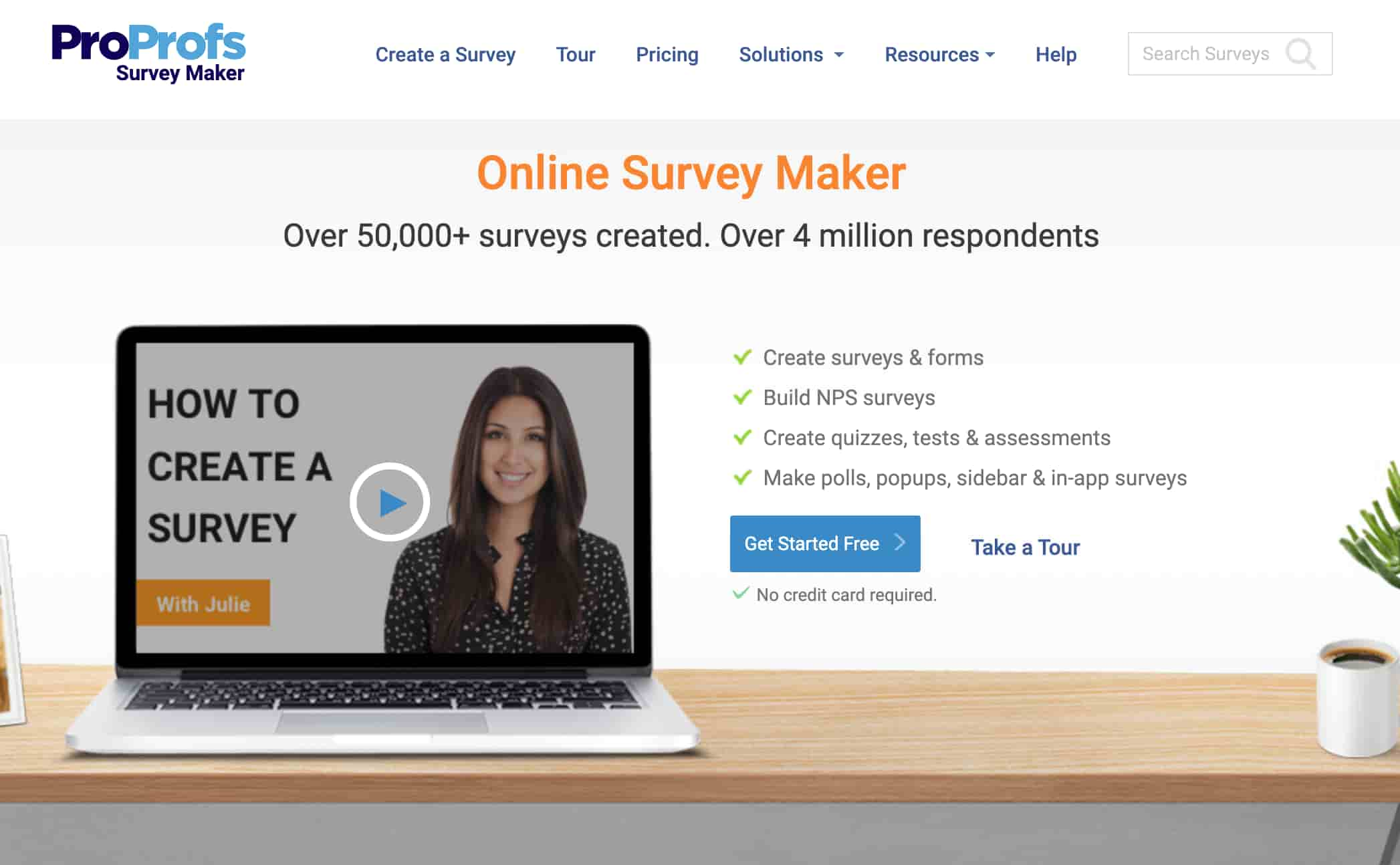 ProProfs Survey Maker helps collect feedback with in-app surveys and one-click polls to keep the users engaged. It also helps collect reviews and ratings for the app and embed surveys on your website and mobile app.
Best practices for gathering user feedback in-app
In-app feedback is valuable for understanding how people are using your app. It can help you identify pain points, understand what features or content they're looking for, and even find out what's confusing them.
Combine in-app feedback with other sources of feedback
Encourage more users to provide continuous feedback
Reach out to the right users at the right time
Analyze feedback to inform the roadmap
Make your feedback widget discoverable
Keep your in-app surveys short
Leave space for follow-ups
Consider the overall user experience
The importance of feedback cannot be overstated. It is the lifeblood of any product and the best way to improve it. Getting feedback from users is not always easy, however. The best practices for gathering user feedback in apps are discussed above.
Improve User Engagement with In-App Feedback Tools
In-app feedback tools are one of the best ways to improve customer engagement in your app. Feedback tools can be used to collect feedback, generate ideas for new features, vote on existing features, and provide an opportunity to create a dialogue with your customers.
The benefits of leveraging in-app feedback tools are many. They can help you understand the pain points of your app users and provide a better experience for them.
Some of the most popular in-app feedback tools like Rapidr help you collect in-app feedback via the feedback widget and analyze user feedback to create a valuable mobile app experience for your customers.