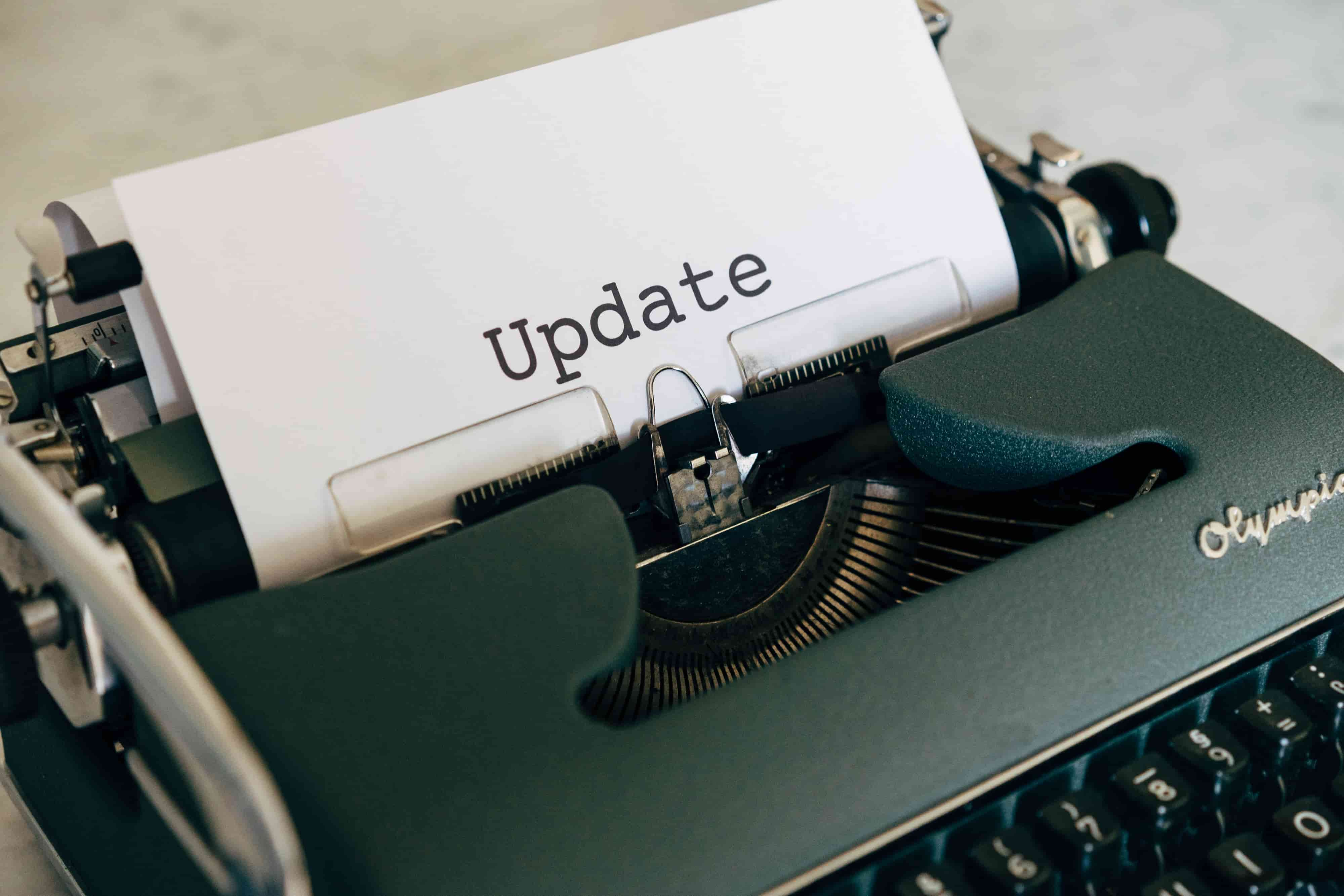 10 Best Changelog Tools for SaaS Companies in 2023(With Free Tools & Examples)
For a growing company, releasing new features and iterating over your product as quickly as possible becomes necessary. This requires you to constantly keep your customers and product experts in the loop about everything that's updated or released.
A changelog helps product managers be transparent about every enhancement and new feature built by the team to improve their product while engaging invaluable customer conversations.
Changelog tools, also known as release notes tools, are a great way to keep people on your team and customers and all stakeholders updated on the changes you make to your product. Choosing the right changelog software to keep customers and teammates in the loop is essential.
What is a Changelog Tool?
A changelog is a log or record of changes and updates made to a product. They are crucial to understanding what has changed in a product. It is a channel to convey upcoming features, product changes, improvements, and bug fixes to enhance user experience and increase transparency.
A changelog tool,  also called release notes management software, is not only for developers and founders but for all stakeholders, including all team members such as marketers, designers, and customers in the product development process. They can use it to keep track of what changes have been made to a product or communicate updates and releases that have been made to the product.
You must keep your changelog up-to-date as you change your product or update it with new features. In addition, this will help you communicate with your customers about what has changed and what's new has been released.
A changelog for saas is usually written by:
A product owner or product manager
Developer
Quality Assurance (QA) analysts
Technical writer
Marketer
Looking for a changelog tool? Check out Rapidr.io. We offer a complete customer feedback solution with it. Sign up now.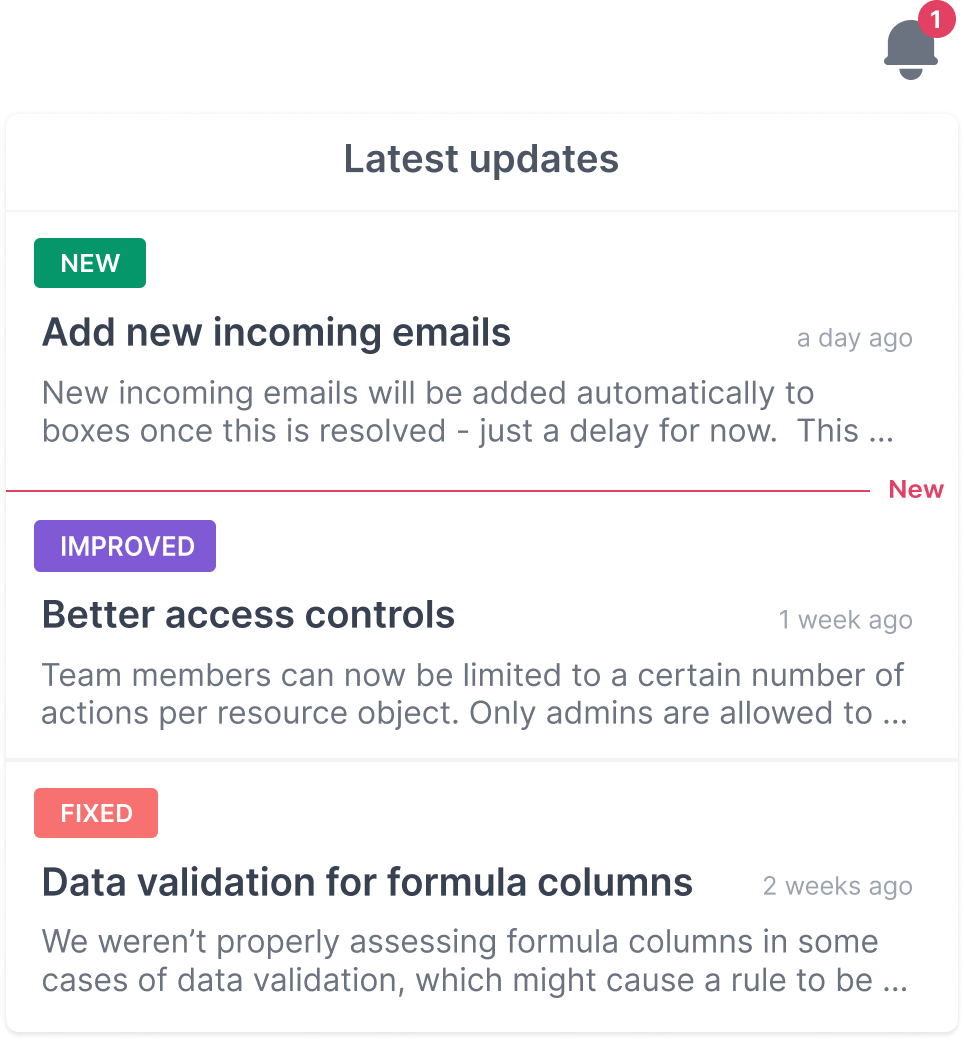 Why is it important to have a Changelog?
We have listed the primary reasons why every company should publish changelog, for every release, which include:
A summary of what has changed in the product, focusing on essential features and enhancements and bug fixes.
It is a great way to show your customers that you are listening to their feedback.
Generating excitement and interest in an upcoming product release.
Improving user loyalty and retention for your product by generating awareness.
Boost customer engagement by keeping them informed about the product development cycle.
Ensuring that all parts of an update have been communicated to stakeholders.
How to Write Release Notes?
Release notes or change log is a crucial element of your product communication between you and your users. They should provide clear and concise information about updates, fixes, and changes.
Tips to write good release notes or changelog include:
Know Your Audience: Understand who will be reading your release notes. If your audience is primarily technical, you can use technical language and detail. If your audience is non-technical, keep the language simple and avoid jargon.
Use Bullet Points: Bullet points are a good way to break down information, making it easier to digest. Each bullet point should ideally focus on a single update or fix.
Be Clear and Concise: Use clear, concise language to explain updates. Avoid unnecessary technical details or industry jargon unless absolutely necessary.
Highlight Key Changes: Emphasize the most significant changes. Users should quickly understand the major updates or fixes in the new version.
Categorize Updates: Separate release notes into categories like new features, improvements, bug fixes, known issues, and deprecated features. This makes it easier for users to find the information they need.
Include Screenshots or Videos: Visuals can help explain new features or changes better than text alone, especially for UI/UX updates; also, provide any link to additional resources such as FAQs, user guides, or tutorials.
Keep it Consistent: Keep the formatting and structure of your release notes consistent across versions. This allows users to know what to expect when they read your release notes.
Top 10 Changelog Tools for SaaS Companies
We list the top 10 changelog or release management tools, including free changelog tools to publish product updates and announcements and generate awareness.
1. Rapidr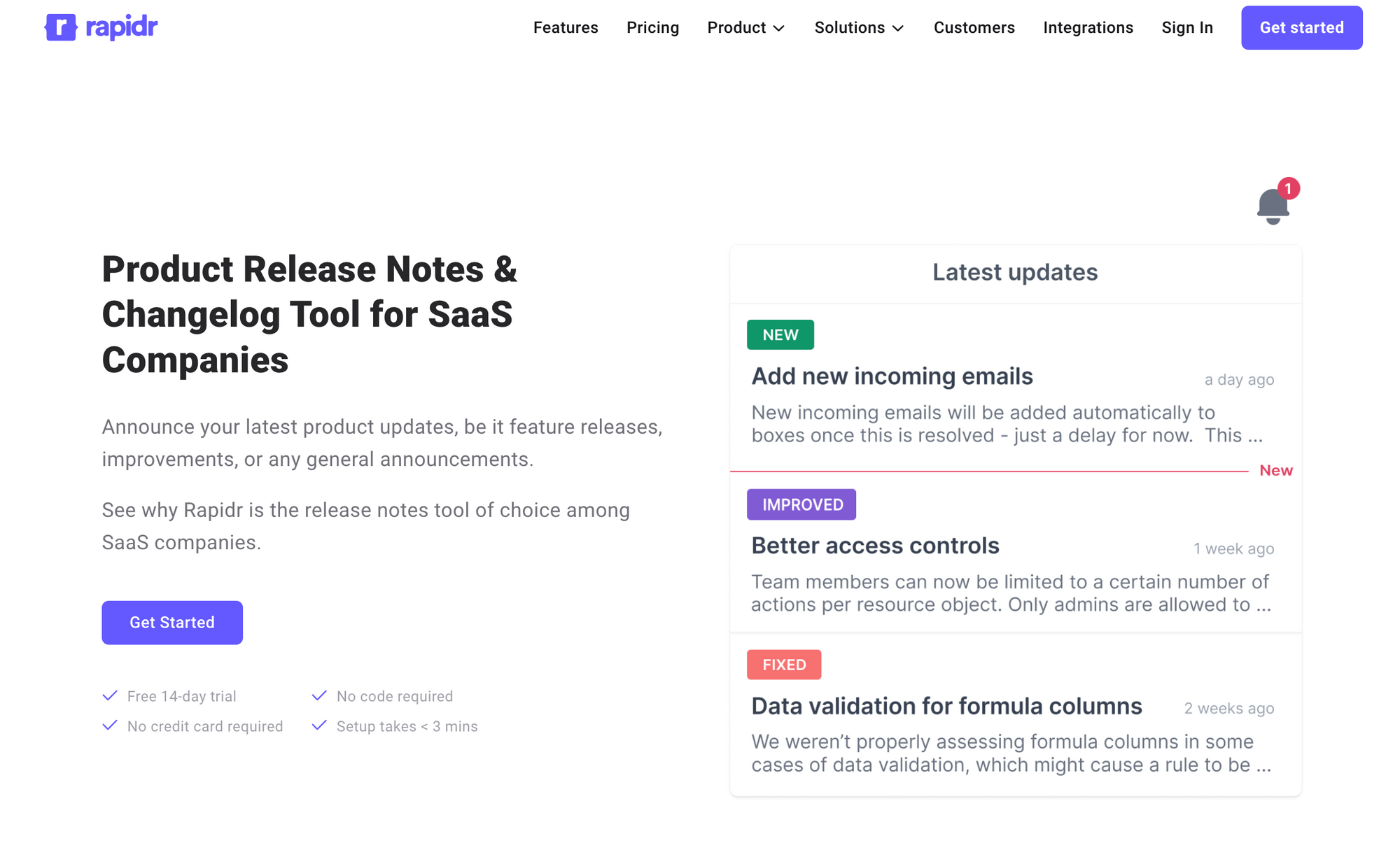 Rapidr helps product teams understand what customers need by tracking feature requests and ideas, analyzing & prioritizing what to build next, creating a roadmap backed by customer insights, and communicating new features with changelog.
Rapidr helps you capture product ideas, requests, and feedback from colleagues and customers with their customer feedback portal and in-app widget.
Next, analyze and prioritize features with the roadmap based on customer insights. Lastly, let your customers know what's new with release notes.
Rapidr Pricing: Starting from $49/month.
Rapidr's Changelog tool provides all the essential features to publish a changelog:
A Rich-text editor with markdown support, attachments, and more
Embed widgets inside a website or platform
Install a "What's new" widget to show the latest updates within your product. Try our "What's new" widget below.
Create custom categories and color code them for your product
No code required - install in 3 minutes or less
Notifications via multiple channels and effortless sharing with teammates and users
Close the feedback loop with customer feedback boards as well as public product roadmaps.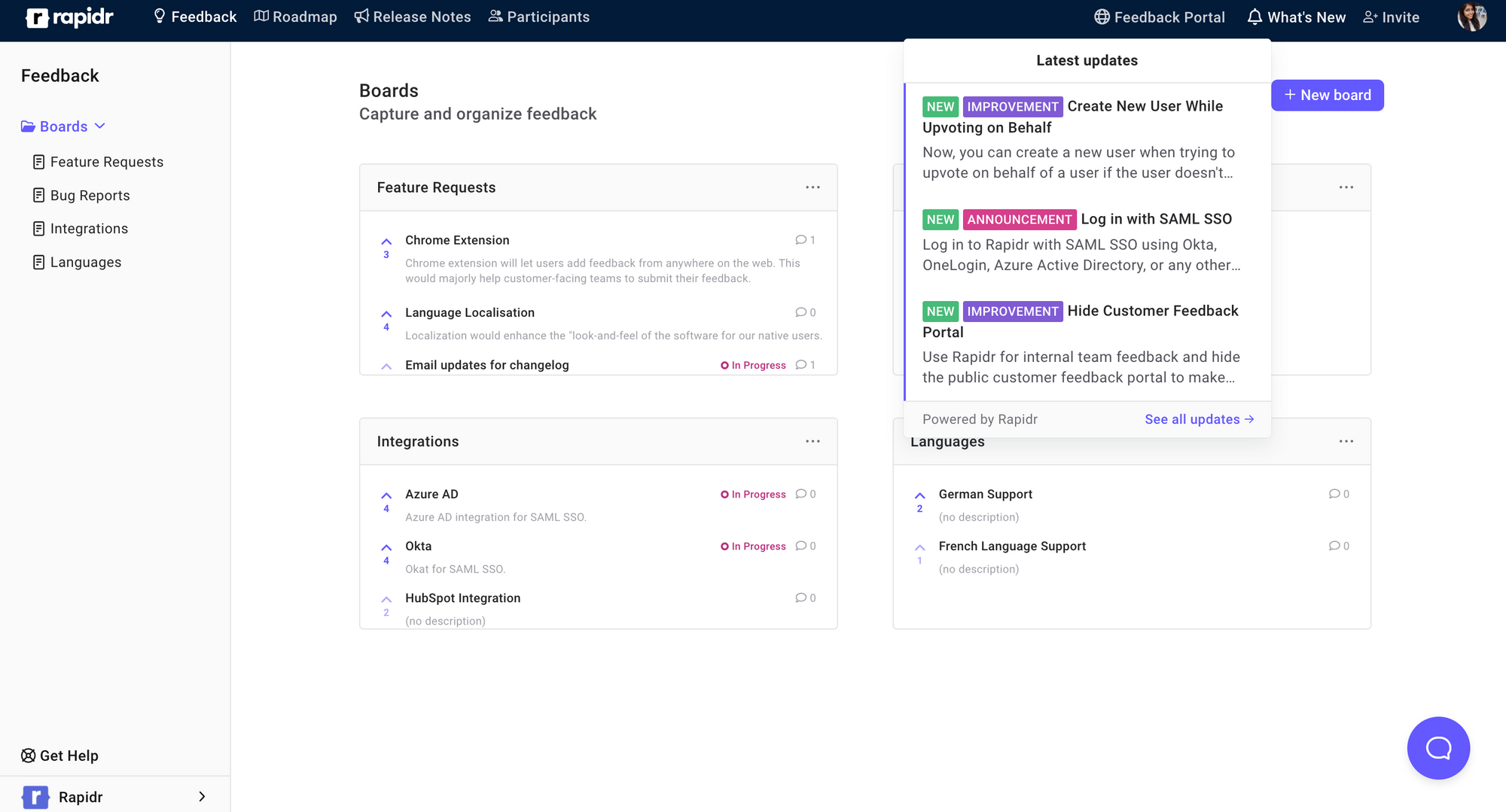 Rapidr's not only a Changelog tool:
Rapidr is an end-to-end feedback solution, so you don't have to glue multiple apps together. With it, you get feedback collection software, roadmapping software, and release notes software.
Rapidr is one of the most affordable and cost-effective solutions that offer excellent value for money stacked against the other enterprise options on this list. Rapidr's pricing is based on the value you derive from the software instead of per-seat pricing.
Rapidr's hosted feedback portal is lightweight, easy to use, and customizable, fitting perfectly with your existing workflows and brand design.
Rapidr is built to support varying workflows and to match different product development terminology across companies. It's built to be customizable from day one.
Rapidr can be fully white-labeled on high-end plans. White-labeling removes the "Powered by Rapidr" link from your feedback portal and emails, which means no visible branding from Rapidr.
Read more: Rapidr's Changelog tool
2. Github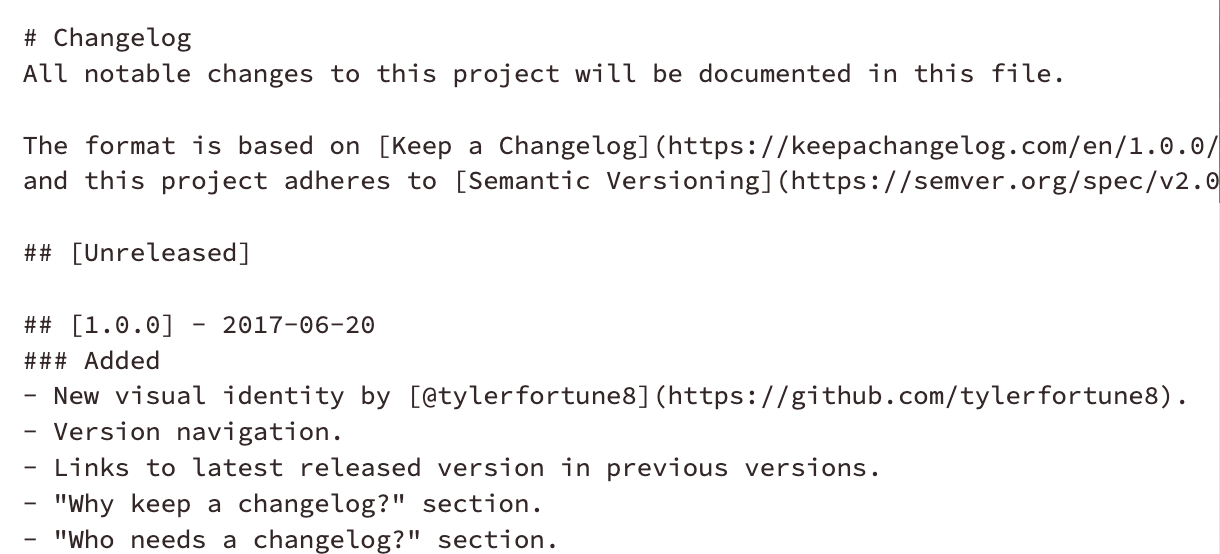 GitHub changelog helps millions of developers to host the changelog of a project and share it with internal dev teams. GitHub changelog helps share a chronologically ordered list of the changes you've made to your project on GitHub. It's organized by the version with the date followed by a list of added, improved, and removed features.
GitHub Pricing: Free for basic plans
GitHub changelog requires manual work to make it look pleasing and write it so that it is easy to understand for all stakeholders. It is usually stored in a text file, contains no images, and feels tedious and confusing for stakeholders other than developers. It is distributed with the project's source code and is updated with every new release.
It is typically placed in the project's root directory and named "CHANGELOG.md," a file in the GitHub repository. This file aims to inform contributors of the latest updates on the project and focuses more on developers than the general public. Learn more about GitHub changelog here.
3. Notion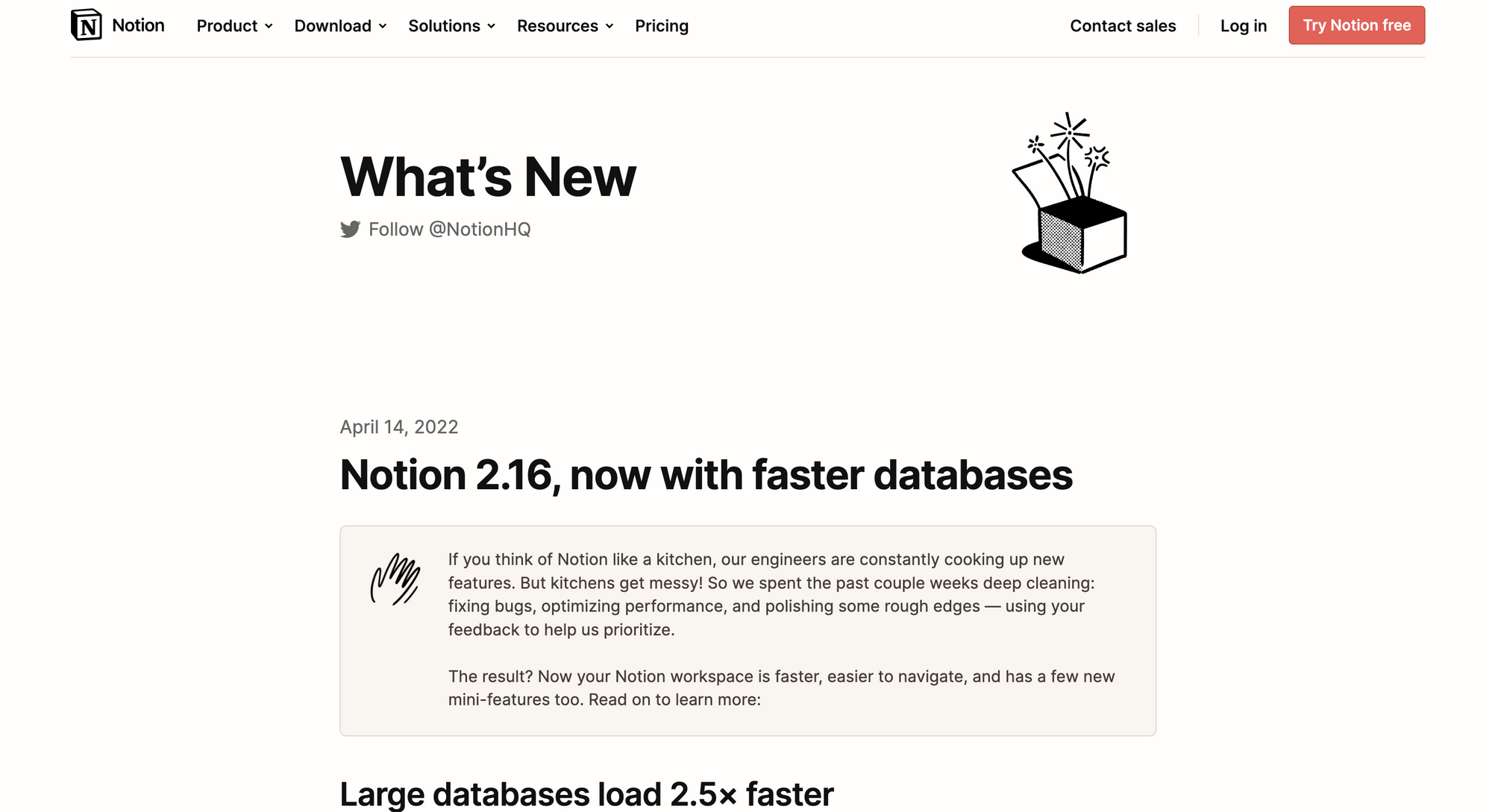 Notion is the all-in-one workspace that combines notes, docs, and project management and can be easily used for release notes. Many startups use it to collaborate, stay informed, and publish release notes. But if your are looking for feedback boards and integrations like Intercom, try Rapidr.
Notion Pricing: Starts with a free plan
It also provides an extensive template library that includes release note templates to help speed up the process of creating and publishing your changelog.
4. Headway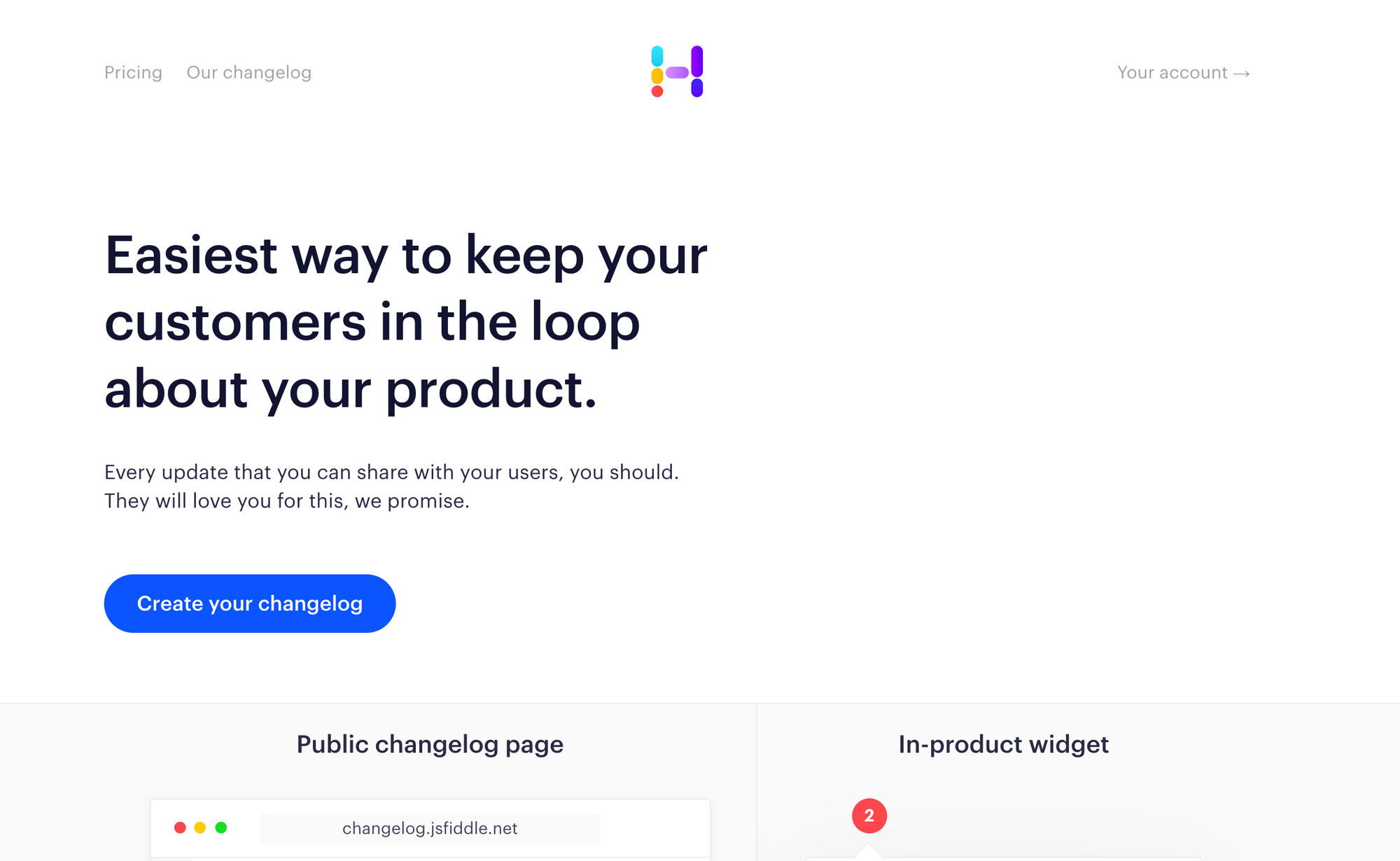 Headway is a product changelog tool and offers a changelog-as-a-service and a public page to keep the customers informed. It provides all the basic features, including widgets, tags, custom domains, etc.
Headway Pricing: Starts with a free plan and a $29/month plan
However, they are not releasing new features, such as allowing users to interact with the SaaS changelog or subscribe to updates. It's just a changelog, so if you want a user feedback board, integrations like Jira, Intercom, etc., and a product roadmap, you'd have to look at its alternatives, such as Rapidr.
Headway also doesn't provide custom branding or control over the updates page look. In addition, it doesn't support advanced features such as user segmentation or customer feedback management compared to Rapidr, a dedicated user feedback tool with a product roadmap and changelog.
5. Beamer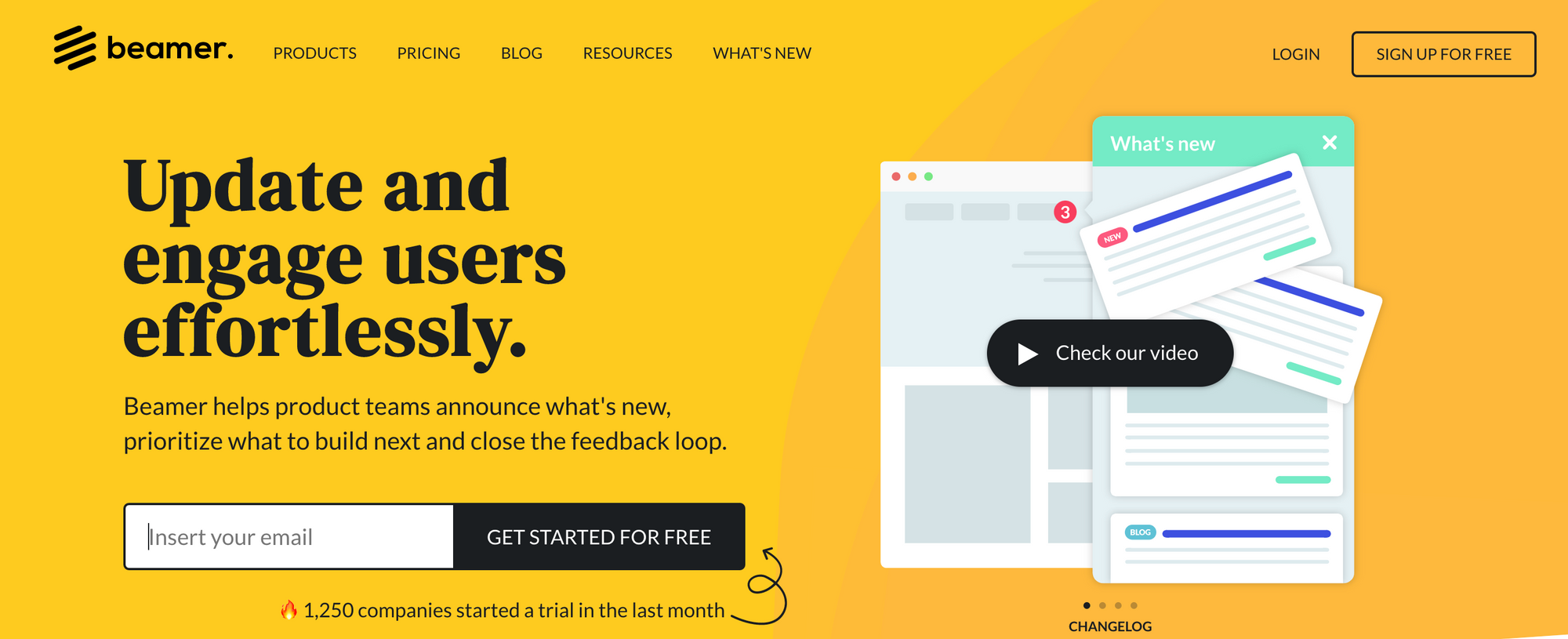 Beamer helps improve user engagement with an easy-to-use newsfeed and changelog. It helps to announce relevant news, the latest features, and updates. In addition, it allows customers to communicate with users, keeping them engaged.
Beamer Pricing: Starts with the free plan.
It allows the creation of a standalone changelog page and enables you to update users with a changelog notification widget in your app. However their free changelog tool is only available to businesses with fewer than 1000 users/visitors with limited formatting options. This fits small startups, side projects, or brand-new apps well.
Customers stated that it's hard to set up custom notifications for different groups of users, and it also slows the website speed down.   Beamer is one of the most expensive solutions compared to other changelog tools. Even all the user feedback solutions and reactions fall into a higher plan ($99/month) than Rapidr($49/month).
Looking for a product changelog tool? Check out Rapidr.io. We offer a complete customer feedback solution with it. Sign up now.
6. LaunchNotes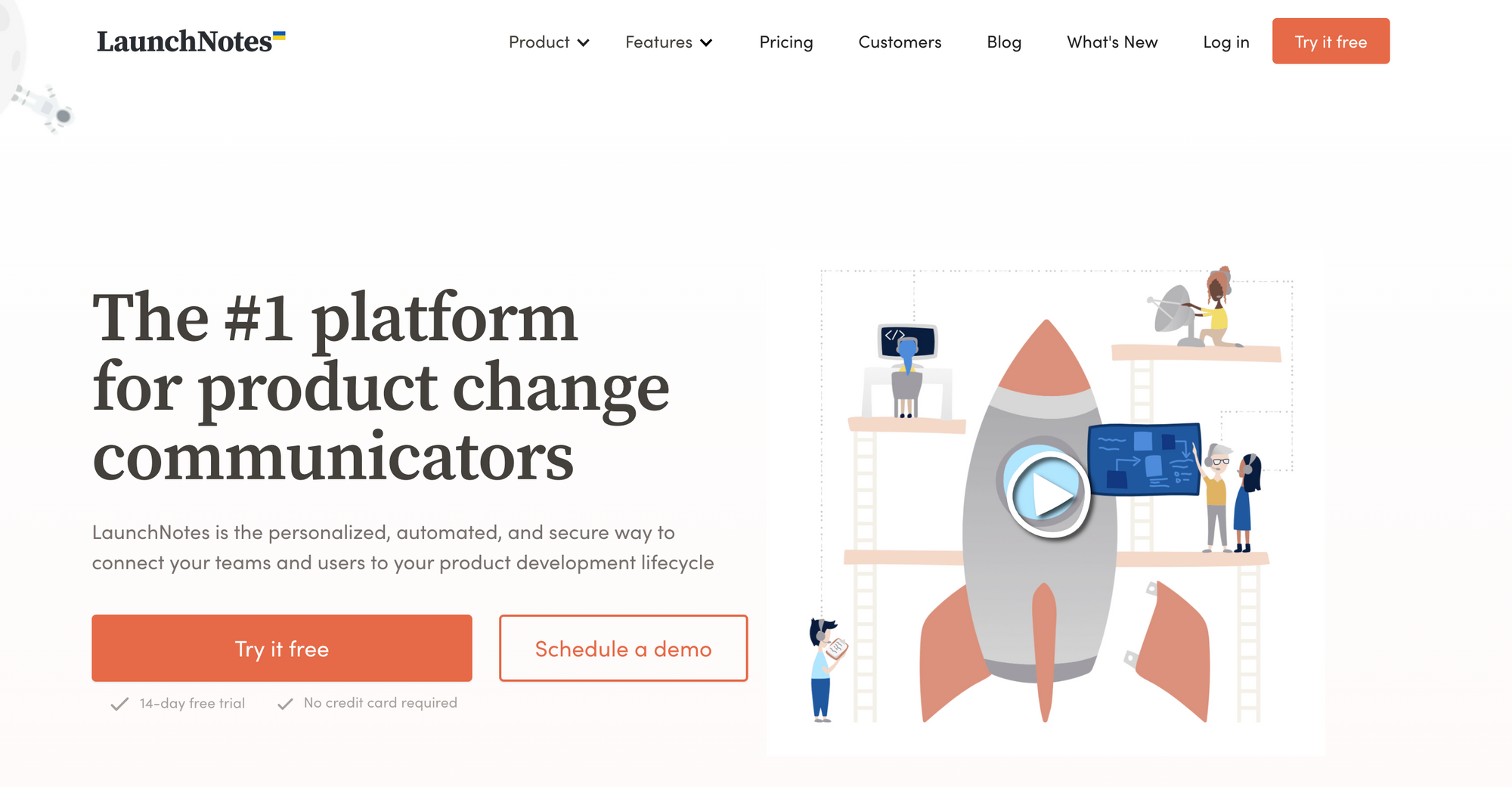 LaunchNotes helps keep the internal team on the same page around product changes, product development processes, and release pipelines and provides a dedicated place for customers to see what's happening.
LaunchNotes Pricing: Starts at $29/user/month.
It helps keep the team on the same page around product changes and provides a dedicated place for customers to see what's happening. But it lacks a zapier integration and an email notification service. It also doesn't support publishing changelog directly from Slack compared to Rapidr.
It's just a changelog, so if you want a user feedback board, integrations like Jira, Intercom, etc., and a product roadmap, you'd have to look at changelog tools like Rapidr.
7. ReleaseNotes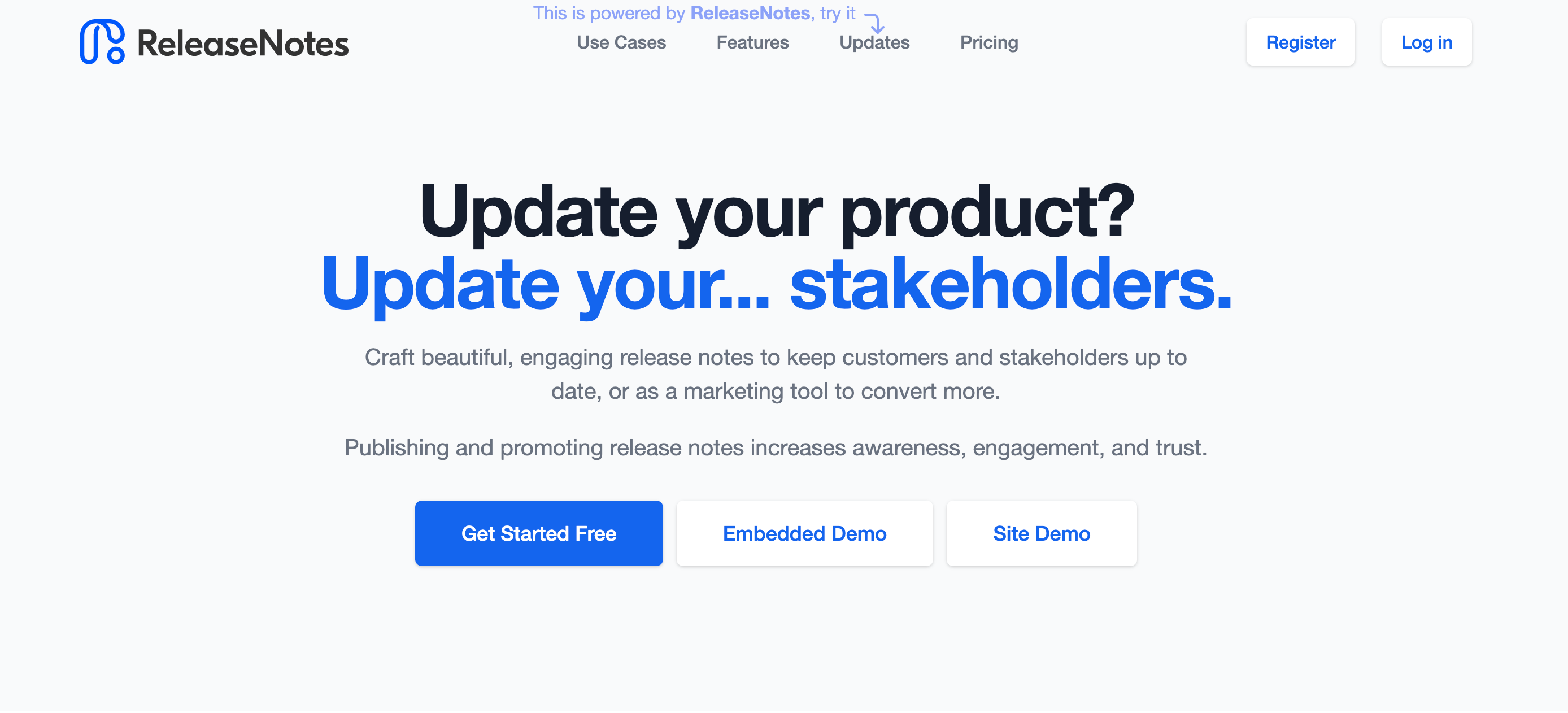 ReleaseNotes helps you easily manage, publish, and announce your release notes to your user base. It doesn't offer many features, just a basic changelog tool ideal for companies that have developers as customers.
ReleaseNotes Pricing: Pricing is dynamic and starts at $14/month.
ReleaseNotes provides widgets to give users a quick overview of what has changed in your product, but it does not come with reactions. However, ReleaseNotes doesn't have features to close the feedback loop, such as consolidating all user feedback and analyzing it and product roadmap management and publication, which you get in the basic plan in Rapidr.
8. AnnounceKit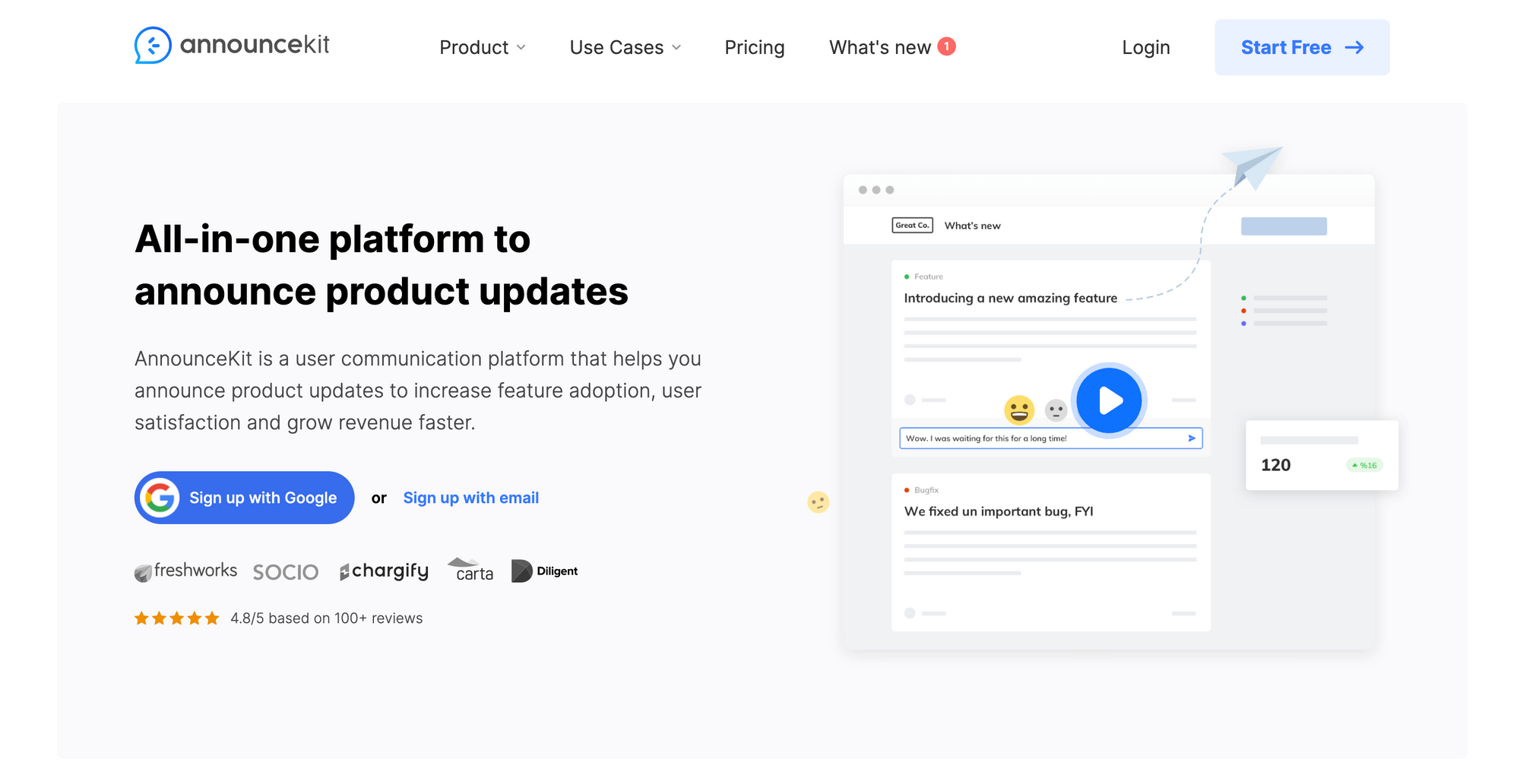 AnnounceKit is a changelog service with fancy in-product widgets you can use on your website. Reviews suggest that it is simple to set up and easy to plug into an existing website or tool. In addition, the product UI is easy to comprehend and easy to customize.
AnnounceKit Pricing: Starts from $49/month,
It is a product communication tool, but it cannot send changelog updates by email, and scheduling changelog posts is hard in the app. They support user feedback, but it's built into the changelog – so users can only give their feedback on changelog updates; if you want a user feedback board, integrations like Jira, and Intercom, look at user feedback tools like Rapidr.
9. Changelogfy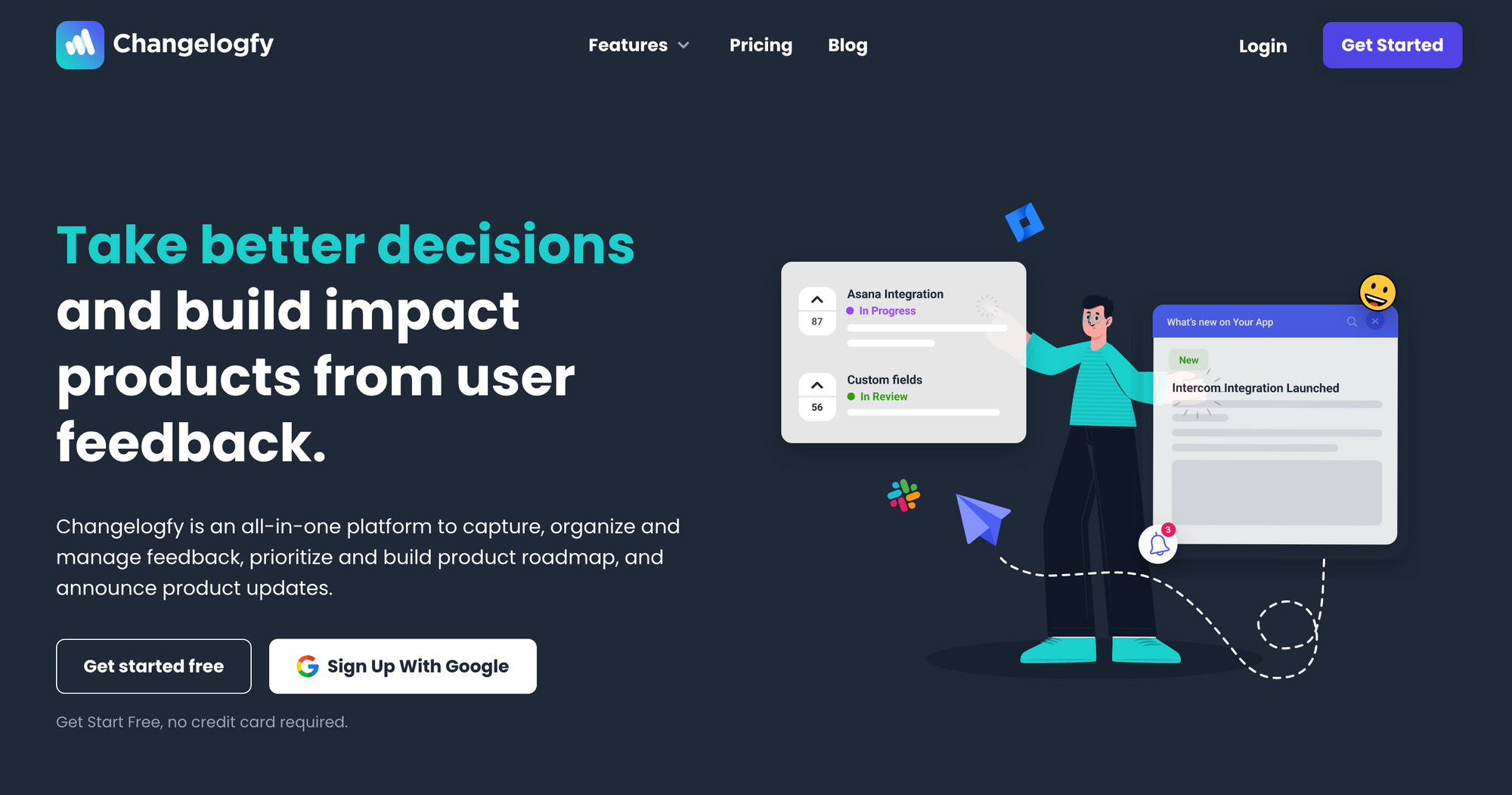 Changelogfy helps collect and manage customer feedback, prioritize and build a product roadmap, and announce product updates. They provide customizable widgets that are easy to install.
Changelogfy Pricing: Starting from $49/month
It also supports custom domain and email notifications, but reviews suggest that it isn't user-friendly as compared to Rapidr.
10. Noticeable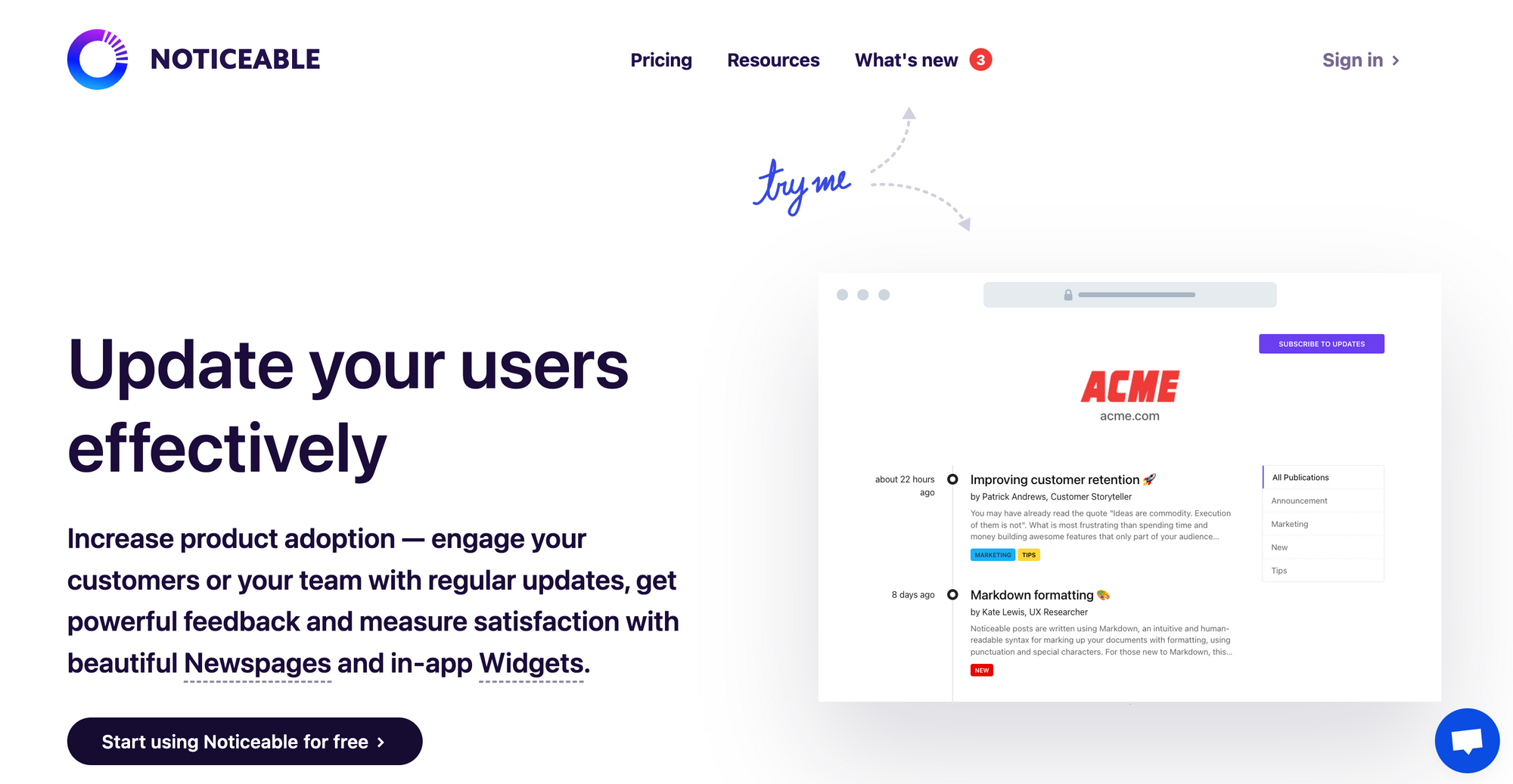 Noticeable gives you a dedicated home to announce product changes and tools to segment and notify users who need to know about your latest updates. It combines a changelog with a feedback board through a "News pages" feature. Noticeable offers a feedback widget, colored labels, and custom branding similar to other solutions.
Noticeable Pricing: Free, Starter ($19/mo)
However, they do not offer user tracking, email notifications, pinned posts, or push notifications to users.
Their free plan is minimal; it doesn't allow inviting multiple team members and using powerful features to gather user feedback. You'll need to be on the business plan at $99/month compared to Rapidr($49/month).
Examples of Product Changelog Pages
1. Slack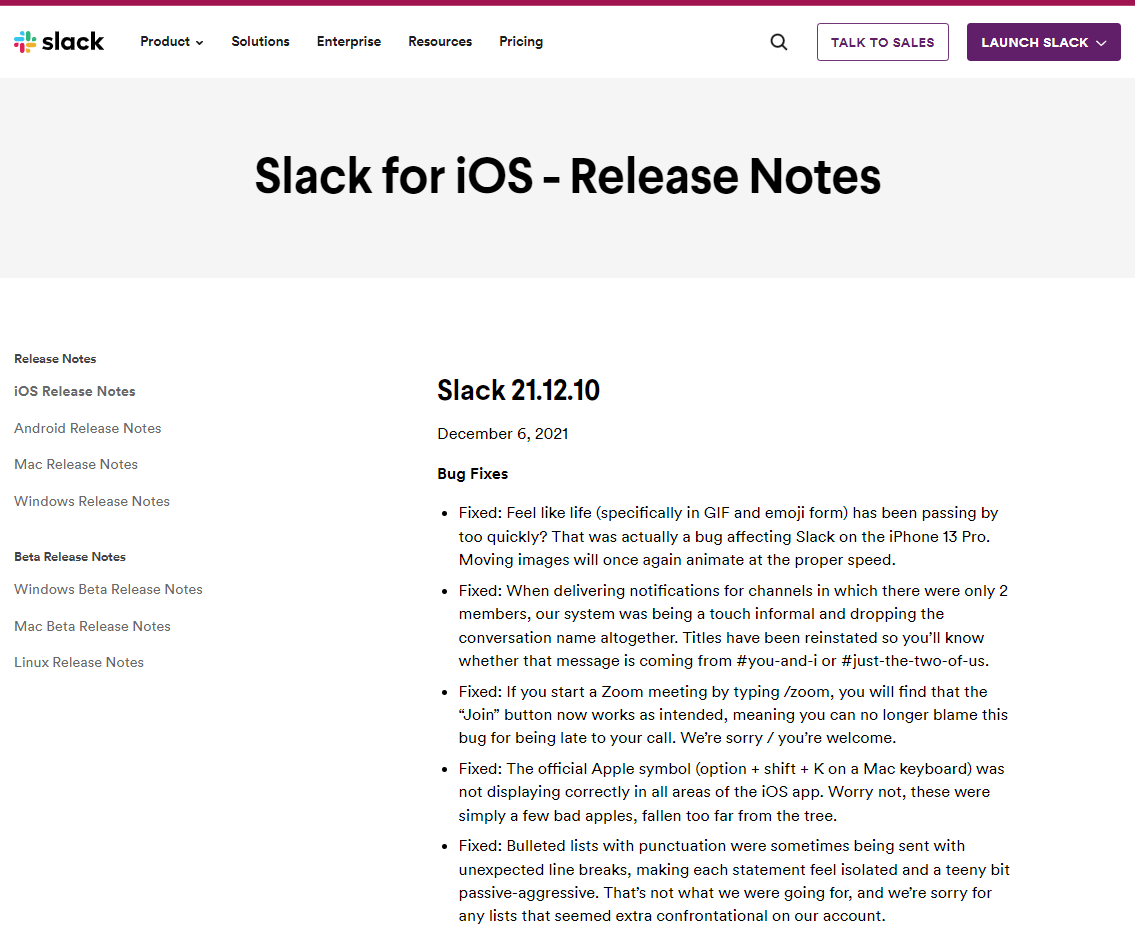 2. Intercom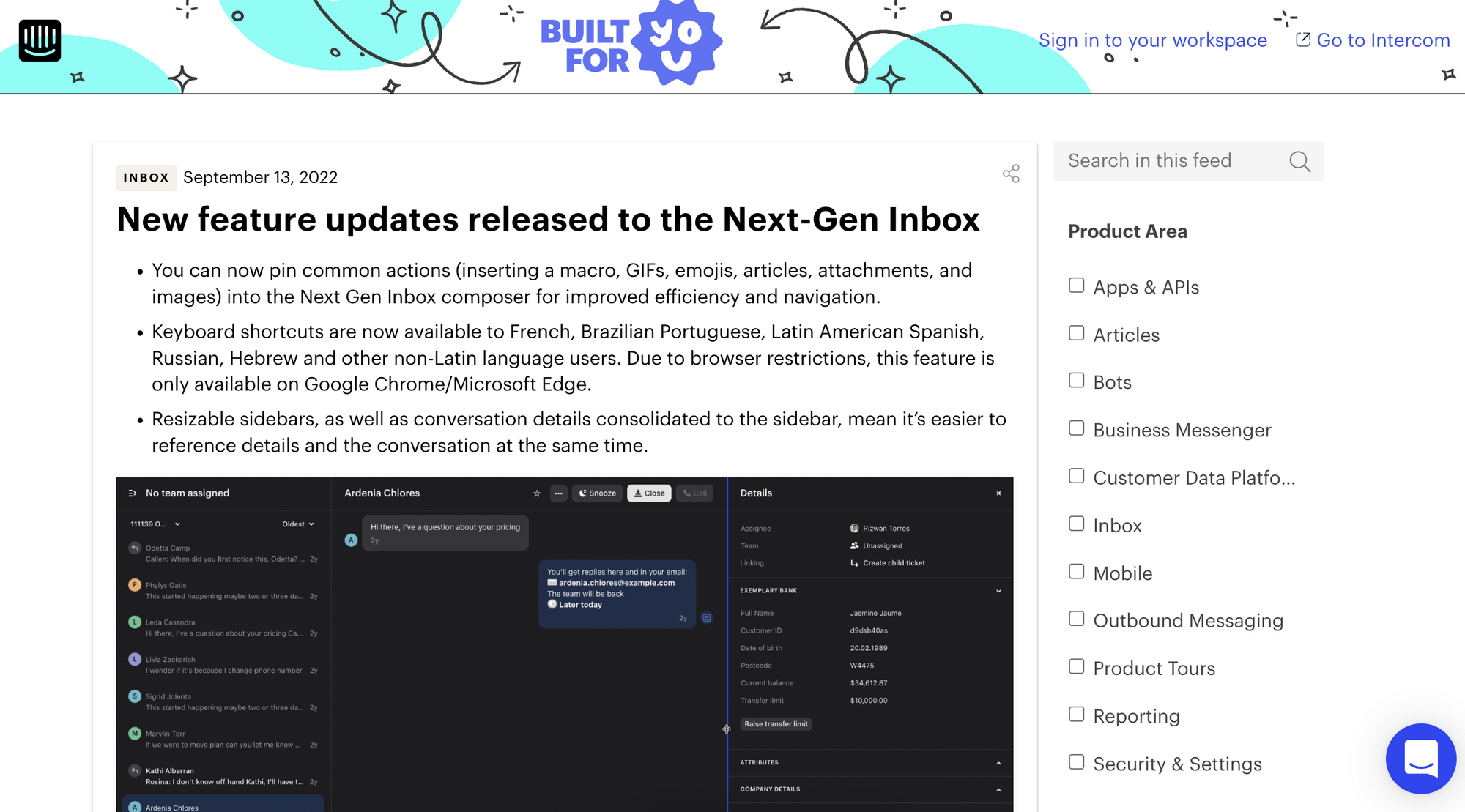 3. Rapidr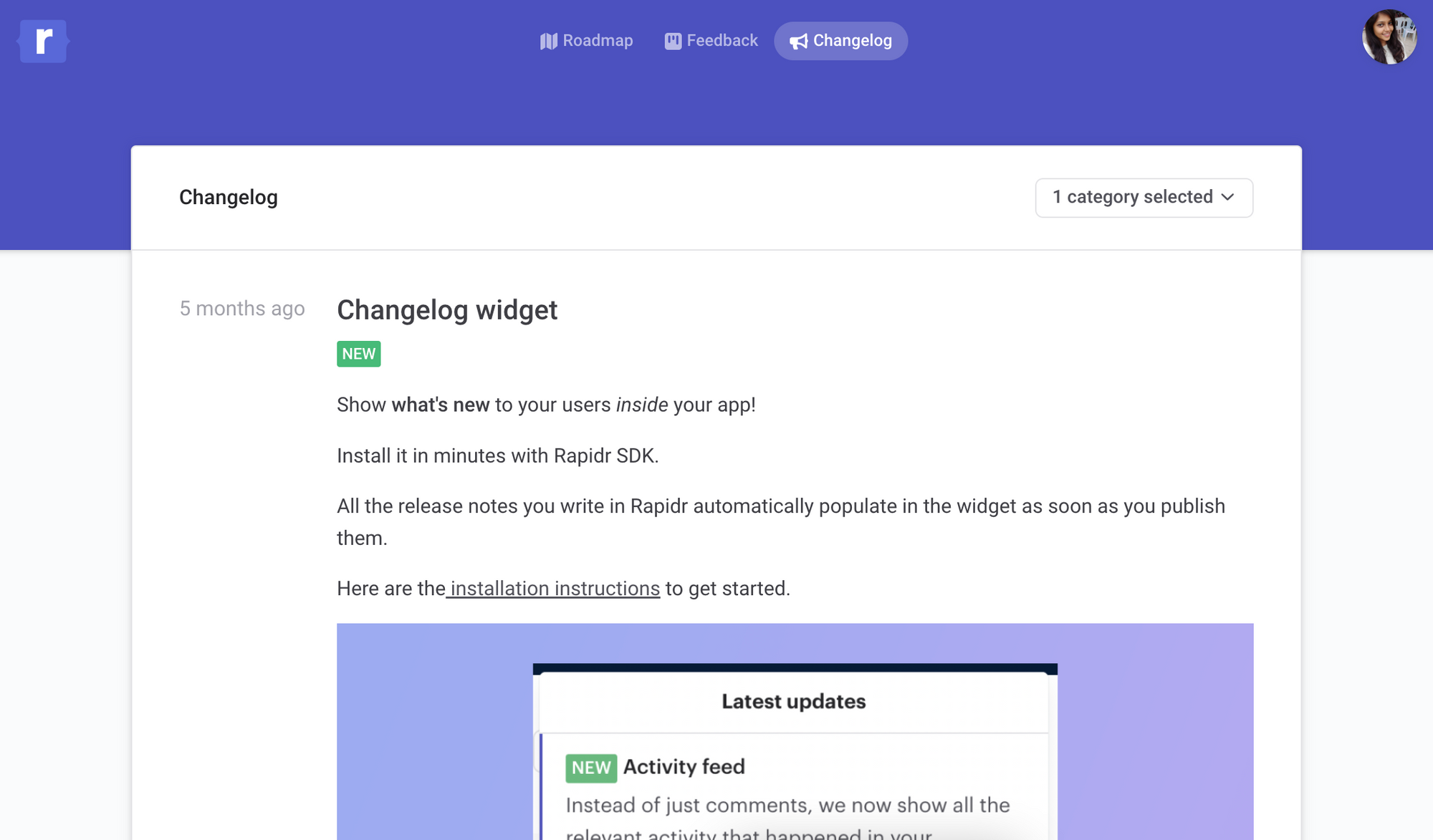 Rapidr helps you capture product ideas, requests, and feedback from colleagues and customers with their customer portal and in-app widget, as mentioned below.
Sign up for your free trial now
4. Notion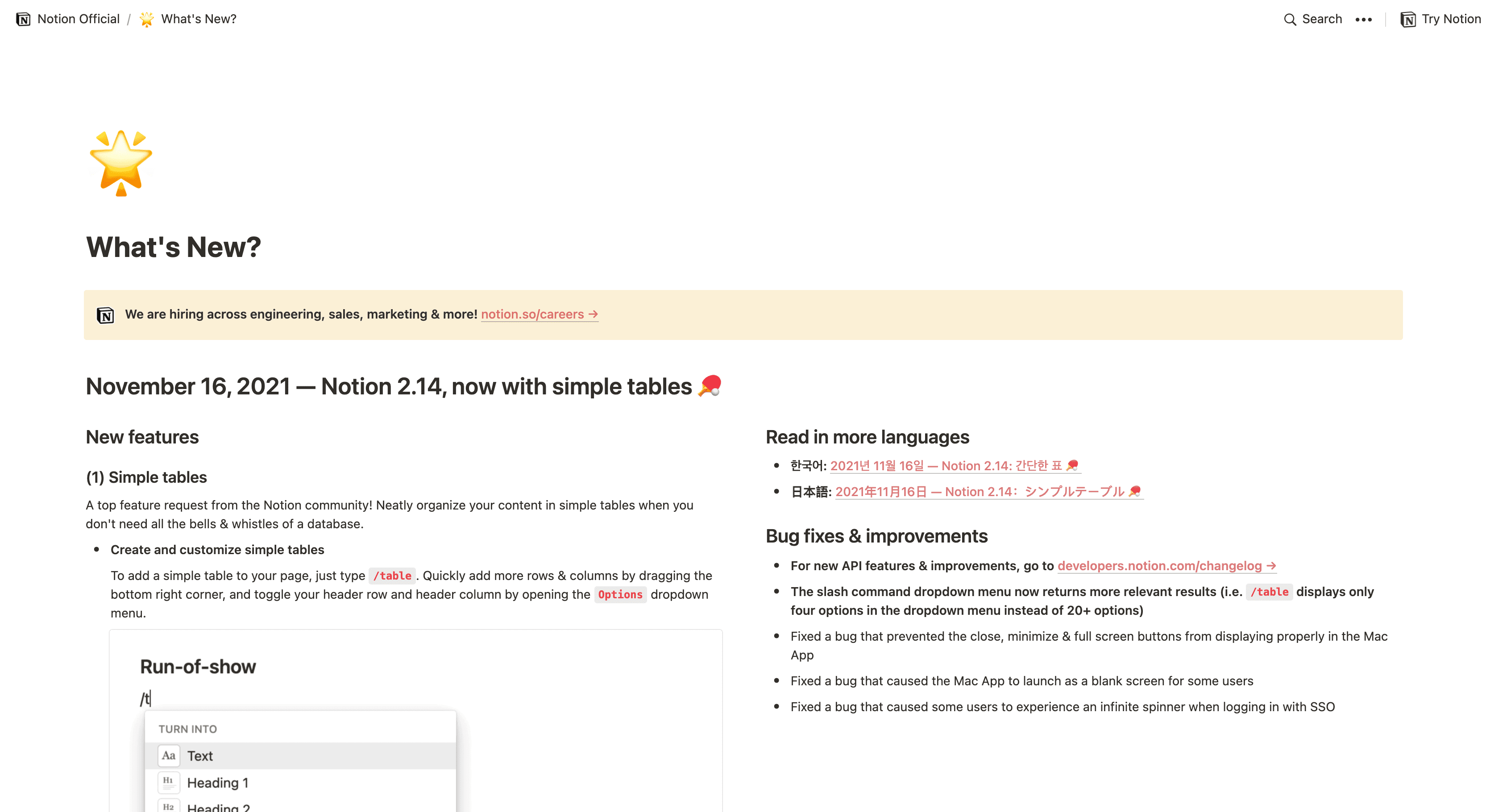 Rapidr: Best Changelog Tool to Publish Updates
Release notes, changelog, and user stories documents are different but serve one task - keeping the team up-to-date on what's happening with the project. They are also all-important for release communications.
Each release notes tool mentioned has its pros and cons. We have covered all the top changelog solutions but couldn't recommend a better solution than Rapidr. It offers unique and powerful features to publish changelog, customer feedback, and roadmap management at a more affordable price, preferred by top SaaS companies.
Keep customers excited and informed about your product and reduce the pressure on your support and customer success teams by publishing a changelog. Rapidr can help manage the weary chore of publishing changelogs, distributing them with in-app widgets, and managing customer feedback to complete the customer loop.
Announce your latest product updates, feature releases, improvements, or general announcements with a changelog tool. See why Rapidr is the release notes tool of choice among SaaS companies. Sign up for your free trial now.