11 Common Customer Feedback Mistakes to Avoid
Collecting customer feedback is tied to the success of your company. According to a Deloitte report, customer-centric business models are 60% more profitable.
There are some fairly easy mistakes to avoid when giving customers a chance to give you feedback. If you aren't careful, chances are that you'll fail to get the information you need, and it could cause extra work and unnecessary expenses down the road.
Many companies make mistakes when it comes to collecting customer feedback. which can affect the customer experience and lead to a decrease in customer loyalty.
Why is collecting feedback important?
Customer feedback provides insight into what is working well about your product and what needs to be done to improve the experience. When leveraged properly, feedback can directly influence sales and business growth.
A Barclays reports claims that 85% of B2B businesses claim that feedback has benefited their business in many aspects and 78% say online feedback will become more important over the next fiv years.
Collecting customer feedback is essential for any business that wants to stay competitive.
Customer feedback provides valuable insights into what customers want and how they view your products and services.
Knowing your customers' thoughts about your brand helps create an effective product-led growth strategy.
Feedback identifies areas of improvement to serve customers better and increase customer satisfaction.
By collecting customer feedback, businesses can make informed decisions about their products or services and improve their overall customer experience.
Common Customer Feedback Mistakes to Avoid
Let's discuss common customer feedback mistakes that should be avoided to ensure a positive customer experience.
1. Making it difficult for customers to provide feedback
By making it difficult for customers to provide feedback, companies risk missing out on important insights, suggestions for improvement, and opportunities to build stronger relationships with their customers.
Offering limited ways for customers to provide feedback, having unresponsive customer support, and not following up on customer feedback is a no-go.
Also, using intimidating feedback forms and surveys and completely ignoring customer feedback can make it difficult for customers to provide feedback and feel like their opinions are being heard.
How to make it easy for customers to provide feedback:
A dedicated feedback page or contact form on their website or application that is easy to find and use.
Providing a clear and simple process for submitting feedback and following up on it.
Accepting and responding to real-time feedback received as website feedback or from live chat.
Encouraging customers to provide feedback in multiple ways via emails, feedback portals, and widgets.
A robust feedback management process to track feedback and respond to it with action.
Regularly sending out feedback emails or short surveys
For example, in your feedback request email, you can mention that it will only take a few minutes of their time, just like how Dropbox mentions it here in this email. Using familiar language when requesting feedback and removing any complicated business jargon encourages customers to provide feedback easily.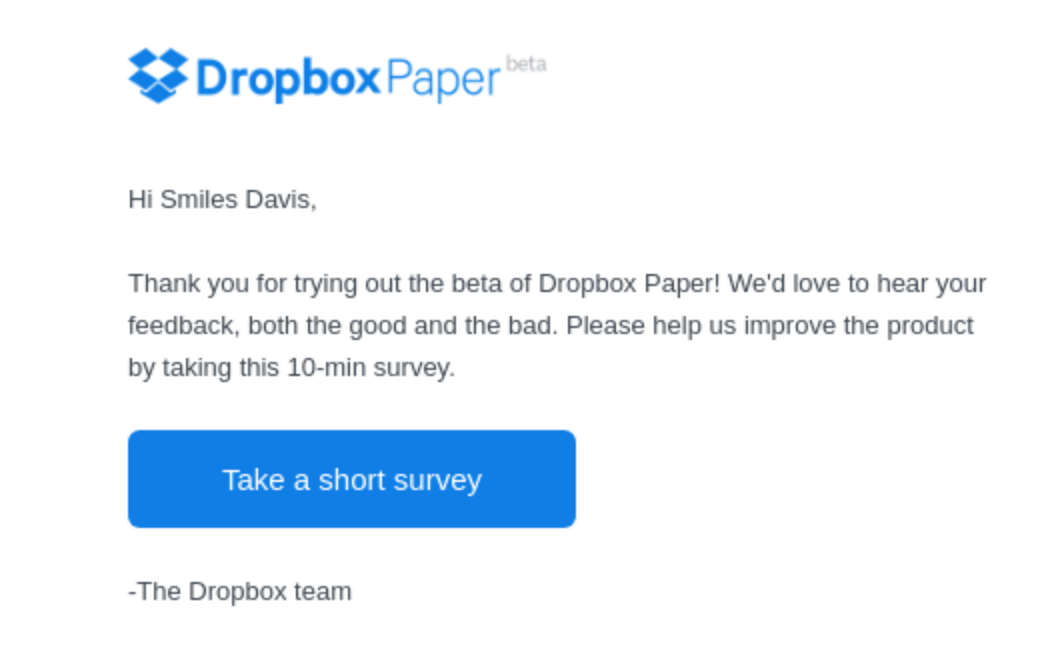 2. Ignoring negative feedback and constructive criticism
Constructive criticism is what makes your product better and drives your business growth. Many make the mistake of ignoring customers' negative feedback and focusing only on positive feedback. Remember, receiving negative feedback and responding to and resolving it can save you from losing a customer to a competitor.
A customer might provide you with a unique perspective regarding matters your team overlooked. This gives you a chance to solve the problem and retain the customer.
In fact, Customer Retention Behavior Statistics show that customers who have had their complaints resolved have a retention rate of 54%.
Here's what you can do when you receive negative feedback:
Dig deeper by asking clarifying questions to grasp the problem well.
Take responsibility for the problem and make a plan to resolve it. Communicate your strategy with the team.
Once you have solved the issue, follow up with the customer and inform them about the change.
3. Not following up on customer requests or complaints
A significant mistake you can make is not keeping your customers in the loop.
Following up with customers should be part of your feedback strategy. Firstly, you can send a follow-up to respondents for more detailed insights. For example, after an NPS survey, send out more open-ended questions to know why customers gave that particular score.
You should also follow up and update customers once the issue is resolved and the feedback is implemented. Closing the customer feedback loop by responding to customers with updates puts your company among the top 5%.
Here's how Defi Kingdoms uses Rapidr to collect feedback, encourage customer engagement, and simplify the follow-up process. It allows them to interact with customers through comments and discussions, making it easy to follow up and understand the feedback provided in detail.
4. Don't forget to mention how much you value their feedback
Showing your customers how much you value their feedback is one of the best ways to build a strong relationship with them. It's a simple gesture that can go a long way in improving customer satisfaction and loyalty.
Research shows that offering an incentive will increase survey response rates by 30%.
Acknowledging their feedback shows that you care about what they have to say and that you're willing to consider their opinions when making decisions for your business.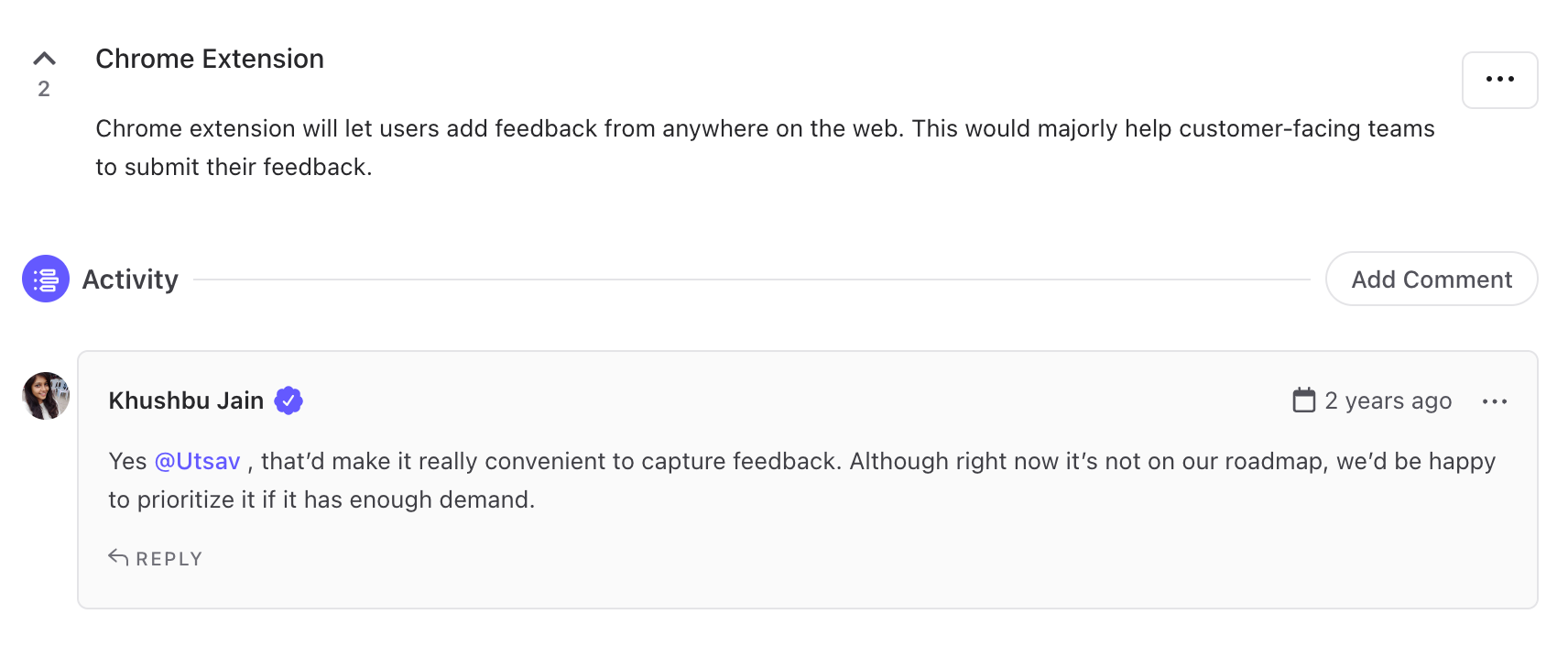 Sending a "thank you" mail to survey respondents and offering monetary incentives, rewards, and discounts are various ways companies use to show how much they value customer feedback. See how Miro offers a $50 gift card to customers who participate in survey interviews.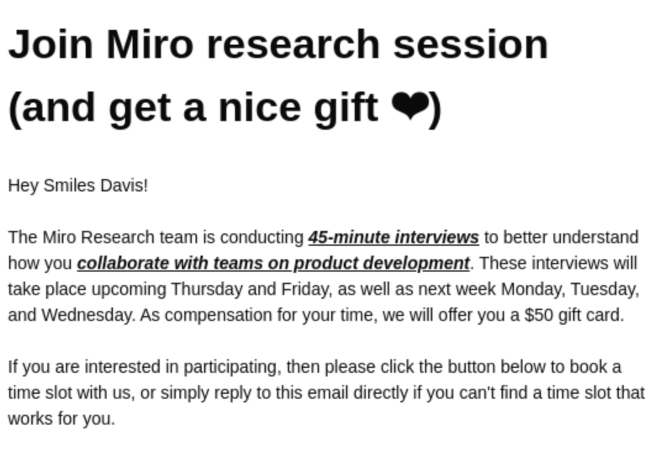 5. Not having a dedicated system in place to manage feedback
Collecting feedback is just the beginning of the journey. You won't see good results if you don't manage the feedback received properly. This is due to a lack of communication and organization.
If you have collected feedback and find it difficult to gather insights and create an actionable strategy, the problem lies in feedback management. The feedback you collect should be:
1. Centralized and organized by category: The first step in solving this is to organize feedback in a central location. You'll likely receive feedback from various channels and integrations like emails, Slack channels, support inboxes, forms, and in-app widgets.
2. Easily accessible to everyone: Centralizing all feedback data in one place, which can be easily accessed, will ensure that critical feedback doesn't get lost and will allow you to understand what to prioritize.
3. Shared across internal teams:  A central hub lets customer-facing teams access and submit feedback easily. A dedicated system will also help plan regular meetups with teams to discuss customer feedback and determine how to use it to define product strategy.
4. Prioritize and analyze feedback: Prioritize features and rank feature requests and tasks based on impact to make feedback-driven decisions.
Investing in customer feedback tools allows you to easily refine your feedback management process to understand what matters to your customers and inform your product decisions like a pro.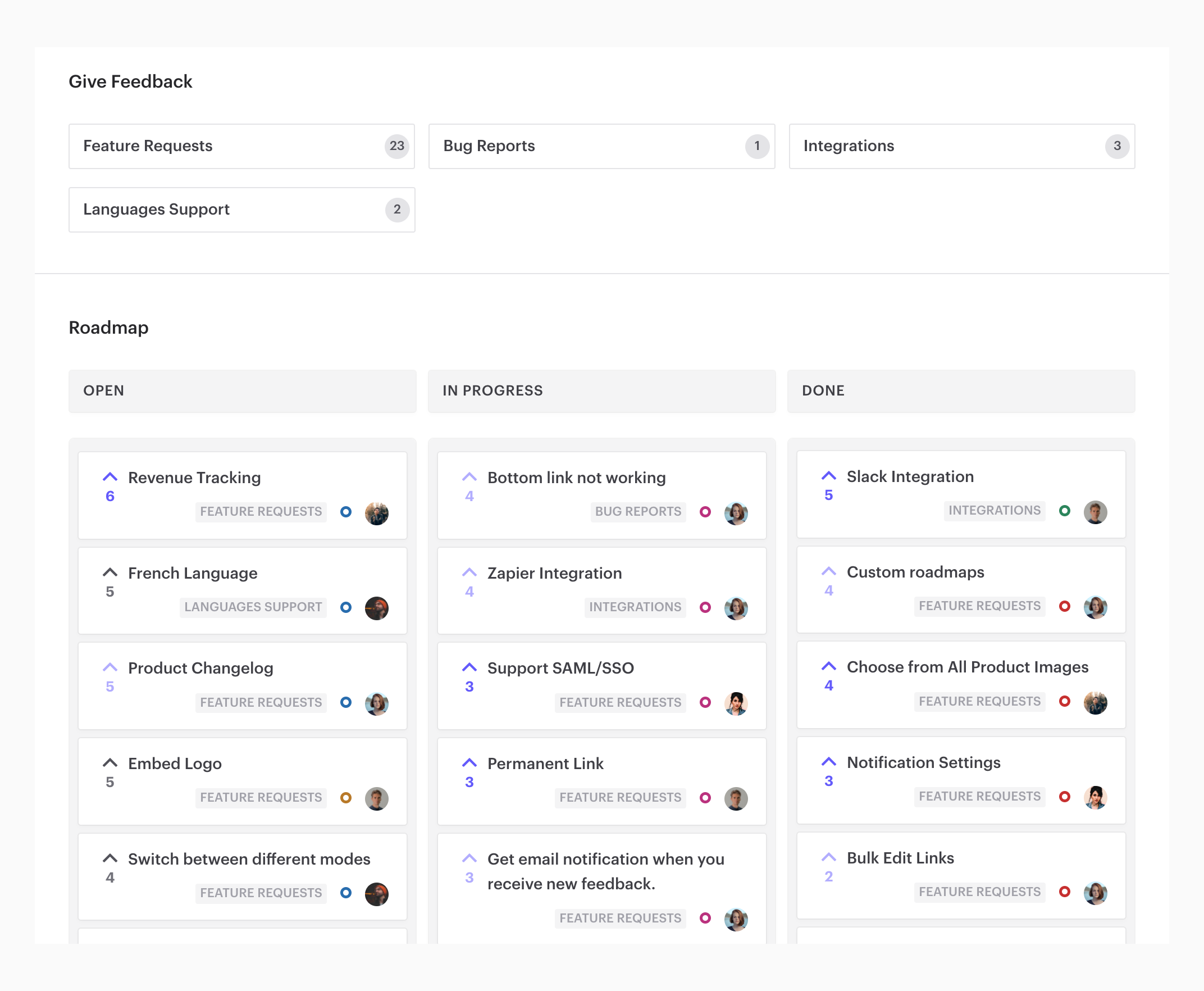 6. Not being transparent about the progress
Keeping feedback tucked away in a silo is a huge mistake to make. Often feedback is scattered across many spreadsheets and forms, making it less accessible for teams.
Transparency should be present across teams to make the most out of the collected feedback. This can be done by organizing feedback properly and communicating across teams. Eliminate silos by bringing all feedback into one central location.
Gather different types of feedback in one place and align all stakeholders around the product roadmap with Rapidr's internal feedback module to allow all teams to stay connected with minimal effort and support transparency across the company.
You can also use a product changelog to showcase progress, announce product updates, and implement user-reported features. This will help you automate manual tasks and keep your customers engaged.
7. Only asking Yes/No questions instead of being specific
Yes/No questions are easy to analyze and allow customers to complete the survey easily. However, they give you fewer insights and generic takeaways.
It's always best to include open-ended questions in feedback surveys. They allow customers to provide in-depth information for a question. You will get the chance to gain more meaningful insights and use them for product development and further customer sentiment.
If you have only Yes/No questions in the feedback, try to leave an extra space on the form for customers to leave additional comments not captured by the questions.
8. Not being consistent and timely in asking for feedback
Many companies make the mistake of collecting feedback only once a year and irregularly. This is not ideal because analyzing how customer sentiments have changed over time and customer experience lifecycle becomes difficult.
Conducting feedback should be a recurring event on your calendar and not a random thing you cross off your task list. It is a cyclic process — collecting feedback should be a regular, long-term procedure. Product managers use various ways to collect feedback at regular intervals to drive growth and overall development.
How often should you send feedback requests? Experts suggest that not more than once every 90 days is a good number. The rating scales should also be consistent to compare results easily. For example, if you use a numeric scale like 1-10, avoid using 5-point scales in the next survey.
9. Sending feedback surveys that are too long (or too short)
Your survey length also influences how successful your research will be. Long surveys can make respondents drop off before completion. It will also take a lot of time to analyze the feedback received.
A short survey can also fail because you won't have enough data to get actionable insights. So, make sure you have enough questions in your survey.
According to a study, surveys that take more than 25 minutes have a three times higher dropout rate than those under five minutes.
Create a survey that won't take your customers a lot of time yet give you enough data to work with. How long should a survey be? It's best to keep it under 10 minutes.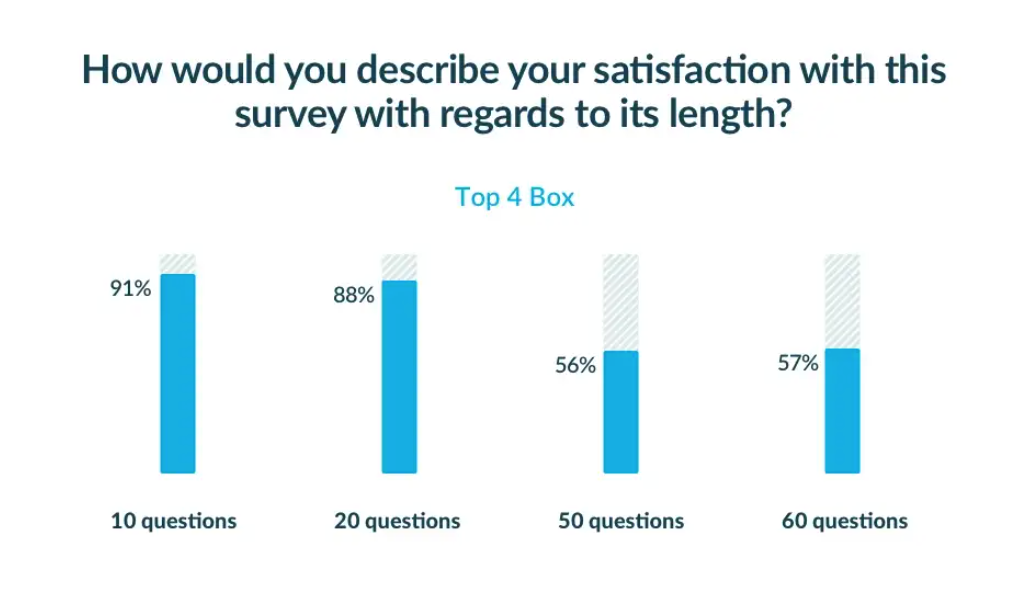 10. Asking for feedback at the wrong times
A major mistake that can jeopardize the quality of the feedback you receive is requesting feedback too soon or waiting too long to collect feedback.
Requesting feedback after a customer subscribes to a SaaS plan is too soon. They won't have enough time to use the product to provide thoughtful feedback. Asking for feedback after a long time — more than six months — is also not ideal.
Every company should simultaneously collect qualitative and quantitative feedback to develop a customer-centric product strategy. A common way to collect feedback at equal intervals is with in-app widgets that come inbuilt into tools like Rapidr.
11. Not listening actively and forgetting to show that you care
After collecting feedback, you must let your customers know you're listening and care about their needs.
The point of conducting feedback and customer satisfaction surveys is to learn what your customers like about your brand and what they don't. Let them know that you're dedicated to knowing their needs and taking the necessary action.
That's why it's important to close the feedback loop. Closing a customer feedback loop tells your customers you're listening and caring about their needs. It will also create long-lasting relationships with customers and increase loyalty.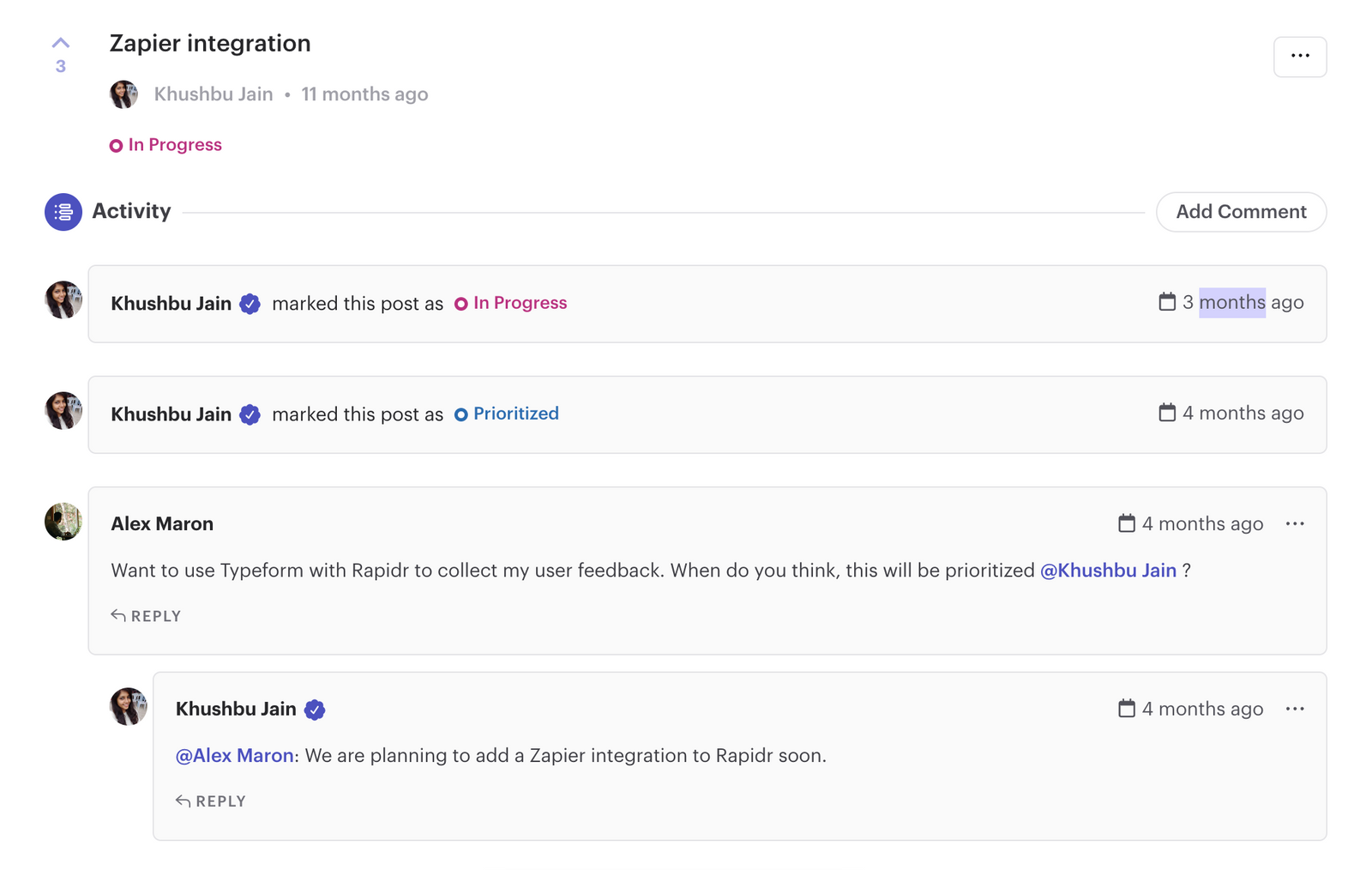 Conclusion
The next time you plan a feedback strategy, review it to see if you avoid making the above customer feedback mistakes. That will go a long way towards improving your products, driving higher sales, and retaining and acquiring new customers.
If you're looking for a tool that will automate customer feedback collection, centralize all your feedback, and avoid making such mistakes, try Rapidr.
Still on edge while deciding what to use for collecting and managing user feedback, sign up for Rapidr and get a free trial. Rapidr helps SaaS companies be more customer-centric by consolidating feedback across different apps, prioritizing requests, having a discourse with customers, and closing the feedback loop.