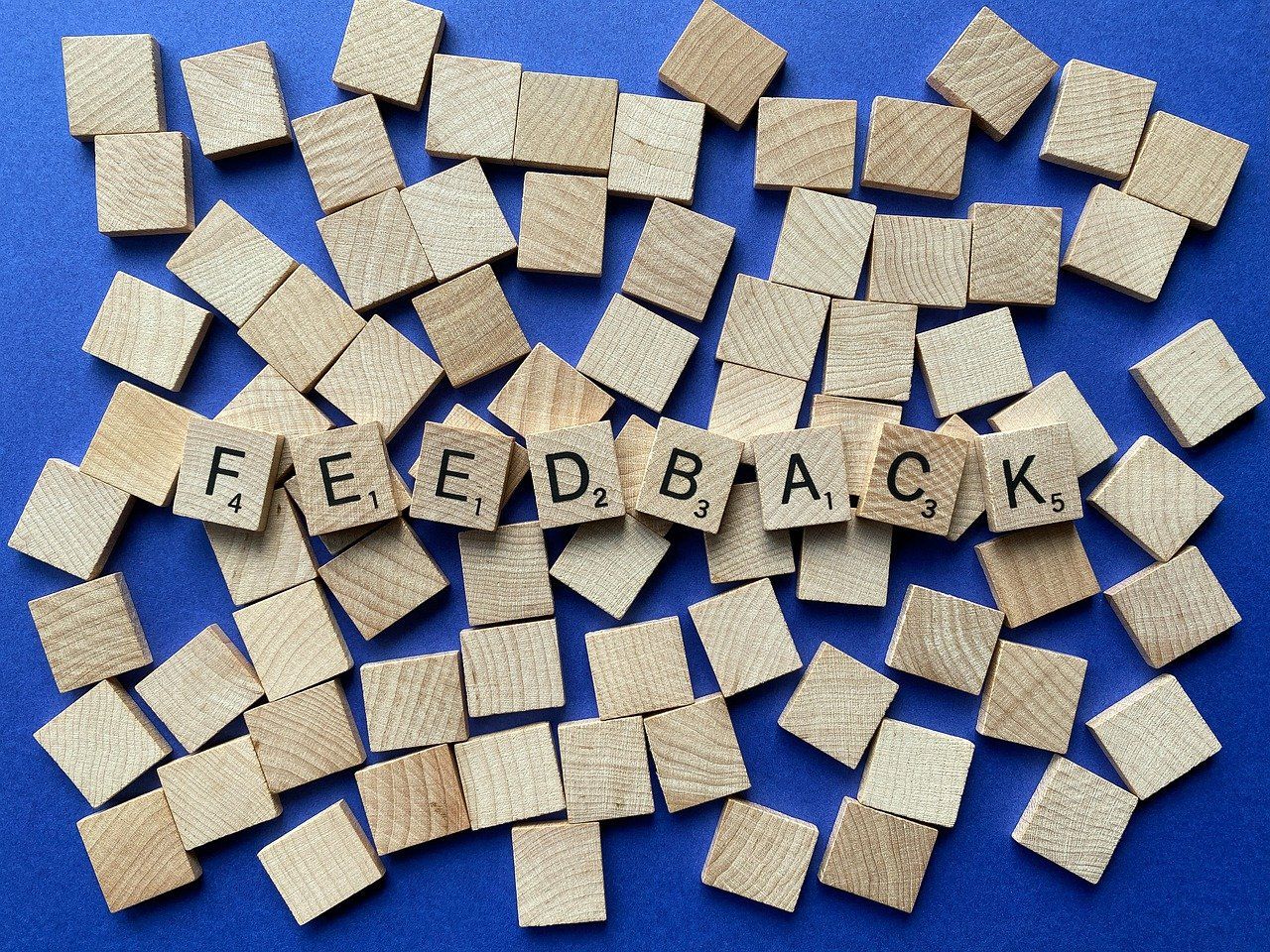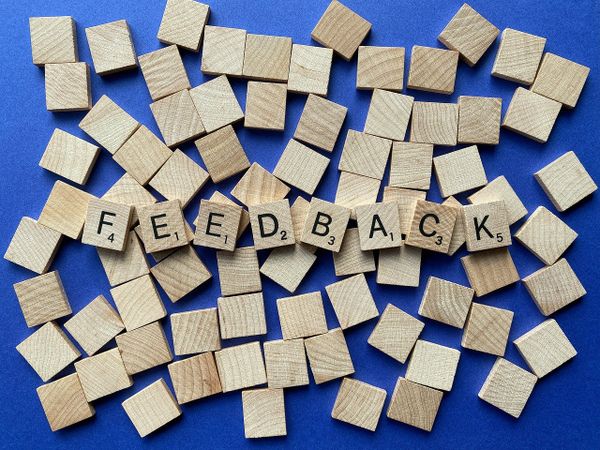 15 Customer Feedback Examples Of Companies Using Feedback To Their Advantage
Customer feedback is a powerful mechanism that enables companies to understand their customers better and create better experiences for them.
According to Gartner, only 95% of companies collect customer feedback. Yet only 10% use the feedback to improve, and only 5% tell customers what they are doing in response to what they heard.
Companies can improve their products, services, and processes by actively collecting and analyzing customer feedback to meet customer expectations. Additionally, they can use this data to effectively design marketing campaigns to reach their target audience and drive sales.
This article will examine how SaaS companies use customer feedback to their advantage. We will explore the different types of feedback that companies can receive, how they can use it to inform their decision-making process, and how product managers use it for growth.
What are the different types of feedback?
Customer feedback is an invaluable asset to any business. It provides insights into customer needs, preferences, and expectations. By understanding different types of customer feedback, businesses can better understand their customers and create better experiences for them.
Customer feedback can come in many forms – from surveys to interviews to online reviews. Each type of feedback has its strengths and weaknesses, so let's explore different types of customer feedback and how they can best use them:
Product Feedback and Feature Requests
Website Feedback and Bug Reports
Customer Reviews & In-app Feedback
Customer Feedback Surveys, including Net Promoter Score (NPS) Surveys, Customer Satisfaction Surveys, and Customer Effort Score Feedback
Social Media Responses
User Interviews and Focus Groups
Sales Objections and Customer Churn Feedback
Complaints & Appreciation Posts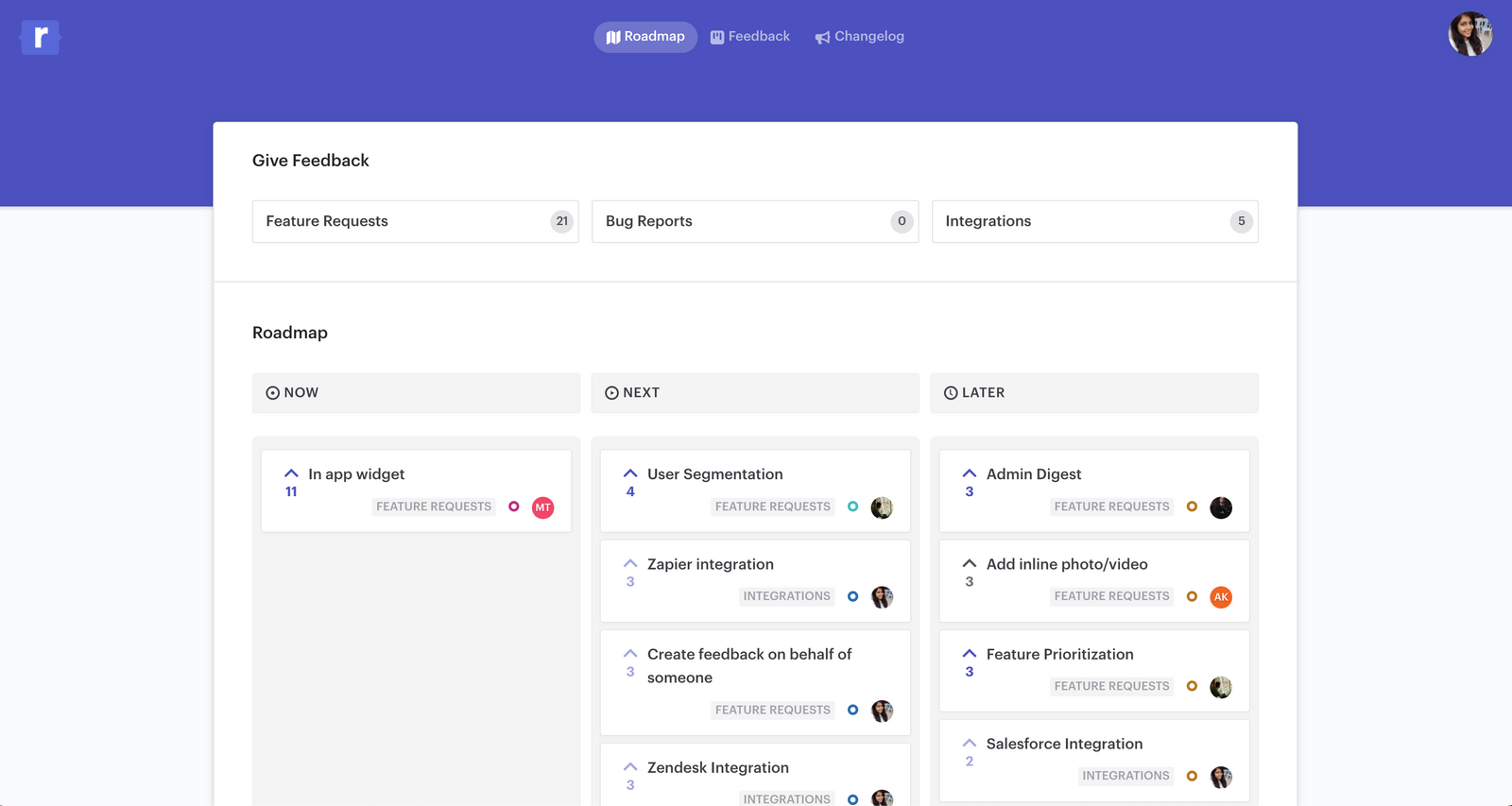 Best customer feedback examples of companies using feedback effectively
Let's see some customer feedback examples of successful companies using feedback for overall growth.
1. Amazon
Amazon is known for its strong focus on customer feedback. They combine customer reviews and ratings with comments and feedback to improve their products and inform their development and marketing strategies. They also use customer feedback to inform their pricing and inventory management decisions.
Amazon's mission statement says:
We aim to be Earth's most customer-centric company, and our mission is to continue raising the bar of customer experience!
Amazon provides various options to collect customer feedback allowing them to write a product review, provide seller feedback and provide delivery feedback once they have placed an order.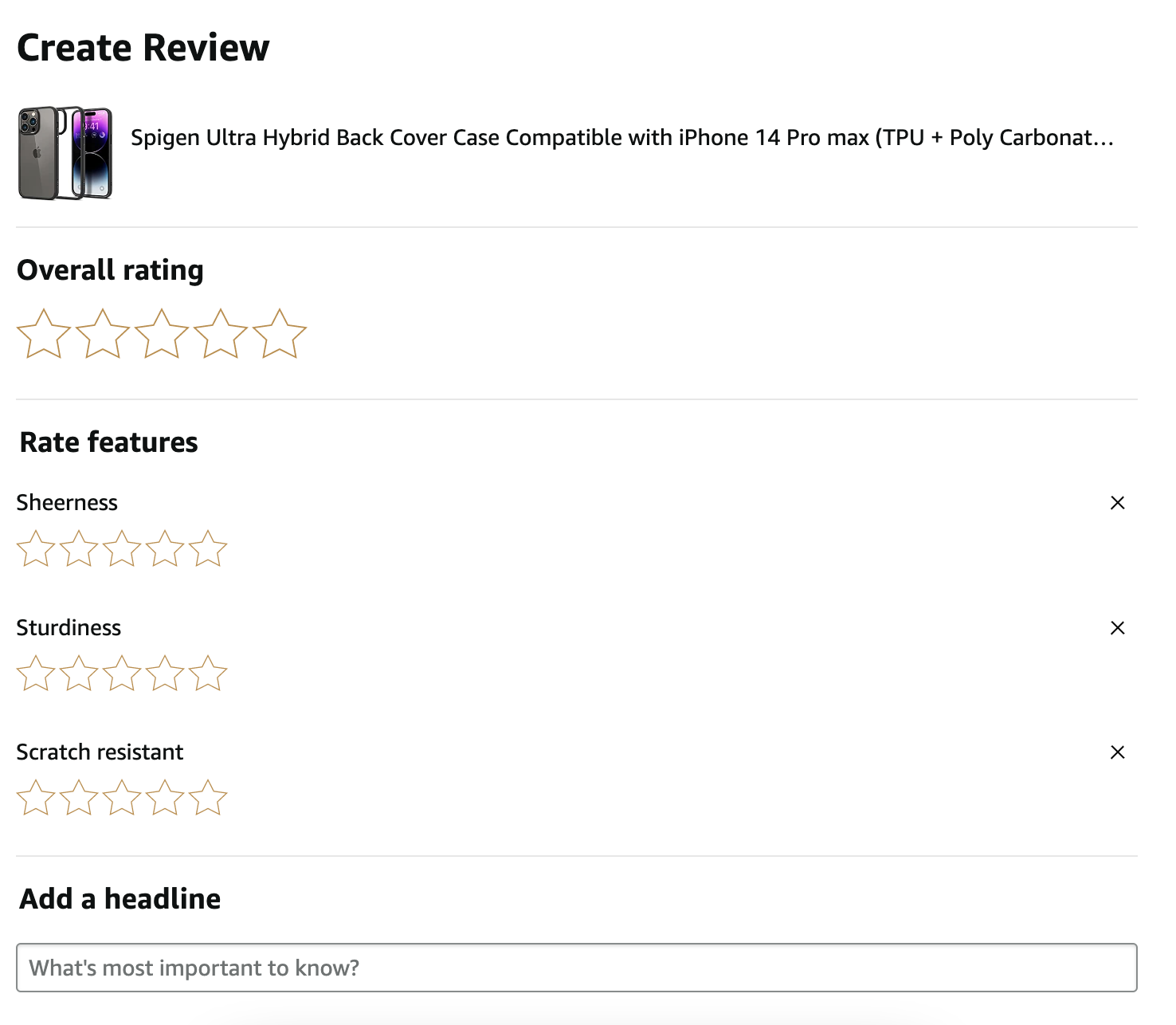 In an interview, CEO Jeff Bezos stated that Amazon is characterized by the major concept of user-centricity, placing the consumer at the heart of everything Amazon does. Amazon shows that valuing customer experience and listening to customer feedback is why customers keep coming back to them.

Amazon also sends feedback e-mails to their regular customers and asks them to fill in customer feedback surveys and simple satisfaction surveys to help them give their users a better shopping experience.
2. Apple
Apple uses various ways to collect user feedback, including product feedback, website feedback, and support tickets. They also send out NPS surveys to gather feedback and assess the level of satisfaction and the likelihood of recommending the products to friends.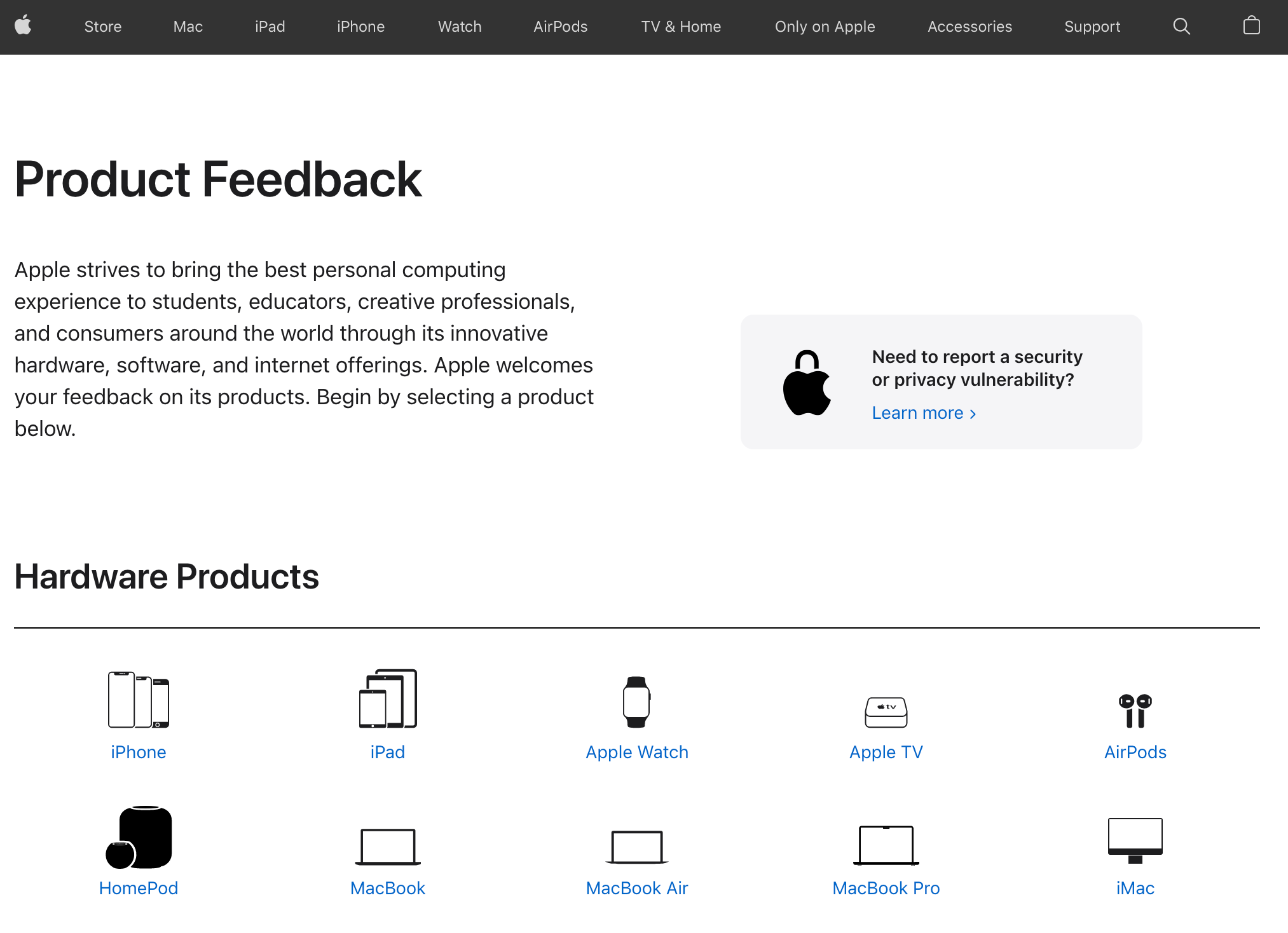 According to Forbes, listening to customers isn't something Apple does once a year or a quarter. NPS plays a central role in the daily management of Apple's three-hundred-plus stores.
One of Steve Jobs's famous business strategies was to start with your customer, work backward to a product or service, and sell experiences, not products.
Apple also sends NPS surveys to its employees every four months to measure their likelihood to recommend Apple as a place to work, thus winning at both customer and employee feedback.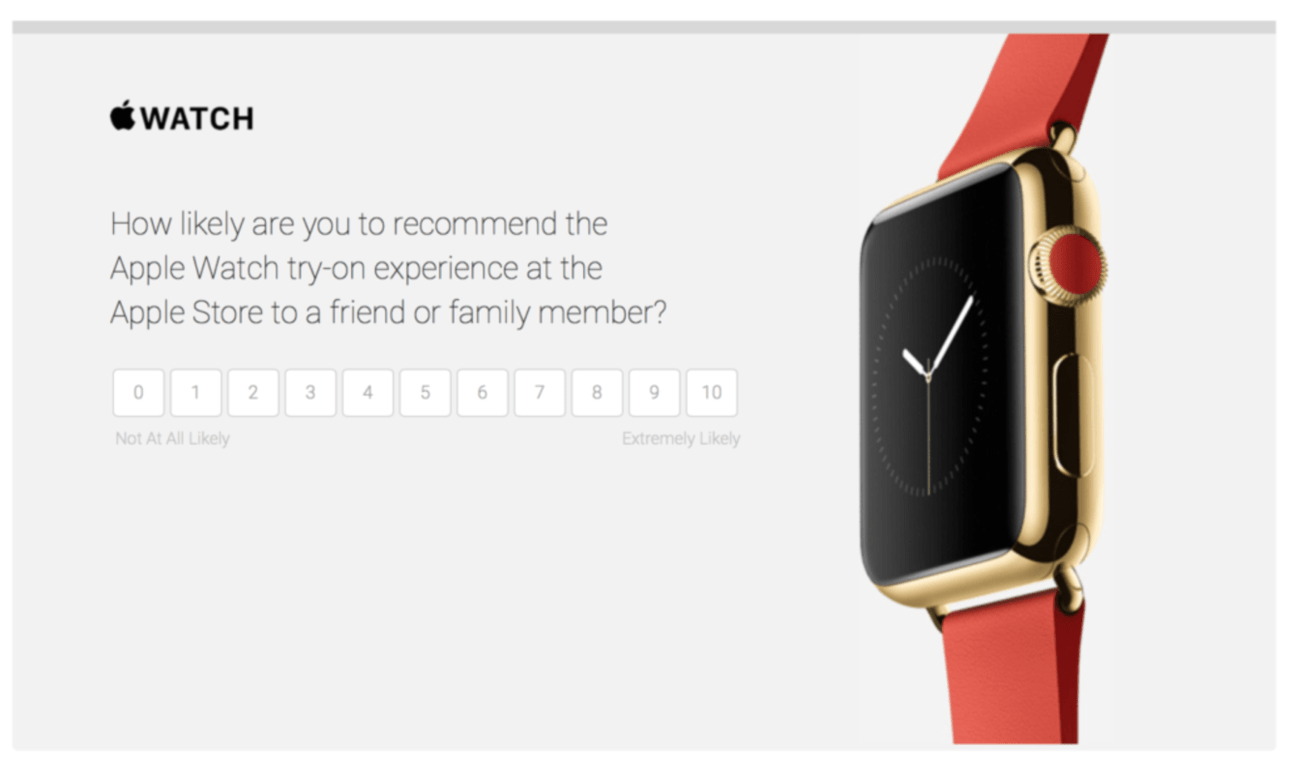 3. Kingdom Studios
Kingdom Studios uses Rapidr to provide a public feedback page to accept user feedback and improve customer engagement. They use public boards to collect different kinds of feedback and suggestions.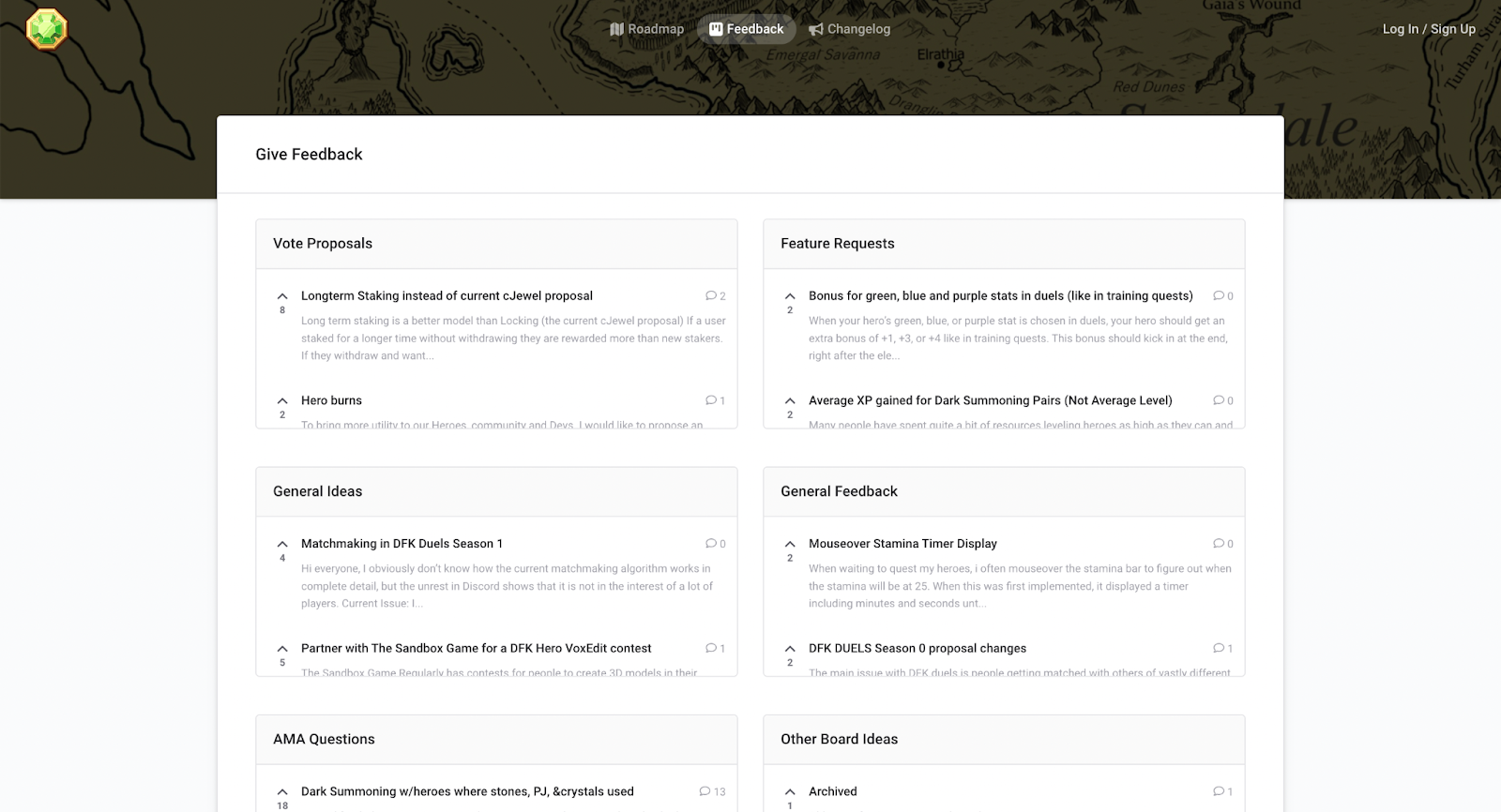 Team members can interact with customers, collect internal feedback and inform them about the progress with feedback statuses and product roadmap. Customers can upvote feature requests or feedback that is important to them. Rapidr helps teams identify top ideas and close the feedback loop with product changelog.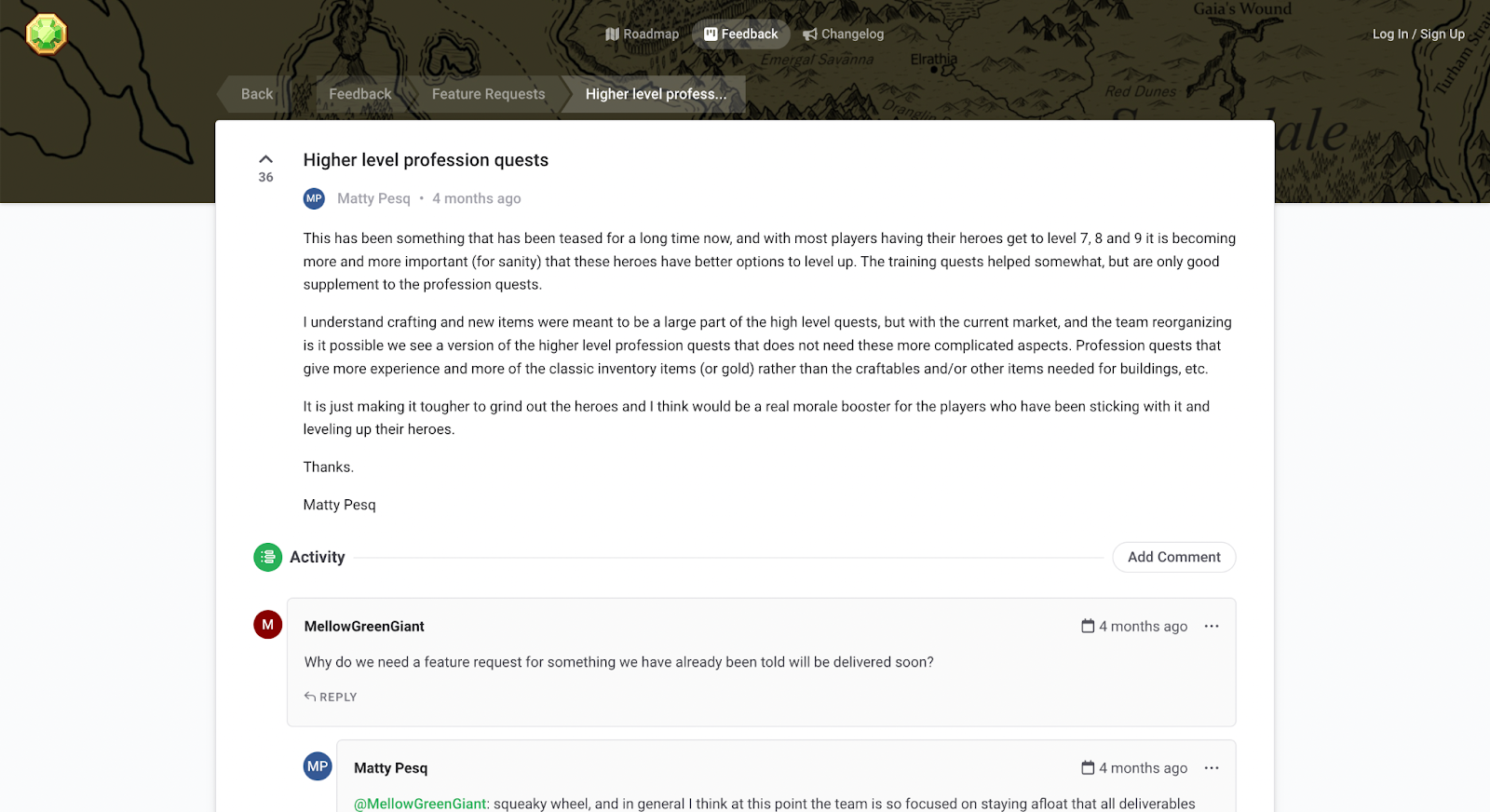 4. Uber
Uber uses customer feedback to improve its app interface, driver and passenger matching algorithms, and overall service quality. They also use customer feedback to inform its pricing and promotions strategy and create a culture of feedback throughout the company for growth.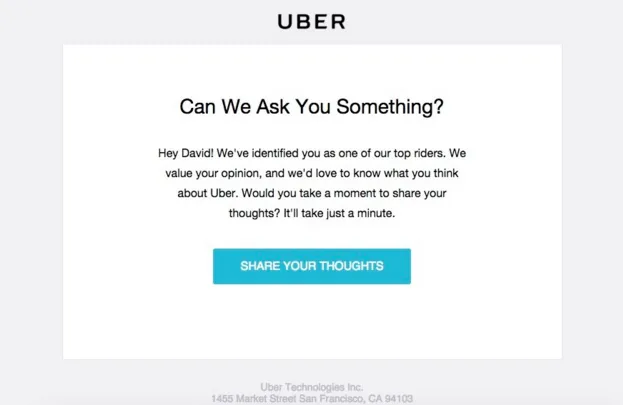 Uber uses in-app feedback for drivers and customers to request real-time feedback. They use the rating system to connect riders with drivers through a mobile app. Customers rate their drivers, and drivers rate their customers.
Uber creates an average rating for each driver and customer based on the rating and reviews collected. If drivers' rating is below a certain average, they are asked to improve their service. The same happens with customers who are abusive and are rated poorly by drivers and maintain a lower rating on their profile.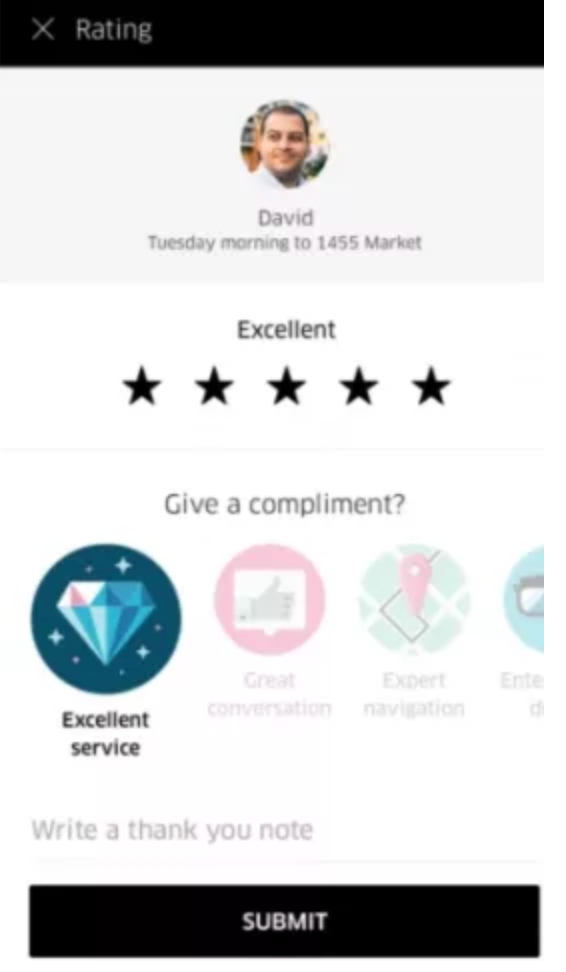 5. Netflix
Netflix uses customer feedback surveys to improve its content curation, recommendation algorithms, and app interface. They also use customer feedback to inform its content production and licensing decisions.
Netflix also gathers user feedback with NPS, CSAT, and CES surveys as they recruit small focus groups of customers for their in-person or virtual research.
Such feedback surveys help Netflix determine information about users and non-users, how users obtain and stream their video content, and if they are willing to pay more monthly for a larger amount of online streaming content with various customer feedback questions.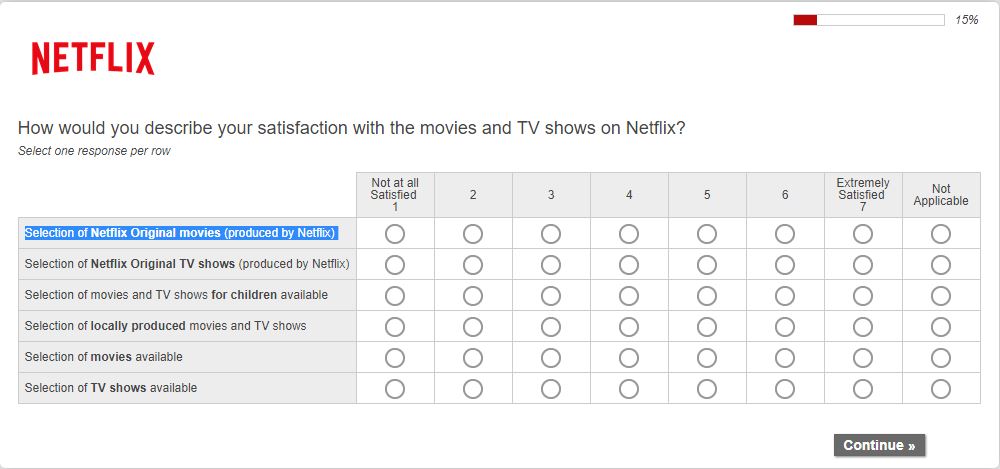 6. Slack
Slack uses customer feedback to improve its team communication platform's functionality and user experience.
According to Forbes, instead of focusing on financial metrics like leads and pipeline opportunities, Slack looks at customer-facing metrics like NPS and daily active users, as their focus is on long-term customer satisfaction and organic growth with NPS surveys and in-app feedback widgets.
Slack listened to customers and tested its product for seven months before releasing the first version. In the words of CEO Stuart Butterfield, "When key users told us something wasn't working, we fixed it—immediately." Slack's dedication to customer feedback shows that being customer-centric leads to success.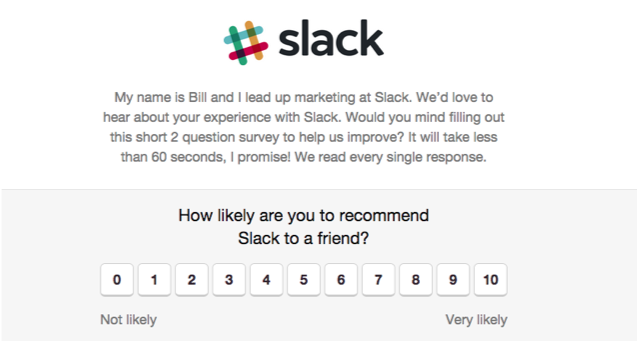 7. Shopify
Shopify uses customer feedback to inform the development and updates of its e-commerce platform and improve the overall customer experience.
Shopify provides a feedback forum that offers users access to a community of merchants and partners to help them engage in meaningful conversations with their peers.
It also consists of various customer ratings and reviews apps that its customers use to collect user ratings for their online store on Shopify.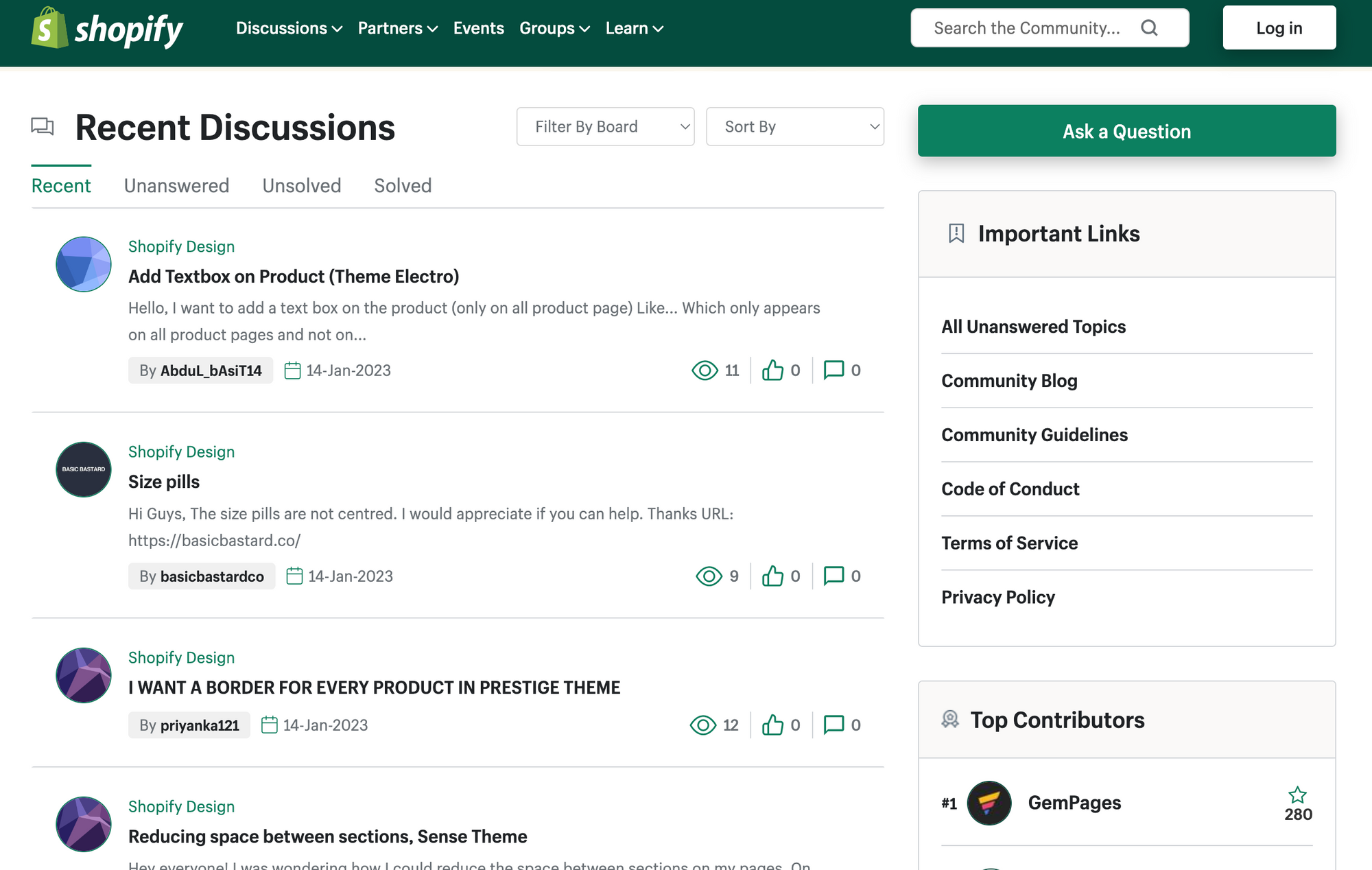 8. Lasso
Lasso makes it easy to manage links, create product displays, collect feature requests, and maintain a public product roadmap with the help of Rapidr.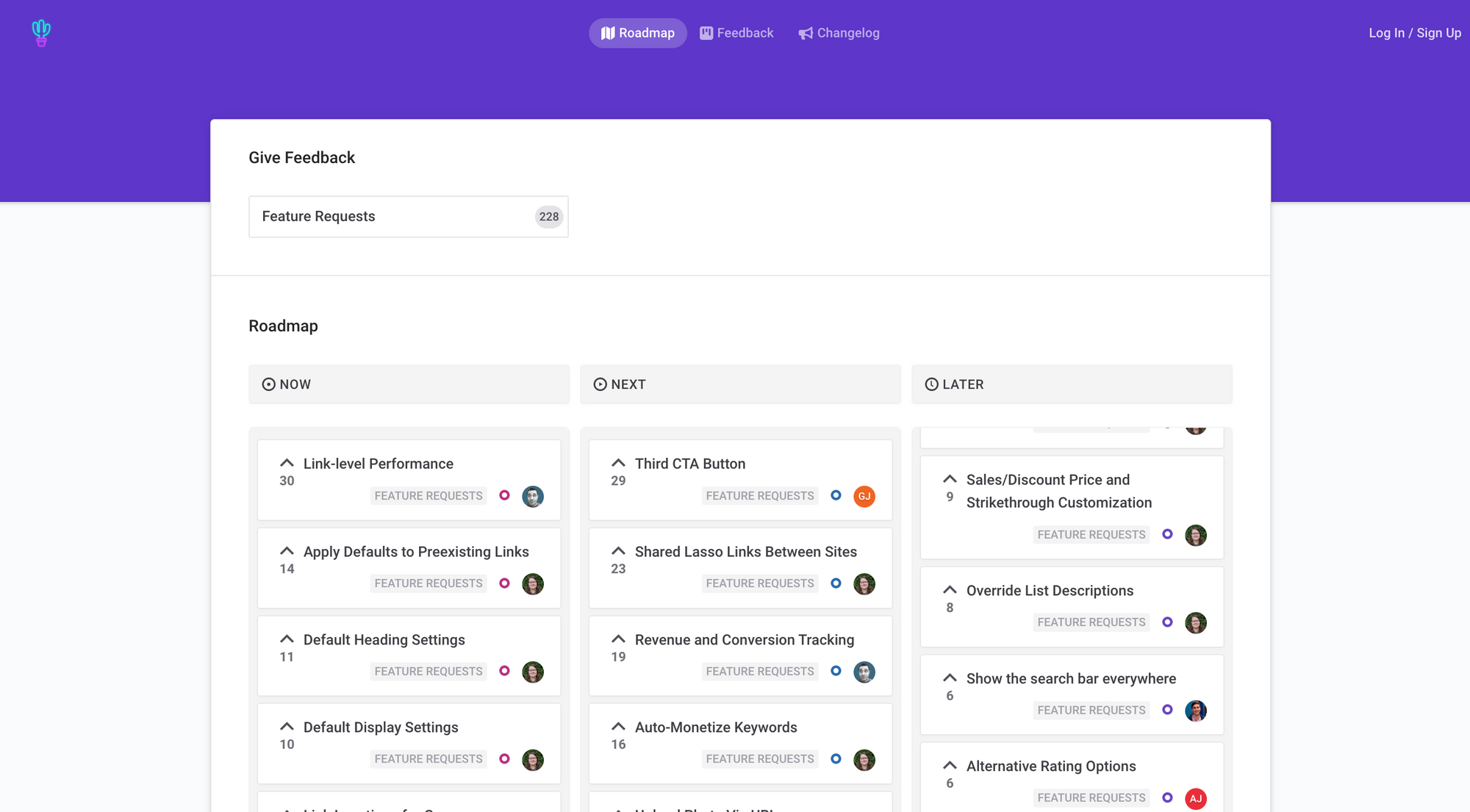 Their feature request tracking board helps them track new feature requests from users with integrations like Intercom,  prioritize product features, and promote customer satisfaction and transparency with the product roadmap.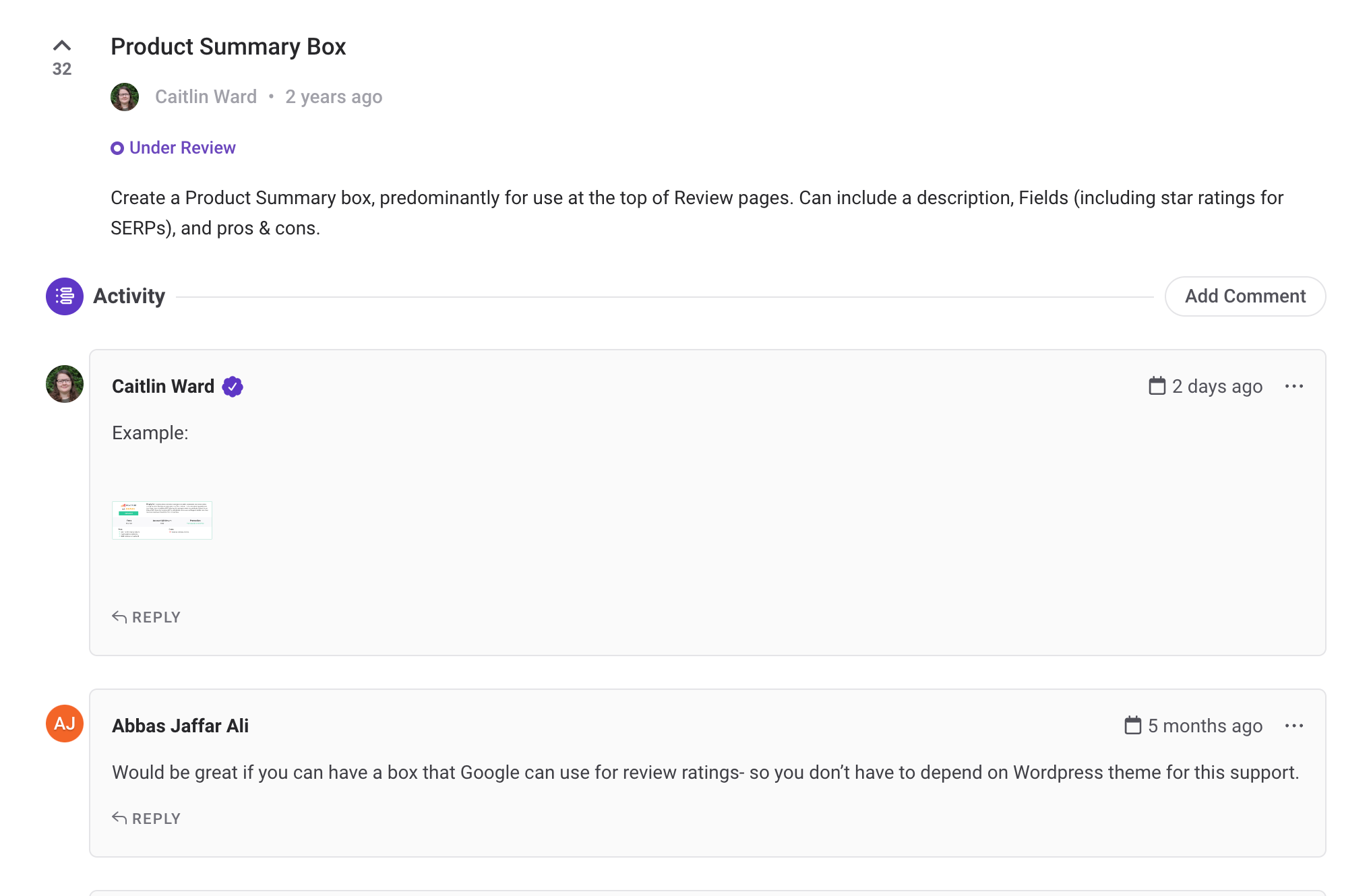 9. HubSpot
HubSpot uses customer feedback to inform the product development and updates of its marketing campaigns and drive sales. At HubSpot, they strongly believe that being "customer-first" starts first with being in touch with your customers.
Hubspot provides feedback community forums and focuses user groups for users to join, connect with peer HubSpot customers, suggest feedback, and learn tips and tricks together for using the app.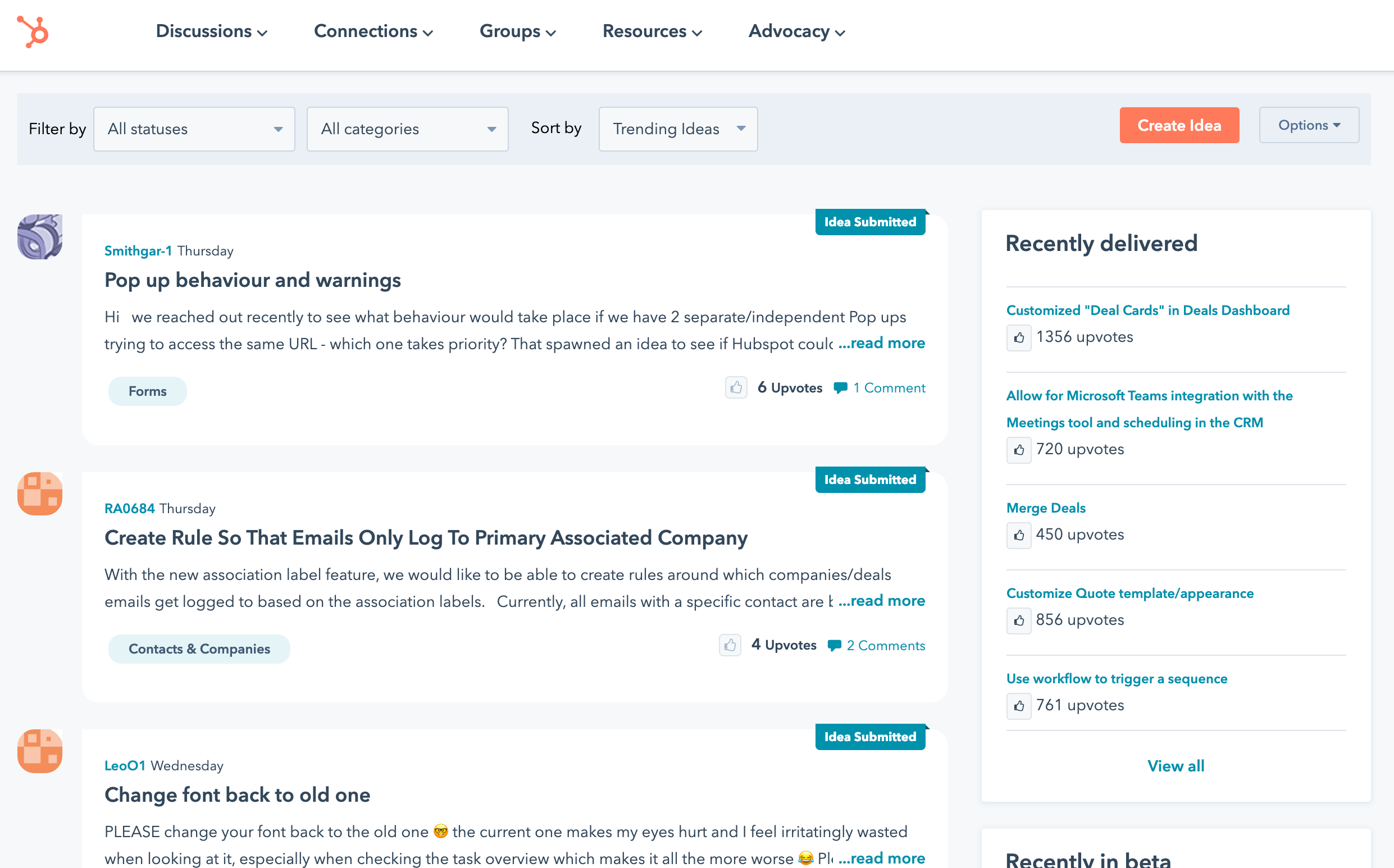 10. Zoom
Zoom uses customer feedback to improve its video conferencing platform's functionality and user experience.
As Zooms CPO Oded Gal said during Zoomtopia 2021, "A fundamental part of how we at Zoom innovate involves listening to you, our customers, and responding to your needs."  In fact, according to Zoom, many features released in recent years were in response to immediate customer needs!
They mentioned that users' feedback keeps them innovative and focused on their mission, and directly impacts their platform. They collect feature requests, ideas, and enhancements via a feedback form connected to their website.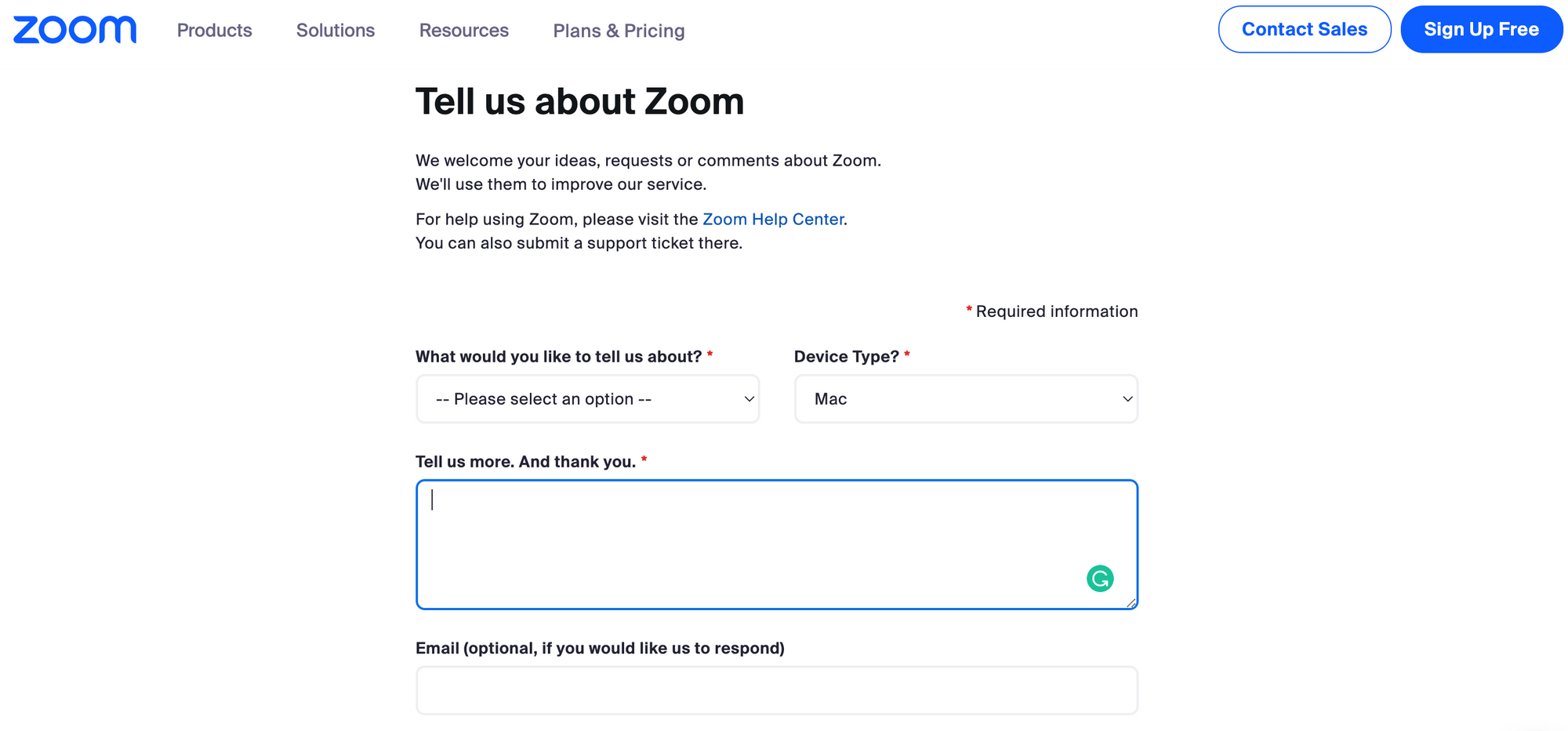 11. Starbucks
Starbucks is another company that uses customer feedback effectively. They use customer feedback to inform their menu development and improve their stores' customer experience. They also use customer feedback to inform their marketing and promotional strategies.
Starbucks serves as a customer experience example for other companies with a staggering Net Promoter Score of 77. Starbucks once unleashed "My Starbucks Idea" to give customers an easy way to submit their requests and concerns in a better place than a suggestion box.
Over 300 ideas were collected from their website and made into Starbucks stores worldwide. All this came from constantly listening to their customers and making the necessary changes.
Employees at Starbucks employ the so-called "latte method."
We listen to the customer's complaint, acknowledge it, act by correcting the problem, thank them, and then explain why the problem happened.
12. Neurosity
Neurosity tracks bugs and issues in their mobile app using the Rapidr bug reporting tool. It helps them capture, record, manage and resolve bugs and issues their users raise from various channels like Slack, support tickets, or Intercom to help ship bug-free products.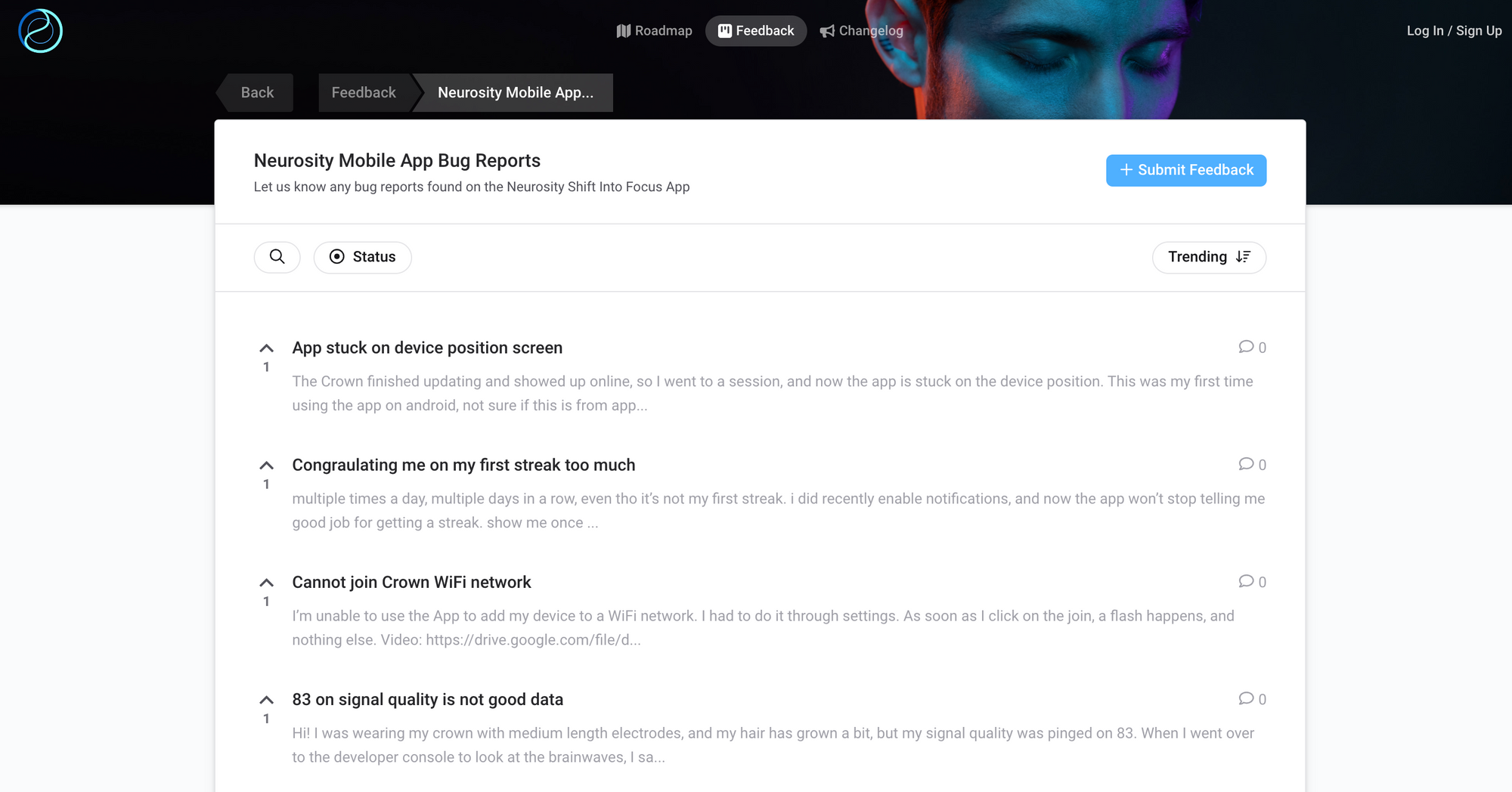 The team quickly organizes and evaluates the most critical bugs by understanding their urgency with comments and upvotes in a dedicated bug reporting feedback board built with Rapidr. It also helps them streamline the feedback process with a visual public roadmap.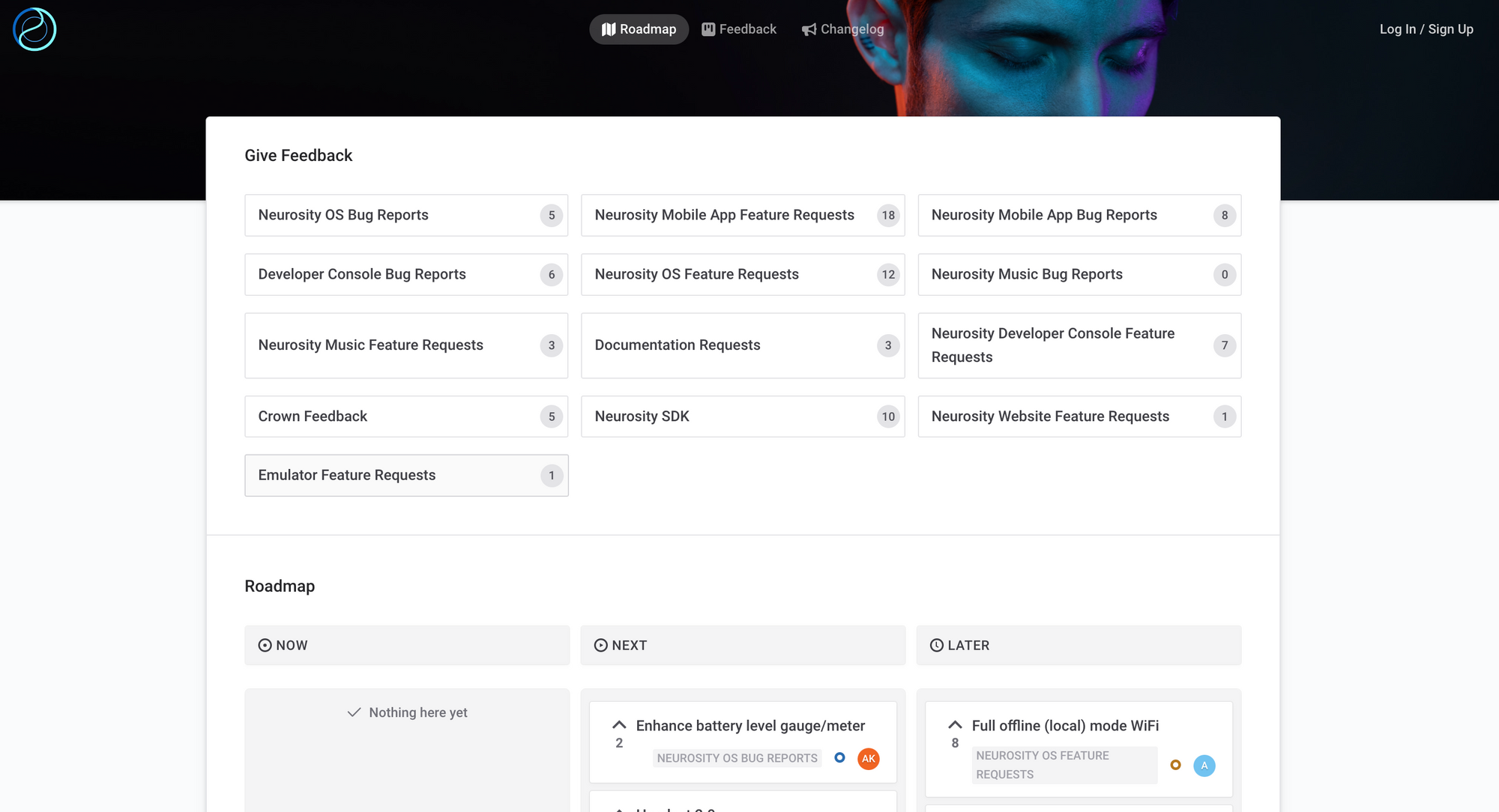 13. Airbnb
Airbnb asks guests to rate their stay experience with NPS and CSAT surveys in emails and online ratings collected once the stay is completed. Airbnb allows guests and hosts to leave star ratings and written reviews once their stay is over. They also collect product feedback and suggestions via their feedback portal.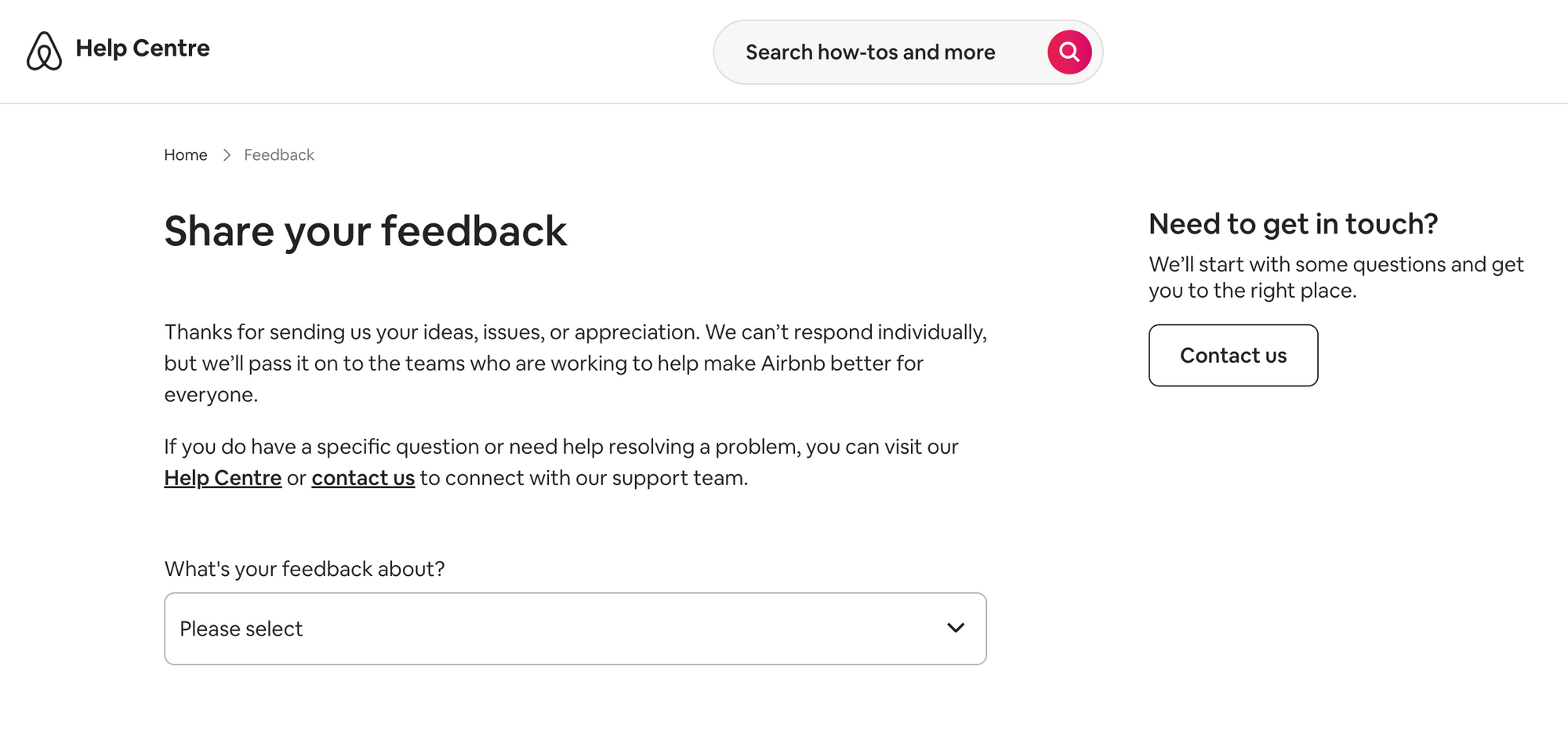 14. Tesla
Tesla has a staggering NPS score of 96, given the instant feedback implementation by its CEO Elon Musk to improve customer loyalty. The company is known for really listening to and incorporating the feedback of its customers by making changes every week to its vehicles and excels at offering a fantastic customer experience.
Elon musk believes in closing the feedback loop and maintaining customer relationships from start to finish. They make the changes in response to what customers tell them about their driving experiences and update them via Twitter and new release announcements.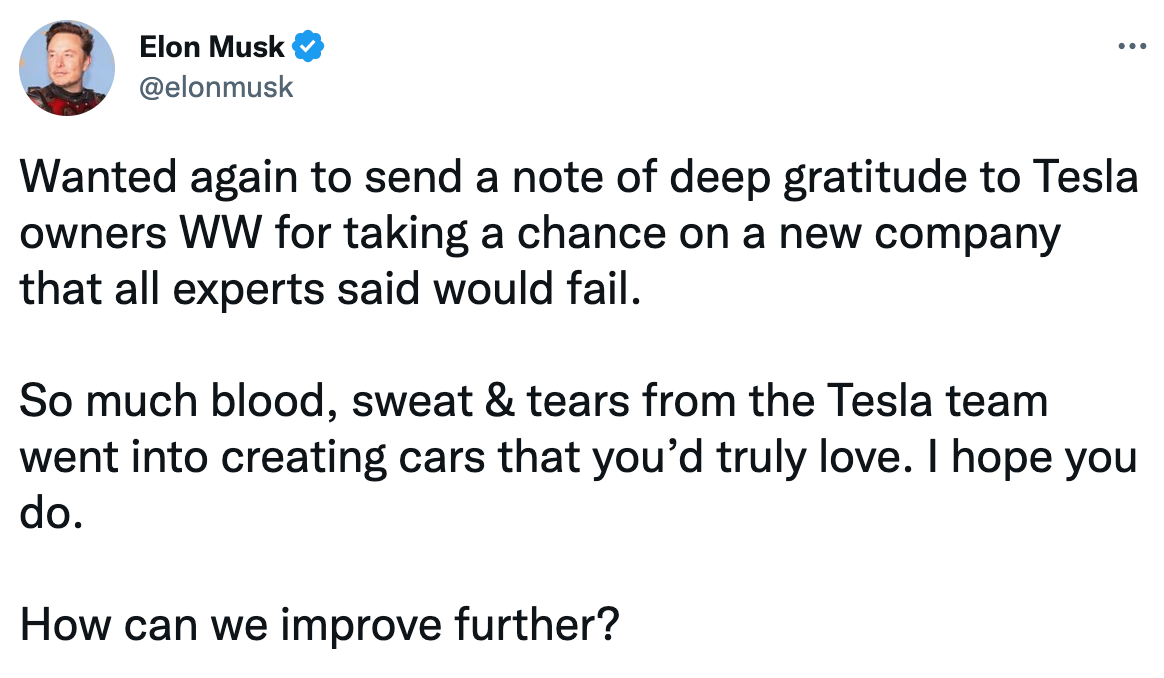 15. Figma
Figma supports a community feedback forum and feedback buttons that collect open-ended customer feedback and an in-app feedback modal. They provide their customer with two ways of gathering feedback:
A public forum like FigJam or a group email for customer feedback where a team may feel less comfortable giving detailed, critical feedback.
A private forum, like email, an audio file, or chat, for internal team feedback where they may feel more comfortable giving long, detailed feedback similar to private feedback boards.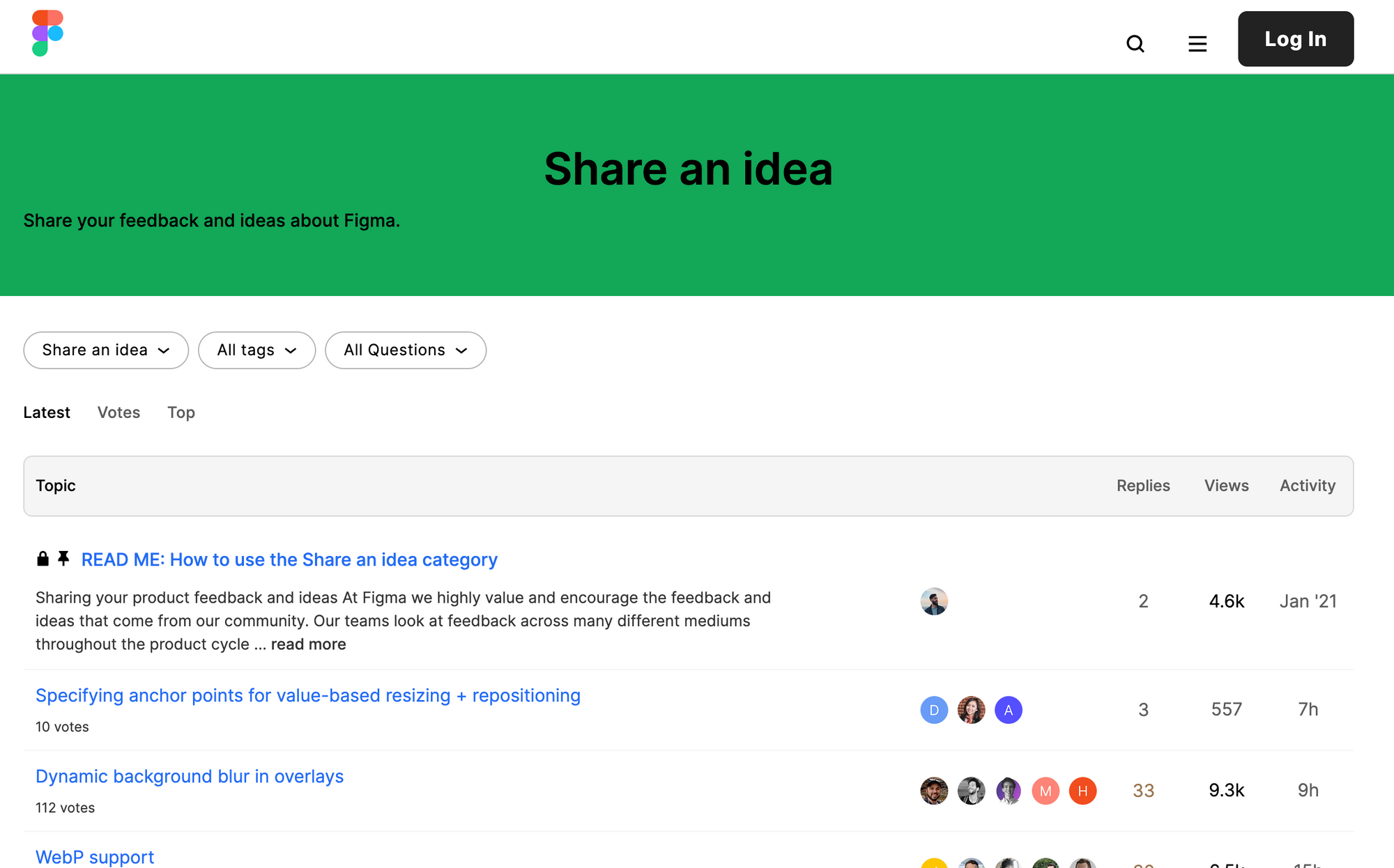 Figma also collected beta-testing feedback for Figjam by inviting the user to be part of their product development process with open-ended beta-testing feedback.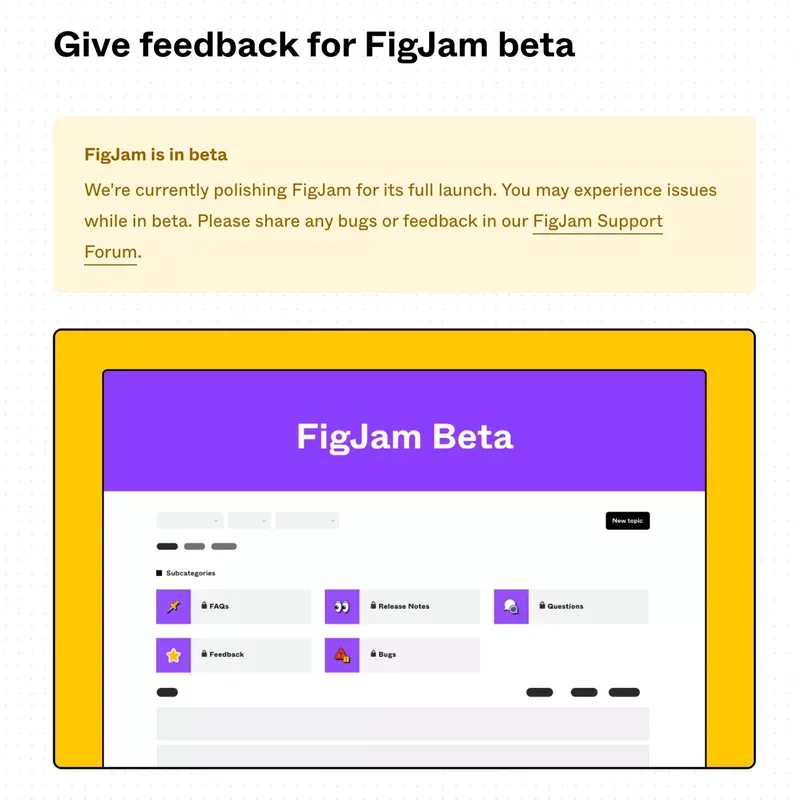 How to use customer feedback effectively?
Collect feedback at every stage of product development, such as prototyping, launch, feature release, subscription, etc.
Create a customer feedback portal for users to leave all feedback at any time of the day.
Welcome both positive and negative feedback.
Segment customers into meaningful groups to prioritize and identify critical feedback.
Involve internal team members and customer-facing teams in the feedback collection process.
Showcase your progress with a product roadmap.
Always close the customer feedback loop by updating users with recent changes to make them feel heard and involved with a changelog.
Collecting actionable customer feedback will improve your services and products and make customers feel valued and vital. It is essential to be transparent about product development and constantly keep your users in the loop.
While there are many customer feedback tools to help you capture, organize, and prioritize feedback, you should consider the one that enables you to uncover the insights from the feedback without jumping through hoops.
Still on edge while deciding what to use for collecting and managing user feedback? Sign up for Rapidr and get a free trial. Rapidr helps SaaS companies be more customer-centric by consolidating feedback across different apps, prioritizing requests, having a discourse with customers, and closing the feedback loop.